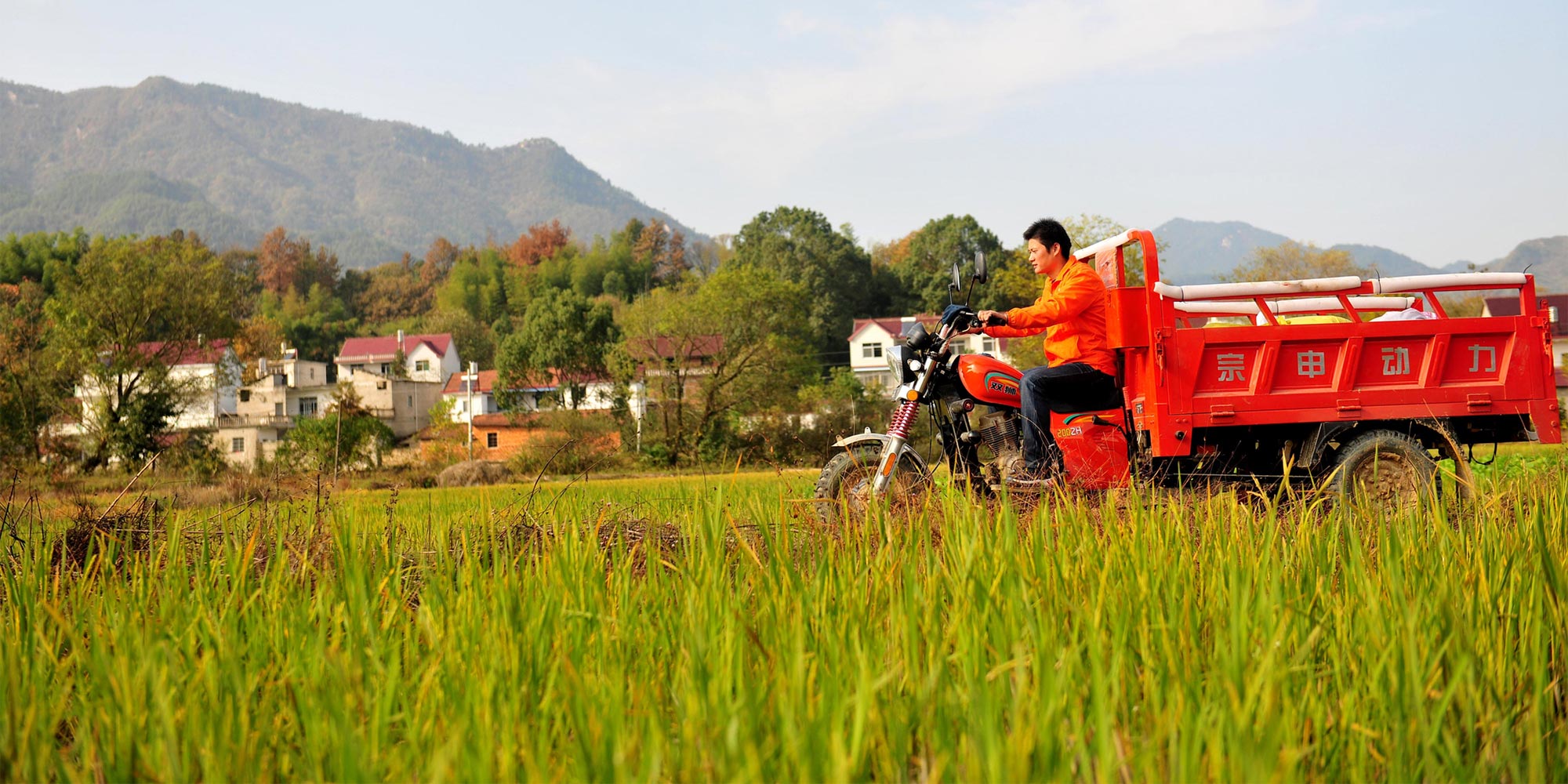 VOICES & OPINION
Why I Quit Alibaba's Big Push Toward Countryside Commerce
Rural Taobao bills itself as good for business, but actually couldn't care less about helping farmers make money.
I first joined Rural Taobao, the largest e-commerce platform in the Chinese countryside, back in September 2015. From my tiny shop in my hometown of Yongning, in eastern China's Anhui province, I felt convinced that I'd finally be bringing the convenience of online buying and selling to my hardworking but downtrodden fellow villagers. However, disillusioned and frustrated with my employer's business practices, I quit my job last month.
Rural Taobao is run by Alibaba, the largest e-commerce company in the world. The platform was set up in 2014 as a countryside counterpart to Alibaba's online shopping giants Taobao and Tmall. Rural Taobao was built to address Alibaba's poor market penetration outside China's cities: Back when it was established, only 77 million out of a total 600 million rural Chinese regularly shopped online. The company responded by drawing up plans to bring e-commerce to 100,000 villages across the country by 2019.
Yongning is in Dingyuan County, one of the poorest in already-underdeveloped Anhui. Most of its working-age population is scattered around China's cities. Until two years ago, most left-behind residents didn't have access to smartphones or an internet connection.
Hoping to encourage rural consumer spending and alleviate poverty, the county government threw its weight behind Alibaba's proposal to incorporate Dingyuan into its rural platform. Local TV commercials sang the praises of the new scheme, and banners appeared on lampposts in town reading "Partners wanted for Rural Taobao!" I signed up almost immediately and, a few weeks later, opened a Rural Taobao outlet in my home village.
At first, everything went without a hitch. The local government provided me with a rent-free commercial space in the center of Yongning. Alibaba donated the furniture, a computer, and even a wall-mounted plasma TV set. I became a licensed Rural Taobao franchisee tasked with solving Alibaba's "last mile" issue — that is, delivering packages ordered online to hard-to-reach rural households.
Previously, country dwellers who bought goods online usually had to wait weeks for packages to make it to their part of the country, before making the arduous trip to the local township center to pick them up. Now, goods ordered on Rural Taobao were brought directly to me, and I would personally deliver them to customers.
The great thing about the job was that it made me a real jack-of-all-trades. To ensure that customers got exactly what they wanted, I had to research and order everything from home appliances to clothing, food to farm machinery, and anything else local customers might need. Despite the hard work, my colleagues and I remained passionate about the fact that our jobs could help enrich the communities in which we had grown up.
I didn't just want my outlet to be some kind of workshop for internet sellers; I wanted it to become a real community hub. To this end, I offered free snacks to passersby and put on movies for people in the evenings. I built a book corner for the kids at the middle school across the street and covered the delivery fees for farmers who requested exchanges or refunds. The woman running the phone shop down the road would come by asking for help ordering cotton shoes or flowers for her garden. A local trader would roll up on his motorbike, shout "Xueyi! Get me 200 pairs of those gloves!" and ride off, knowing I'd get the kind he wanted.
During my brief stint with Rural Taobao, I was consistently one of the top three best-performing partners out of more than 100 in the county. Yet while shops like mine made the hassle of countryside delivery a thing of the past, they also became barriers to entry for less established e-commerce competitors. Most digital retailers have tried in some way to capture the vast, untapped rural market. Only Rural Taobao had the resources and know-how to systematically realize that goal.
For me, Rural Taobao started to lose its luster once I realized that it has never been serious about connecting rural sellers with the cities. The fact is that it remains difficult for country farmers to sell produce in urban markets. Even though the platform would advertise examples of villagers making stacks of cash by selling tea, oranges, or herbal medicines to the cities, in reality, most of these examples were mere publicity stunts concocted by local governments with the tacit approval of Rural Taobao. They were hard to emulate in Dingyuan's local context, and most people's businesses saw far less online traffic coming their way.
I remember visiting the Rural Taobao service center in my local township center, also called Dingyuan. It was crammed with posters of flowcharts and road maps detailing Alibaba's supposed commitment to rural commerce. Below the charts were rows of shelves exhibiting local bath salts, roasted geese, sesame extract, organic pork — products for which Dingyuan is famous. But in reality, barely any of it was sold in large quantities. If rural sellers wanted to set up large-scale online businesses, they needed to open an official account with Tmall — another Alibaba subsidiary — and not Rural Taobao. Yet to do so, they first had to put down a 200,000 yuan (around $29,000) deposit.
To put this in context, I made just over 30,000 yuan from my outlet last year — and I was one of the top performers. Most of my colleagues earned significantly less, and even Dingyuan's migrant workers would return from a year's labor with at least 50,000 yuan to their names. In other words, the average outlet partner would have to work for nearly a decade just to pay the Tmall deposit.
No wonder Rural Taobao has been running a constant recruitment drive ever since I joined as a partner. Outlet shopkeepers work so hard and earn so little that before long, we all move on to greener pastures. The company doesn't care about retaining us; rather, it wants to keep costs low.
Neither Alibaba nor the government seems concerned with rural sellers' profitability. Instead of helping farmers establish themselves in the market, they just want to see countryside customers buy products that were too hard to get hold of before. As outlet proprietors, even our training sessions were geared toward bringing expensive industrial goods to the countryside. Very few of us indeed charted the difficult course of rural-to-urban commerce.
Most Rural Taobao partners earn a small commission on each transaction made by sellers on the platform. They may also earn a performance-based quarterly bonus. Last year, however, Alibaba changed its policy, deciding to take back 20 percent of any commission made. This resulted in a dramatic drop in income for hard-up partners like myself.
I left Rural Taobao a month ago. My initial dream to sell rural products to cities has proven too idealistic, given that the platform's recent moves show so little consideration for the livelihoods of its partners and the communities they serve. For my part, I have returned to the rabbit farming industry, something I was familiar with before my time at Rural Taobao. While I am sure the platform will continue its commercial success, its feel-good message about closing the wealth gap between the countryside and the cities through encouraging rural entrepreneurship continues to ring decidedly hollow.
Editors: Lu Hongyong and Matthew Walsh.
(Header image: A Rural Taobao employee delivers packages in Anqing, Anhui province, Nov. 11, 2016. VCG)