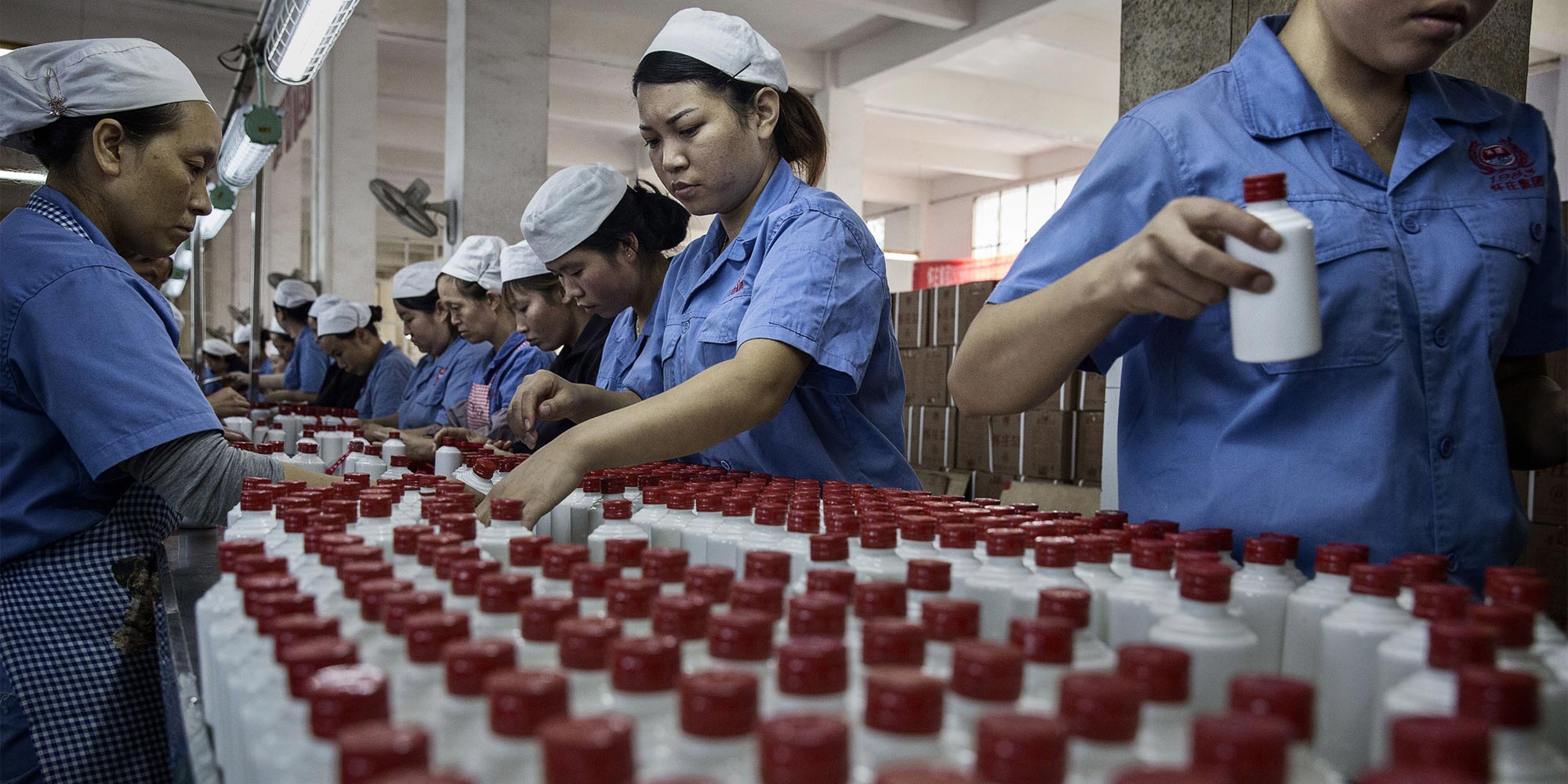 NEWS
Moutai Back in Investors' Good Graces After Tightening the Tap
Once the producer of Chinese officials' favorite drink, 'baijiu' company cut production following corruption crackdown.
Shares of the company producing China's national liquor reached a record high after it stoked fears of an impending shortage.
Kweichow Moutai, which manufactures the country's notoriously fiery maotai liquor, posted share prices of nearly 377 yuan (about $54) this morning having closed at 369.90 yuan Thursday. The partially state-owned company's soaring stocks contrast with a slump in recent years that has coincided with a crackdown on official corruption.
Maotai was once the favored drink of China's officialdom, but the brand was among the worst hit by President Xi Jinping's crackdowns on cadre corruption and extravagance, which began in late 2012. Kweichow Moutai's shares, which trade on the Shanghai Stock Exchange, bottomed out at 91.2 yuan per share in January 2014. Once, 30 percent of the company's liquor reportedly found its way to the tables of state banquets and other official events. Now, that number has fallen to just 1 percent.
After a period of depressed profits, Kweichow Moutai appears to have found a solution: cutting production. In the first 11 months of 2014, Kweichow Moutai produced 38,700 tons of liquor. This year, the company plans an annual output of just 26,800 tons.
Company officials were keen to point out that supply may not meet projected domestic demand for 2017. At a symposium on maotai distribution held March 3 in Zhengzhou, central China's Henan province, parent company Kweichow Moutai Group's general manager and Party committee secretary, Li Baofang, said that 6,500 tons of liquor had been sold in the first two months of 2017 alone. He said this was equivalent to over 30 percent of the entire year's expected sales — which may be less than production as speculators hold back stock to drive up the liquor's price. Bottles of maotai currently hitting store shelves would only satisfy around half of projected consumer demand, Li added.
Other industry insiders moved to allay fears of a dry spell for the country's liquor lovers. "It's perfectly normal for 30 percent of the year's maotai stock to sell in January and February," said an unnamed distributor in an interview with The Paper, Sixth Tone's sister publication. "Historically, the trend has always been that way."
Maotai has a reputation as one of China's most distinctive and prestigious drinks. Dating back to the Qing Dynasty, the heady liquor is made by fermenting sorghum, a crop plant native to southwestern China's Guizhou province. The drink is a type of baijiu, a family of highly alcoholic spirits distilled from the country's native grains, and is considered a luxurious gift.
Served at events ranging from business dinners to state banquets, maotai was named China's national liquor in 1951 and brought under state ownership. Though Kweichow Moutai is now partially privatized, the company's fortunes have fluctuated along with official policy.
In 2013, Kweichow Moutai announced a 15.3 percent rise in net profit from the year before. But, as official excess came under greater scrutiny, the company's annual net profit growth between 2013 and 2015 fell as low as 1 percent. At one point in 2014, bottles of maotai — which sometimes retail for more than 1,000 yuan apiece — were being sold at factory prices.
Additional reporting: Wang Yiwei; editor: Kevin Schoenmakers.
(Header image: Workers inspect bottles of 'baijiu,' or locally made liquor, at a Guizhou Huaizhuang Liquor Group factory in Maotai, Guizhou province, Sept. 22, 2016. Kevin Frayer/Getty Images/VCG)