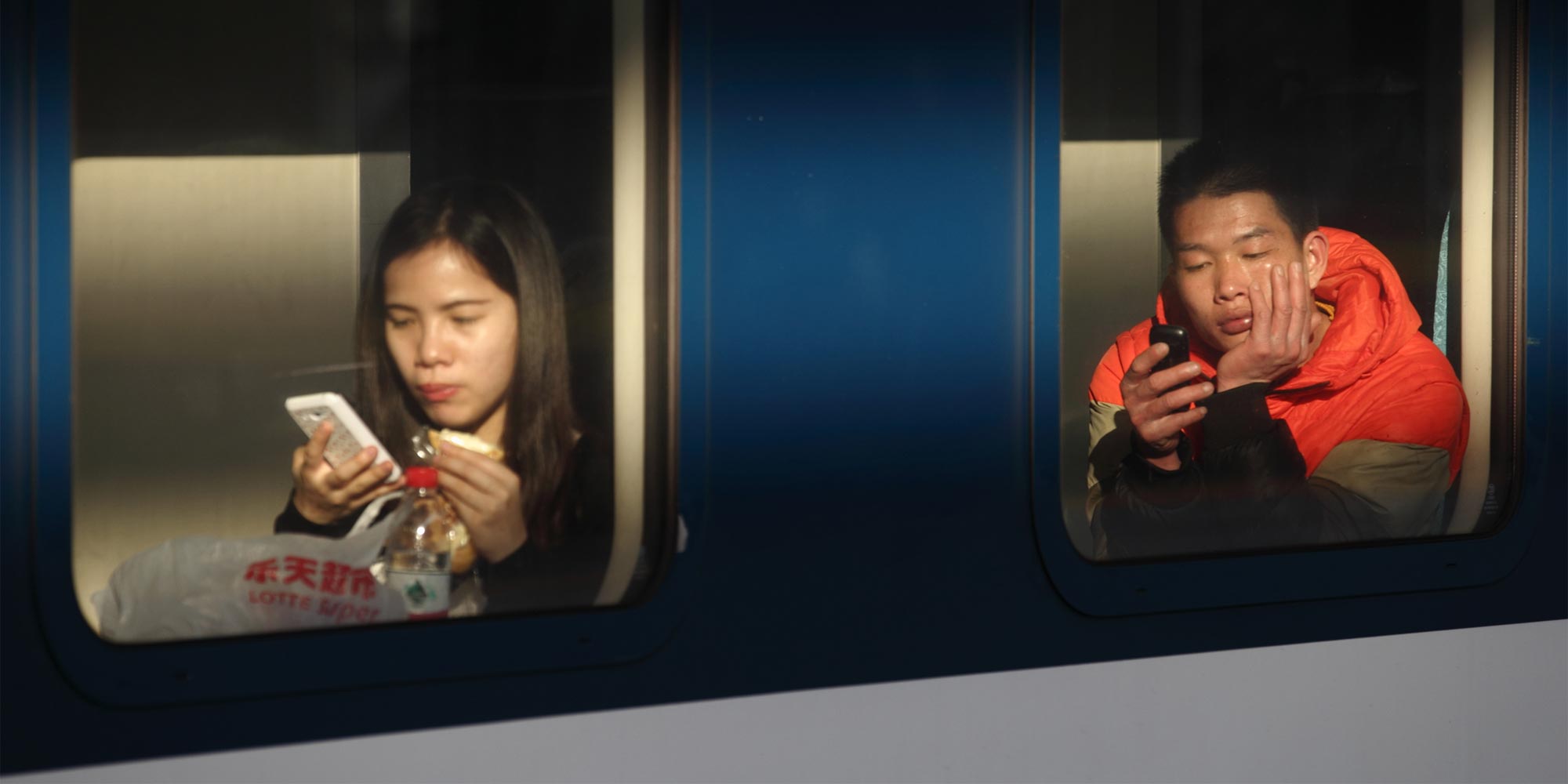 NEWS
WeChat Generation Unimpressed by Roaming Cuts
With the rise of mobile messaging apps, smartphone-savvy Chinese are more interested in lower data rates.
For many Chinese consumers, the recently announced cuts to mobile roaming charges are a day late and a dollar short.
At a State Council press conference on Monday held on the sidelines of the annual National People's Congress, the country's top three cellular operators — China Mobile, China Telecom, and China Unicom — said they would completely abolish domestic long-distance roaming charges for voice calls by the end of September.
Touted by some as significant, in reality the move is less meaningful. Brokerage firm CLSA, for example, said it was "already expected," noting that China Mobile began eliminating roaming charges as early as last year. Another factor that takes the shine off the announcement is that many Chinese have made internet-based apps such as WeChat such an integral part of their lives that few of them now use mobile phones to send text messages or make voice calls.
"I don't think these changes will benefit me in any way," China Mobile user Li Xiang, a 33-year-old office worker from Shanghai, told Sixth Tone. Every month, she uses nearly 1 gigabyte of data keeping up with social media or surfing the net, and she rarely uses her smartphone to place calls. "These days, data is more convenient to use," she said, adding that she spends around 88 yuan ($13) per month on her telecommunications package, which gives her 700 megabytes of data traffic and 220 minutes' worth of voice calls.
Beginning in 1994, domestic roaming fees of around 0.6 yuan per minute were levied by cellular providers on subscribers who used their mobile phones to make calls while away from their home cities or provinces. Since then, the fees have been reduced in tandem with technological progress and network upgrades. In 2008, the Ministry of Industry and Information Technology (MIIT), the regulatory body that oversees the country's telecommunications industry, mandated that roaming fees should be no higher than 0.6 yuan per minute.
At Monday's press briefing, Chen Zhaoxiong, the ministry's deputy head, said that while progress had been made in terms of price reductions for roaming in recent years, long distance charges in China were still high compared to those of developed countries.
For the most part, netizens were not impressed by the roaming charge cuts. "In the age of 4G, we almost don't need roaming service," wrote one user on microblog platform Weibo. "Priority should be given to boosting internet speed and reducing mobile data charges."
Others on social media said they were more concerned about the prospect of rising data charges. "I'm worried about whether I'll be able to afford data charges when it comes time [to switch to] 5G," wrote another Weibo user.
The announcement to drop roaming charges comes as data charges are becoming an increasingly important source of revenue for the country's leading cellular providers, all of which are state-owned.
Figures from the MIIT released in January showed that mobile data traffic and internet business revenue have increased to 433 billion yuan in 2015 — up from 310 billion yuan the previous year, a 37.9 percent increase. Mobile data usage, meanwhile, grew to 8.42 billion gigabytes last year from 4.18 billion gigabytes in 2015 — a 124.1 percent increase.
China Mobile's income from data traffic exceeded income from more traditional areas, such as voice calls, to become the company's largest source of revenue. In the first half of 2016, the company's revenue from mobile data increased from 154 billion yuan to 195 billion yuan, up 26.7 percent from the previous period. All told, data traffic accounted for 43.4 percent of the company's revenues in 2016.
"Today, there's little difference in phone call charges, so if any of them [the three major cellular providers] moves slower than the others, it will risk losing customers," said Fu Liang, an independent telecom analyst from Beijing. "Since the number of users who roam is small, and since mobile data usage will continue to grow drastically, I don't think their overall business will be hugely affected."
Initially, waiving roaming charges will mainly benefit new subscribers. Existing subscribers, on the other hand, will have to wait until their contracts run out before they can enjoy the full benefits of the new policy.
The MIIT has also called on operators to reduce internet access fees for small- and medium-sized businesses, and to reduce the cost of international long distance calls.
China Mobile has since announced new tariffs for dialing 64 countries that form part of China's, "one belt, one road" initiative to facilitate trade and investment with Asia, Africa, and Europe. The new tariffs now mean that Chinese can call people in these countries — including Jordan, Iraq, and Syria — at much lower rates.
Editor: Colum Murphy.
(Header image: Two passengers look at their cellphones on a train in Beijing, Feb. 10, 2015. Fan Song/VCG)