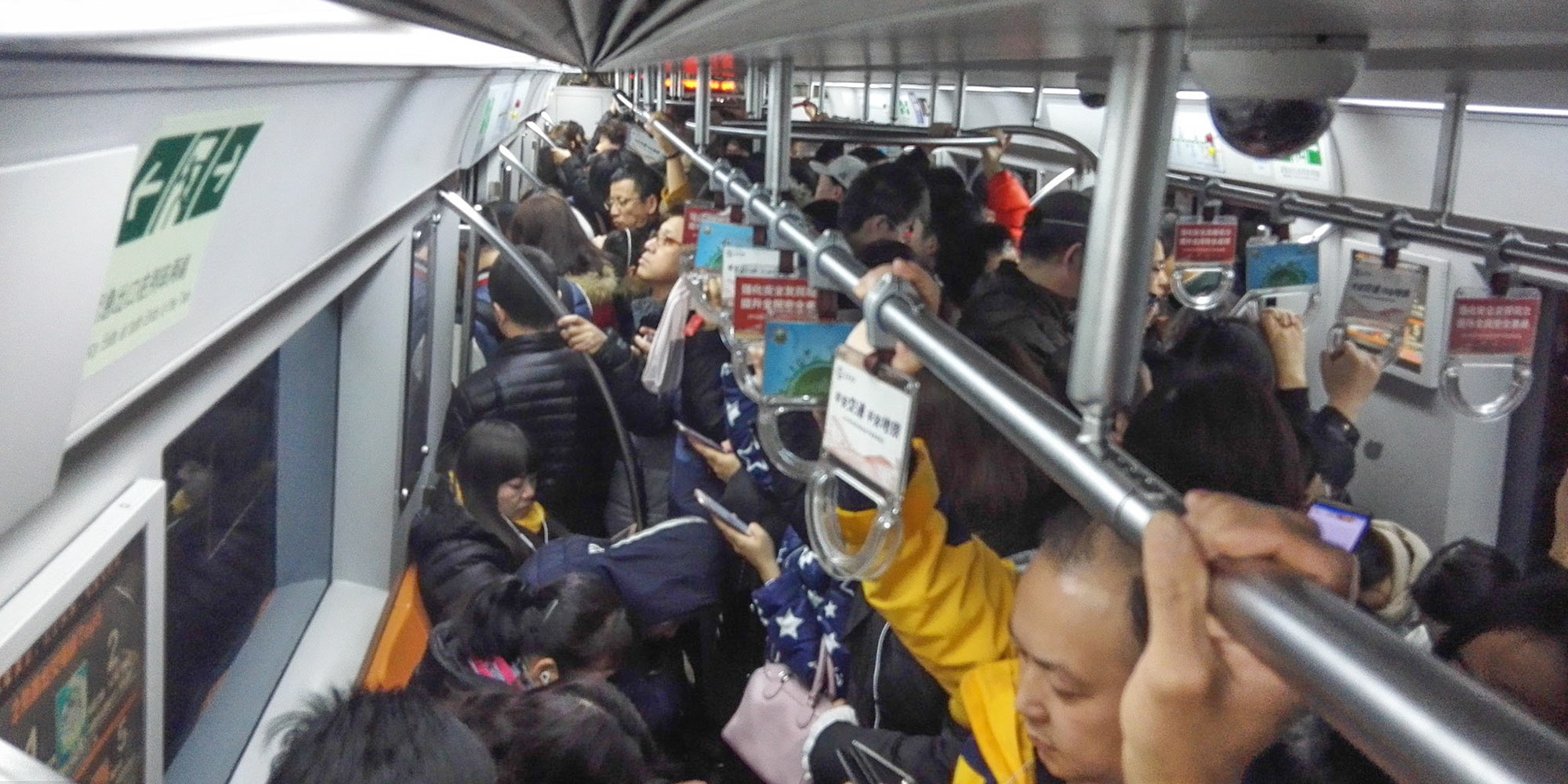 NEWS
Teen in Custody for Insulting Migrants on Beijing Subway
Police track down 17-year-old after video of profanity-laden tirade against out-of-towners goes viral.
A teenager was caught on camera Saturday calling two women "a bunch of outsider bitches" on Beijing's subway.
Speaking to the discrimination many Chinese migrants say they experience from city-dwellers, the two-minute clip went viral over the weekend. On Sunday, Beijing police announced on their Weibo microblog that they had tracked down the young man, a 17-year-old surnamed Zhang.
In the video, Zhang, wearing a gray coat, is seen cursing the women in the middle of a train carriage as other passengers look on — or look away. When one of the women attempts to call the police, he grabs her phone, and a tussle ensues. As the subway arrives at its next stop, Zhang says he'll give the phone back if the women get off. Eventually, he pushes one of the women off the train as the doors close.
The Weibo user who first uploaded the video told local newspaper The Beijing News that she secretly filmed the row with her phone. The two women said they ran a company offering nutritious breakfasts and asked subway passengers to scan a QR code to follow them on social media. When they asked Zhang, he took offense and exploded in expletives. The user said that as a woman, she didn't dare intervene. Her post was later deleted.
Another user, called "Do you want to hear the whole story," posted a microblog on the same day in which he claimed to be the man in the video. "I was standing when the two women came and asked me to scan [the QR code]," he wrote. "They insisted after I had rejected them a few times by waving my hands. In the end when the door was closing I threw the phone and pushed her out, I didn't take the phone." That post was deleted later too.
The incident was hotly debated on Weibo. One microblog post in which the video was shared was commented on more than 330,000 times by Monday afternoon, and had received more than a million likes. Some people questioned the video's authenticity because the man did not speak with a Beijing accent. Some people questioned whether the video was intended to smear the people of Beijing. "The guy is absolutely not a Beijinger — his accent is not native," a user from China's capital wrote.
Other commenters criticized the women for "harassing" passengers minding their own business: "A crazy dog is a crazy dog. If you don't touch him, he won't bite you. This kind of QR code scanning brings no small harm to society — it's no different from begging on the subway."
But most users condemned Zhang's actions. "It's a crime to push a person out of the subway car when the train is about to leave!" wrote one user. "Cursing people and calling them outsiders, to fully look down on them and discriminate," wrote another. "It really makes me angry. Are you superior to other people just because you live in Beijing?"
Editor: Kevin Schoenmakers
(Header image: Passengers crowd a Line 10 subway car in Beijing, Feb. 6, 2017. Chen Xiaomai/IC)