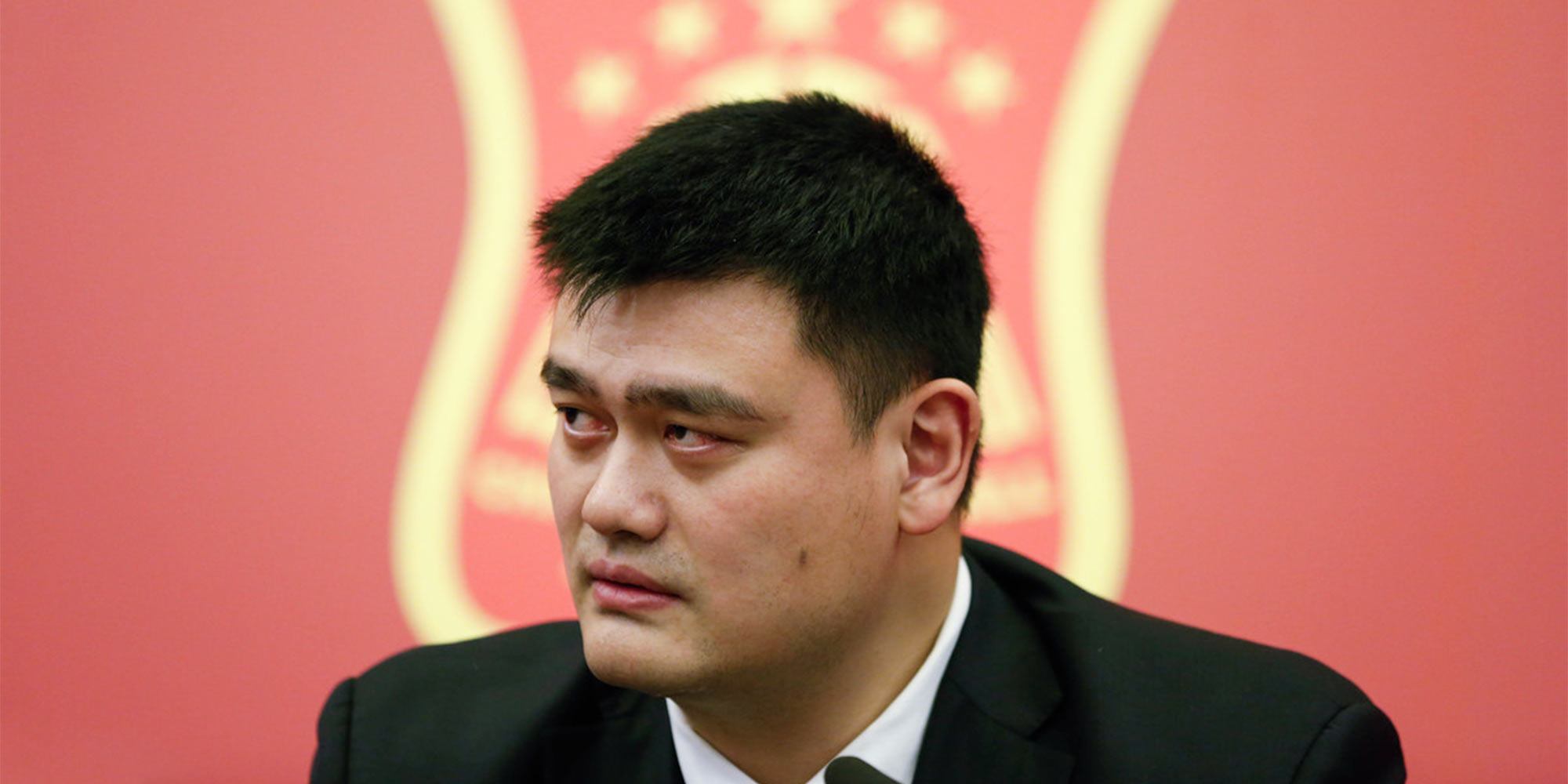 VOICES & OPINION
How Yao Ming's New Job Will Revive Chinese Basketball
Beloved Hall of Famer has been named chairman of the cash-hemorrhaging CBA in a bid to commercialize the sport.
With his size-18 feet, newly elected Chinese Basketball Association chairman Yao Ming should have no trouble filling the shoes of his predecessor.
Since his retirement as a player, the 36-year-old Shanghai native and eight-time NBA all-star has dedicated himself to improving the quality of basketball in his native China — even when China itself has been less than receptive to Yao's free-market dreams for the future of the sport.
Specifically, Yao has long hoped to bring the Chinese Basketball Association (CBA) up to the level of its American counterpart by professionalizing and commercializing its product. To set this plan in motion, he bought his hometown team, the Shanghai Sharks, in 2009. Then in April 2016, he and a group of investors from 18 out of the CBA's 20 teams made a bid that would give owners a stronger voice in league operations. But the basketball division of China's General Administration of Sports (GAS), which runs the CBA, rebuffed their proposal and instead gave each team just a 3.5-percent stake in the company it created to manage the league.
Since then, however, Yao's star has risen: He became vice president of that company, CBA League (Beijing) Sports Co., and was given the green light to take control of the league's commercial operations, including broadcasting rights and advertising, beginning in April of this year. Then at a press conference on Jan. 9, 2017, Yao, along with league vice president Li Jinsheng, was selected to head the committee charged with planning the CBA's national congress in March, at which it would announce its new leaders.
By mid-January, China's sports fans had begun to think of Yao as the frontrunner to become the new CBA chairman. Indeed, the GAS's criteria for the incoming leader — that he or she should have a strong background in the sport, be familiar with both domestic and international basketball development, and be a recognizable figure with a high level of influence — seemed to point firmly in one direction: namely, upward and at an angle.
While Yao's initial bid to privatize the CBA was quashed, the State Council, China's cabinet, has been calling for market forces to play a greater role in the country's sports leagues since 2014. But little was done to accomplish this until Feb. 16 of this year, when the GAS announced that it would close its soccer management center, allowing the Chinese Football Association to branch off from the "one group, two names" system and become its own entity, effectively giving tacit approval for commercialization and fiscal independence.
At a media briefing earlier this week, the GAS claimed that the CBA's upcoming congress would see "daring and revolutionary reform," and since his appointment, Yao himself has said that he hopes the CBA will follow in the footsteps of China's soccer league, toward private ownership, a more commercialized product, and a better overall consumer experience.
In its current state, the CBA is plagued by a host of problems, from corrupt and incompetent officials to violent outbursts from players. After an away loss to the Sichuan Blue Whales in March 2016, for example, the Liaoning Lions started a brawl with heckling fans from the opposing team upon arriving at their hotel. A video of the melee went viral on the internet in China.
As for shoddy officiating, Yao hopes to tackle this problem by giving referees experience early — in youth leagues, three-on-three tournaments, and other semi-competitive arenas — and bring them up from the grassroots level through a series of tiers, each requiring greater proficiency than the last.
The most pressing concern currently facing the CBA is money. Teams are required to hand over all of their revenues to the league's front office — a policy that does little to inspire or incentivize shrewd business practices. In the 2015-2016 season, just one out of the league's 20 teams turned a profit.
Despite these obvious flaws, Yao has big plans for the league — most notably, a departure from government management to private management. "I hope to work with the news media and cultural institutions to promote the culture of Chinese basketball, and to build our own basketball museum and hall of fame," Yao told Party newspaper People's Daily. He also hopes to bring the men's national team out of its recent doldrums by making roster spots available by invitation only, thereby instilling a greater sense of pride in the select few who earn them.
Neither the CBA nor the GAC's basketball management center answered Sixth Tone's phone calls on Thursday, but Li Yingchuan, assistant secretary of the GAC, told state news agency Xinhua that "Yao is the first public figure to hold this post in the history of the CBA, and this is a symbolic act in the reform of Chinese basketball, and of the entire sports industry." Speaking to whether the GAC's basketball office would be dissolved, as the soccer office was, Li said that it would not, though it would be delegating more authority to the CBA and standing by to make sure the transition goes smoothly.
Wang Jingjin, a sports journalist for the Gusu Evening News in Suzhou, in eastern China's Jiangsu province, thinks Yao is more than ready for his new responsibilities. "I would even say he's been preparing for this role since he started playing in the NBA," he said. "There's no other person who could have the same knowledge, understanding, and insights about professional basketball as Yao, thanks to his experience in the NBA. Yao is the best person to take on this role if China hopes to create a real professional league."
But Wang also has tempered expectations when it comes to evaluating Yao's success. "This means change, but it might not be visible initially," he told Sixth Tone. "Given that the current CBA system is still unprofessional, that talent is still lacking, and that the national team is playing worse than before, Yao is still taking a huge risk."
While most have reacted positively to the prospect of Yao charismatically ushering in a new world order, a Xinhua commentary in early January expressed a few doubts, pointing to Yao's "still superficial" qualifications and experience: "After all, the CBA has never had a chairman as young as Yao," the authors wrote.
The commentary also raised the question of a conflict of interest: "A more awkward obstacle is Yao's role as owner of the Shanghai Sharks. If chosen to lead the CBA, he'll likely have to give that job up." On Thursday, Xinhua Sports posted to social media that Yao has announced he will do just that.
With the weight of reform resting squarely on Yao's massive shoulders, Chinese basketball fans are holding in their expectations with bated breath. But the measure of his success will depend on whether these fans — along with players, officials, and the media — can be patient enough to let him right the sinking ship.
Additional reporting by Zhang Liping.
(Header image: Retired basketball star Yao Ming, newly elected chairman of the Chinese Basketball Association, attends the league's national congress in Beijing, Feb. 23, 2017. Quan Yajun/IC)