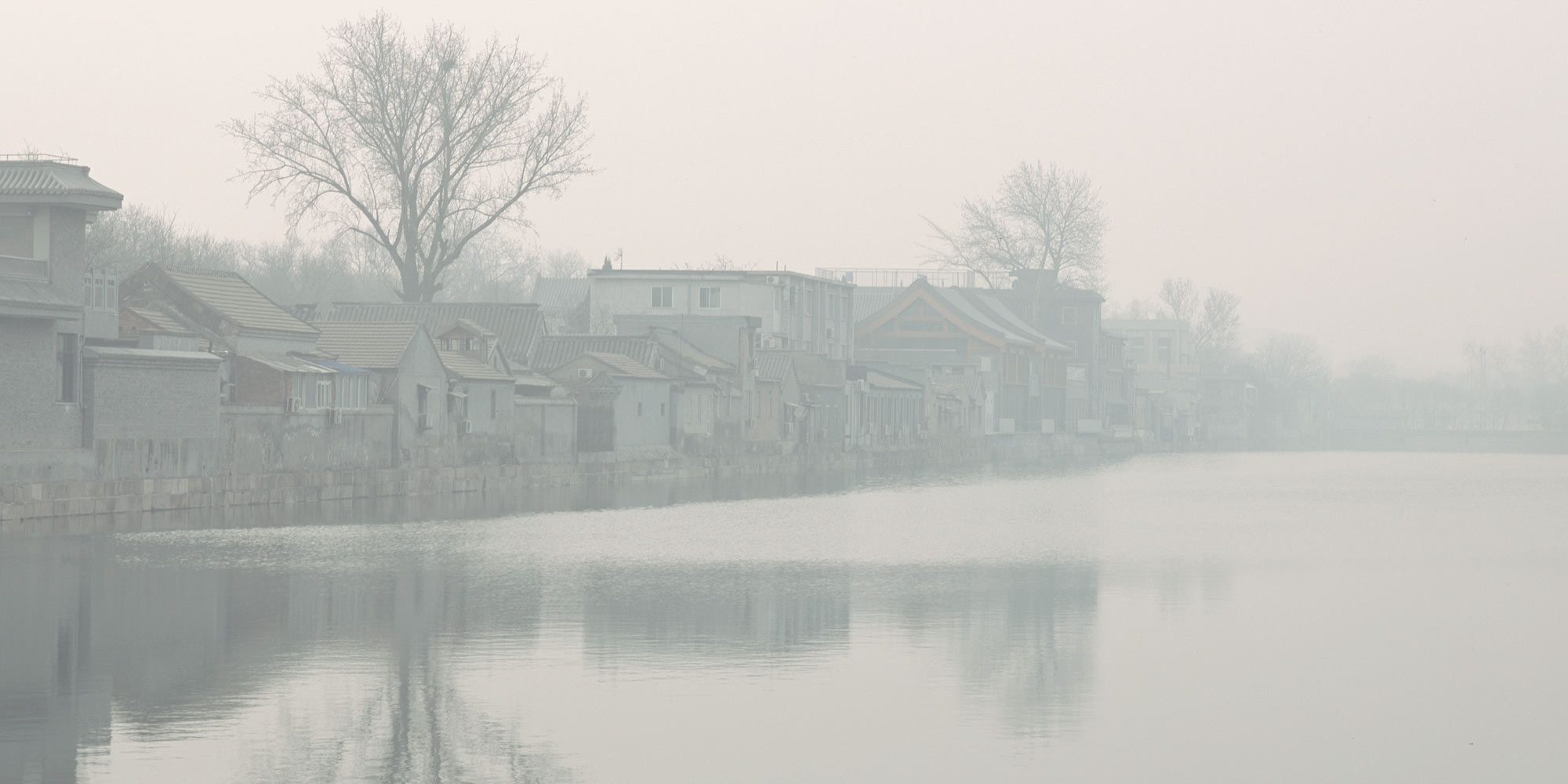 NEWS
City in the Clouds: The Tragic Beauty of Smog in China
Photographer Benedikt Partenheimer's images give an artistic twist to air pollution in Chinese metropolises.
An ethereal white fills the heavy atmosphere over the Huangpu River, and the delicate details of Shanghai's eastern and western banks — Pudong and Puxi — can barely be seen. The thick twilight has shut out even the faintest shadow across the landscape.
The image is not a Surrealist painting or computer-generated futurescape, but a photograph depicting air pollution in Shanghai, taken by German photographer Benedikt Partenheimer. During his photoproject to documentsmog in China, Partenheimer traveled from his base in Shanghai to the northern cities of Beijing and Hebei provincial capital Shijiazhuang, as well as other places impacted by airborne particulate matter.
Partenheimer started his project in 2013. "Sadly, China is the best place to go," he told Sixth Tone. Since then, awareness about air pollution and its dangers has grown in the nation, and terms like "AQI," the oft-used acronym for "air quality index" — have pervaded daily life.
"We only tend to change our behavior when we are affected directly, when it is almost too late," Partenheimer said. "It's interesting because we are offenders and victims at the same time."
Partenheimer uses both photography and video in his work: "Particulate Matter" explores air pollution through photos, while the 15-minute video "It's Never Enough" features a seemingly endless stream of cargo ships emerging from heavy smog on the Huangpu. "The video refers to our capitalist behavior," he explained.
Speaking with Sixth Tone, Partenheimer addressed the tension among profit, growth, and individual well-being, and discussed what it means for China and other countries that are driven to produce at the expense of the environment. The interview has been edited for brevity and clarity.
Sixth Tone: Rather than producing overly critical images — chimneys spewing clouds of smoke or waterways full of trash — your work is dramatic and beautiful. What led to this stylized aesthetic?
Benedikt Partenheimer: We are very used to press images of pollution. They are shocking and important, but I think they reach us on a different level. For years, the Chinese government referred to air pollution as fog or haze and, in this way, deceived the population. My work takes that into account.
The aesthetic and almost-romantic depiction was interesting for me — it's almost painterly. It's a way to get the viewer's attention, to deceive him and to then confront him with the unpleasant reality. The seemingly deceptive romantic aesthetics of the images disclose their true meaning in the titles. The titles of the images refer to the AQI, indicating the degree of air pollution.
Sixth Tone: Has your style been influenced by the genre of landscape photography?
Benedikt Partenheimer: I am really interested in landscapes, especially in paintings from the Romantic era of the late 18th and 19th centuries — William Turner, Caspar David Friedrich. Nineteenth-century Romantic painting was strongly influenced by religion, and the key to understanding the world was seen in the bond between nature and the divine evoked therein. The landscapes depicted people's aspirations and idealized emotions instead of their intellect. Although I use similar imagery and aesthetics in my works, they come from a completely different background. Often, a brutal reality underlies the seemingly romantic depictions. I'm particularly interested in the contrast between the image's appearance and the reality "behind" the motif.
Sixth Tone: In the face of increasingly serious environmental problems, what actions could the Chinese government and ordinary residents take?
Benedikt Partenheimer: I think the only way to reduce pollution and stop global warming is to switch to clean and sustainable solutions and to move away from fossil fuels. This is something we have to achieve on a global level, not only in China. There have to be environmental regulations, and polluters have to be fined. As for the residents, I think we have to become aware that we, the people, have a lot of power.In the West, we can vote and demonstrate, and everyone can boycott products that have been manufactured in non-sustainable ways. Consumers have a lot of power, and we have to become more conscious of the things we buy.
Sixth Tone: Air pollution in China isn't the first environmental issue you've tackled in your work — you've also addressed the nuclear crisis in Fukushima. What has inspired you to comment on these issues?
Benedikt Partenheimer: I think we have reached a point in history where we seriously have to think about how we want to proceed as a species and how we want to treat the world we inhabit.
I am particularly interested in developing work related to the Anthropocene, a proposed term for an epoch that begins when human activities have had significant global impact on the earth's ecosystems. The Anthropocene has no agreed-upon start date, but some scientists propose that, based on atmospheric evidence, it may be considered to start with theIndustrial Revolution. The Anthropocene is a situation that calls for re-examination, asking us to take a closer, more sensitive look at the way humans have chosen to live.
Sixth Tone: In your work, how do you champion environmental protection through the power of images?
Benedikt Partenheimer: I have asked myself many times: How can photography and art develop a language of critical thought that deals with aspects of a changing world? I am not sure if photography can change our behavior, but I believe that photography and art can be part of a process of change. I believe that art gives us the opportunity to connect with others and ourselves; art creates an environment for people to think and feel.
Editors: August Rick andKevin Schoenmakers.
(Header image: Houses along a river are visible through thick fog, Beijing, 2014. Benedikt Partenheimer for Sixth Tone)