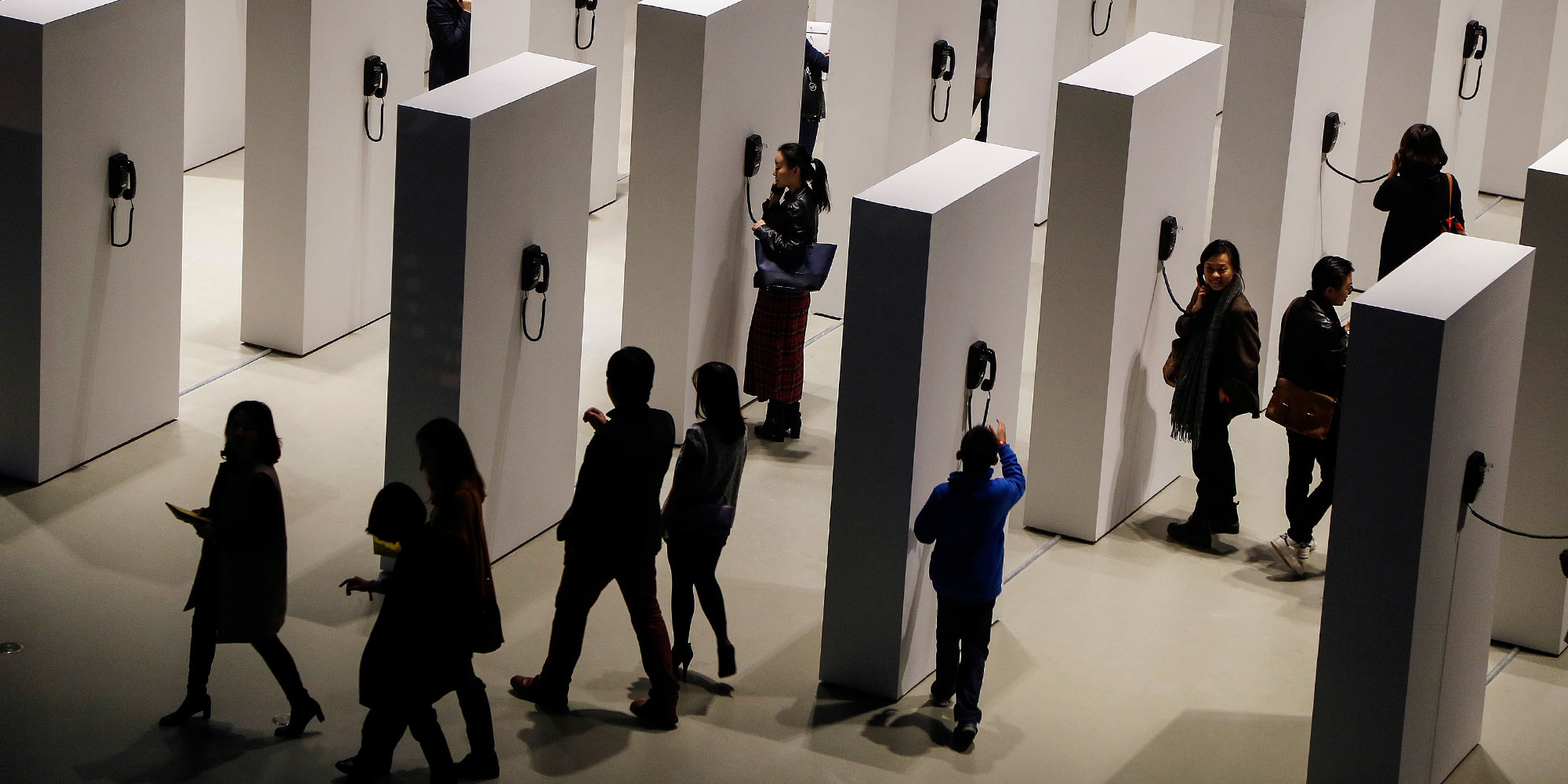 VOICES & OPINION
Postindustrial Masterpiece: Shanghai's Power Station of Art
The museum's eclectic mix of old and new reveals an offbeat official approach to urban redevelopment.
Nowhere is China's contrast between old and new clearer than in its urban development. Walk for a few minutes through one of the country's metropolises, and you will pass a handful of ramshackle dumpling joints or egg-pancake stalls popping out from under stairwells and inside magazine kiosks.
These kinds of so-called modular shops, hosting a disparate arrangement of businesses offering a wide variety of products and services, are common to Chinese cities. On a micro level, their informal nature and DIY attitude clash with the larger-scale municipal strategies of urban expansion and redevelopment over the last 20 years. Rather than repurposing existing spaces and structures, the prevailing transformation of the urban texture has preferred to wipe out the old, replacing it with shiny odes to modernity: a mélange of glass, steel, and cement.
Within this context, Shanghai's Power Station of Art (PSA) is an exception to the norm. This museum of contemporary art synthesizes contrasting attitudes toward urban development: On the one hand, it captures the do-it-yourself reconfiguration of small existing spaces, and on the other, it reconstructs ex novo vast sections of the city landscape.
In effect, the PSA occupies the building that was once the Nanshi Electric Plant in Shanghai's Huangpu District. While the present structure was built in 1985, the site itself has a long history. Its origins can be traced back to the end of the 19th century, when it provided the energy to illuminate China's first light bulb.
Architects Zhang Ming and Zhang Zi, of the Original Design Studio, have brought the creativity and spontaneity crucial to the way Chinese people have historically adapted everyday spaces to the renovation of a 38,000-square-meter former industrial structure. The result is remarkable in many ways.
The PSA evolves over seven floors arranged in nonlinear ways. This scattered disposition is a direct consequence of the architects' decision to preserve unaltered the original structure of the power station, which has allowed them to materially connect the past and the present. Strolling through the 12 exhibition halls, visitors are treated to stark views of husk-like tools and machines that previously allowed the plant to operate. Stairways that seemingly lead nowhere engender a feeling of disorientation. Stripped of their original functions, these industrial elements attract curious stares; the spiraling interior of the 165-meter-high chimney — itself an exhibition space — appears as an upside-down rabbit hole leading to a postindustrial wonderland.
The PSA's multilevel space is certainly unconventional, especially when compared to traditional museums. Unsurprisingly, its eccentricity has attracted criticism from certain quarters. SmartShanghai, an English-language online magazine documenting events in the city, called the PSA's space "cumbersome." In my view, while it is true that some exhibitions may suffer from the PSA's peculiar spatial constraints, this negative judgment overlooks the possibilities to be unleashed in this unique industrial space.
Visitors to the ongoing 11th Shanghai Biennale have the opportunity to witness the PSA's potential. The curators, Raqs Media Collective, have adroitly exploited the nonlinear disposition of the exhibition spaces through the conscious use of various levels to create moments of tension, release, discovery, and surprise. Furthermore, the vast installation titled "The Great Chain of Being — Planet Trilogy," by artist Mou Sen and the MSG Collective, recreates with impressive realism the entire evolution of a planet. Situating a piece such as this in a more traditional space would deny it the complex environs it needs to be truly successful. This is where the uncanny spatial order of the PSA comes into its own, fully realizing the ambitious aim of the institution: to become a catalyst for cultural life in Shanghai and China as a whole.
The very existence of the PSA — made possible by a $64 million public investment — has a significance that transcends the interests of art lovers and museumgoers. It is, in fact, a project of public relevance. It signals that, at the highest echelons of urban planning, there is a growing recognition of alternative cultural, economic, and ecological possibilities. Although adaptive reuse of existing structures — generally of an industrial kind — is common on a global level, architects like Wang Jianguo and Jiang Nan emphasize that this method has to date found very limited application in China. Historic urban heritage is more commonly torn down before considering new developments.
China's widespread "tear down and rebuild" philosophy has had negative effects on several levels. It has added to the destruction of the country's cultural heritage — both industrial and pre-industrial. This, in turn, has had a negative economic impact in two different ways. First, culturally significant sites attract the curiosity of tourists, generating revenue; recent trends in Europe show that tourism focusing on so-called industrial archeology is growing rapidly. Second, adapting existing structures can keep costs down. This is particularly true of industrial buildings, whose durable materials and advanced technological applications are particularly suited to functional reassignment.
But more importantly, regenerating what is already there serves one of the government's highest priorities: sustainable development. Adaptive reuse is a viable alternative to demolition and reconstruction in terms of reducing pollution and energy consumption.
Thanks to its design, this contemporary art museum proves that, in the 21st century, the arts and their institutions need not play roles confined to isolated forms of contemplation; rather, they can offer us clues to imagine and engage with new ways of living.
(Header image: Visitors interact with an exhibit at the Power Station of Art in Shanghai, Nov. 22, 2014. Yong Kai for Sixth Tone)