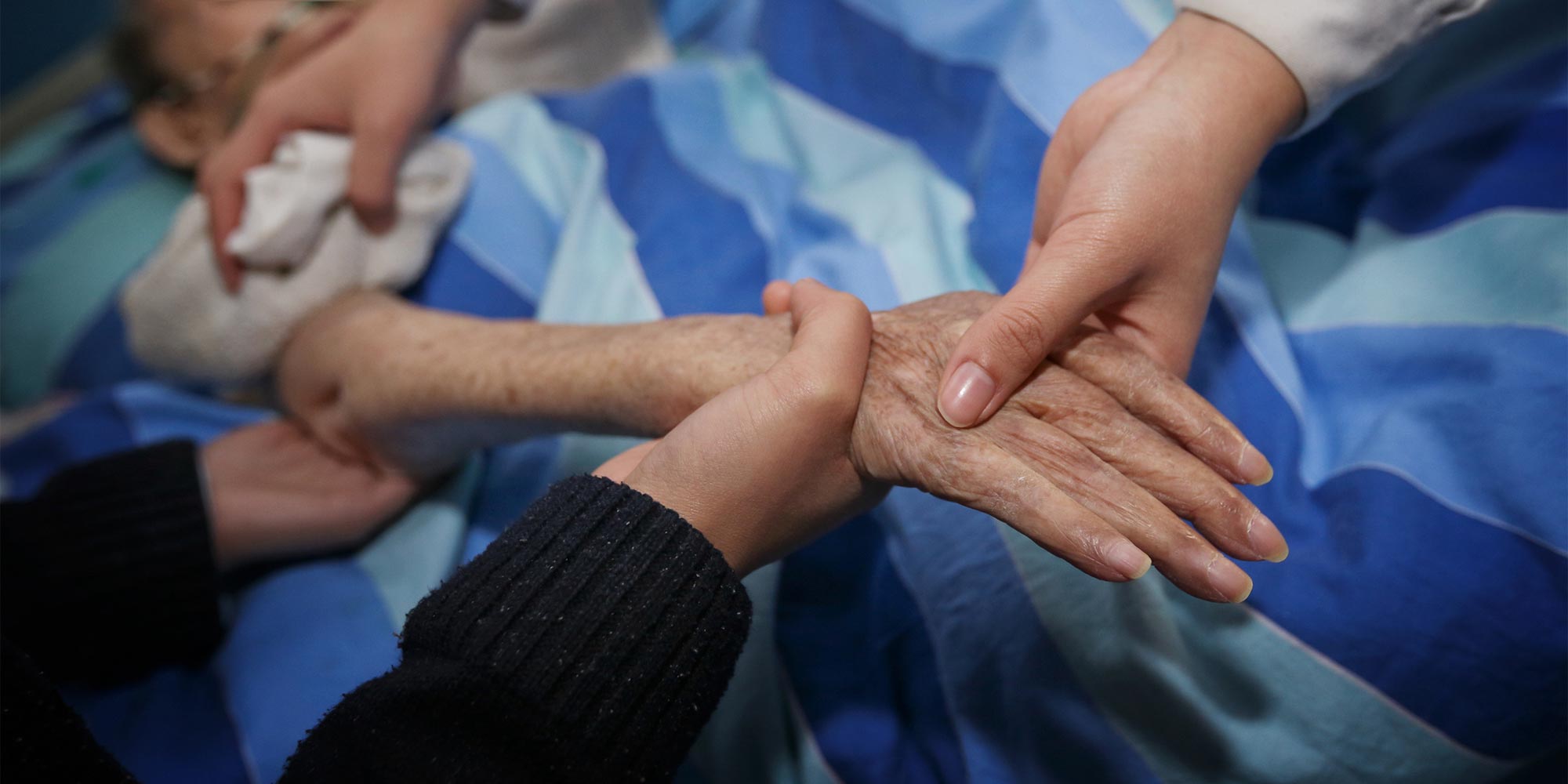 NEWS
China Issues First End-of-Life Care Standards
New rules require palliative care providers to employ at least 1 doctor for every 10 patients.
Thirty years after China's first hospice center opened its doors in Beijing, the country's top health authority has finally released a set of standards for palliative care — or that which is intended to reduce pain from a disease rather than cure it. The new rules, issued by the National Health and Family Planning Commission in late January, specify that such facilities should be equipped with at least 50 beds, and that there should be at least one doctor, four nurses, and 12 caregivers for every 10 beds.
By the numbers, China's end-of-life health care is desperately underresourced. In a country where 7 million people die each year, there are just 2,103 hospices and 289 nursing homes for dedicated palliative services — those which provide terminally ill patients with day-to-day care, psychological support, and physical pain relief — according to a 2015 report by state news agency Xinhua. In a global survey of hospice care quality, The Economist ranked China 69th in the world.
Health researcher Liu Jitong of Peking University in Beijing said the Chinese government has been slow in advancing the country's end-of-life care system. "Taiwan and the mainland started their hospice care services at almost the same time," Liu told Sixth Tone. "While Taiwan is improving its palliative care law, we're still laying out the basic foundation for our system."
Shanghai is one of the few progressive cities when it comes to hospice care reform in China. In September 2012, the city implemented local standards at community health service centers stipulating that there should be one medical practitioner and one nurse for every four beds, as well as an auxiliary caregiver for every four to six beds. For individuals who opt to receive palliative care services at home, one doctor and one nurse should be available for every 20 patients.
In the three years following these local standards, more than 6,000 patients received palliative care from 18 community health service centers across the city. However, even these centers were rarely equipped with as many as 50 beds for terminally ill patients.
Chinese people are also often reluctant to seek out hospice services, Wu Huanyun, director at the Jinshan District Health and Family Planning Commission in Shanghai, told Sixth Tone. Despite the fact that nearly 30 percent of the 800,000 people living in Jinshan District are above the age of 60, the local community health service centers — each of which has around 25 beds — do a fair job of coping with limited demand.
Traditional beliefs about palliative care prevent people from seeking out these services, Wu told Sixth Tone. "The situation has improved a lot though," he added. "In the past, it was taboo to talk about hospice care. Now, many still don't want to get hospitalized for their remaining days, but some do opt for end-of-life care services provided for them at home by community medical workers."
In Jinshanwei Town, for example, there are equal numbers of patients receiving care in hospitals and at home, Wu said, adding: "At the present stage, instead of increasing the number of beds at palliative care divisions, we're focusing our efforts on ensuring the quality of our services and advancing public awareness of hospice care."
For his part, Professor Liu agrees that the new national rules need to be accompanied by public education about the importance of end-of-life care.
"It's essential that people understand that when a person cannot be saved by any type of medication, end-of-life care must step in to help," he said. "It's time for Chinese people to open up about death and discuss how they can prepare to die or how they understand death. Only when we are willing to directly face the issue can we effectively advance our palliative care system."
(Header image: A nurse and a family member assist an elderly patient at a hospice care center in Zhengzhou, Henan province, Dec. 30, 2016. Cui Guanghua/VCG)