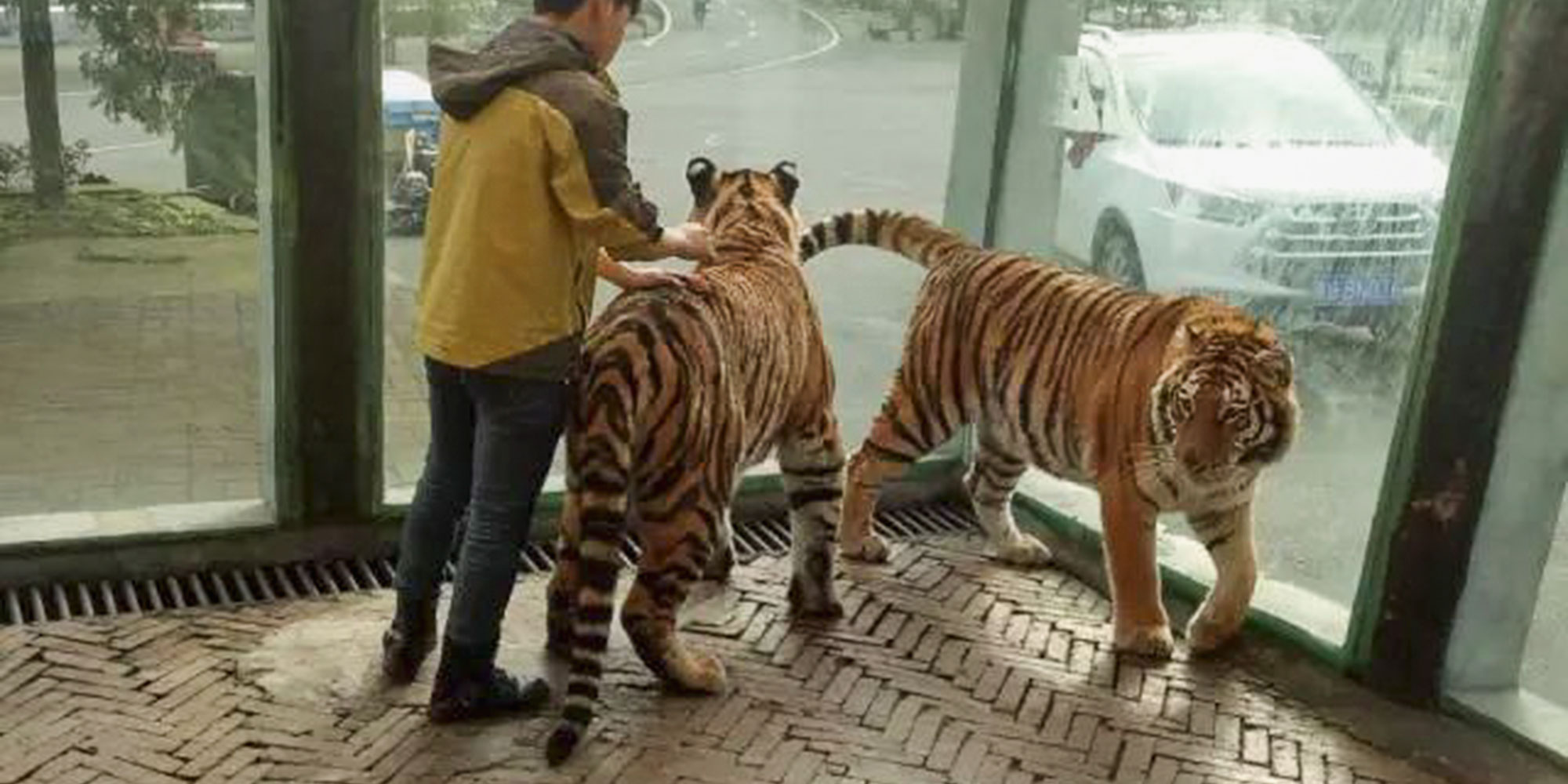 NEWS
Zoo Worker Live-Streams Himself Harassing Tiger
Wildlife park says animal and trainer are close and were just playing.
Riding a tiger, grabbing its tail, and pulling its ear — net users and animal lovers have reacted with shared disgust to a live stream in which an animal trainer mistreats a tiger at a zoo in southwestern China's Guizhou province.
The videos were originally uploaded to Kuaishou, a live-streaming app popular among young Chinese wanting to broadcast their antics to the wider world. In one video, a young man accompanied by friends is seen lifting a tiger's hind legs, as someone offscreen shouts, "He's dragging the tiger!"
As the tiger turns around and bares its teeth, the man returns the gesture, and the animal cowers. "It's so cool!" someone yells, bursting into laughter. As the men horse around, zoo visitors standing outside can be seen through the windows of the tiger's enclosure.
The videos garnered attention when a net user noticed one clip on Kuaishou's front page and reposted it to her own Weibo microblog on Sunday, along with a message asking for help. "The tiger was bleeding, and the man still grabbed its tail," the angry netizen said, adding that more videos in which tigers and other animals are abused could be found on the uploader's account. "He's simply using those animals as tools to gain popularity." The videos on Kuaishou were no longer available on Thursday morning.
A manager at the administrative office of Guizhou Forest Wildlife Zoo surnamed Yang confirmed to Sixth Tone that the video was shot in the park, but she denied that the man's actions toward the tiger constituted abuse. "The man is an animal trainer, and he has raised the tiger since it was born. What they were doing was a game," she said.
Privately owned Guizhou Forest Wildlife Zoo, located in Xiuwen County near provincial capital Guiyang, receives around 300,000 tourists each year. The zoo's star attractions include Siberian tigers, white tigers, and performances featuring black bears and other animals.
Yang, who refused to give her full name, added that the trainer was the only person taking care of the 2-year-old tiger, but she refused to provide further information about the other people seen in the video and whether they were also park employees. She added that the zoo's daily animal performance has been suspended as of Thursday.
According to a statement released by the zoo, the trainer and tiger were very close. "The young tiger is strong and nimble. It's very docile with its zookeeper," the statement said. "The video shows a romp between them."
Chinese zoos and circuses are frequently criticized for their treatment of the animals in their possession. A video that surfaced in January showed a circus where keepers had tied down a tiger so tourists could sit on it and have their photo taken. In the same month, another video appeared that showed a tiger being abused by a circus handler and falling into a pool of water.
He Yong, a project leader at the International Fund for Animal Welfare in China, told Sixth Tone that the behavior of the trainer in Guizhou is inappropriate and illegal, as any behavior that causes discomfort or stress in an animal has been outlawed since 2010.
"Both the zoo and the trainer are ignorant of the law," He said. "They should respect the animals and stop their mistreatment. Raising and training animals aims to improve their welfare. Grabbing a tiger's tail and pulling its ears obviously violate the regulations."
According to an article on online outlet thecover.cn that has since been removed, Xiuwen County's Ecological Civilization Construction office — the government body tasked with environmental oversight — said that it plans to send investigators to the zoo to look into the case.
Although nobody — apart from the tiger — seems to have been hurt in the incidents, He warned that the man's behavior was dangerous. In 2016, a woman got out of her car in a safari park in Beijing and was attacked by a tiger. Her mother, who attempted to save her, was killed. In January, a man was mauled to death by a tiger after he tried to enter a zoo in eastern China through the tiger enclosure to avoid paying for a ticket. The tiger was later shot to death.
"Those people put themselves into the tigers' mouths, but the animals shouldered the responsibility," He said.
(Header image: A video screenshot shows a zoo employee petting a tiger in Guiyang, Guizhou province, released on Feb. 16, 2017. From Guizhou Forest Wildlife Zoo's official website)