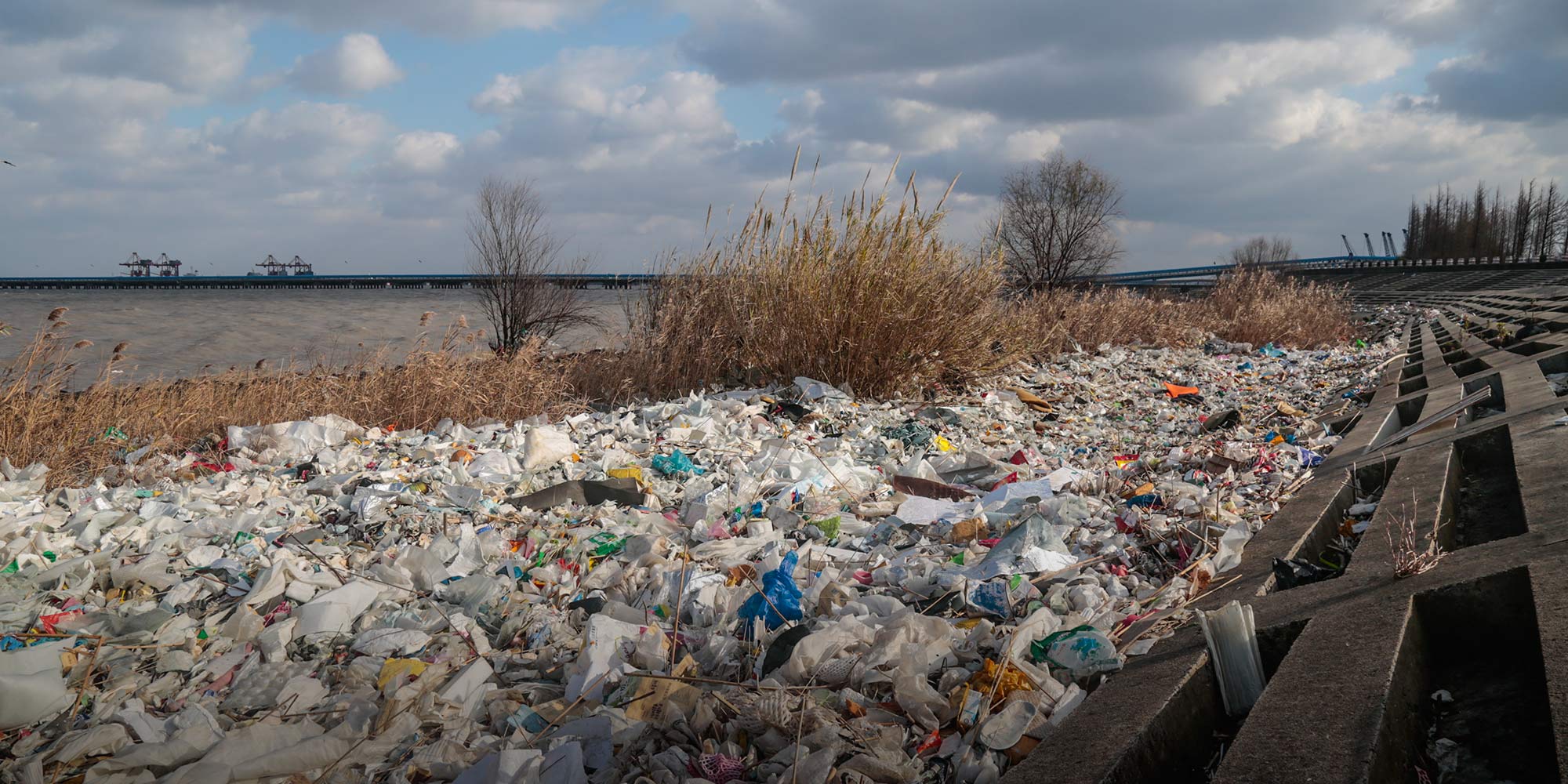 FEATURES
How China's Garbage Goes From Cities to Rivers
Waste disposal companies reap huge profits by selling garbage to unscrupulous middlemen.
Trash kept getting caught in the propeller of Wu Guang's speedboat. Looking out at the sea of waste that covered the Yangtze River around him, the 59-year-old realized that he wouldn't be able to make it far.
It was December, and the ice-cold breeze carried a putrid miasma over the water. "It smelled like a dump," he said, recalling that day on the river near Taicang, in eastern China's Jiangsu province, just a few kilometers from Shanghai.
Old clothes, delivery packaging, bottles, cans, food scraps, and even dead animals had been dumped in the river illegally over one night — a total of 2,000 tons of mostly household waste. Some of it sank to the bottom; most of it floated. "It almost covered the surface," Wu said. "Dead pigs, dead dogs, clothes — everything. Anyone who witnessed that scene would be heavyhearted about drinking water from the Yangtze."
Hundreds of thousands of tons of household waste are produced each day in China, and waste disposal has turned into its own industry. But with toothless laws and a general lack of oversight, some waste disposal companies have found that they can inflate their profits by selling their trash on to middlemen instead of properly disposing of it themselves. The middlemen, too, pass on the dirty work, and the waste ends up being resold again and again until no further profit can be made — and when this happens, the cheapest, easiest way to deal with it is often to throw it in the nearest body of water. In the absence of the ubiquitous security cameras found in city streets, official supervision of rivers is spotty, making them popular sites for illegal dumping.
Myriad cases of rivers being tarnished with trash have been reported. Since November 2016, nearly 10,000 tons of waste from the city of Haining was illegally dumped into the Yangtze, the Zhejiang procuratorate announced to the media on Tuesday. One of the most prominent cases in recent years involved 16,000 pig carcasses brazenly floating down the Huangpu River in Shanghai in March 2013.
As China's cities and middle class keep growing, so, too, does the amount of trash they produce. In 2015, the country's large- and medium-sized cities produced a total of 185.6 million tons of household waste, according to an annual report published by the Ministry of Environmental Protection (MEP). Most of this is produced by the population-dense coastal provinces of Guangdong, Jiangsu and Zhejiang, while Beijing, Shanghai, Chongqing, and Shenzhen are the top four cities in terms of waste production.
"The issue of waste disposal is a critical one in China, and it is growing more and more serious," Sun Jinghua, director of the waste reduction program at Beijing-based environmental group Friends of Nature, told Sixth Tone.
According to a 2014 report by China Construction News, a newspaper managed by the Ministry of Housing and Urban-Rural Development (MHURD), a total of 500 square kilometers of the country's land are now covered in piles of garbage. In an effort to deal with the ever-growing issue, the government enlisted public and private companies to deal with all matters concerning household waste. But alarmingly, the case in Taicang has highlighted just how much money there is to be made from China's household garbage and its illegal disposal.
Under a contract with the sanitation department in Haiyan County, in eastern Zhejiang province, Tianshun Garbage Transportation Co. was paid 277 yuan ($40) for each metric ton of household waste it accepted. But instead of properly disposing of the trash, the company sold it on to a middleman for around 170 yuan per ton, according to official police reports. For the more than 2,000 tons of waste that ended up in the Yangtze River, the local government had paid Tianshun about 554,000 yuan. With the middleman charging 340,000 yuan, the company was able to pocket the remaining 214,000 yuan.
Taicang police declined to comment on the case, which is still being investigated, but a report by the Jiangsu provincial procuratorate said six people had been arrested, including Tianshun's legal representative, a company shareholder, and two boat drivers.
Wu Xiaoyu used to work at a local environment bureau before he became a lawyer specializing in environmental lawsuits. Some boatmen and pier managers are in cahoots with companies that transport and dispose of waste, he said. "There is a financial appeal to the process," Wu added, noting that compared to incinerating waste or taking it to a landfill, the parties involved can profit more by dumping it illegally.
"They [garbage disposers] dumped this garbage in half an hour, but we have to spend five days or more to pick it all up," a sanitation worker who had been hired by the Taicang government to clean up the river told Sixth Tone. Bracing against the winter chill, elderly workers picked through worn shoe soles, plastic bags, and Styrofoam boxes. With each new wave, more garbage was swept onto the banks.
With both a high density of waterways and a large amount of household waste, Jiangsu sees more cases of illegal dumping than most provinces. But despite the fact that high-profile government officers have been assigned responsibility for protecting specific stretches of water, the illegal dumping continues.
Weak laws are part of the issue when it comes to disposing of waste in bodies of water. Before a new judicial interpretation took effect earlier this year, criminal punishment for illegally discharging, dumping, or disposing of waste was only on the table if there was evidence of both "toxic material" and property damage in excess of 300,000 yuan. Although household waste could be classified as dangerous if it contained heavy metals, for example, it's still difficult to catch violators today because of the dearth of security cameras, Wu said.
Even with new regulations, supervision of the country's waterways is another issue. Through the so-called automatic identification system (AIS) that all inland ships are required to have turned on at all times, waterways can in theory be supervised. But in practice, of course, this is more problematic, said a man surnamed Tang, who works in the propaganda department of the Taicang Maritime Safety Administration and refused to give his full name. In reality, ships can simply turn off their AIS and vanish from radar, he told Sixth Tone.
Only constant monitoring, including night patrols, can curb illegal dumping, Tang said. For that to happen, his department would need support from other authorities, such as the environmental protection bureau, the water conservancy department, and the harbor police. "The efforts of just one department cannot solve the issue," he said.
Song Guojun, a professor of environment at Renmin University of China, believes that a complete overhaul of the country's waste management is needed. "The management system is in chaos," he said, explaining that the MEP is responsible for cases of pollution, while the MHURD manages the collection and disposal of household waste. Song believes that one of these authorities — probably the MEP — needs to take charge and supervise the whole process. Otherwise, he added, "how can things be done properly?"
For those living on China's rivers, the sight of waste has become all too familiar. "You can hardly see the end," a 63-year-old fisherman said of the blanket of waste that covers the Yangtze from time to time.
Six days a week, he and his wife go out on the river to fish. The garbage damages his nets, he said, pointing to some tangled-up used diapers he caught. "I try to catch fish, but instead I end up fishing out garbage."
(Header image: Trash washes up onto the riverbank during high tide in Taicang, Jiangsu province, Dec. 27, 2016. Li You/Sixth Tone)