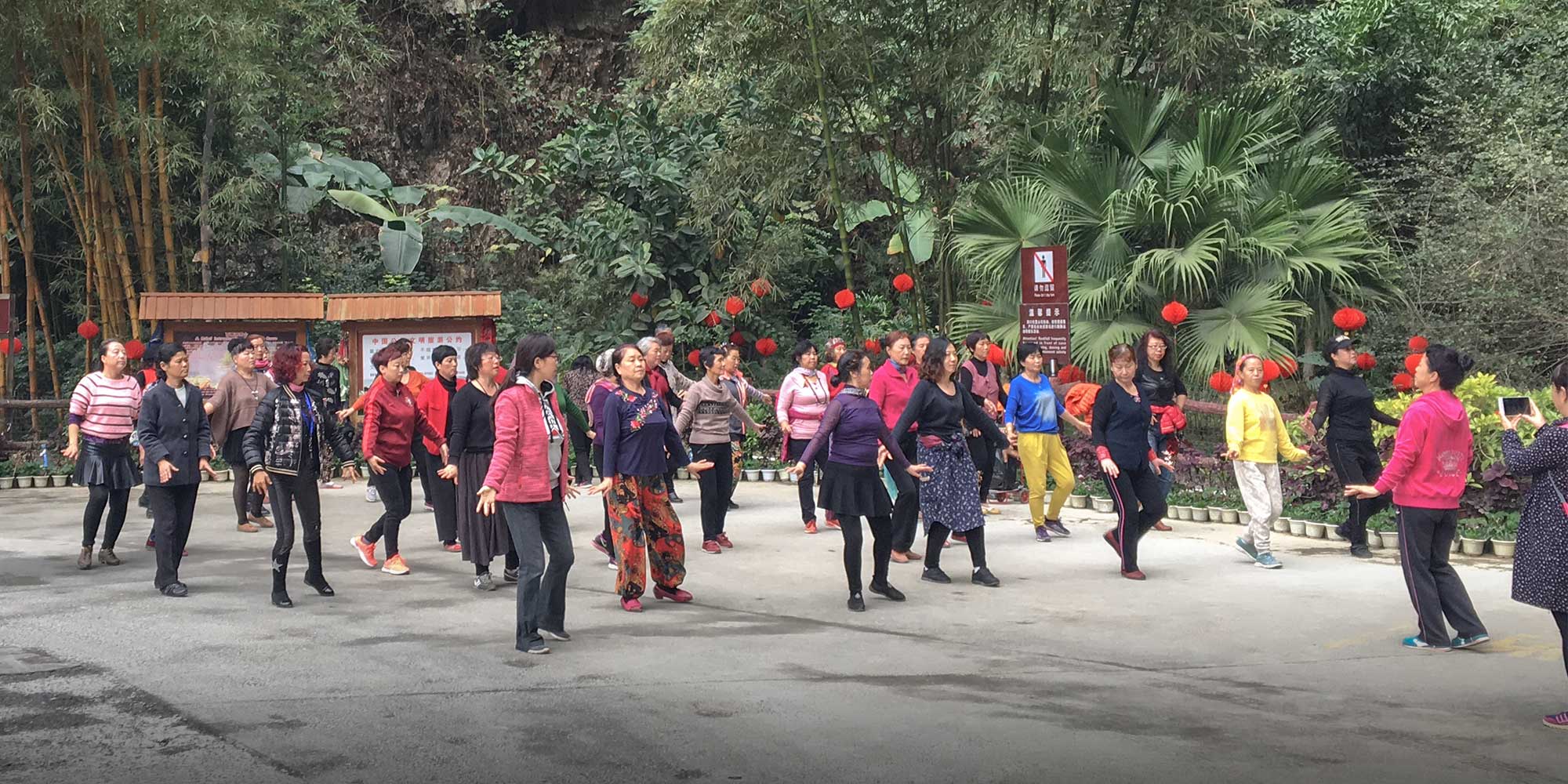 FEATURES
Longevity Pilgrims Go to Guangxi to Learn Secrets of Old Age
Local government is grappling with the influx of elderly visitors to southern China's 'home of long life.'
Mist drifts among the peaks of Bama County's verdant mountains in a scene that landscape artists could only dream of. Yet the county, in southern China's Guangxi Zhuang Autonomous Region, is known not for its scenery but for its legendary status as the country's "home of long life."
Bama County boasts 96 people over the age of 100 among its 300,000 residents, according to local government records. Of the county's centenarians, sprightly 112-year-old Huang Ma Kun is one of the most famous.
When Huang was born, China was still a dynastic empire, and women in her area had low social standing. They didn't even possess names of their own until they were married: "Huang Ma" means a woman of the Huang family, and "Kun" was the nickname of her husband. This became her official name after she married at just 14 years of age.
Living through wars, famines, and revolutions has left Huang, who belongs to the Zhuang ethnic minority, with vivid memories of hardship and deprivation. Even now, in these days of relative plenty, she prefers to keep her diet simple and plain, as do most of Bama County's other elderly inhabitants. Huang doesn't eat anything sweet and gives non-local foods such as milk or bread a wide berth.
Three days after a family meal to celebrate the lunar new year, attended by five generations of her family, Huang was still eating leftovers of her favorite delicacy, a species of fish that only lives in the nearby river. Locals cite the fish — known as youyu, or "oily fish," and rich in heart disease-battling omega-3 fatty acids — as one of the reasons for their good health. "We call it 'underwater ginseng' because of its great health benefits," Huang says.
Huang is something of a celebrity, her age a huge draw for the county's many visitors who seek not only to witness, but also to benefit themselves, from the area's supposed life-extending properties. In 2016, a record 4.35 million tourists flocked to the county, a 20-fold increase in the figure from a decade ago.
Outside her home, dozens of the longevity pilgrims from near and far line up to offer new year's greetings to Huang and take photos with her, and Beijingers Zhang Yufeng and her husband, both in their 70s, are next.
As is tradition, the couple give Huang a small hongbao — a red envelope containing money — as a token of their wishes for her continued good health. The fact that they can't understand Huang when she returns their blessings — like many her age, she cannot speak Mandarin and only knows the local Zhuang language — doesn't seem to matter.
Zhang and her husband are just two of the millions of tourists who will visit Bama County this year. While many spend just a few nights, the couple, who traveled over 2,500 kilometers to be there for the Chinese New Year, are taking the longevity pilgrimage to the next level. They are renting a small apartment for 1,500 yuan (around $220) per month nearby. "We are thinking of staying here for the long term," says Zhang, who is retired. "Our children can come to visit us here next new year."
At 32 centenarians per 100,000 people, the county still lags behind the world leader, Japan, where the proportion is 48 per 100,000. Nevertheless, Bama County boasts a rate of over-100-year-olds that is more than 10 times China's national average.
That figure is likely boosted by the fact that the region — with its thick forests and steep hills — doesn't lend itself to farming, meaning that a large proportion of the younger population has left Bama County in search of work elsewhere. Those who do stay to work the land find that a year's harvest will feed their own families but offers little else.
Meanwhile, scientists have found their own explanation for the "home of long life" in the county's distinctive natural environment. In the government-funded Bama Longevity Culture Exhibition Hall, a number of scientific theses on display extol the positive health effects of the area's unnaturally high geomagnetism (though some studies claim that high geomagnetic levels are harmful to the body) and high concentration of negative ions — oxygen atoms with one extra electron — in the air of local caves.
Along the river near Baimo Cave, Zhang waits in line beside villagers and visitors alike to fill her plastic bottle with spring water. "Locals told me that the spring water here is intensively magnetized by the cave and filtered by the karst rock," she says. "That enables it to cure some diseases." The couple have a monthlong pass to Baimo Cave, which they visit with deck chairs to get their daily dose of ionized oxygen.
According to Ye Liuyan, Bama's deputy county mayor, in addition to the millions of tourists, there are 100,000 or so non-locals who live there semipermanently, renting property on a month-by-month basis. A local tourism industry covering cave entrance fees, eateries, accommodation, transportation, and souvenirs has emerged along with the influx of people, but the local government remains ambivalent about the sector's growth.
Many of the county's villages have become flooded with not only those seeking long life but also those seeking cures to serious illnesses. "The natural environment in Bama County does do good to one's health," says Ye, "but the effects have been deified by the sick people one after another."
While the self-perpetuating reputation of the county as a life-giving haven has brought the area relative prosperity — as evidenced by a 12-percent year-on-year increase in income for locals, according to Ye — the government has taken steps to curb the impact that such massive human traffic has begun to produce.
In 2012, the government prohibited the construction of high-rise buildings that had begun to spring up in 2009 to house increasing numbers of inhabitants both temporary and permanent. A number of high-end resorts and hotels will be completed outside of the villages by the end of 2017, explains Ye, in an attempt to draw visitors away from the longevity villages themselves. "We aim to relocate elderly visitors to the 'holiday villages' planned and built for them," she says, "so as to reduce the negative influences on locals' lives."
But at the same time, plans to increase access to the isolated county thunder on. A highway connecting Bama County and the provincial capital, Nanning — scheduled to open by the end of 2018 — could make things more difficult for a local government seeking both to protect the region's landscape and villagers and to flaunt its unique, highly monetizable selling point.
For Huang's grandson Huang Jun, who lives with her, the spike in tourism is unquestionably a good thing. Now 43 years old, Huang Jun chose to return to the village to rent property to visitors, after having worked in the city for many years. In the past, tourism was a far-off concept for villagers who were happy with just three corn-based meals a day. Now, things have changed, Huang Jun explains between steaming mouthfuls of the expensive oily fish: "Life is much better and easier now."
The star of countless selfies and recipient of many a hongbao, Huang Ma Kun is more than happy to muster a smile for anyone who comes to her door. Bama's reputation has brought the country to the 112-year-old's doorstep, and it may yet do the reverse as well. As the latest horde of tourists snaps away on their phones, she smiles and says, "Some visitors from Beijing told me they would take me there one day."
(Header image: Temporary residents dance near Baimo Cave to get their daily exercise in Bama County, Guangxi Zhuang Autonomous Region, Feb. 1, 2017. Fan Yiying/Sixth Tone)