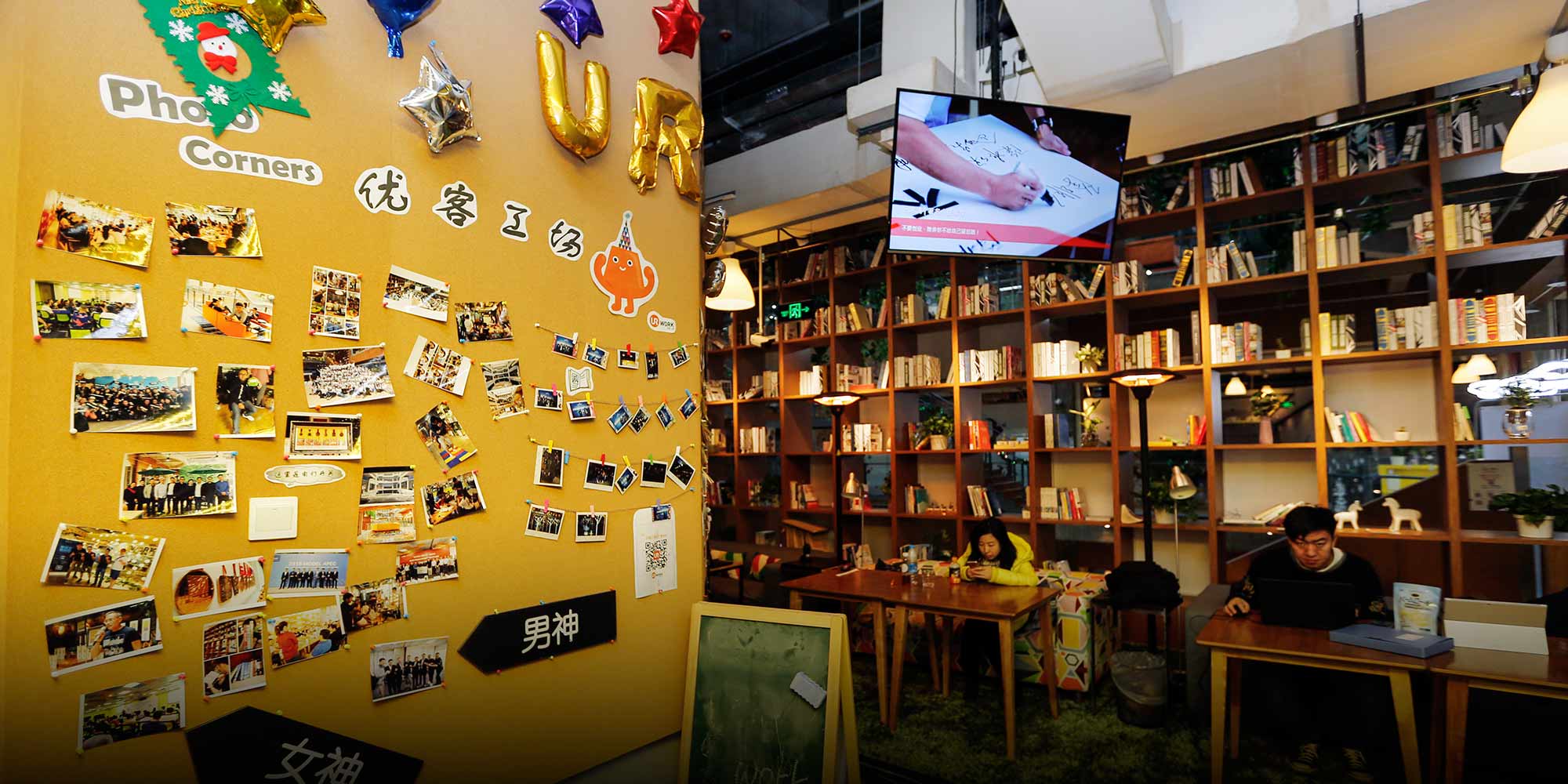 FEATURES
Is UrWork China's Answer to WeWork?
As the sharing economy gathers steam in China, co-working spaces are enticing clients by looking beyond chairs and desks.
Renting a spot in a co-working office space has proven to be a popular option for Chinese startups. For one, it allows greater access to facilities while saving on costs. It also has the added advantage of proximity to other small firms and freelancers, potentially providing access to networking and even investment opportunities.
Influenced by American unicorn startup WeWork, many Chinese businesspeople have started their own co-working spaces. By the end of 2015, there were over 16,000 of these co-working spaces in China. With offices in 10 cities nationwide, UrWork is China's clear market leader. Its founder and CEO, Mao Daqing, is the former vice-president of real estate giant Vanke, which he left over a year ago.
In this interview, Mao explains why he quit his former job and started this relatively new business in China. He also elaborates on the potential role of the "sharing economy" in the future of tech, and how Chinese startups can benefit from his company's experience.
What are the main differences between American and Chinese co-working spaces?
Mao Daqing: I don't think there is any essential distinction. Co-working spaces in China and the U.S. are like Didi Chuxing and Uber China [two ride-hailing services that merged last year]. How do you differentiate between them? They have the same essence: They share resources in the internet era — that's their starting point.
I have visited many co-working spaces in other countries, and I've realized that aside from WeWork, most of them — whether in London, Paris, Tokyo, Seoul, or Tel Aviv — are only two or three years old. Israel is ahead of other countries in terms of innovation, but they only started utilizing this business model in the last two or three years. They have a number of incubators and are more established, but an incubator is not equivalent to a co-working space.
Co-working spaces tend to sprout up in economically developed areas with lots of startups. They're in some eastern and western U.S. cities and big cities in China. Co-working spaces wouldn't do well in third- or fourth-tier cities, so I would say that this business model emerged in metropolises.
The idea of UrWork is to make use of little-used resources to connect people, creating a new form of community.
The sharing economy is presented in various ways, such as cohabitation and shared accommodation, shared medical systems and shared education programs. The core principle is to redistribute social resources. So these co-working spaces are not just about building an office, but about changing the concept of the working area.
Are co-working spaces innovative? It seems like the business model is just dividing one big office into many smaller ones and then renting them out.
Mao Daqing: The co-working approach of today is way different from just leasing office space. Modern shared office spaces were born in the internet era — people care about the content here, and they are willing to pay to be a part of the right community.
People who come to shared office spaces are not just looking for a place to work; they're also trying to meet people they want to be friends with, people who run similar businesses, or people who have a particular expertise. Besides your family, who are your closest friends, and where did you meet them? Mostly from school, right? At school, your friendships are not defined by interests or money, and it's the same in a co-working space: People in different industries don't initially have conflicts of interest. For example, a music app and a sports startup — they have less crossover in terms of business interests, so they are more likely to trust each other.
Leased office buildings have a simple model: You pay the rent, move in, and sit in your own cubicle, with no cross-company communication. So in a co-working space, "paying for community" is a very important part. Everyone shares something, and to share is to gain — that's one of the central tenets of the sharing economy.
All co-working spaces have one thing in common: the internet, which makes communication more efficient and brings people closer together.
Last year I met the grandson of Thomas Edison. He said that human society is entering a period of great innovation. The last time there was such a period was 1870 to 1900. Over that span of 30 years, lots of things were invented that changed the world, and the foundation of it all was electricity.
And I agree with that — so what is the "electricity" of today that triggers innovation? It's the way people communicate and exchange information, and it's called the internet.
You held a very senior position at Vanke, one of the largest property developers in China. Why did you choose to quit your job there and start a co-working business?
Mao Daqing: Although I've worked in the property industry, I have varied hobbies, and what I studied in school had little to do with real estate. For my doctoral degree, I studied quality of life in urban areas, and then for my postdoctoral studies, my research area was anthropology. At first glance, these subjects may not seem to be related to real estate, but actually they are. Looking at property from a sociological perspective, we can see many problems in this industry, and I wondered whether there might be any way we could make some changes. Then came the sharing economy, which offers us a good chance to redevelop and reuse social resources.
What are the differences between the needs of Chinese startups and U.S. startups?
Mao Daqing: Chinese people are perhaps less inclined to start their own businesses, but that's changing with the younger generation. In the past, if someone said they were a freelancer, you might think that this basically meant they were unemployed. But there are more freelancers and self-employed people in China now — starting a business is becoming fashionable. Compared to their parents, people who were born after 1985 or 1990 have less spiritual attachment to big companies. They have received both Chinese and Western education and have instantaneous access to information. They have also been granted more freedom in terms of both their personalities and finances. All of these factors make them more suitable for starting their own businesses. We should offer them a proper venue and provide them with chances to link up with each other and grow faster.
You've said that at UrWork, there is communication between companies, groups, and individuals, and that this is what distinguishes your company from traditional office space. Thus far, are you satisfied with the degree of communication between UrWork customers?
Mao Daqing: This is a gradual process, and these companies are getting used to this co-working environment. Initially, we organized icebreaker activities for them, and now some of them have started to organize events by themselves.
I believe autonomous communities will develop naturally. For example, a company might invite its neighbors to their press conference, or when someone thinks of an idea, they can find a partner from within their UrWork community.
How else does UrWork facilitate communications and relationship-building between companies?
Mao Daqing: UrWork has its own app, and in it there are many services that companies can use, like booking a meeting room, finding a designer, etc. Many of those services are not provided by UrWork operators, but are instead offered by those working here. Any of our member companies can apply to provide a service on our app.
We will also introduce an evaluation mechanism for the app that will allow users to rate the quality of services, and those that fail to meet our standards will be taken down.
This is an original article by CKGSB Knowledge and has been used with their permission. The article was first published here on Oct. 19, 2016, under the headline "UrWork, China's WeWork?"
(Header image: An interior view of UrWork co-working space in Beijing, Dec. 14, 2016. Zhang Tong/VCG)