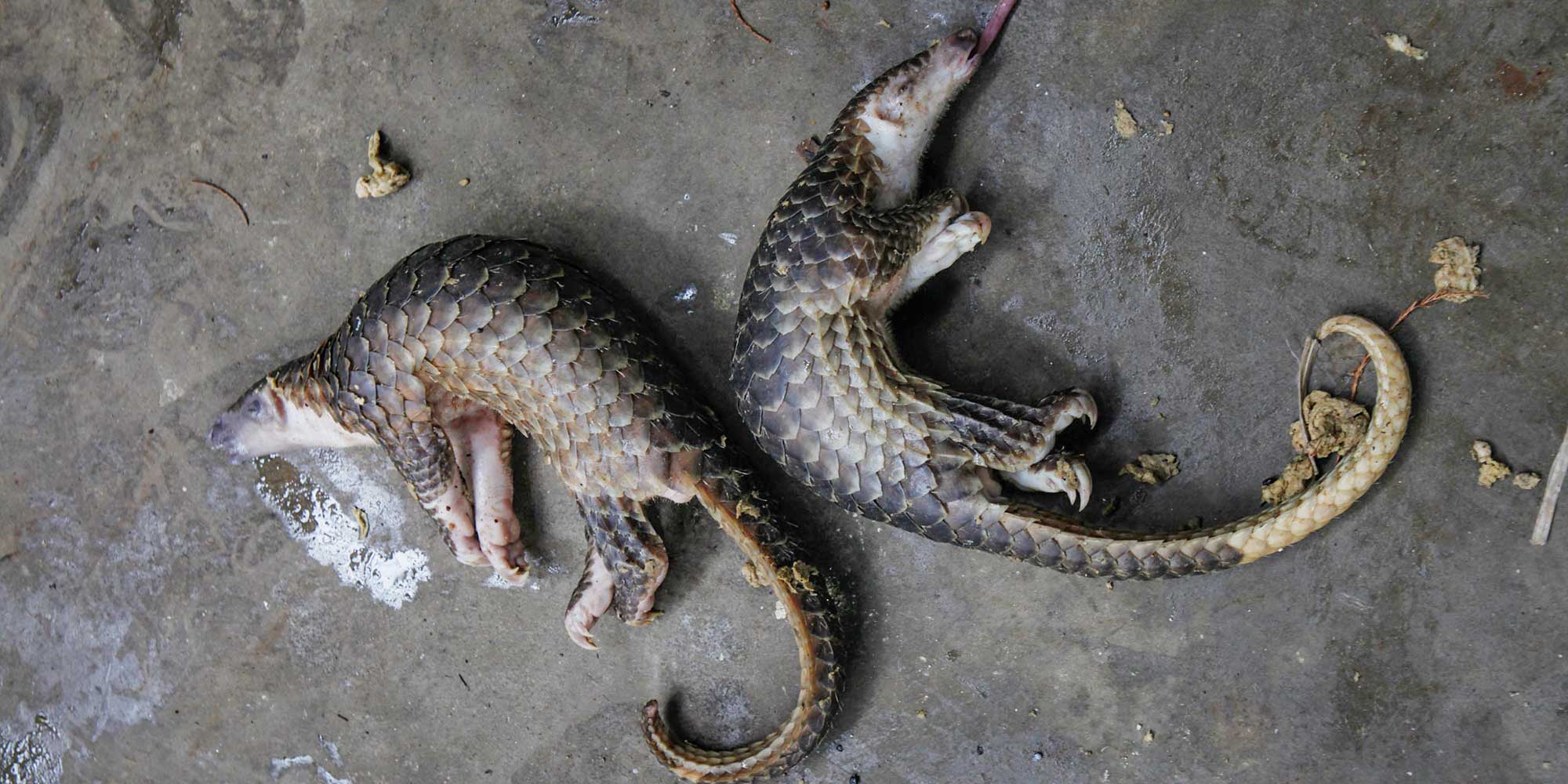 NEWS
Pangolin Dinner Lands Guangxi Officials in Hot Water
Old social media post dug up by netizen causes an online furor.
A recently discovered microblog post from 2015 about a banquet involving endangered wildlife has turned into an online witch hunt.
"Thanks to Director Li and Secretary Huang for inviting us to their office and cooking pangolin for us," user Al_Cal wrote on his Weibo account in July 2015. "It's my first time eating it. Both the texture and flavor are great." The two men he named were government officials from Guangxi Zhuang Autonomous Region in southern China.
The implication that government officials were feasting on a critically endangered animal did not go unnoticed. Environmental groups, the China Youth League, and angry netizens alike all weighed in social media to call for justice and better protection for the pangolin.
Chinese pangolins are insect-eating mammals endemic to the country's south. Their meat is considered a delicacy, and the hard scales that cover their body are believed to have medicinal qualities. Their value has caused their numbers to dwindle, despite the fact that they are a protected species, according to both Chinese and international regulations.
Nevertheless, wild pangolins are still being hunted. A 54-year-old native of Guangdong province in southern China told Sixth Tone that people dry the animal's scales, grind them into a powder, dissolve the powder in water, and drink the concoction as medicine. She added that only rich people eat pangolins. "It was easy to buy more than 20 years ago, but now trading them is forbidden," said the woman, who refused to give her name because she herself has eaten pangolin.
According to the International Fund for Animal Welfare, more than a million pangolins were trafficked globally from 2006 to 2015. In December 2016, Shanghai customs discovered 3.1 tons of pangolin scales, accounting for more than 5,000 animals.
The newly uncovered post also received attention from the central government: The State Forestry Administration (SFA), the bureau tasked with protecting China's flora and fauna, wrote on their official Weibo account that people who eat protected species of wildlife should be held legally responsible.
Much of the discussion online has focused on tracking down the two officials mentioned in the 2015 post by their (very common) surnames. An employee working at the Guangxi forestry department told Sixth Tone's sister publication, The Paper, that the local forestry police have been ordered by the SFA to investigate the case, although they refused to disclose the names of the suspects.
According to rumors circulating online, "Secretary Huang" now works at the government-affiliated Guangxi Investment Promotion Bureau. But a statement from the bureau obtained on Tuesday by Sixth Tone read: "We carefully examined the picture and did not find any leader or employee [of our bureau] among the diners in the photo."
Other net users have also pointed out that the location of the dinner is out of line with the government's "eight-point regulation" — austerity rules introduced in 2012 aimed at limiting official spending. "The most interesting thing is that they were eating pangolin in the office, which is obviously against the eight-point regulations released by the central government," wrote one net user.
Other posts by Al_Cal show him in the company of various government officials, pictured with luxury items, such as a deer horn and expensive liquor, he claims were given to him. Al_Cal could not immediately be reached for comment. He has since deleted all of his Weibo microblog posts, including the pangolin dinner photo from 2015.
(Header image: Two dying pangolins seized by police in Foshan, Guangdong province, Mar. 17, 2012. Zhou Lingfei/VCG)