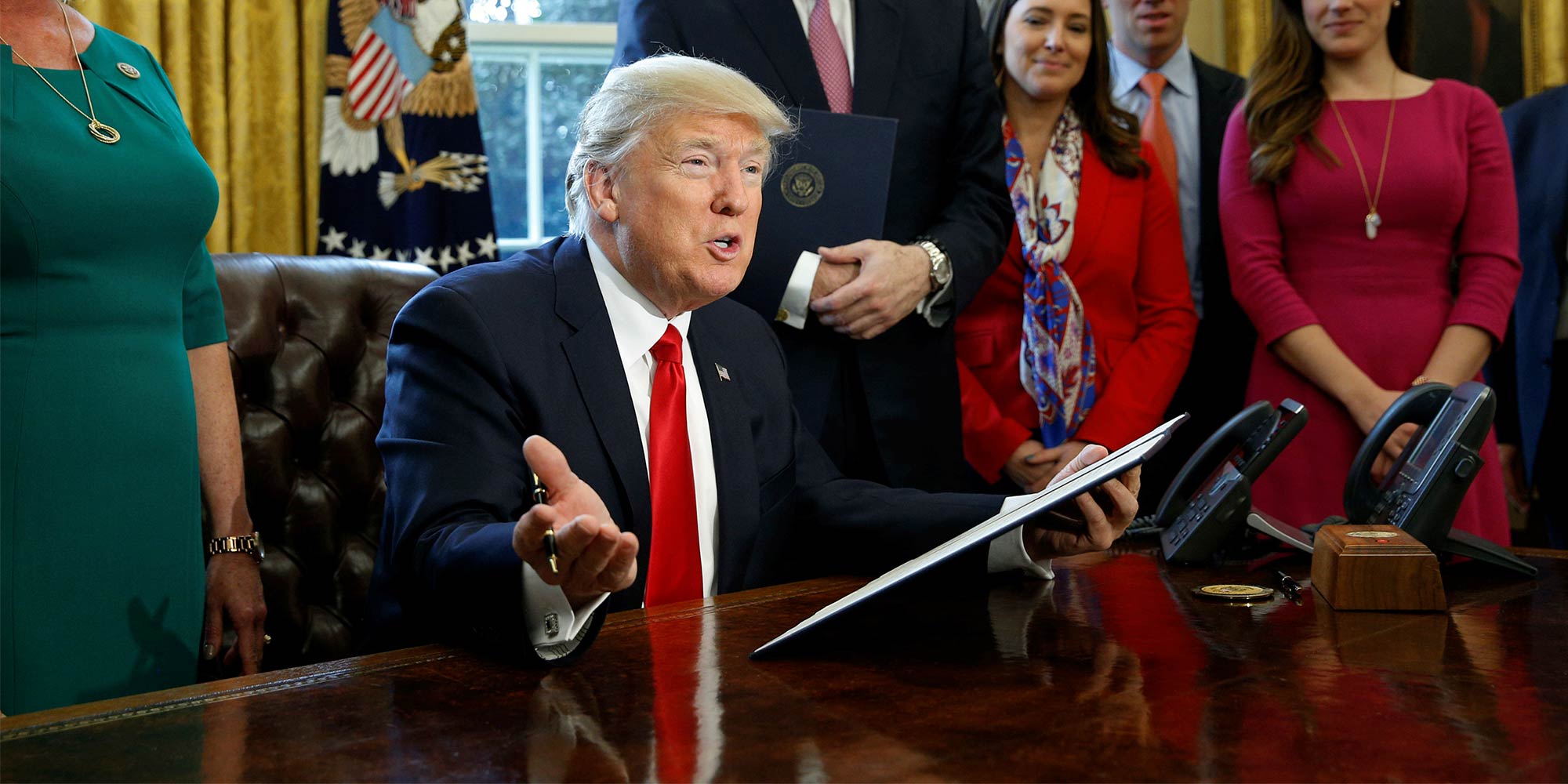 NEWS
Trump Is Enemy of the Law, Says Chinese Judge
Supreme Court justice draws comparison between POTUS's disregard for travel ban ruling and recent murder of Chinese judge.
A judge serving on the Supreme People's Court of China, the country's highest judicial body, has labeled Donald Trump an "enemy of the rule of law," following the U.S. president's disparaging remarks about a "so-called judge" who blocked his divisive travel ban on Friday.
In a Sunday post published to his own public account on social media platform WeChat, Judge He Fan suggested that Trump's contempt for the actions of federal Judge James Robart represented a level of disrespect for the legal system comparable to the murder of a Chinese judge in late January. He's belief that Trump is hammering the final nail in the coffin of American judicial independence is clear: The article features a mournful header image depicting candles, and the song "Farewell, Policeman" by Hong Kong singer Fiona Fung is embedded within the text.
Translating a series of tweets in which the U.S. president said Robart's "ridiculous" decision would open the U.S. "to potential terrorists" and "many very bad and dangerous people," He, 39, expressed shock at Trump's open attack on a member of the judiciary. "For the president of a country that considers itself the greatest of democracies to lead an attack against a judge — and for his vice president and party members to defend him — makes him nothing more than a villain with no dignity," He wrote, "regardless of the armed forces and nuclear bombs at his disposal."
He, who did not immediately respond to Sixth Tone's requests for comment, posts articles on judiciary affairs to his WeChat account, "Colorful Law," which — according to his own estimates — had nearly 200,000 subscribers as of late January. As well as commenting on domestic legal issues, He writes frequently on matters concerning the U.S. Supreme Court, publishing a book in October 2016 titled "Justices, the Decision Makers," which expounded on the notion of the U.S. Supreme Court as the country's ultimate agent of legal power.
The sovereignty of America's legal system meant that Trump went against the grain by publicly criticizing a judge and his decision, He argued. "No matter how much they hate a court ruling, presidents can only keep it to themselves," he wrote. "They don't air their criticisms in public, let alone put a judge in the crosshairs."
He's critique comes just weeks after China's Chief Justice Zhou Qiang vigorously dismissed the need for a judiciary completely independent from the country's political bodies of governance.
But He did not draw any comparisons between that statement and Trump's vitriolic attack on his country's judicial system. Instead, Trump's disregard for the federal court's ruling was comparable to the Jan. 26 murder of a judge at his own home in Luchuan County, southern China's Guangxi Zhuang Autonomous Region, He argued. The prime suspect in the killing of Judge Fu Mingsheng has been named as Long Jiancai, a man whom Fu ruled against in a 1994 divorce case, Luchuan's court confirmed in an official statement Sunday.
The case has spurred an outpouring of grief, and not only within legal circles. Acknowledging the impassioned outcry of his current and former colleagues in China's judiciary, He called for more than just anger, suggesting that verbal attacks do little to drive meaningful change.
"In order to avoid another Fu Mingsheng or a Ma Caiyun," wrote He, the latter referring to another recently murdered judge, "great and practical measures must be put in place to safeguard the work of judicial officers."
With contributions from Owen Churchill.
(Header image: U.S. President Donald Trump addresses onlookers before signing an executive order at the White House in Washington, D.C., Feb. 3, 2017. Kevin Lamarque/Reuters)