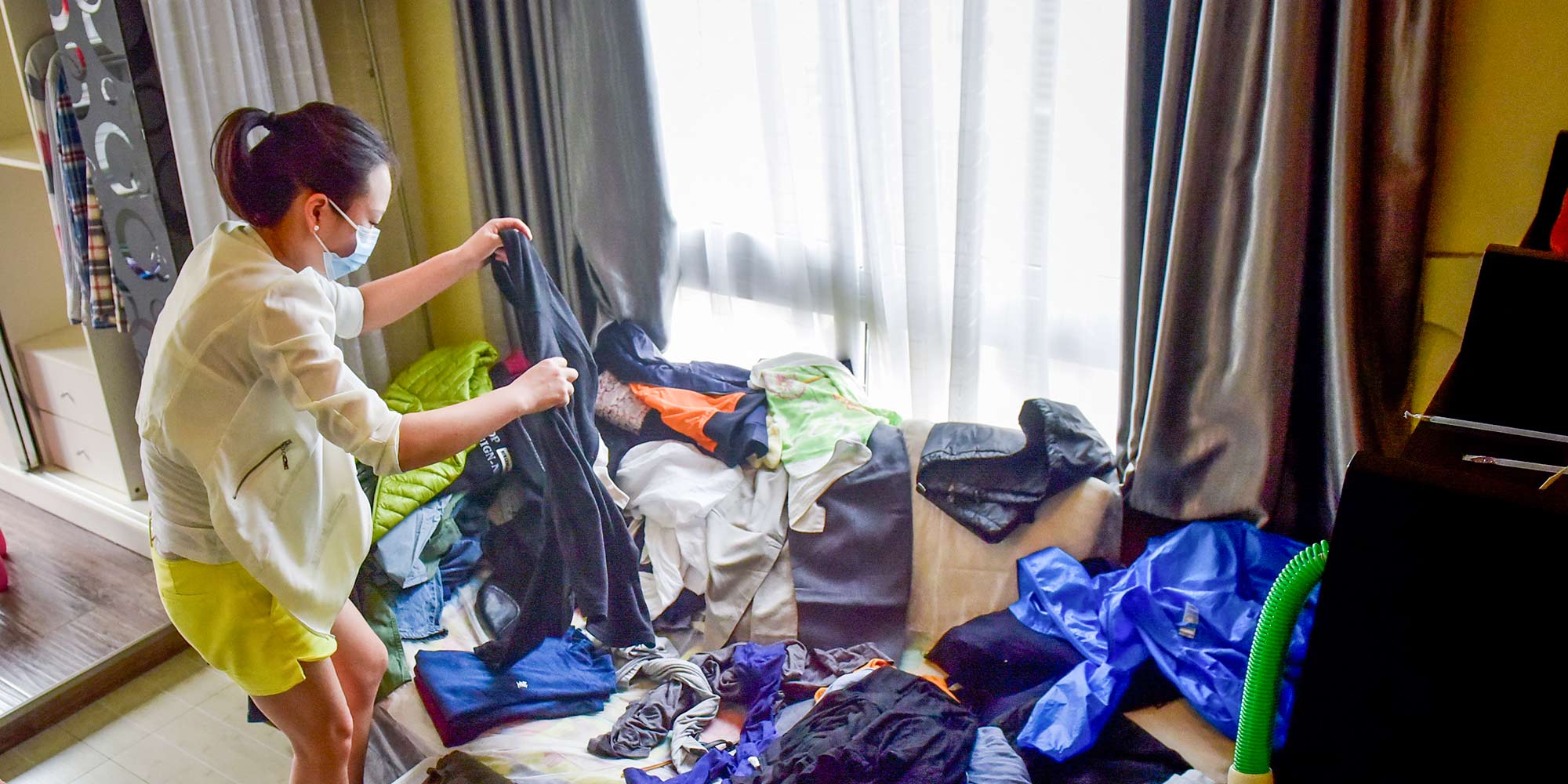 VOICES & OPINION
How China is Reworking Japan's Decluttering Craze
Middle-class Chinese are giving a new twist to Marie Kondo's popular home organization theory.
Two years ago, it would never have occurred to me that I could make money just by tidying up other people's things.
I first learned about Japanese home organization techniques while working as the architecture editor at a weekly Shanghai-based magazine. Interviews with award-winning designers gave me a taste for the forward-thinking work of Japanese architects like Tadao Ando and Kengo Kuma. Later, I discovered that aesthetic theories of home organization had their origins in Japanese architecture. Principles like cleanliness and the use of empty space have also been lauded by decluttering experts like Marie Kondo in her 2014 book "The Life-Changing Magic of Tidying."
In April 2015, I was interviewed by another Shanghai-based media outlet, Life Weekly, for a cover story on home organization techniques. I remember predicting that China, too, would be swept up in the Japanese trend for decluttering our living spaces, and that our coastal cities would be the first to catch on to this trend. There were three main reasons behind this.
First, housing prices in China's first-tier cities — vast metropolitan areas like Beijing, Shanghai, and Guangzhou — are rapidly rising. At the same time, a growing consumer class is spending more and more money on products that, frankly, are junk. However, some of these people have caught on to the fact that often the most expensive, attractive part of the home is the home itself. The newfound interest in Japanese principles of paring down one's belongings and revealing space thus comes at exactly the right time.
Second, although increased consumer power coupled with the convenience of online shopping has encouraged a multitude of material possessions, for some people this trend has reached saturation point. Against the rising tide of cheap furniture, televisions, and domestic appliances, the Japanese notion of selecting a few high-quality items for the home proves highly seductive.
Third, the deeper concepts behind home organization attract educated, middle-class Chinese who are left uninspired by the blind materialism of the country's predominant consumer culture. Kondo, for example, suggests that we should first establish equality between ourselves and the items we own, cherish what we have, and, finally, bid a grateful farewell to those objects which no longer serve us well on our life's path. Key to this process is asking ourselves whether the item in question sparks joy — a question that addresses whether we truly have a harmonious interface with an item in the home. Encouraging China's hordes of junk-hoarders to reflect on the meaning of their belongings elevates home organization from a passing fad to a life philosophy.
After witnessing the trend described above, I decided to go into the home organization industry myself — not as a professional decluttering consultant, but as someone who serves those consultants. In Japan, many organizations such as Housekeeping, the Spark Joy Tidying Association, and the Home & Life Academy issue certificates for expert home organization consultants. Recognized consultants may then conduct business on-site, in the homes of their clients.
Inspired by these organizations, I launched a public account on WeChat, China's most popular messaging app, in May 2015 called "No. 1 Organizing Platform." It aims to introduce consumers to Japanese home organization techniques and to on-site consultants operating in China. Just a year and a half old, the account already has nearly 200,000 followers, and several of our contributors work as home organizers, speak Japanese, and have earned internationally recognized accreditations for their work in either Japan or the United States.
Interestingly, although the home organization trend originated in Japan, it is quickly taking on its own characteristics in China. In Japanese, the word danshari — comprised of three characters — captures the ideas of relinquishing unnecessary material possessions, creating living space within the home, and abandoning the desire to accumulate new possessions.
However, Beijing-based home organizer Bian Yuechun asserts that in China, danshari is not fully applicable to the average household. The problem, she says, lies mostly with a failure to identify dan, the first character in the word. Some people determine dan — what to get rid of — too quickly. Overcome by the impulse to throw things out, they then regret their decisions later. Others determine dan too slowly, resulting in procrastination and anxiety.
Bian modified these organizational principles to create the distinctively Chinese concept of liucundao, which distinguishes itself by not insisting that people throw things away. Instead, it encourages people to display their possessions in a way befitting their purpose. The head of the household decides to get rid of certain items only when they have fully appraised the object in its environment and come to regard it as superfluous.
Strangely, Bian's theory of liucundao has actually begun to have repercussions on danshari back in Japan. Last November, Bian featured on a program made by Japanese television channel HNK — a move that proved popular back in the home of danshari.
Chinese clients who book a well-regarded professional home organizer will likely have to fork out around 1,500 yuan ($220) for a five-hour consultation. As it generally requires between five and eight sessions to organize an entire home, the cost of decluttering your house can sometimes exceed 10,000 yuan.
In China, most of our outstanding home organization experts are online — mainly on the peer-to-peer knowledge-sharing platform Zaihang. Some, like Zhao Jing, can be booked for one-on-one discussions about the principles of decluttering. Others, such as Han Yien, can be contacted for professional advice about becoming a home organization consultant.
In January this year, as I was scrolling through photos on Instagram, I found that many American, Canadian, and European friends were suddenly listing themselves as "licensed home organization consultants." It so happened that many of those who had graduated from Marie Kondo's workshops in the United States had been issued certificates by the Spark Joy Tidying Association, allowing them to go into the profession when they returned to their home countries.
I believe that Marie Kondo should now train her eyes on China as her next market. At present, a quirky aesthetic theory that first arose in Japan is attracting attention worldwide and, in China at least, diversifying into new and interesting forms. Showing no signs of abating, this trend is likely to prove lucrative to newfound home organization consultants for a long time to come.
(Header image: A wardrobe organizer sorts clothes for a client in Chengdu, Sichuan province, May 19, 2016. Lü Jia/VCG)