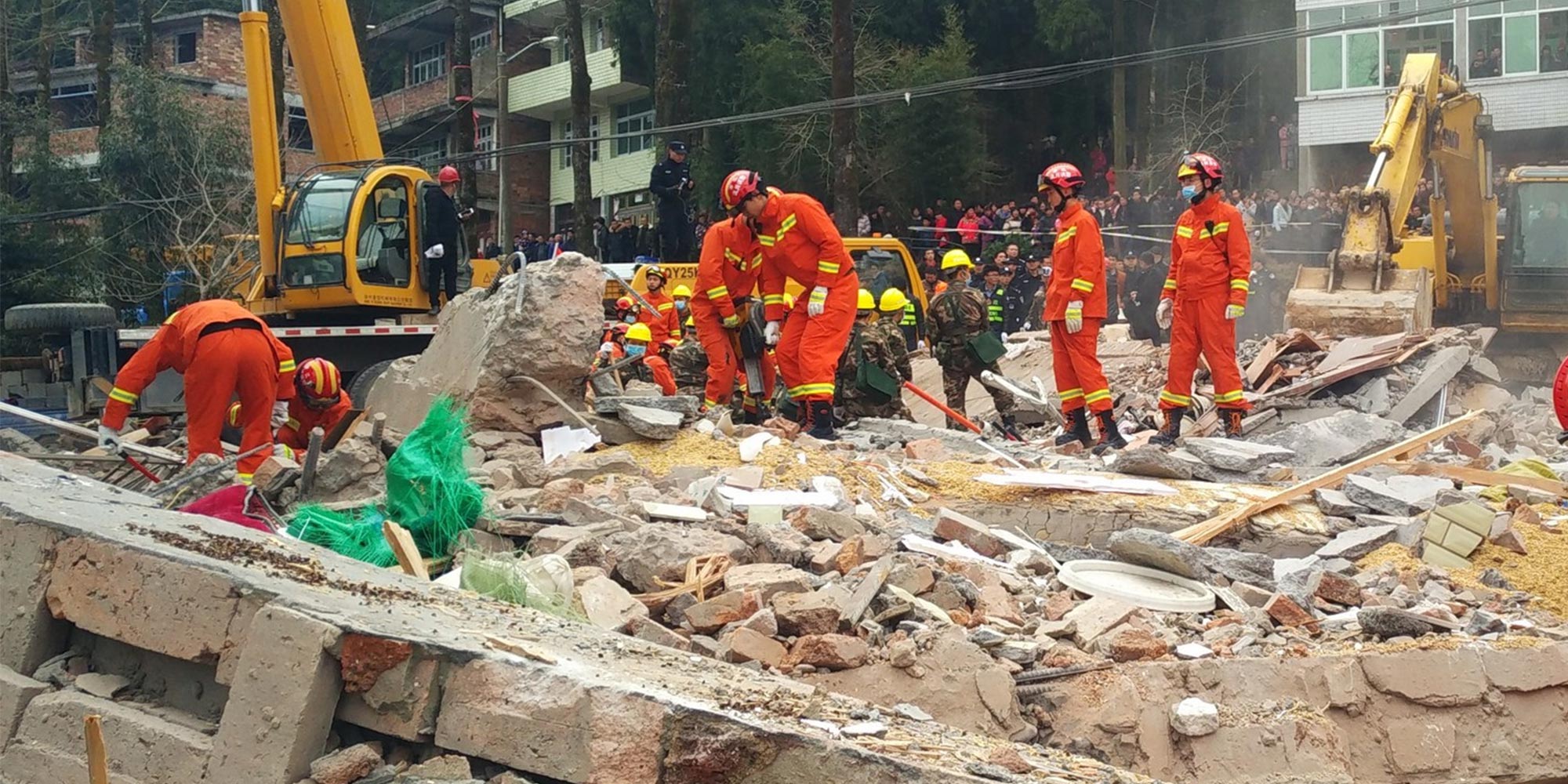 NEWS
Seven Killed in Zhejiang Building Collapse
Rescue efforts come to a close as two survivors pulled from rubble of collapsed multi-story residential building in Waidahui Village.
Seven people were killed after a multi-story residential building collapsed Thursday morning in a village near the city of Wenzhou in eastern China's Zhejiang province, Sixth Tone's sister publication The Paper reported Friday.
Nine people from two households were trapped when the building — a four-and-a-half story structure containing four housing units — collapsed just after 8 a.m. in Waidahui, a village in Wencheng County that lies around 100 kilometers inland from China's east coast. Images of the site show an area strewn with crumbled concrete, next to which stands a residential building apparently relatively intact. At around 7 a.m. Friday, almost 24 hours after the collapse, the second of two survivors was pulled from the rubble, a middle-aged local woman referred to in media reports by her surname Liu.
On Thursday evening, one of those trapped in the collapse, 63-year-old Hu Qinghua, was able to use her cell phone to contact her daughter, a conversation that was captured by TV crews and subsequently circulated widely online. "Fine, fine, they're all fine," Hu's daughter told her. "Don't think about them. They are all in hospital." Hu was rescued shortly before 11 p.m. Thursday, having spent 15 hours pinned under debris.
Over 400 people were involved in rescue efforts, including soldiers, police, fire rescue personnel, and medical staff. The fire rescue department of Wencheng County could not be reached for comment, but the county's publicity department provided rolling coverage from the scene on its official microblog Weibo account.
As is often the case with disasters in China, senior representatives from local government were quick to appear at the site. According to state news broadcaster CCTV, provincial government leaders issued an order calling for rescue operations to be carried out scientifically to reduce the number of casualties, for those affected to be relocated, and for the matter to be dealt with in accordance to the law once the reasons behind the incident have been ascertained.
The incident occurred barely four months after 22 people were killed when four residential buildings collapsed in Wenzhou's Lucheng District. A 2014 government investigation had classified over 1,400 buildings in Lucheng as dangerous, of which almost 1,000 were deemed unsafe for human habitation.
This article has been updated to reflect the latest casualty numbers.
(Header image: Rescue personnel search for survivors among the debris of a collapsed residential building in Wencheng County, Zhejiang province, Feb. 2, 2017. IC)