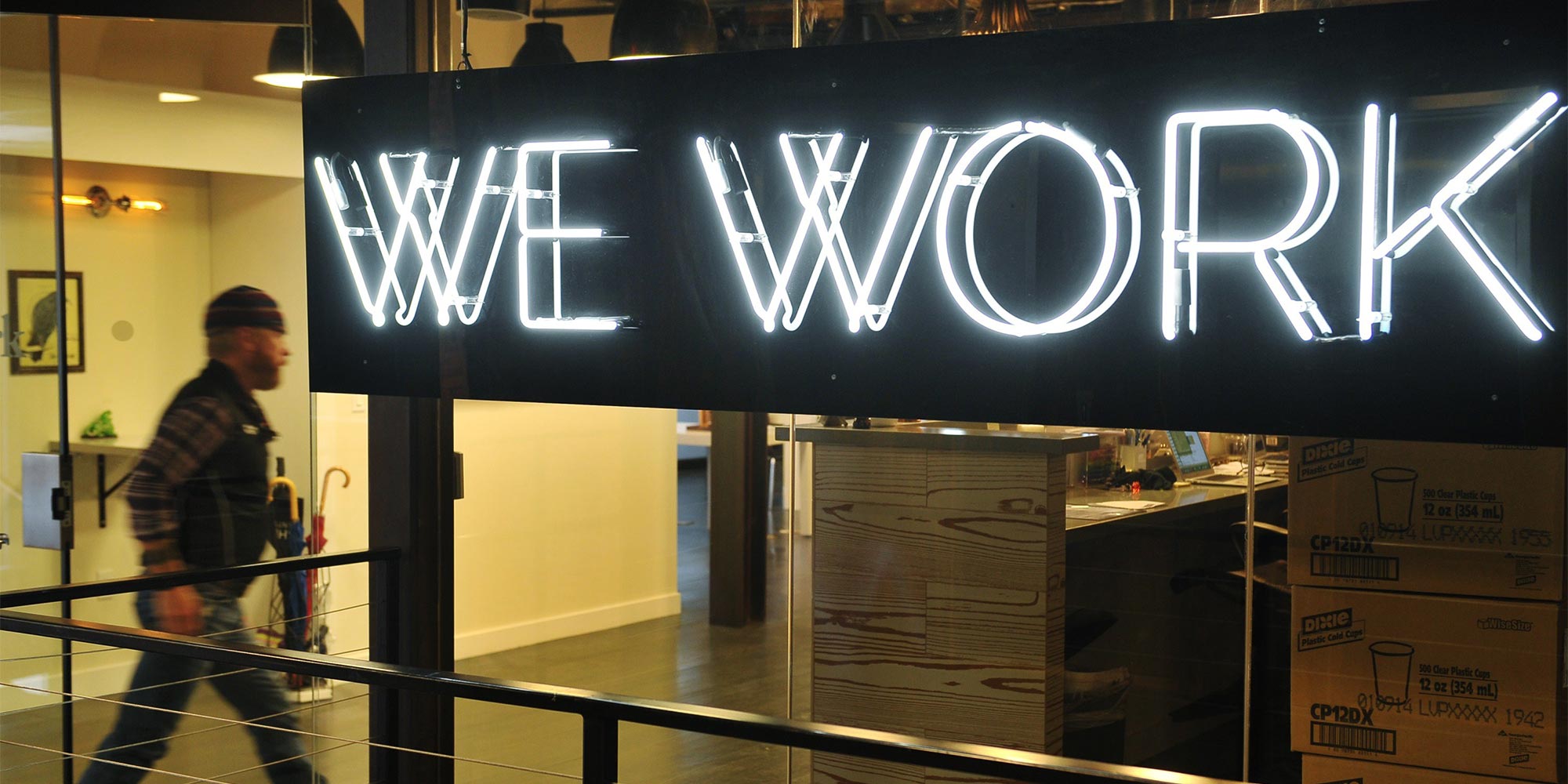 FEATURES
WeWork Carves Out Space in China's Cluttered Office Market
Managing director Ole Ruch says the sharing economy is on the cusp of becoming a 'powerful force' in China.
Since its establishment in 2010, WeWork has capitalized on the rise of shared-office culture to become the number-one company worldwide specializing in shared office spaces. But in China, it faces stiff competition from homegrown co-working spaces that base their business models on WeWork's approach.
Is it too late for WeWork to carve out a space in China? Can it hold back its Chinese competitors, who claim to better understand the needs of Chinese companies? With Uber China recently throwing in the towel to local rival Didi Chuxing, China is now seen as a tough environment for even the most aggressive foreign tech startups to thrive in. How will WeWork counter these doubts about foreign firms? Aside from free coffee, sleek meeting rooms, and spaces to socialize, is there anything unique about WeWork that can't be copied by Chinese competitors? CKGSB Knowledge, an online resource for business and leadership analysis affiliated with the Cheung Kong Graduate School of Business in Beijing, sat down with WeWork's Asia-Pacific managing director, Ole Ruch, to find out.
WeWork started in the U.S. in 2010 and quickly became popular and scaled-up. Why did you choose this time to come to China?
Ole Ruch: WeWork started in 2010, and we recognized the global shift in the workforce and economy toward more meaning and passion at work, which is creating new demands for work environments all around the world. As for why we came to China, it has to do with our push to create a global and connected platform. China became the natural next step after us opening in the largest cities in the U.S. and Europe.
What are you anticipating in the Chinese market?
Ole Ruch: When we came here the first time, we immediately thought of expanding. We were blown away by the entrepreneurial spirit and energy and business environment here in China. These things really convinced us that we needed to enter the Chinese market. We had just started here and were already finding that the demand was overwhelming. We opened our first office in Shanghai in July, and it's had quite a successful result: After two months, it's 100 percent full.
In the future, WeWork wants to be in every major city in the world. Right now, our focus is on opening more buildings, and at the end of this year, we will open another building in Shanghai and another one in Hong Kong. So in total, we will have four buildings in China.
One difference we've noticed between Chinese co-working spaces and those in the U.S. is that the Chinese co-working spaces usually house more startups. How does that affect WeWork China's strategy? Do you worry about startup bubbles?
Ole Ruch: This is a common misconception across the world. If you look at our members in any given building, yes, there are startups and technology businesses, but you'll also see companies in traditional businesses, such as law, accounting, marketing, and advertising. And it's not only the small- and medium-sized businesses. Actually, our membership is very diverse: We have more and more big companies, including Fortune 500 companies, choosing to be our members. Our corporate members include IBM, KPMG, Delta, and Samsung. HSBC just moved into our location in Tower 535 in Hong Kong with more than 300 desks.
Why do you think those companies choose shared spaces instead of offices?
Ole Ruch: The way business works today is more collaborative. It's becoming an opportunity for these larger corporations to tap into different types of companies and learn from them, collaborate — and also for their employees to have a much better physical environment than they're used to.
The other thing people really care about is the culture, the environment. When you walk into a WeWork building, you feel the energy, you feel the people are engaging and talking with each other. It actually creates an opportunity for these larger corporations to leverage the WeWork culture and bring it to their own company culture.
What are other major differences between WeWork China and WeWork U.S.?
Ole Ruch: First of all, I think this global shift that we're talking about is something that's happening everywhere in the world, so whether you're in New York, London, or Shanghai, the way people want to work is definitely changing. We see that this is the same in China as it is with WeWork U.S. When we came here, we were more struck by the similarities than the differences.
That being said, China is definitely a unique market. We came here to this market with a humble approach: We want to learn and engage. We came with a local team that has broad experience with both the local market and local partners, and this is what will help us be successful in China.
In China, many local co-working spaces, incubators, and accelerators have popped up over the past year. Aside from being a well-known foreign brand, what is WeWork's advantage over them?
Ole Ruch: When we think of WeWork, we're talking about work in the future. So our competition is really "work" itself. What we are trying to do is focus on the market shift that's happening in the way people work, in the way people collaborate, and what they want from their careers and businesses.
The other thing which is really interesting for us to see is that we have a very global community. Our model is effective because the larger the community is, the more valuable the WeWork network becomes. Member companies will not only have a base with us in Shanghai, but also in other markets around the world. One of the best examples is that a company chose us in Berlin, Germany, because they heard we were opening up in Shanghai. The minute they became a member in Berlin, they also became a member in Shanghai.
Some foreign tech companies have found it's not easy to do business in China, and have withdrawn from or been forced out of the market. What will WeWork China do to avoid their mistakes?
Ole Ruch: What I can tell you is that we have a lot of respect for the Chinese market. We want to keep a humble approach as we grow. As I mentioned, we're lucky to have a partnership model in which we're engaging with local landlords, global partners, and investors on a regular basis. We have a deep-rooted foundation in Chinese culture.
The other thing is we focus on hiring local teams. From our general manager all the way down to our frontline personnel, they are all local team members. We are here to learn as well, and to get a better understanding of the local community and how we can best serve our members.
You've worked in many big sharing economy firms like Groupon, Airbnb, and now WeWork. What would you say about China's sharing economy?
Ole Ruch: I think the sharing economy is exhibited in the global shift that's happening. We see there is more collaboration, more sharing of resources, and actually we're getting closer to each other in this very big world. If you look at China, there are hundreds of businesses in the sharing economy.
The estimate is that by 2020, the sharing economy is expected to account for 10 percent of GDP in China. I think this is something that will continue to develop. We're just at the very early stages of seeing that the sharing economy will be a powerful force.
This is an original article by CKGSB Knowledge and has been used with their permission. The article was first published here on Nov. 16, 2016, under the headline "WeWork's Ole Ruch: Collaboration Key to Modern Business."
(Header image: A man enter the doors of the WeWork co-operative co-working space on March 13, 2013 in Washington, DC. VCG)