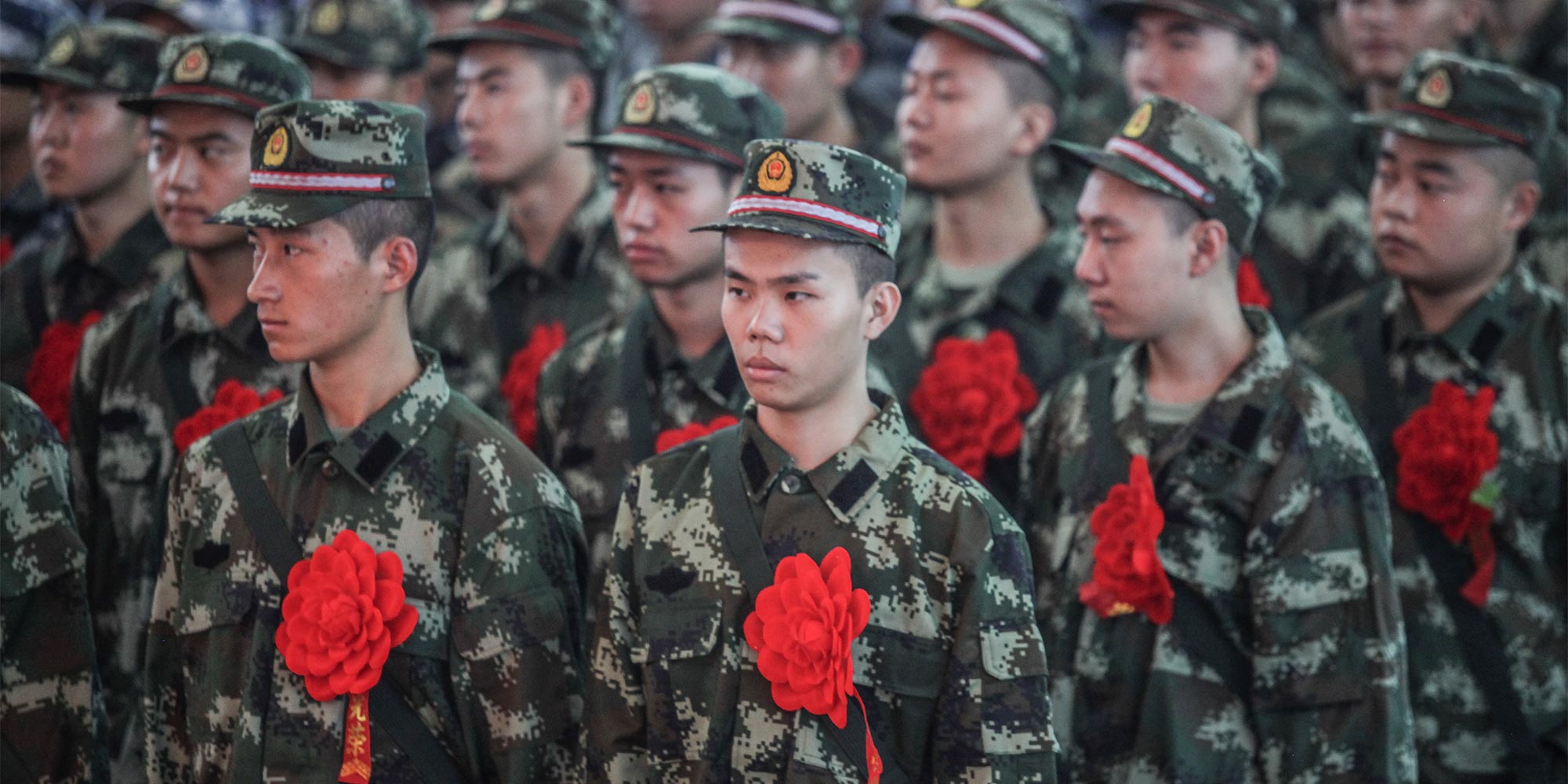 NEWS
People's Liberation Army Warns of Rise in Dropouts
Government and Party call for more 'excellent students' to sign up.
Cases of military recruits backing out of their commitments are increasing, reported China Military Online, the news portal of the People's Liberation Army, on Wednesday.
The article said that even young Chinese who hail from the less developed central and western regions of China are starting to fear the hardships of military service, a complaint once primarily uttered by recruits from affluent areas.
A soldier surnamed Hou was cited as saying that today's young people have more choices than just joining the army: They can enroll in universities, go abroad, or join the workforce. The strict regulations in the army limit individual freedom, and the increasing difficulty of securing promotions causes many servicemen to back out, Hou said.
Soldiers who renege on their commitments before completing their full terms of service face legal consequences. Earlier this month, the People's Liberation Army Daily, the military's newspaper, wrote about a case in which two army recruits from southwestern China's Yunnan province refused to continue serving after three months. They received fines and were blacklisted from working at state-owned companies and taking out loans for three years, and traveling abroad for two years.
Wednesday's article mentioned the case of 21 recruits from Shanxi province, in northern China, who wanted to withdraw from the army in 2016. Ma Jianhua, an official responsible for the armed forces in a Shanxi county, told China Military Online that because the nation has not faced a shortage of soldiers in years, many people no longer see serving in the army as their duty. Young people only consider their individual interests and are apathetic toward their legal obligations and duties as a citizen, Ma said.
On Tuesday, the day before the article was published, China's cabinet and a central organ of the Communist Party released a joint document that called on excellent students to join the military and "accomplish great things in the army's barracks." It also called for an increase in the quality and quantity of university students and graduates who sign up to become soldiers.
The call to arms comes as China faces a record-breaking class of graduates: In 2017, nearly 8 million university students will receive their degrees and join the labor market. The glut of graduates is an annual problem, and the government statement also suggested that graduates start their own companies or find work in northeastern China, where economic development has been lagging.
According to the Military Service Law, Chinese people are required to serve two years of compulsory service between the ages of 18 and 22, as long as they are healthy and hold the right political views. University students can postpone being drafted until after they graduate, which usually puts them past the age requirement and therefore exempt from compulsory service.
Graduates who want to enlist for two years still can, but for most young Chinese with a degree from a good university, joining the army is not an option they are willing to consider. "I don't want to spend two years in the army," a fourth-year student at Fudan University in Shanghai told Sixth Tone.
With a job offer from a Fortune 500 company under his belt, the 22-year-old decided to start his career right after graduation. "Army life is toilsome," he said. "I'm too weak to be a soldier, but I can contribute to economic development." The student and other interviewees declined to have their names published due to the sensitive nature of the subject.
Willingness to enlist differs widely among provinces. "In provinces with large populations that are home to a lot of servicemen, enthusiasm for being a soldier is high, and you need connections to enlist," a retired military officer told Sixth Tone.
Meanwhile, in affluent regions, few are willing to accept the hardships of military life. The officer said that to encourage more university students to enlist, Beijing authorities provide a bonus of around 180,000 yuan ($26,000) to be paid to graduates after they complete their two years of service, in addition to other incentives. Still, it wasn't until 2007 that a Peking University student joined the army — marking the first time a student from the prestigious school had enlisted since the founding of the People's Republic in 1949.
(Header image: University graduates attend a ceremony to commemorate enlisting in the People's Liberation Army, Xi'an, Shaanxi province, Sept. 20, 2016. Chen Feibo/VCG)