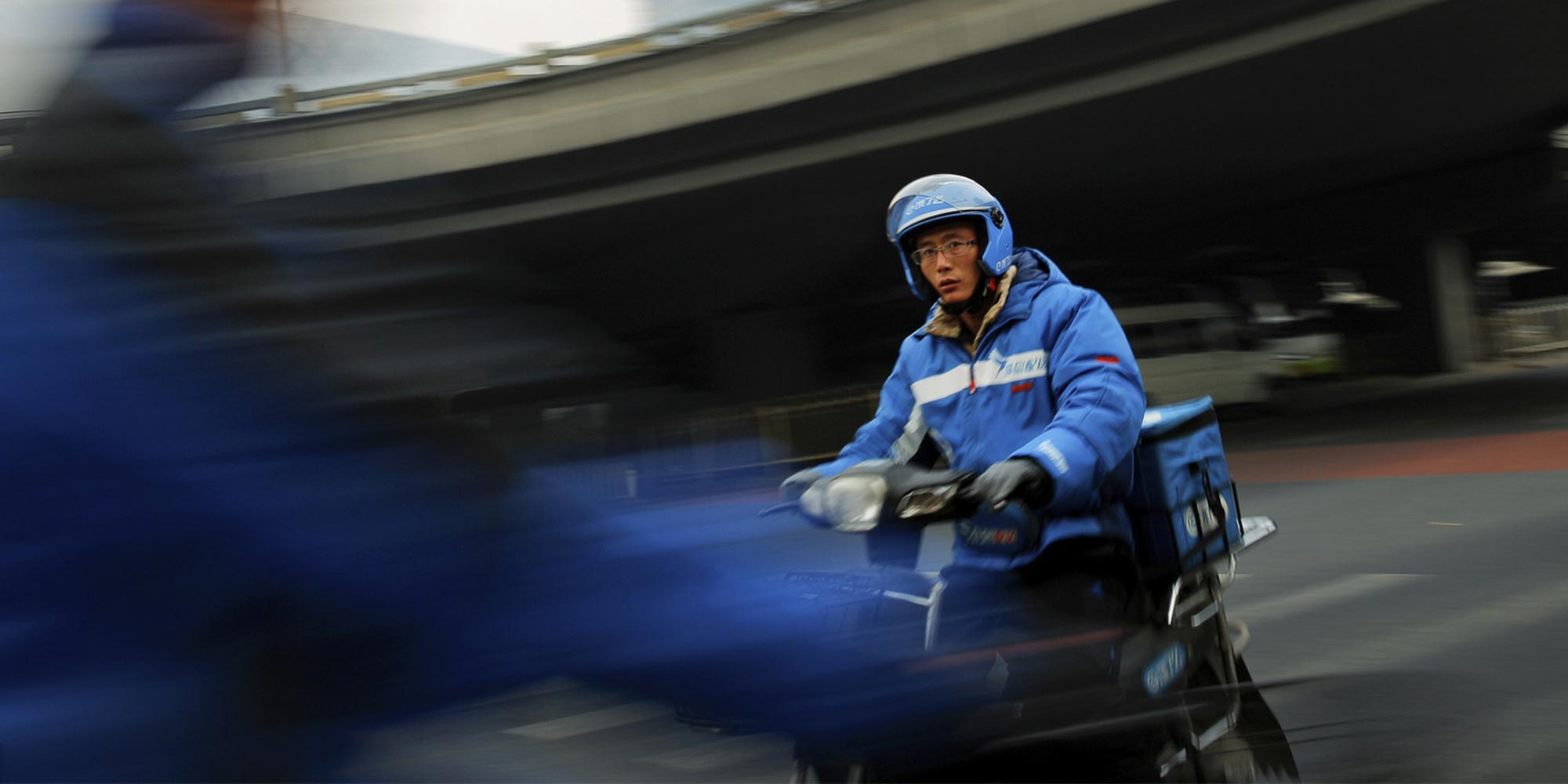 FEATURES
Migrant Food-Delivery Workers Struggle to Belong in Beijing
Changes to Beijing's household registration system aim for greater inclusiveness, but some service-industry workers remain vulnerable.
Bo Xianghua, 37, wakes up at 9 o'clock sharp every morning to prepare for the day ahead. He puts on his leather pants, bright blue jacket, and boots — and grabs his helmet and red scarf — before leaving the small apartment he rents with his wife in the Keyuan neighborhood of northeastern Beijing. He rides his scooter for about 10 minutes to the meeting point where he will begin his workday alongside over 30 other couriers employed by online food-ordering platform Ele.me's delivery system, Fengniao.
Bo has followed this routine for the past year, ever since he arrived in Beijing as a domestic migrant from his home province of Hebei — also in northern China, just southwest of Beijing. He and his wife — Liu Jinling, 37, a KFC employee — moved to the capital to seek out better jobs, leaving their three children, ranging in age from 4 to 13, behind.
In the past, Bo and Liu would have had no other choice but to rely on guanxi — connections to people in power — or pay a large amount of money to get a Beijing hukou, or household registration. But a new points-based hukou system, which was introduced last August and took effect in January, has changed the process, assigning points to applicants based on various criteria.
Yet as the details of the points system become increasingly clear, the prospect of Bo and Liu securing a hukou seems uncertain. Points are tied to applicants' educational and economic backgrounds, and some believe the new system to be a means of attracting valuable talent. It also remains unclear just how many points applicants need to qualify for the permit, though there are certain concrete thresholds they must meet: For one, Bo and Liu must hold a residence permit, which requires Bo to maintain a stable job and housing.
The couple are not even sure if they can meet the housing criteria. They currently pay 1,000 yuan ($145) per month to rent a 10-square-meter room. Bo worries that the landlord may not renew their contract once it expires.
Bo and Liu are just two of the over 8.2 million permanent migrant workers living in Beijing, a city of more than 21 million people. "My friend from back home said that he was making more money as a delivery worker in Beijing than he would in Hebei," Bo told Sixth Tone, "so I decided I wanted to come to Beijing."
The rate of domestic migration to China's biggest cities has risen rapidly since the 1990s. The hukou system, which differentiates city dwellers from rural or agricultural workers and limits domestic migration, was introduced in 1958. Without hukou, migrants cannot access services such as elite public schools, low-cost health services, and government housing subsidies.
For years, migrants without permanent-resident status have left their children in their home provinces for schooling, lived in cramped rental apartments, and paid higher health care costs. Many migrant workers arriving in Beijing without hukou also live and work without insurance safety nets in case of illness or injury.
Expecting a deliverance from low pay and poor quality of life, migrants often find after arrival that cities are far from free of these concerns.
Bo makes approximately 6,000 yuan per month working for Fengniao, while Liu makes between 4,000 and 5,000 yuan a month at KFC. The couple sends home 1,000 yuan to their children every month, leaving enough money to spend on their rent and daily expenses in Beijing, plus a little left over for savings.
Bo is one of the lucky ones: He receives insurance coverage through his job with Fengniao. "Every day we go out to deliver food, we'll have 2 yuan deducted from our wages as an insurance fee. It's not a big deal," Bo said.
In addition, delivery jobs can provide a degree of flexibility for migrant workers. One of Bo's colleagues surnamed Liu, who declined to give his first name to protect his job, has obtained a residence permit since moving to Beijing in 1998 and recently began working as a courier, switching from a job in a restaurant. "This profession gives me more free time than other jobs," said Liu, who is not related to Bo's wife. "I work when I want to. If I am in a good mood, I do more deliveries."
Yet there are also significant downsides to working in food delivery. As the job requires few skills and hardly any initial costs for employees, delivery companies offer scant worker protections.
Dong Bo, a first-year doctoral student in sociology at Tsinghua University, has worked for a nongovernmental organization dedicated to migrant worker issues for two years. He said that delivery workers and migrants in the construction industry face many challenges related to employee protection.
"Many workers are unaware of the background of their company, and they don't know who their legal employer is," Dong said, explaining that food-delivery employees are often contract laborers supplied by so-called labor service companies. Some such companies fail to purchase insurance, exposing deliverymen to risks, he said.
"Whenever we try to persuade the workers to request a contract, they reply that it sounds good, but they say, 'If we do this, no company will hire us,'" Dong said. Since many workers fail to see beyond their immediate situations, they don't grasp the importance of having a contract in case of future problems, he added.
"Once when I was riding, another scooter was coming toward me, and we swiped each other," said one employee of food-delivery service Meituan Waimai, surnamed Chen. "We often run red lights, so it's a dangerous job."
The demand for a stricter regulatory environment for food-delivery workers is growing after a series of accidents and scandals.
According to a report by state newspaper The Beijing News released in December 2016, the risk of road accidents ranks as the most dangerous part of being a courier. A food-delivery worker interviewed for the article recalled at least four deaths of fellow delivery employees on the road that year.
Also in December 2016, the Guangzhou-based newspaper New Express reported that a food-delivery worker surnamed Wang was attacked by a customer for being 23 minutes late. The two got into an altercation and were separated by a nearby police officer, but not before the customer managed to head-butt the delivery worker and break his nose.
In a separate incident, an anonymous netizen posted a video of a food-delivery worker who was behind schedule on a delivery crying in an elevator. The video was reposted in January by numerous media outlets, including the People's Daily and state broadcaster CCTV, and it prompted outrage among netizens concerned that workers are fined too harshly for delivery delays.
Consumers often have a direct hand in the punishment of food-delivery workers who underperform either by taking too long to deliver or by messing up the food packaging during the transportation process. According to Chen, when a delivery worker gets a bad review, the worker must pay a 50-yuan fine if he cannot convince the customer that the problem was not his fault.
Public outcry over the treatment of migrant food-delivery workers could change the food-delivery industry, said doctoral student Dong. But there has yet to be an impactful movement to address the rights of this vulnerable population.
"Migrant workers provide all of Beijing's basic services," Dong said. "They are builders of the city, but they are itinerant and unable to take root here. I think most people don't care about them."
As for the future, Bo said he hasn't begun to consider permanently moving his children to Beijing. For now, he and his wife are solely concerned with the health and financial stability of the family, so Bo plans to continue working in food delivery. "I may want to get a Beijing hukou," Bo said, "but right now, I have no idea how I can achieve that."
(Header image: A food delivery worker and a cyclist ride near the central business district in Beijing, Dec. 11, 2016. Andy Wong/IC)