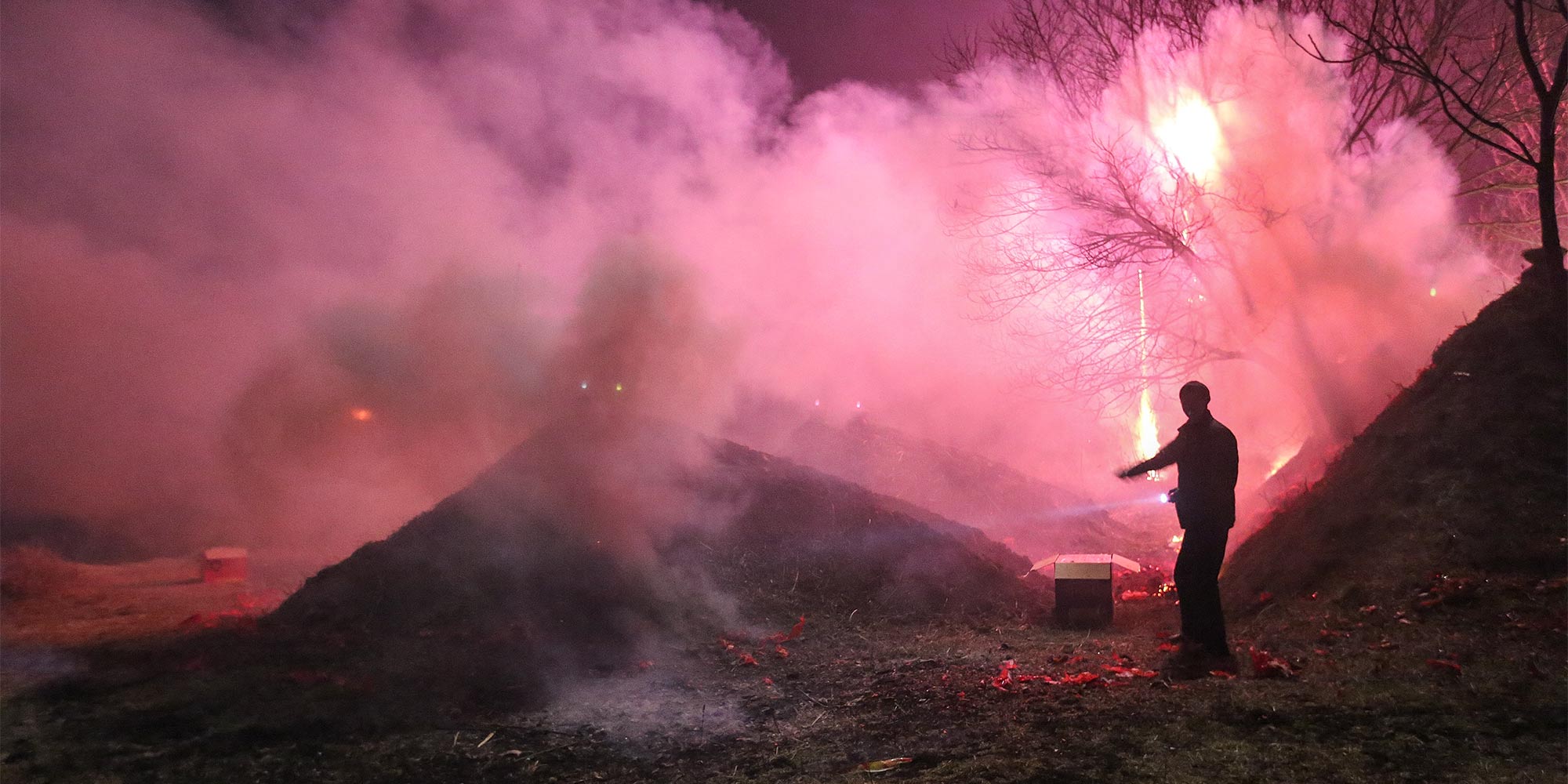 NEWS
Bans Force China's Fireworks Industry to End Year Without a Bang
Hundreds of cities restrict sale and use of fireworks to tackle air pollution, dealing a heavy blow to the millennium-old industry.
The days leading up to Chinese New Year are usually the busiest for Liang Guobin, a fireworks trader in Zhengzhou, capital of central China's Henan province. But on Jan. 14, just as he finished storing a large shipment of fireworks in his warehouses, he received an urgent notice from the provincial government.
The order announced an expansion of the ban on fireworks to cover not just cities but the entire province. Shocked and angry, some 2,000 fireworks dealers and vendors like Liang took to the streets of Zhengzhou on Jan. 16 to protest the ban, which was aimed at curbing air pollution.
"How could the government issue such a ban so hastily and without holding a public hearing?" Liang asked in a telephone interview with Sixth Tone.
Some 250 companies and tens of thousands of workers make up Henan's fireworks industry, which the provincial government sought to stimulate just five years ago.
"If [the ban is] enacted, we and many other small businesses will go bankrupt, as about 80 percent of fireworks produced are intended for Spring Festival," Liang said, referring to the Lunar New Year festivities.
The tradition of setting off fireworks during celebrations has its roots in ancient China, 1,400 years ago, following the invention of gunpowder. Fireworks are still a staple of Chinese festivals today and are said to scare away evil spirits and bring good luck for the new year. China is the world's largest producer, consumer, and exporter of fireworks. Some 3 million people work in the country's fireworks industry, with annual retail sales reaching 100 billion yuan ($14.5 billion), according to Huang Guanghui of the China Fireworks and Firecrackers Association.
Yet the heavy smog that often shrouds cities in northern China around this time of year prompted the provincewide fireworks ban in Henan — and the province is not alone. As China intensifies its antipollution campaign, around 700 cities have either banned or limited the sale, transportation, and lighting of fireworks in recent years.
In urban hubs like Beijing, Shanghai, and the eastern city of Hangzhou, fireworks are prohibited in downtown areas, with violators facing fines as high as 100,000 yuan. The Chinese capital extends the ban to the whole city whenever severe pollution alerts are in place.
The central government's tightening of rules governing the fireworks industry has also aimed to prevent accidents — more than 250 people died in around 40 accidents involving fireworks between 2011 and 2014. In 2013, China issued regulations on the operation of fireworks businesses, spelling out the repercussions for those selling illegally. Since May 2016, manufacturing of fireworks has been allowed in just 13 counties across the country.
At the industry's peak, there were nearly 7,000 fireworks manufacturers across China. But according to Huang, the number of manufacturers was halved as local governments have ordered thousands of factories and family businesses to shutter in recent years. Huang believes it is reasonable to close down companies that sell fireworks illegally, considering environmental and safety concerns. But he added that even qualified companies have been forced to shut down, and that compensation from the government is often inadequate to support laid-off workers.
Following the outcry from fireworks merchants like Liang, Henan's government withdrew its fireworks ban two days later. Other local governments that upheld their bans, however, found themselves facing lawsuits from angry business owners. In the southwestern city of Chongqing, 52 fireworks companies sued the municipal work safety bureau after it imposed a citywide ban. The local court rejected the complaint, so the petitioners took the case to Beijing.
Tu Siyi, a lawyer familiar with the lawsuits, told Sixth Tone that local governments' enforcement of fireworks bans has been "too simple and crude" and has caused underground factories and new risks to emerge. Factories shut down in one place have simply moved to other provinces, Tu explained, which has only increased transport times and related safety risks. "The relocation of workers also raises labor costs," he said.
Furthermore, cultural experts are worried about the impact of tighter restrictions on Chinese heritage and traditions. Many people who have moved from rural areas to live in cities still regard fireworks as a way to express nostalgia for their hometowns, said Tian Zhaoyuan, deputy dean of the School of Social Development at East China Normal University. "We can't get rid of this culture that has been passed down for thousands of years," he added. "It would be too sad."
Huang of the industry association said that although most city residents have complied with the ban on fireworks, the sentiment in the countryside is different. Huang himself owns a fireworks company with 3,000 employees in Liuyang, a city in central China's Hunan province. He said sales in rural areas increased by about 20 percent last year compared to the previous year, despite tougher government regulations.
"In rural areas," Huang said, "setting off fireworks remains an essential part of spiritual life to celebrate Chinese New Year."
Chen Bo, a small family business owner from Xinyang County in Henan province, said his family uses fireworks to signify their hopes for a profitable year. "It would be a pity for my family if fireworks were banned," he said.
Lin Guidin, from Fujian province in eastern China, said setting off fireworks is a common way for his family to let neighbors and relatives know about big events, like weddings and funerals.
"It's just like eating food," the 29-year-old said. "Frankly speaking, we don't think too much about the pollution or the noise."
(Header image: A man lights fireworks in Xinyang, Henan province, Feb. 22, 2016. Zhou Bo/VCG)