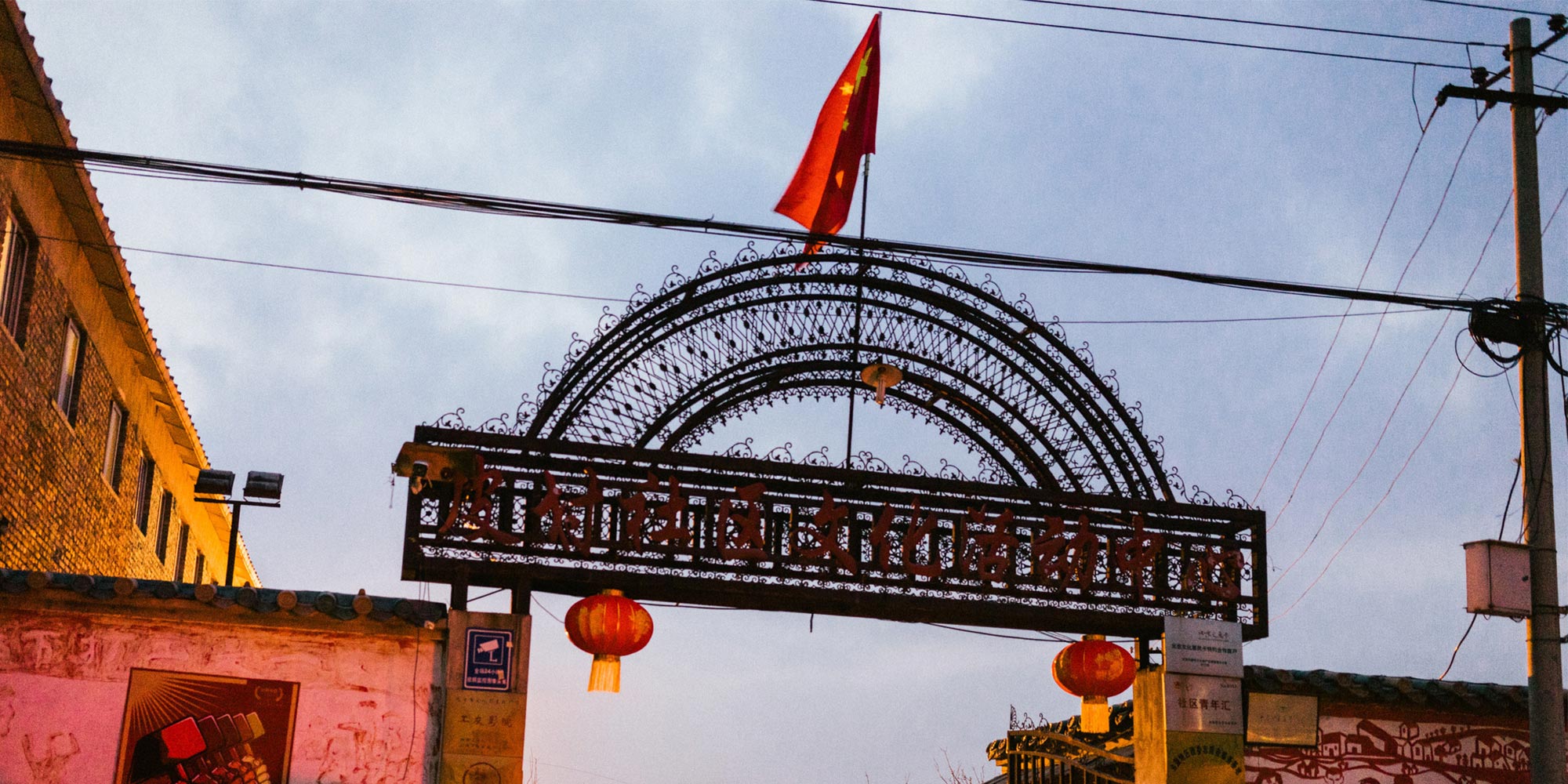 FEATURES
Under the Skin of Beijing's Migrant Worker Village
Pi Village, once lauded for 'awakening the new working class,' harbors rifts beneath its media-friendly surface.
In the below-zero Beijing winter, 47-year-old Cheng Jinhua huddles on her makeshift bed: a plank of wood atop a pile of bricks, covered with a floral-patterned electric blanket. To save money, she and her husband have rented a 15-square-meter room with no kitchen, bathroom, heating, or cooling. They cook on a portable stove in the shared hallway and shower twice a month in a public bathhouse.
Cheng hails from a village in eastern China's Jiangxi province, but she left home when she was 13 years old for a waitress job in a nearby town and has worked all over the country since. A decade ago, she and her husband moved to Pi Village — or "Skin Village" — a suburb on the outskirts of Beijing, near the international airport, that houses more than 20,000 non-native residents among just 1,000 locals. It's also home to a celebrated nongovernmental organization called Migrant Workers' Home.
Pi Village has become a hub for many of Beijing's rural migrant workers because of its affordable rent and convenient access to the city center, just 30 kilometers away, but the run-down concrete toilet blocks and narrow, rubbish-filled streets don't look like part of the nation's capital. The satellite village also lacks the close-knit atmosphere of most Chinese villages, where residents keep their doors open all day so neighbors can pop in for a chat. Instead, varied accents, locked doors, and rental advertisements on every corner point to the transience of Pi Village's population.
Similar shabby suburbs cluster on the peripheries of many major cities in China, but Pi Village has attracted unusual attention from domestic media for serving as the base of Migrant Workers' Home. The NGO began in 1998 as a band of musicians who provided occasional entertainment to migrant workers, but it has since grown into an organization that operates a primary school, museum, cinema, reading room, and secondhand store in Pi Village.
National media reports have praised Migrant Workers' Home for inspiring an awakening of the new working class born from China's mass urban migration. But though the media-savvy organization has brought visibility to migrant workers' struggles and won significant public and corporate support, some residents in Pi Village feel that the group's efforts do not address their everyday needs. Instead, these villagers say that the NGO-run school is pricey given the quality of education, while cultural events are infrequent or irrelevant to locals' lives.
Cheng herself has benefited from the media spotlight on Pi Village: Last year, she and her husband won free tickets to fly home for Chinese New Year through one of the NGO's sponsors. "I remember the sponsor was a bank because their logo was everywhere," she recalls. Cheng was content to be photographed and interviewed in return for the plane tickets, but she says that in general, the organization's presence has made little difference to her life.
Migrant Workers' Home solicited donations to set up the Tongxin Experimental Primary School in 2005, serving migrant workers in Pi Village whose children can't easily enroll in nearby public schools because they lack Beijing hukou — the household registration that entitles residents to health and education services in a particular area. Now, the school is financially independent from the NGO and instead draws its revenue from tuition fees.
Cheng's youngest daughter studied at Tongxin for one year, but Cheng decided to transfer her to a school back home in Jiangxi province. "The quality of teaching here is not good," Cheng says. "The teachers aren't professionals." Only half of the 20 full-time staff members at Tongxin have teaching qualifications, and the school has also run into trouble with authorities in the past for operating as an unlicensed education provider.
Other villagers, like 64-year-old Jiang Yumei, are happy with the school but feel that tuition is too high. Since starting primary school, Jiang's 9-year-old granddaughter has studied at Tongxin, where fees total 3,000 yuan ($438) each year — compared to 600 yuan a year at public primary schools in her hometown of Heihe, in northeastern China's Heilongjiang province. "The school charges extra for elective classes and lunches, so she doesn't eat at the school [cafeteria]; I cook for her," Jiang says. Once her granddaughter reaches middle school age, the family plans to move back home.
Tongxin school principal Shen Jinhua says that migrant children who return to their parents' hometowns often have trouble adjusting. "Some children were born here, and some grew up here. They can't even speak their hometown dialects," she says. "To return to an unfamiliar hometown is actually very sad and cruel for the kids."
Shen adds that the school does what it can with limited resources and no government funding. All full-time teachers have some teaching experience, even if they aren't certified, and the school offers fee waivers to families in special need of financial aid. "Primary education is the government's responsibility. Every child has the right to study," she says. The school not only lacks state support, but also contends with hostility from local officials. "We always think it might be our last semester," Shen says.
Last month, reporters flocked to Pi Village as Migrant Workers' Home clashed with village officials over whether their facilities met fire safety requirements. NGO representatives said that though they had fixed everything to comply with regulations, officials had cut electricity to their office and staff accommodations since October, destroyed their coal-fired stoves, and were pressuring them to move out by the beginning of January. Their staff had no heating during the harsh Beijing winter, their online posts said.
On Dec. 29, 2016, the NGO put out a call for urgent help, asking for donations to buy quilts, an electric generator, and diesel fuel to keep employees warm through the winter. Migrant Workers' Home employs around 30 full-time staff at its Pi Village office and provides them with meals and accommodation along with their monthly salaries.
Yet when a Sixth Tone reporter visited the NGO's premises the next day, an electric generator hummed loudly in the offices. Wang Dezhi, one of the managers at Migrant Workers' Home, sat in a warm bedroom drinking hot tea with a journalist friend, while two other reporters waited to interview him. Wang explained to Sixth Tone that the NGO still had one stove the officials hadn't found and destroyed, and that they needed more funds because their only generator did not provide enough electricity. "The electrical output is too low," he said, pointing to the room's flickering light.
In two days, Migrant Workers' Home received nearly 71,000 yuan in donations, and the story was widely covered by Chinese media. By early January, the conflict had cooled down: The NGO was permitted to remain on its premises past the supposed deadline, and local officials restored electricity.
Cheng wasn't aware of the conflict but says she rarely attends Migrant Workers' Home events. "We're busy with work and don't have time to go there. Especially in winter, when it's cold, I just stay in bed watching TV," Cheng tells Sixth Tone. She says she will join the NGO's activities a little more often on summer nights, when women gather for square dancing in the courtyard.
Yet no matter how many migrants move to Pi Village or how many years they stay, their lives remain separate from those of native residents. The square-dancing area was originally intended to be shared by native and migrant villagers, but officials ended up building a second space for locals because they did not like to mix with the migrant workers. Locals complain that migrants have made the village noisy, dirty, and overcrowded, though local homeowners have profited from increasing rents in Pi Village.
Cheng recalls that the monthly rent for a small room like hers was around 100 yuan when she first moved to the village in 2006, but now she pays more than 300 yuan each month. "A clean room with heating and its own toilet costs between 700 yuan and 1,000 yuan," she tells Sixth Tone.
Many migrant workers have left Pi Village since nearby factories shut down, but Cheng's husband still has a steady job doing construction around Beijing and sometimes farther afield. Cheng has spent more of her adult life in Pi Village than in her hometown. "I'm used to it here," she says, "but it is not home."
(Header image: A gate stands at the entrance to the Pi Village cultural activity center in Beijing, Jan. 15, 2017. Zou Biyu/IC)