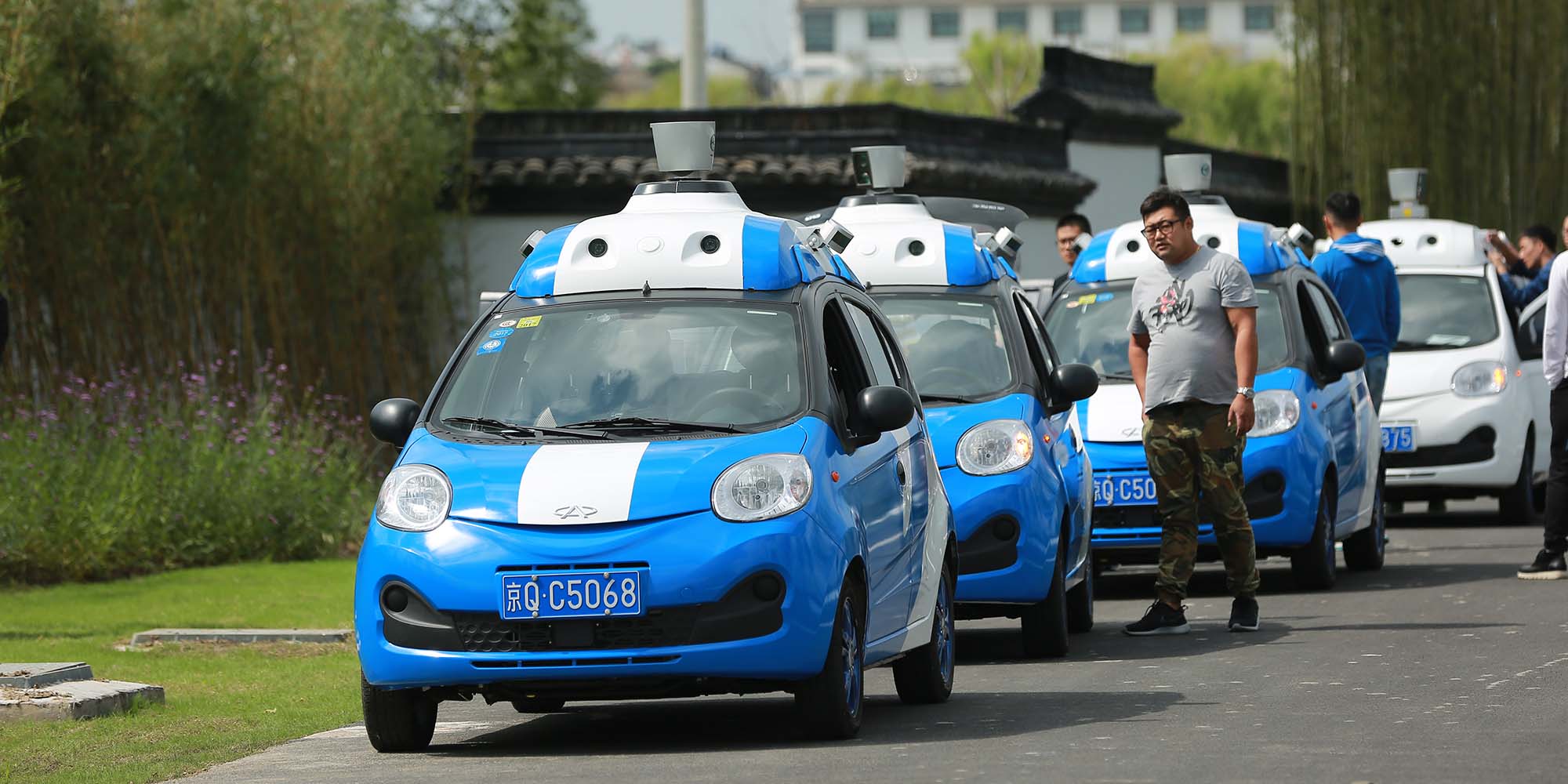 NEWS
Didi Co-Founder: Self-Driving Cars Will Save Thousands of Lives
Zhang Bo compares number of fatalities on China's roads each year to death toll of Nanjing Massacre.
China's roads are notoriously unsafe. Ahead of the Chinese New Year rush, when millions of people will hop in their cars to visit relatives and cause immense traffic jams, authorities have already warned police to be on the lookout for unsafe vehicles and unqualified drivers.
The World Health Organization estimates that on average, more than 700 people are killed on China's roads each day. While the reported number of road traffic accidents has decreased slightly year-on-year since 2012, according to the National Bureau of Statistics, the country still has a relatively high number of casualties and fatalities.
In its most recent study, the WHO estimated that a little over 260,000 people died in road traffic accidents in 2013. In the United States, by proportional comparison, there were almost half as many fatalities.
Speaking in a panel discussion on the future of transit in China on Saturday, car-hailing company Didi Chuxing's co-founder and chief technology officer, Zhang Bo, said that human beings are simply "not good at driving."
"Every year, people die in road traffic accidents," he said at the Beijing event, organized by the Future Forum. "Around 270,000 people — that's the same as the Nanjing Massacre." His statement was designed to hit home, as the massacre of hundreds of thousands of citizens by an invading Japanese army in 1937 remains an extremely sensitive and contentious topic in China.
Zhang made his comments while serving on a panel that included Xu Chenguang from the Ministry of Transport, Zhao Yong of artificial intelligence company Deep Glint, and Wang Jing of the autonomous driving unit run by Baidu, China's largest internet search engine.
During the discussion, Zhang added that self-driving cars require huge amounts of data on China's road network that could be collected and provided by companies such as Didi Chuxing, which operates the country's largest ride-hailing service.
The Chinese government is currently formulating policies regarding the future of self-driving cars in China. There is some debate over how these vehicles can be tested safely and, as yet, no way for companies to legally try their cars on public roads. Following the fatal crash of a Tesla car in the U.S. in May 2016, the Chinese government directed automakers not to test their vehicles on public highways. However, some companies are pushing the boundaries. Baidu conducted a public trial of its vehicles in November on a 3.16-kilometer stretch of road in Wuzhen, eastern China's Zhejiang province, under carefully controlled conditions.
Since April last year, experts — including Tsinghua University professor Li Keqiang, another panelist at the Saturday event — have been formulating a regulatory plan to give autonomous vehicles access to highways within three to five years and access to city centers by 2025.
During the panel discussion, Baidu's Wang asked the audience how safe a car needed to be before it was deemed roadworthy.
"We know human beings are bad drivers," said Wang. "We get tired. People drink and drive. Computers don't do this; they are reliable. They are more reliable than aircrafts. So if it's 99.99 percent safe, how many more 9s do we need before unmanned vehicles can be launched into the market?"
"How do we view saving the lives of more than 200,000 people, versus losing two?" Wang asked the audience. "We need to have tolerance when discussing the subject of connected vehicles."
Meanwhile, Ministry of Transport official Xu shared that the development of unmanned-vehicle technology is a strategic priority in the government's 13th Five-Year Plan. However, Xu made it clear that his ministry needs advice from the industry to create a regulatory framework that will ensure the sector is "commercialized as soon as possible."
According to Bill Russo, an automobile consultant at Gao Feng Advisory Company, Didi Chuxing's position on the benefits of self-driving cars is not purely altruistic; rather, the company's support of autonomous vehicles has an underlying commercial and strategic logic.
"The other way you can interpret it is that [self-driving cars] will reduce the cost of operating vehicles," Russo told Sixth Tone. "Accidents cost money in terms of downtime and repair cost, as well as the cost of paying a driver. The strategy for companies like Didi would be to introduce autonomous-driving cars to reduce the overall cost of operating the vehicle."
Additional reporting by Dong Heng.
(Header image: Self-driving cars run by Baidu appear at the World Internet Conference in Wuzhen, Zhejiang province, Nov. 16, 2016. VCG)