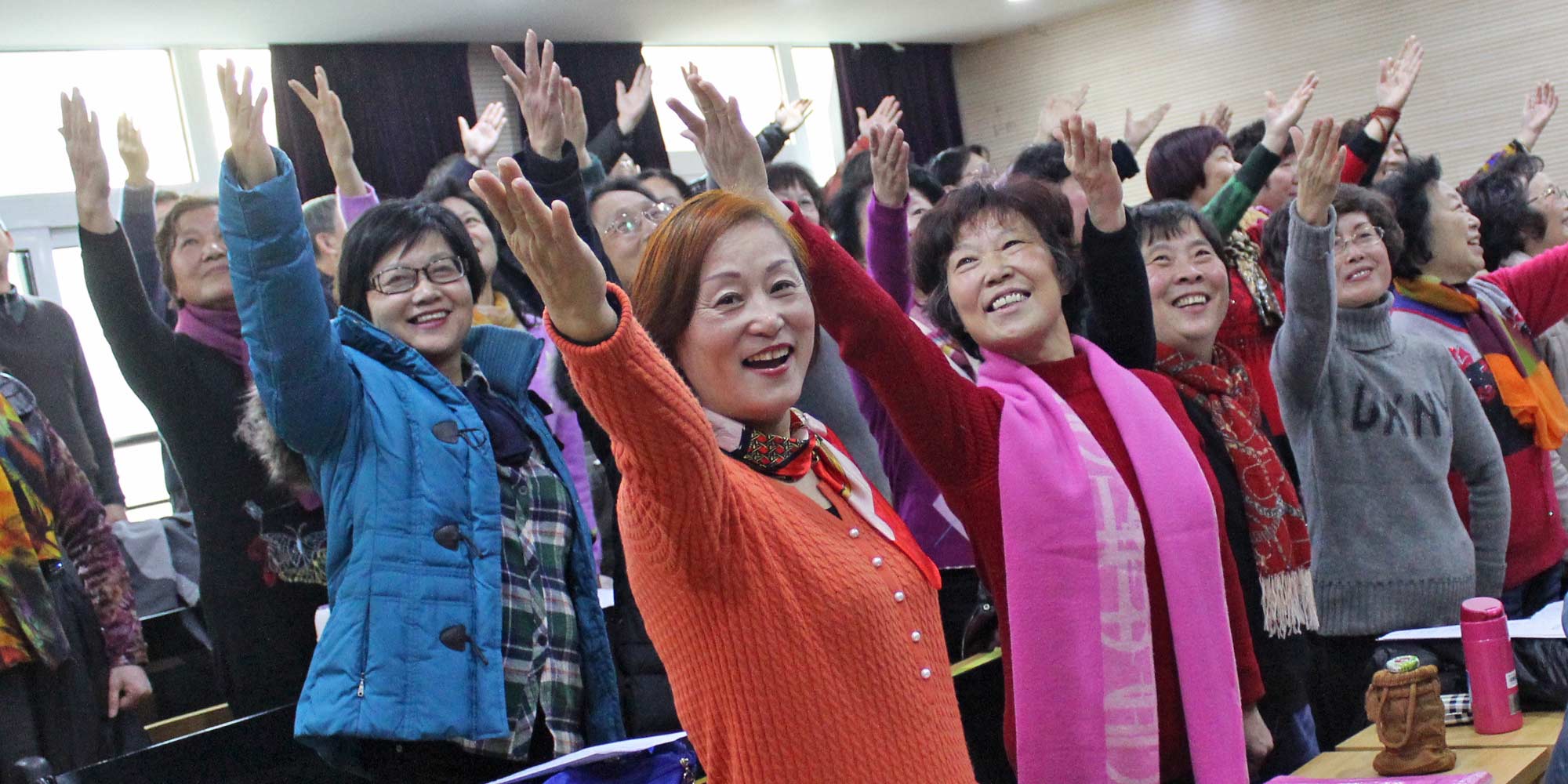 FEATURES
Universities Offer Lifelong Learning to China's Elderly
More senior citizens are heading to 'third-age' universities — to keep busy, pursue childhood dreams, or secure degrees.
Through a window, the sun casts a warm light on the gray-and-white hair of about 60 students. "For fear of, for fear that," the students repeat after a teacher several decades their junior.
The scene takes place in a classroom at Shanghai University for the Elderly, which is located in a small alley populated by bakeries and foot massage parlors. With more than 10,000 advanced-age students, the school is the same size as many other small universities in China.
The sounds of people playing musical instruments, singing, reading English, and laughing can be heard from the two small yellow buildings, where more than 90 classes are held here every day. Students as young as their 50s or as old as their 80s walk through the hallways, chat with their classmates, and peep into classrooms, curious to see what they might be missing out on.
As China's population ages, universities for the elderly have become so popular that seniors have started waiting in line overnight just to secure a coveted spot, especially for popular classes like piano and English. Some even rent beds at nearby shops to be among the first in line.
"Many elderly feel hollow after they retire, but I don't have such feelings," 69-year-old retiree Liu Tian, who has been taking piano classes for three years, told Sixth Tone.
First established in the 1980s for retired cadres of the Chinese Communist Party, universities for the elderly have been opening their doors to the public in recent years in order to accommodate the country's aging population. Xiong Fangjie, the vice president of Shanghai University for the Elderly, said that many of his students still have a desire to achieve something in life, even after retirement.
"The universities for seniors are in higher demand now because many newly retired are better educated," Xiong said. "They are not satisfied with just playing mahjong or gossiping with their friends."
Some students enroll to earn one of the bachelor's degrees the university offers, while others, like Liu, are hoping to fulfill childhood dreams long postponed. Since she was a little girl, Liu has wanted to learn piano, but buying the instrument or even paying for classes was always out of reach for her family.
After she retired from her last job at a clothing company, Liu decided that it was finally time to chase after her dream. At the university for the elderly, she started from scratch, practicing for more than five hours a day. "I don't feel tired or bored playing the same song for hours because this is what I am passionate about," she said.
Today, Liu is the top student in her class, and just one of the more than 7 million elderly Chinese who are studying at special universities — also referred to as "third-age" universities — and similar institutes for continuing education across China.
China already has the world's largest aging population, with around five workers for each retiree. By the end of 2015, more than 222 million Chinese were age 60 or older — 16 percent of the country's total population. By 2020, that number is expected to reach 243 million. In Shanghai, which has the highest proportion of elderly among China's major cities, more than 30 percent of the population are currently 60 or above.
With the legal retirement age set at 50 for women (55 for female civil servants) and 60 for men, and an overall life expectancy of 76.3 years, how to address the needs of this growing demographic has become an increasingly difficult problem to solve. And now that the first generation of parents affected by the one-child policy, enacted in 1980, is poised to retire, many are also faced with the so-called empty nest problem, with children living far away from their parents and grandparents.
"Universities for seniors can help relieve their loneliness," said Peng Xizhe, dean of the School of Social Development and Public Policy at Fudan University in Shanghai and an expert on China's aging crisis. "Making new friends and acquiring new knowledge can help them feel more fulfilled and live happier lives."
At universities for the elderly, most courses range from 150 yuan to 300 yuan ($20 to $40) for a whole semester, making it much more affordable than private classes. Then there's the opportunity for expanded social networks, one of the advantages Liu has enjoyed. In her piano class, she's befriended a former guitarist and a factory worker. Occasionally, they hold house parties where they play and sing the songs they learn in class.
While Liu focuses on piano, a total of 160 courses are available, from nutrition, wellness, singing, painting, and calligraphy to more challenging offerings like saxophone lessons and computer classes.
Hou Xiaoying, a 70-year-old former computer engineer, has decided to enroll in intermediate-level English and Photoshop, as well as a travel course in which students learn about the history, culture, geography, customs, and language of a particular place, giving them a great deal of knowledge before they travel there in real life.
Initially, Hou started to enroll in classes to keep her mind busy and to guard against advanced-age diseases like dementia and Alzheimer's. Like many people her age, Hou only knew one sentence in English for the longest time: "Long live Chairman Mao." But after a few semesters of studying English at the university for the elderly, she can now communicate in her second language.
The last travel class took Hou, her classmates, and their teacher to New Zealand. There, Hou became the go-to spokesperson for her group when they purchased goods at the supermarket. "I used to visit many places, but by now I've forgotten most of the things I've seen," she said. "Now, after a semester of studying the country's history and culture, everything I saw on the trip made sense to me."
In her Photoshop class, Hou edited the pictures she took in New Zealand, printed them out, and excitedly showed them to her friends in English class. "I would never have done all this if I hadn't come to this university," she said. "Young people cannot imagine the passion we older people have for pursuing knowledge."
Experts predict that China will lose a quarter of its workforce under the age of 45 by 2030 if the population continues to age at the current rate. "Though these universities help the elderly to find and nurture their interests, a major problem for them remains unsolved," Peng said. "They retire at an early age, and so there should be a system in place for keeping them engaged with society."
The government has plans to extend the retirement age, with a 2015 report from the Chinese Academy of Social Sciences recommending that it be set at 65 for both women and men, tacking on an additional 15 and 5 years, respectively, in the workforce.
But Peng believes that the elderly can contribute to society in other ways — through social work and charity, for example. "This is not only the job of these universities; there should be a social mechanism," he said, adding that the elderly should be provided with more opportunities to participate in health care management, social events, and community service. Meanwhile, Peng said, universities for the elderly should have more courses that not only develop students' interests and talents, but also equip them with necessary job skills: "These fields have yet to be developed, but there is a promising future."
China's government also believes that schools for the elderly will play a significant role in improving quality of life, and as such it encourages the development of these institutions. By 2020, the government hopes to have at least one university for the elderly in each city.
Though some private investors have started to help fund universities for the elderly, many have found that it's hard to make them economically viable. "Though there is huge demand, universities for the elderly have not been very profitable as businesses so far," said Vice President Xiong. "They still rely heavily on government funding."
Finding suitable staff is also an issue. Currently, most instructors at universities for the elderly are part-time or retired teachers who are paid around 100 yuan per hour — a modest amount that makes it hard to maintain a stable and qualified teaching team.
Distance learning has been cited as a possible solution to this problem. In fact, Shanghai University for the Elderly has already set up distance learning offices at community centers around the city. This year, more than 500,000 people watched classes online and participated in computer-based study courses.
For students like Liu, the university for the elderly is more than just a fun distraction or a way to stay busy; rather, the retiree feels reinvigorated with purpose: Today, she is a private piano teacher for 12 students, including her own 11-year-old grandson.
Liu spent much of her life teaching at a medical university, and she's happy that she can now combine her years of practical work experience with her freshly acquired piano skills. She lets her students pick the songs they like and encourages them to show off the fruits of their hard work at every opportunity. "Most importantly, I try to nurture their interests," she said.
Liu is proud of working with the young generation, of helping to forge their paths in life. But she also has plans for her own future: After another two or three years of studying piano, she hopes to try her hand at other courses, too. Young students might look forward to graduating one day, but Liu has no intention of doing so. "This university makes me feel young again," she said.
(Header image: A group of seniors rehearse for a choir performance at Shanghai University for the Elderly, Dec. 27, 2016. Cai Yiwen/Sixth Tone)