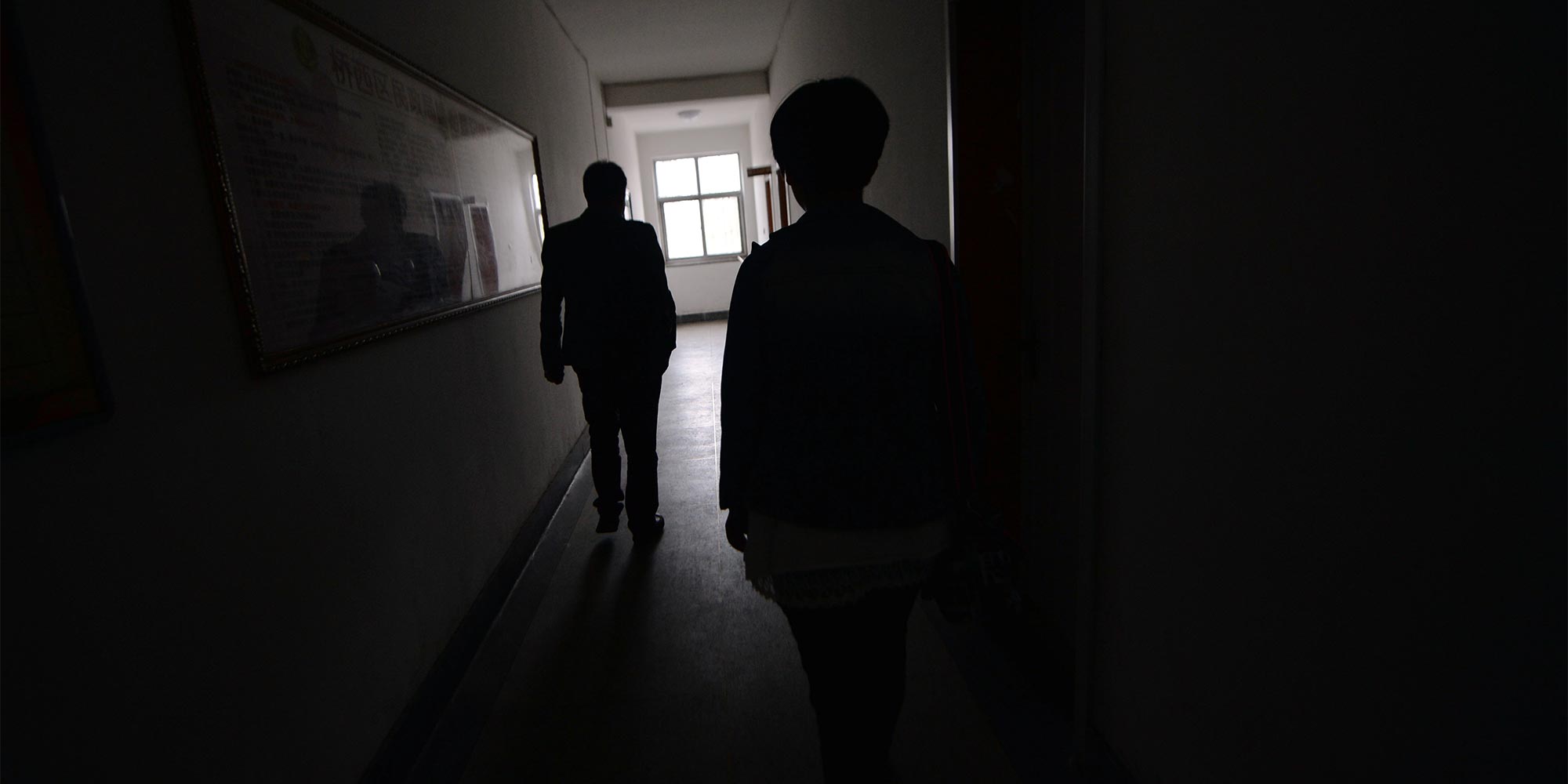 FEATURES
Chinese Divorcée Fights to Be Free of Ex-Husband's Debt
One woman embarks on a quest to repeal the legal clause tying her to her former partner's loans.
Four years ago, staring down at Changsha's city streets from the 28th floor, Chen made the decision not to leap. It wasn't an easy choice. The then-37-year-old receptionist was facing eight lawsuits filed by multiple lenders and had just lost her first case, meaning her salary would be cut to the bare minimum, as ordered by the court.
"I burst out crying and rushed to the top floor of the building," said Chen, who lives in the largest city in central China's Hunan province and declined to use her full name for privacy reasons. "I felt there was no way out, and it occurred to me that a jump would bring an end to it."
Earlier that year, Chen had divorced her husband after five years of living apart, and she'd worked hard to establish a new life for herself. Yet a single letter to her employer from the court had lost her a large portion of her salary, and her secure life seemed to be on the brink of destruction.
In China, both husband and wife are liable for debts accrued during a marriage — even if they divorce — according to Article 24 in the second of three judicial interpretations clarifying China's marriage law. Chen had never heard of the clause until four years ago, when she discovered she was being pursued for debts allegedly run up by estranged husband Liu Yi, whom she divorced in 2012. The money in the disputes amounted to a combined 3.4 million yuan ($496,000) — about 20 times Chen's annual income.
The plaintiffs claimed to be creditors of her ex-husband, who purportedly borrowed money to finance his businesses, Chen told Sixth Tone. Yet she maintains that she had no involvement in these companies. Chen and Liu had been separated since 2007, and the debts were supposedly accrued after that year.
Numb to the reality of her predicament and adamant that these debts had nothing to do with her, Chen at first ignored all requests to appear in court and plead her case, which she subsequently lost. Faced with the prospect of poverty, Chen decided she had a choice: She could either fight the litigation or jump. 
She chose to dig her heels in. "The loans have nothing to do with me," she said. "Why should I pay such a great amount of money?" 
That day, Chen became one of hundreds of spouses to be confronted with the harsh realities of Article 24, which is treated like an extension of the original marriage law and was introduced at the start of 2004 to protect creditors from couples who divorce in order to avoid mutual debt obligations. Under the clause, either husband or wife can in theory be excused from taking responsibility for debt obligations accumulated during marriage — but experts say judges rarely grant exemptions, as there is often insufficient evidence in the accused's favor.
"The lawsuits have become a cage for me," Chen said, describing the rounds upon rounds of litigation spanning four years.
Determined to fight back after the first suit, Chen requested a retrial, rendering the initial ruling invalid and granting her access to her bank account once more.
Yet it took another four years for Chen to actually win her first case, after many losses. In 2015, following four rounds of litigation, a judge who was new to her case granted Chen the immunity that would allow her to avoid liability for the debts. The court agreed that Chen was unaware of the existence and uses of the loans taken out by her ex-husband. In fact, Chen presented evidence in court to question the authenticity of her ex-husband's alleged debts.
But the ruling did not feel like a complete victory, Chen admits. "I remained worried that the creditor would file a new suit against me," she said. 
Chen's relationship with her ex-husband was far from amicable. She told Sixth Tone that while they were still together, Liu had an extramarital affair. When she learned of his infidelity, Chen said, she tried to run him over with her car, prompting Liu to beat her repeatedly. In 2012, she was granted a legal divorce on the grounds of his adultery. Not once, throughout all of her courtroom battles, has Chen's former husband made an appearance.
As Chen entered the legal arena to clear her name and her debts, she found other people in similar situations. In May 2013, she created social media groups on messaging platforms QQ and WeChat to bring together the community of angry spouses all fighting to be rid of their erstwhile partners' debts, and to lead a campaign to repeal or amend the article, which they feel is grossly unfair.
"It's much better to be in a group than alone," Chen said. "All of us have been dragged by our ex-spouses into unreasonable debts, so we need to help each other and lobby against Article 24." 
Her groups have sought help from local women's federations, state-endorsed nongovernmental women's rights organizations in Changsha and other parts of Hunan province. Starting with a mere four members, the WeChat group grew to 181 people — including some from eastern China's Jiangsu and Zhejiang provinces — after Chen's campaign was covered by local and national news outlets.
Yet not everyone involved believes that Chen's debts should be forgiven. Sixth Tone spoke to Che Yanfang, one creditor pursuing the couple for failure to pay back loans. He describes Liu as an "unsuccessful businessman" who has tried to evade his obligations, and he disagrees that Chen is not liable. 
Che insists that Chen should have known about her ex-husband's businesses before the couple split up, as Liu borrowed the money well before their divorce. "I became aware of Liu's other creditors after I filed the suit," said Che, a moneylender who also runs a secondhand car company. After a judge ruled against his claims, Che said he seeks to have the case retried. He declined to elaborate on how he felt the ruling could be overturned.
Chen's battles are far from over, although the tide has turned in her favor. Since her first lawsuit in 2011, she has faced eight more. Of these, one has been dropped, while the aforementioned case was settled in her favor in June 2016, clearing her of 737,000 yuan's worth of debt obligations.
Despite this win, Chen feels the ruling was not enough. She has a theory that all of the claims are the result of a conspiracy between the creditors and her ex-husband, who have sought to get their hands on her personal income since she and Liu separated. After 2007, Chen said, the couple's marriage existed in name only — and that's when Liu took out the loans, according to court findings.
Chen's efforts have caught the attention of several judges in Changsha. Hu Donghua, head of the Second Civil Court of the Changsha Intermediate People's Court, told Sixth Tone that he had heard about Chen's cases, although he had not handled them himself.
"Article 24 is still necessary," Hu said. But he added that the law must be "prudently applied" and pointed out that some judges are lazy in applying Article 24 without taking into account the various circumstances of different cases.
Yet Chen feels that a change to the law itself is necessary. In early December 2016, she spoke at an annual meeting of the civil and commercial law research association under the Hunan Provincial Law Society, in one of her latest efforts to call for the repeal of Article 24. At the meeting, she presented the grievances shared by her fellow group members.
"I have spent numerous sleepless nights giving advice in the chat groups," Chen said. "We will stick to and struggle along the route to repeal or amend Article 24."
Correction: A previous version of this article identified Chen as "Chen Li." This is a pseudonym.
(Header image: A woman follows her husband into a divorce registration room at a civil affairs bureau in Shijiazhuang, Hebei province, April 21, 2014. VCG)