This is the third in a series of articles about a town struggling to survive in a flood zone along the Yangtze River. You can find parts one and two here.
In July 2016, TV news stations started warning of a coming disaster: "Average rainfall across the country is at its highest level since 1974 … Water levels in the Yangtze River Basin have exceeded warning levels … Many parts of Hubei province have experienced their highest rainfalls in 100 years." The last major flood in the region had happened in 1998; back then, thousands died when the river breached its embankments. Now, 18 years later, the water level in Paizhouwan Township had risen from 26 meters to 30.22 meters in the space of a week — reaching its highest point since the deadly 1998 flood.
Paizhouwan is located along the Yangtze, the world's third-longest river, in central China's Hubei province. From its origins in the Qinghai-Tibetan Plateau, the Yangtze flows east until it reaches the sea near Shanghai — but in Paizhouwan, which sits on a meander in the river, the water flows west for a short stretch. Paizhouwan has tried for years to promote this unique geographic feature — even renaming the town's main street "Xiliu," meaning "flow west" — but most people still only know it as the site of a devastating flood that tore through the town in 1998.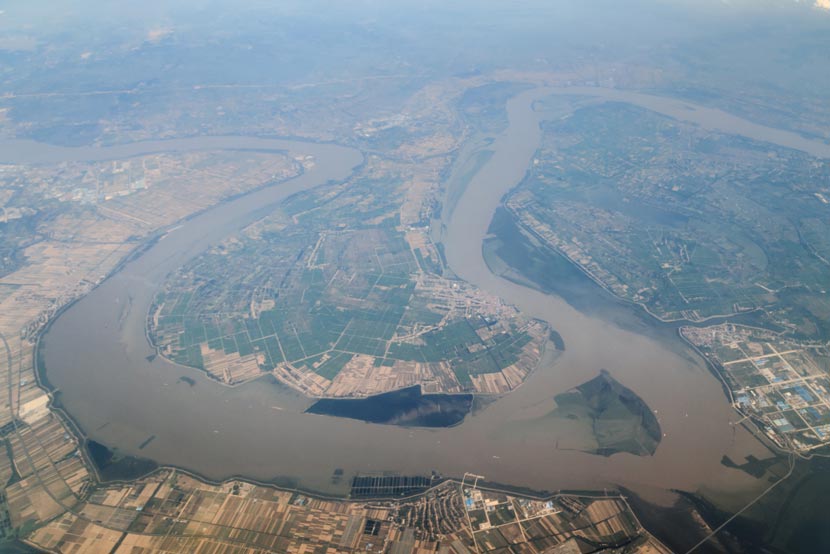 An undated aerial view of Paizhouwan Township, Hubei province. Yu Ming/IC
After the disaster, the government invested heavily in the construction of embankments and other flood-prevention measures along the river, which have kept serious flooding at bay for nearly two decades. But mismanagement of funds has eaten away at the defenses and heightened tensions in the town over the years, leading to a scare in the summer of 2016 that had officials and residents scrambling to keep the water at bay. 
Back to the Source
Before the 1980s, each dike in Paizhouwan had to be repaired every winter and reinforced every spring. Times were hard, yet everyone pitched in to protect their homes, recalls Xu Yuanli, the resident in charge of managing the Paizhouwan section of the Yangtze embankment.
"Much of the infrastructure established back then is still in use today," said Xu, now 56, who has worked as an official in Paizhouwan for 30 years. 
Things changed rapidly after 1982, when the government passed agricultural reforms allowing farming production quotas to be set per household.
Embankment repair went from being a form of collective labor to a task assigned to each household in the area. As a result, fewer and fewer people paid attention to the quality of the flood defenses.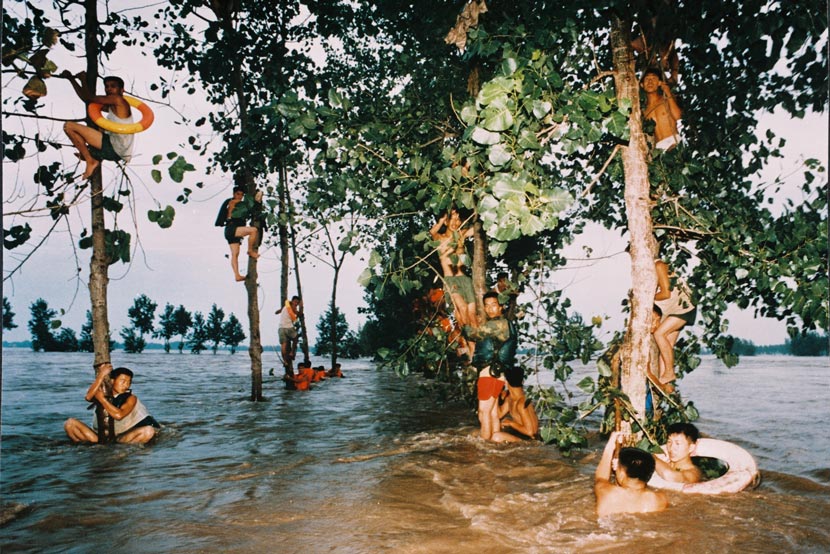 People climb trees to escape the flood in Paizhouwan Township, Hubei province, Aug. 1, 1998. Li Jing/VCG
On the evening of Aug. 1, 1998, the Paizhouwan embankment broke. Panicking, people fled in all directions to escape the rising water, climbing to refuge on roofs, trees, and even utility poles. In the darkness, cries of fear were drowned out by the roar of the floodwater. The next morning, 19 government troops lay dead alongside 25 townspeople, while 60,000 others were forced to evacuate their homes. An image of a 6-year-old girl who survived by clinging to a tree for nine hours — prompting a visit from then-Premier Zhu Rongji — loomed large in the public consciousness as the defining image of the rescue effort.
After the Flood
In the aftermath of the 1998 disaster, the State Council — China's cabinet — passed a Yangtze River Basin flood control plan, and the central government and municipal governments in the area poured money into flood-prevention infrastructure. Paizhouwan received a total of 184 million yuan ($26.7 million) in subsidies to heighten and strengthen the entire embankment, replacing the original porous earthen structure with today's cement one.
But corruption tainted the post-flood rescue and prevention efforts, leading to friction between the local population and the government. Embankment construction projects, farmed out by the government to private contractors, were rife with fraud. Officials in Paizhouwan's Shangxin Prefecture falsified reports on housing reconstruction, claiming that they had spent more than 400,000 yuan on rebuilding homes, though they were later found to have pocketed 105,000 yuan for themselves, according to a 1999 report in the Party paper People's Daily. And villagers have not forgotten that they received modest monetary rewards for aiding flood cleanup efforts but were asked to sign documents showing they had received much larger sums instead.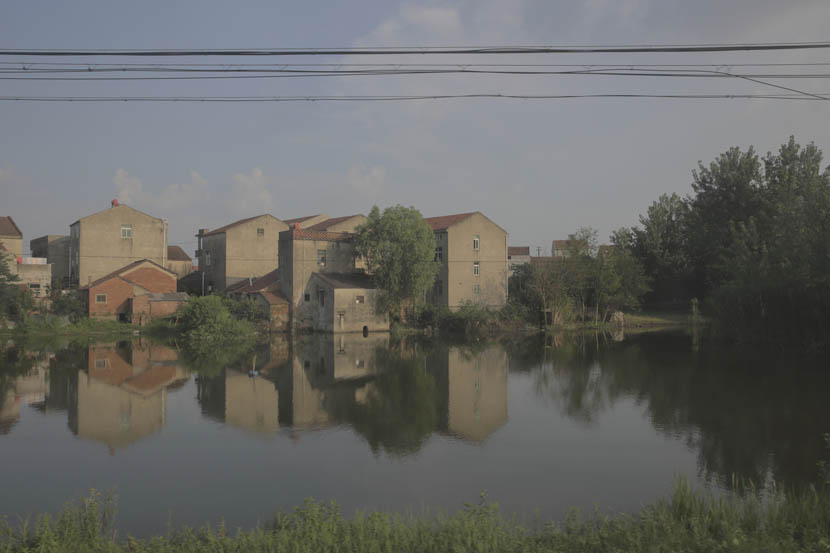 Houses stand along the river in Paizhouwan Township, Hubei province, Aug. 11, 2016. Zhou Pinglang/Sixth Tone
In some cases, rampant corruption threatened the integrity of flood-defense structures, leaving the region vulnerable. According to a 2003 report from the National Audit Office, spot checks along five sections of the Yangtze River embankment found that 16.5 million cubic meters of riprap — rock used to armor the shoreline — had been falsely reported, allowing officials to claim 10 million yuan that they did not spend. A further check of 11 high-risk points along the embankment discovered that over 50 percent of the stone support siding above water level was not up to standard. After this case was reported to the State Council, a number of officials were prosecuted.
Yet management of funds for water-control projects in Paizhouwan has remained opaque. Xu, who has been tasked with water management and drought and flood prevention for the past few years, said that the state of the area is painful to behold. Existing water-management facilities — embankments for flood prevention and irrigation systems for agricultural use — are aging rapidly, while the new ones are riddled with leaks. "I never know what my superiors spend our yearly subsidies on," Xu said. 
To make matters worse, since 1985, the government has gradually reduced investment in basic infrastructure for agricultural water management. The substandard farmland drainage system often leads to waterlogging: In July 2016, more than half of Paizhouwan's crop fields were submerged in water, affecting nearly 50,000 people and 82,000 mu (54.7 square kilometers) of arable land, and causing a direct economic loss of 150 million yuan. During that time, Xu often saw fish lying dead in the sun, drawn out of their ponds by the rising water. The hard laminate that had only recently been used to line the irrigation channels lay stripped off. On the roadside, pumpkins sat putrefying, attended by swarms of flies.
When asked about the quantity and distribution of water-management funding in Paizhouwan, a Jiayu County publicity department employee surnamed Wen simply said, "Some town leaders are more active and hardworking, so they are given more funds." Wen refused to provide more information, citing concerns about fairness. 
Return to the Embankment
It was against this fraught backdrop of flood-management history that the town prepared to face the 2016 flood season. In the preceding months, a constant stream of directives emanated from the central government, encouraging Paizhouwan officials to step up flood-defense efforts to prevent a major disaster like that of 1998. The orders landed on the desks of officers at the provincial, municipal, county, and township branches of the State Flood Control and Drought Relief Headquarters. With local government elections coming up, officials knew their handling of the flood would affect their careers. In the face of mounting pressure, local officials recruited townspeople to patrol the levees and alert authorities if the embankment was at risk.
Thus, local leaders' fates were left up to nature. Li Shiping, the local Party secretary in Paizhouwan's Dongling Village, had perhaps the least luck of any local official that year. As the river swelled, the official flood risk in Paizhouwan reached the second-highest level on July 10. That afternoon, the secretary of the township village committee ordered Li to increase the number of people on patrol along the riverbank from 35 per kilometer to 100.
Li Shiping (second from left) and his family pose for a photo at home in Paizhouwan Township, Hubei province, Aug. 2, 2016. Zhou Pinglang/Sixth Tone
"It simply couldn't be done," Li said. The population had diminished after the 1998 flood, with young men in particular seeking jobs elsewhere — leaving flood-prevention efforts mainly to women and the elderly. "Even if you made the over-60s patrol the dam, you'd still never get enough people together," Li explained. But with his career on the line, Li told the village committee that he would increase patrol numbers the following day. 
The next morning, he was forced to resign. A disciplinary spot check had found that he had not rallied enough people to meet the patrol demands made by higher-ranking officials. 
Local officials were not the only ones who suffered under the stringent flood-management orders. One villager, Tong Zhenming, was forced to run back and forth between his farm and the embankment in an effort to both save his produce and fulfill his flood-prevention duties. Early on the morning of July 9, just as the shift change on the embankment was about to take place, Tong clocked off to attend to his farm without waiting for the next villager to take over. A cadre from the state flood control headquarters saw him, and he was punished on the spot: The 60-year-old Tong was forced to work on the embankment for 36 hours straight.
Other villagers who disobeyed flood-prevention directives were ordered to write self-criticisms to post publicly as a warning to fellow villagers. "It's to make an example of them," former Dongling Village Party secretary Li said, adding that he himself had punished a villager just before he lost his post. "As a Party member, I understand the organization's decision," Li said with a smile. 
For township officials who managed to hang on to their jobs, the 2016 flood-prevention initiative was a resounding success. "It demonstrates that the people and their cadres are united in challenging nature to accomplish something great," concluded township Party official Yin Quan, quoting a speech by Mao Zedong advocating for more water projects in the '50s and '60s. Around 4,000 people were recruited for the 2016 flood-prevention efforts, according to Yin. "In today's marketized society, to be able to mobilize so much free labor without spending a cent is a truly amazing achievement," he said.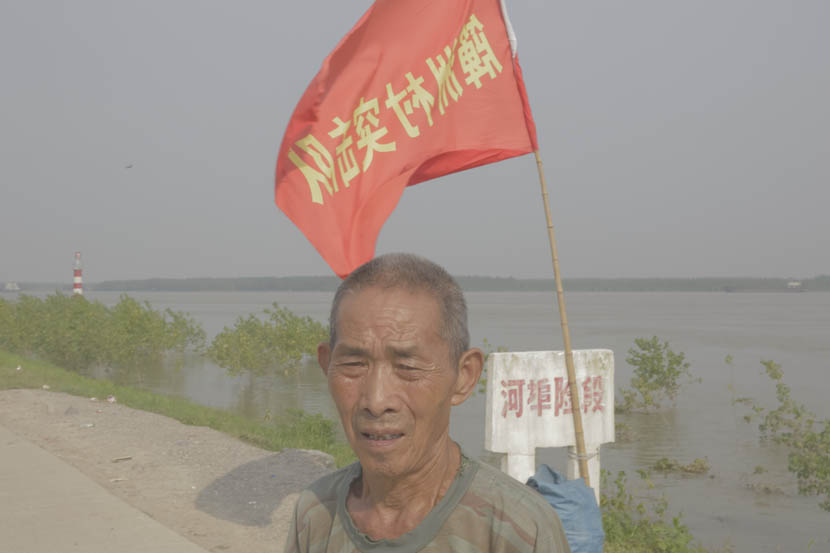 A man stands guard on the embankment in Paizhouwan Township, Hubei province, July 27, 2016. Zhou Pinglang/Sixth Tone
Paizhouwan water-management official Xu believes that greater emphasis on flood prevention and officials' strict adherence to flood-management orders have made the town much better-equipped to withstand flooding than in the past. But political pressure has also led to unnecessary measures that waste resources, said Xu. 
For example, in one case, the rising pressure of groundwater flowing underneath a dike in Paizhouwan caused a rupture in the earth 40 centimeters in diameter. The nearby Xianning City flood-prevention headquarters dispatched over 200 special-force police officers to the scene to stem the flow with sandbags and rocks. If the rupture had happened closer to the dike, it could have compromised the structure. But according to Xu, "The location was 1.5 kilometers away from the dike; what harm was it really going to cause?" He attributed the overwhelming official response to "political considerations." 
"Our leaders might all be too nervous," said Xu, who feels that the Paizhouwan flood-prevention plans — some of the most stringent in the county — may be too strict. To pass assessments from higher-ups in the government during the 2016 flood season, large numbers of elderly people with almost no capacity for labor were sent to the embankment to fortify numbers. "Lots of officials want to make it look like they're doing something," Xu said. 
And even with the increased focus on flood prevention, poor planning and unreliable workmanship continue to present challenges. "Nowadays, the water-management departments over in the county seats just send all these college students around. They come out on little excursions in their cars, stay for a day or two, and then go back to their air-conditioned offices and hash out a design," Xu said.   
In theory, he said, hiring a single contractor to maintain the embankment for a longer period of time would resolve these difficulties. "Our construction projects can only [be used] for a few months until they become a case of 'This bit's broken; that bit's not been repaired yet.' How come other countries can use theirs for decades?" he asked, sighing. 
The problems with Paizhouwan's flood defenses are systemic, in Xu's opinion. "There's nothing we can change about that," he said.
(Header image: Four women carry shovels as they walk to the embankment to patrol along the riverbank in Paizhouwan Township, Hubei province, July 22, 2016. Zhou Pinglang/Sixth Tone)