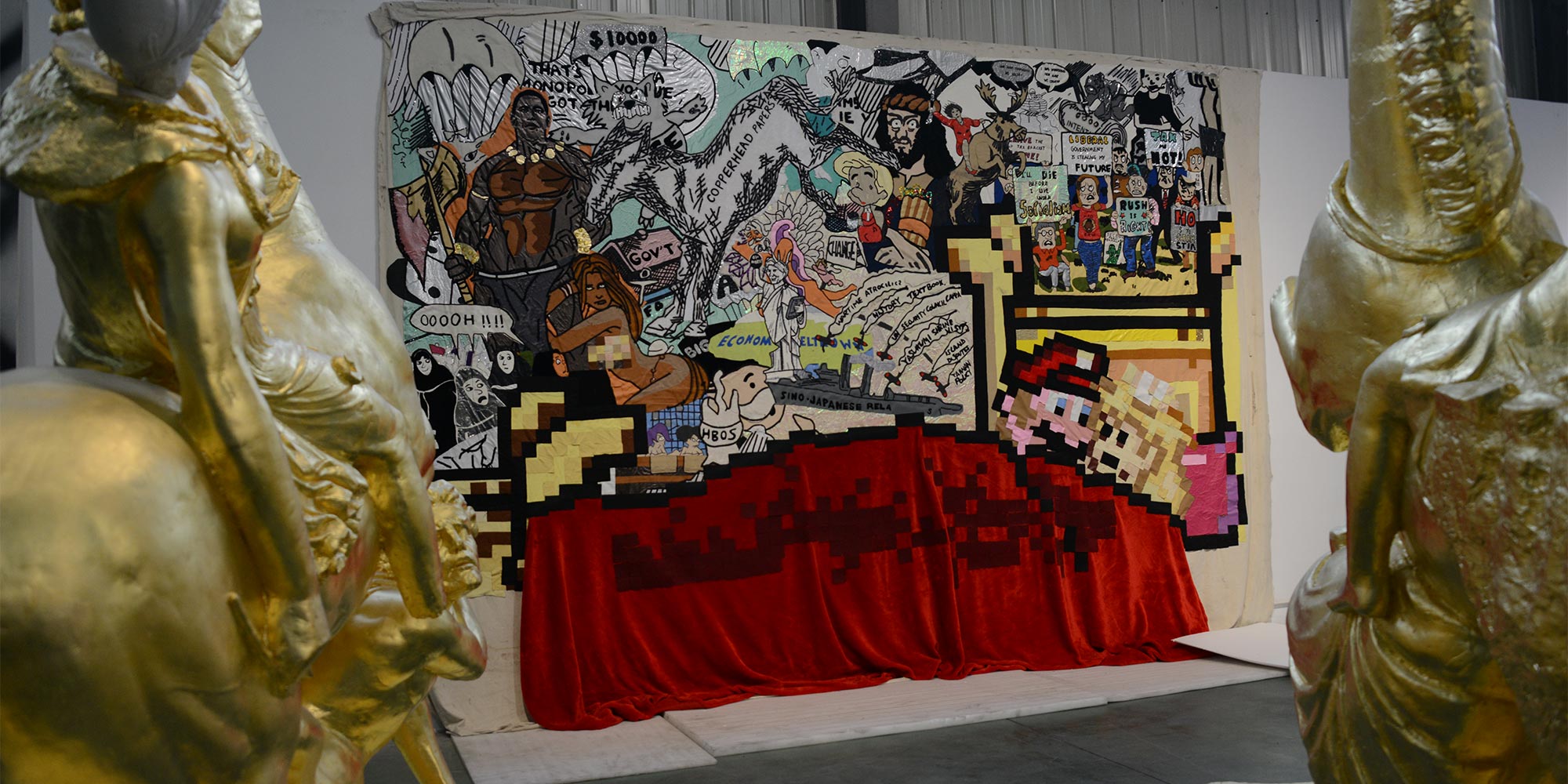 FEATURES
Chinese Artist to Trump: Bring on the Chaos
Divisive artist Xu Zhen, who once pulverized a dead cat, embraces absurdity in new store-like exhibition.
Xu Zhen does not speak of the White House's incoming tenant in glowing terms. "Trump is a kind of influenza for the world," the modern artist tells Sixth Tone. Contemporary culture is suffering from a long-term sickness, which in the West, he suggests, has manifested itself in shocking political developments like Trump and Brexit.
Yet somewhat paradoxically, 39-year-old Xu remains excited about the coming four years. "China will definitely become the most powerful country in the world," he says from his warehouse studio in an industrial compound on Shanghai's outskirts. "That will cause chaos, which is really good. Chaos creates opportunities."
Xu, the Shanghai artist whose work inspires confusion, awe, offense, and everything in between in its audience, has long thrived on chaos, a theme that runs through his latest exhibition: "Xu Zhen Store." The space is intensely bright. Golden Renaissance-style horsemen — comically fused at the neck with Chinese Buddhas — rotate on a central carousel. Images of highly sexualized anime girls who have been digitally edited to give them black skin flash across screens. Against the walls, rainbow Buddhist icons glow from shrines of high-density black foam.
"We've done a lot of work that combines elements from different cultures," Xu says in surprisingly mild language, given that he is referring to a series of African sculptures that have had Japanese anime characters grafted on as penises. "Through this, I want to create a sort of universal language that can be easily understood without any particular knowledge or background."
The comically crude, copy-and-paste way in which various elements are fused perhaps reflects Xu's unusual relationship with other cultures. He has a fear of flying, which prevents him from visiting other parts of the world in person. Instead, he remains in China and relies on the internet for his experience of other places. When the cultures of tribal sculpture and anime are equally within reach, just clicks apart, the boundaries blur. "It's so easy to look at things that are happening all over the world," he says, "so I don't think so much about the borders between countries."
In fact, Xu doesn't care much for boundaries in general. Over the course of his career, he has jumped between art forms as varied as video, performance, photography, and sculpture, while on a number of occasions, he has been accused of crossing ethical lines. Born in 1977, when China was still reeling from its iconoclastic Cultural Revolution, he is often labeled as "self-made" because he didn't attend any of the acclaimed art schools that launched the careers of so many of his peers.
Xu's early video art is raw and unconventional. It features violence, nudity, cadavers, even animal abuse. One of these pieces, "Shouting," launched Xu's international career when it was selected for the Venice Biennale in 2001. Since then, his work has been shown in some of the world's most prestigious galleries, from New York's Museum of Modern Art to London's Tate Modern. His more recent work is often said to flirt with both irony and earnestness. "Xu Zhen Store," which both criticizes and embraces commercialization, fits this description.
The "store," housed at Xu's Shanghai-based MadeIn Gallery, disposes with the traditional museum-like formality of art shows in favor of high-street familiarity. You can try on Xu Zhen-branded clothes and sunglasses, sit on carved foam armchairs, and create your own Xu Zhen artwork by squeezing oil paint onto canvas through culinary piping bags. Everything is for sale, from the panda dolls to the sofas, and much of it is unlimited edition.
The commercialization of art is gaining traction in China, with environmental artists like Gu Wenda hailing collaboration with corporations as an important means for artists to broaden their influence. But for Xu, commercialization has a very different significance.
Putting moderately low price tags on his artwork — a Xu Zhen brooch, the store's cheapest item, sells for 68 yuan ($10) — is Xu's attempt to make artwork resonate more with China's rising consumerism, which he thinks will make it more accessible. "People don't think that highly of art," Xu says. "They might be willing to buy food via an app on their phone, but they're not willing to spend money on artwork." It's a fitting comparison, too: Xu once devised an exhibition delivery service, "Dial 62761232-Courier Exhibition," which allowed people to have temporary art shows delivered to their door for free.
Xu hopes that a more familiar, consumerist environment will "make people feel more comfortable" — but "comfortable" seems a strange choice of word for an artist like him, whose work so often unsettles its audience. One of Xu's early video works, "I Am Not Asking for Anything," shows him pulverizing the corpse of a cat by swinging it into a concrete floor for 50 minutes. Another video work, "An Animal," shows four men in a room trying to sexually pleasure a real-life giant panda. This kind of work, he says, usually provokes a stronger reaction in the West than it does in China. One of his performance pieces, "The Starving of Sudan," which went on show in Beijing in 2008, featured a Chinese-born Guinean toddler playing the part of a starving child, eyed by an animatronic vulture.
But Xu's work is not shock for shock's sake, believes Christopher Moore, editor of a bilingual monograph on Xu and publisher of the Chinese art magazine Ran Dian. "Xu Zhen is a moral philosopher who doesn't want to tell us what to think, but ask us why we think the way we do," Moore tells Sixth Tone. The cat-swinging piece, for example — a nod to the expression "not enough room to swing a cat" — was a commentary on literal and psychological living space, he says. "It was shocking. It still is. So were the conditions he was commenting on."
Yet while Western viewers have accused him variously of gratuitous violence or exploitation, reactions among Chinese audiences have been far less vociferous, Xu says.
In China, his work faces a different kind of condemnation: that from the authorities. One of Xu's early shows, "Art for Sale," which he co-curated in a Shanghai shopping mall, was shut down after some of the work — including his video "From Inside the Body," in which he and a female performer take off their clothes and sniff each other — was judged by Shanghai police to be in contravention of China's anti-obscenity laws, from which art is generally considered to be immune.
A year later, "Fuck Off," a show curated by dissident artist Ai Weiwei that included some of Xu's work, was also closed down by police. Xu says that while he does seek to be provocative, he, unlike Ai, has never proactively set out to challenge the Chinese government. Still, he accepts that when you are working to challenge conventions, it is inevitable that some people will, in his words, hate you.
Resistance, be it at the hands of the police or critics, has not caused Xu to hold back or tone down his art. Instead, he does everything he can to find a plinth for his work in an increasingly crowded world.
Feeling that his voice was being drowned out by society, Xu in 2009 decided to formally stop producing work as an independent artist and instead become the CEO of his own "art production company." He formed MadeIn Company — whose name in English references the ubiquitous phrase "Made in China" while the Chinese, mei ding, "without a roof," hints at the company's dedication to "the research of contemporary culture's infinite possibilities" — in response to the unprecedented onslaught of information brought on with the age of the internet.
But for Xu, the internet is as much a tool as it is a theme, particularly for someone who cannot step foot in an airplane. "In the past, if I wanted to know about something, I had to spend ages doing research," he says. "But now, even though I'm not a specialist in any particular area, I can get a lot of information very quickly. This has hugely changed the way I work."
So, too, has Xu's reliance on his team of manufacturers. Unlike other high-profile artists who quietly use fabricators to produce their work, the artist-turned-CEO is completely open about the fact that he has very little input in the physical production of his work. "I'm not interested in how artwork is made," he says bluntly. "For me, it is the direction of the art that is important."
(Header image: Art pieces by Xu Zhen on display in his Shanghai studio, Dec. 16, 2016. Beatrice Di Caro/Sixth Tone)