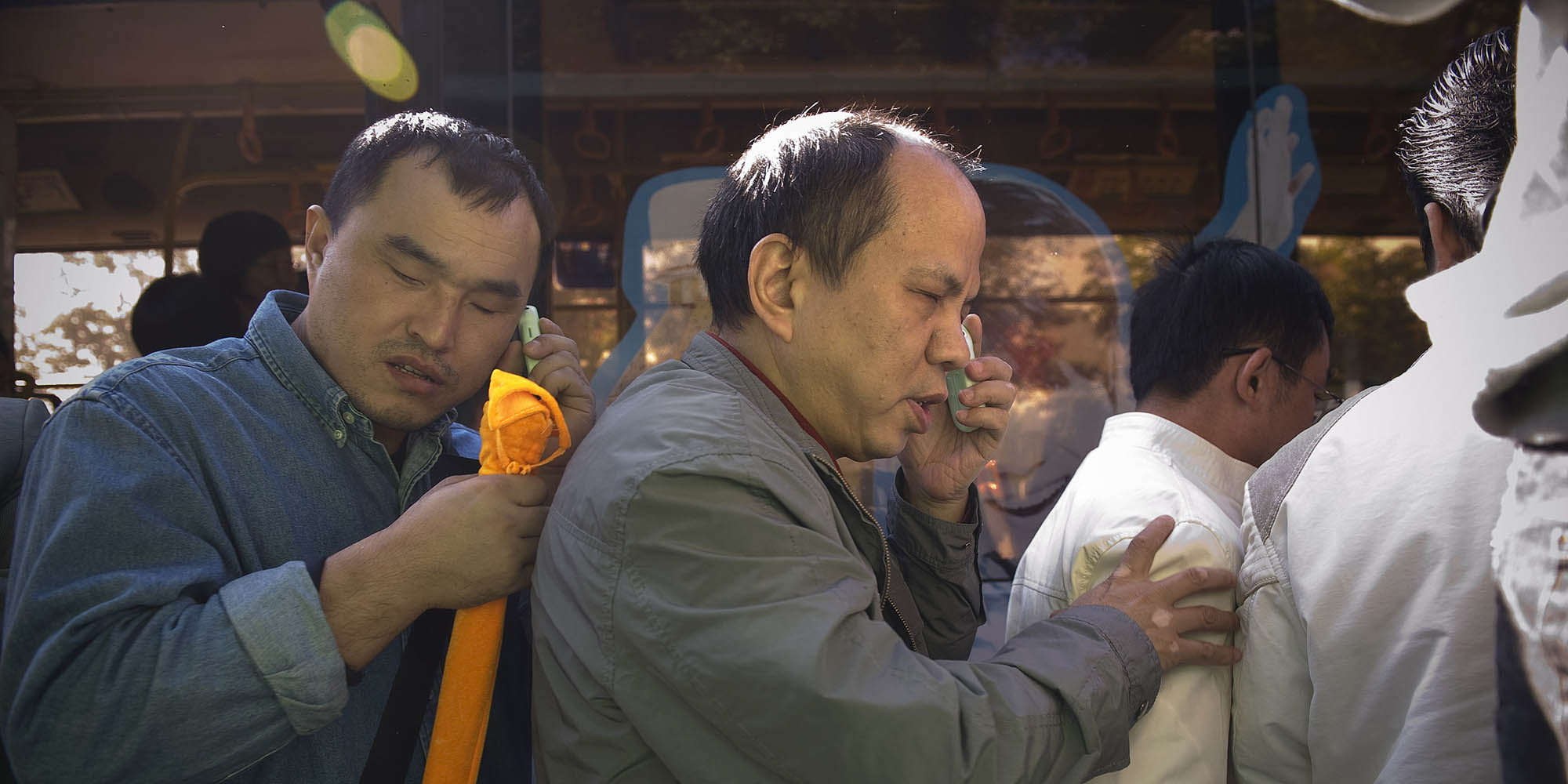 FEATURES
Shenzhen Closes Door on Blind Migrants
City's 'hukou' regulations say people with disabilities cannot become official residents.
Xiao Guangting became a qualified masseur, found a job, married the woman he loved, and became the father of a son, all during his nearly two decades in Shenzhen, southern China. But the 39-year-old still can't call the city home. His application to become an official resident was rejected by city authorities again and again because of his disability: Xiao is blind.
Believing that they have the right to be treated equally, Xiao and others have sued several departments of the municipal government over the last four years, only to be rejected each time by the courts. Refusing to give up, Xiao recently took his case to the provincial high court. "I hope my actions can bring change," he told Sixth Tone.
Shenzhen, in Guangdong province and bordering Hong Kong, famously grew from a fishing town into a city of millions, attracting people like Xiao from all over the country — in his case, from eastern China's Shandong province. Like all of China's biggest cities, Shenzhen throws up regulatory roadblocks to limit the amount of people who can live there, afraid that too many newcomers will lead to slums and exhausted social security coffers.
In Shenzhen, a point system grants local household registrations, or hukou, to "talented" people and keeps out those whose qualifications don't add up to the required 100 points. For example, an undergraduate degree is worth 80 points, but people whose highest level of education is high school get just 30 points. A good job, stable financial situation, and other considerations are worth additional points.
At 140, Xiao has more than enough points, but applicants also need to pass a physical examination, the regulations for which state that people whose corrected eyesight tests below a certain value are ineligible. Hearing impairment and other physical disabilities are subject to similar standards.
Zhang Yujuan, a lawyer familiar with cases like Xiao's, told Sixth Tone that Shenzhen's regulations are unlawful and constitute discrimination toward people with disabilities. "The Law on the Protection of Persons with Disabilities states that disabled people should have the same rights as other citizens," she said, adding that the regulations equate to the government defining people with disabilities as untalented and unhealthy.
Without a hukou, Xiao's 13-year-old son was unable to enroll in a public school. Instead, the family turned to a private middle school with an annual tuition fee of 8,000 yuan ($1,150) — for them, a hefty sum. The only other option was to enroll his son in a school some 1,600 kilometers away, back home in Shandong, which Xiao and his wife could not bear. "He told us he felt heartbroken every time we left him," Xiao said of his son. "I don't want him to be a left-behind child anymore."
Liu Tianhua is in a similar situation. Like Xiao, the 43-year-old is blind and can't get a local hukou despite his 120 points. Liu lamented that he was unable to enroll his daughter in the neighborhood's kindergarten. "Anybody in this city with a hukou has priority over us," he told Sixth Tone. In the end, Liu had no choice but to send his 4-year-old girl to another kindergarten, where she had to join the wrong grade. "It has already been so difficult that I can't imagine how many hardships we might face when we enroll her in primary school," Liu said.
Last November, Liu sued the Shenzhen Human Resource and Social Security Bureau, but he lost his case within minutes. "The court accepted the case and convened, but then they told me I couldn't sue the bureau," Liu said. "I've realized there's no hope — nobody will answer my questions."
Liu works at Dialogue in the Dark, a gallery where blind guides lead guests through dark environs to experience life without sight. The message is that people with visual impairments can lead productive and meaningful lives. "I understand that no city wants newcomers to be their burden, but now more and more blind people can overcome obstacles with the help of computers and smartphones," he said. "We're capable people."
Shenzhen's physical exam regulations allow for "special projects" where different requirements apply, but what constitutes a special project, or what those different requirements are, is not clear. In November 2015, Xiao sent an open information request for clarification of these details to both the Shenzhen Human Resources and Social Security Bureau (SHRSSB) and the city's Health and Family Planning Commission (HFPC). The former said that all they could do was accept the results of the physical exams; the latter replied that the information wasn't classified as publicly available.
When contacted by phone, Yu Lisi of SHRSSB's publicity department told Sixth Tone that she could not comment on the regulations and repeated that all the bureau could do was accept the results given to them by other departments. The HFPC could not immediately be reached for comment.
Xiao sued both government bureaus in December 2015 for refusing to give him a hukou, but a local court rejected his suit. An appeal to the Shenzhen Intermediate People's Court in June of 2016 was also rejected.
Two months after that setback, Xiao filed official legality reviews with three municipal government departments regarding the physical exam regulations for people with visual or hearing impairments, or other physical disabilities. Their reply was that health is one of the "basic conditions" for hukou applicants.
To Liu, this explanation makes him feel like people with disabilities are being lumped together with criminals: Another basic requirement is that applicants need to have clean criminal records. "People in this city are very warmhearted and ready to help," he said. "But I cannot believe that the government so flagrantly discriminates against people with disabilities."
Xiao has voiced similar feelings. He feels as grateful to the city as he does let down by its government. "Being blind isn't something I did on purpose, and I couldn't change it even if I wanted to," he said. "I thought that if I reported my difficulty in getting a hukou to the authorities, then the problem could be solved. I didn't expect that it would be so difficult."
While it's not easy for anyone to meet the 100 points requirement, it's even harder for blind people. In China, there are limited opportunities for people who are visually impaired to receive a good education and find employment. Last year, a top scorer on the civil service examination was denied a government job due to his visual impairment, and a high-scoring student was turned down by Tianjin University for the same reason. Most blind people go to medical schools to learn massage; others study piano tuning.
Xiao has surmounted all stumbling blocks and even thrived over the past two decades in his adoptive city. "We shouldn't be treated differently," he said. "The points system is meaningless if the authorities set a higher threshold for people with disabilities."
One of Xiao's latest legal moves is to sue the provincial government of Guangdong over the discriminatory regulations. An intermediate court in the provincial capital, Guangzhou, heard the case in November and several weeks later rejected it. Xiao and his lawyer then filed a lawsuit with the Guangdong High People's Court, which has accepted the case but is yet to announce a date for the first hearing.
Last year, there was suddenly a glimmer of hope that the city government would listen to the blind men. In March, during a radio program produced by the government, Ma Xingrui, then the municipal Party secretary, responded to Liu's complaint. "We cannot discriminate against visually impaired people," Ma said during the program, calling on the authorities to further investigate Liu's case. "We must research how to revise the policy of introducing talent to be more reasonable."
Following the radio show, representatives of the SHRSSB showed up at Liu's work with a crowd of reporters. "The conversation was over in five minutes," Liu recalled. "I didn't even get a chance to say anything, and then they left." Several months later, the same bureau rejected his application yet again.
Zhang Xingwei, an employee of the Shenzhen Disabled Persons' Federation, told Sixth Tone that there's no official figure for the amount of people with disabilities living in the city, and that only people with local hukou are registered in their database, which currently lists 1,300 people with visual impairments and 2,200 people with hearing loss.
"Some are migrants who acquired the hukou recently," Zhang said. "We haven't received any complaints of blind people not being able to obtain a hukou." In Zhang's opinion, as long as an applicant has enough points, it's not hard to get the residence document.
There actually is a way for blind people to acquire a Shenzhen hukou, but it's illegal: Agencies providing fake physical examination records can be found online. One blind man told Sixth Tone that he paid an agency 70,000 yuan for the document, and that he was eventually successful in getting a hukou. He would not reveal his name because what he did was illegal.
However, both Liu and Xiao think it's useless for them to turn to such agencies for help now that the government knows who they are. "I'd rather not think about it anymore," Xiao said.
Liu, meanwhile, wishes he had not tried to fight discrimination through legal means and had instead chosen to go down the illegal route in the first place. "I really, really regret that. Only stupid people like me tell the authorities we're blind," he said with a rueful chuckle.
(Header image: Blind men alight from a bus with the help of voice navigation devices in Shenzhen, Guangdong province, Dec. 3, 2011. Chen Wencai/Southern Metropolis Daily/VCG)