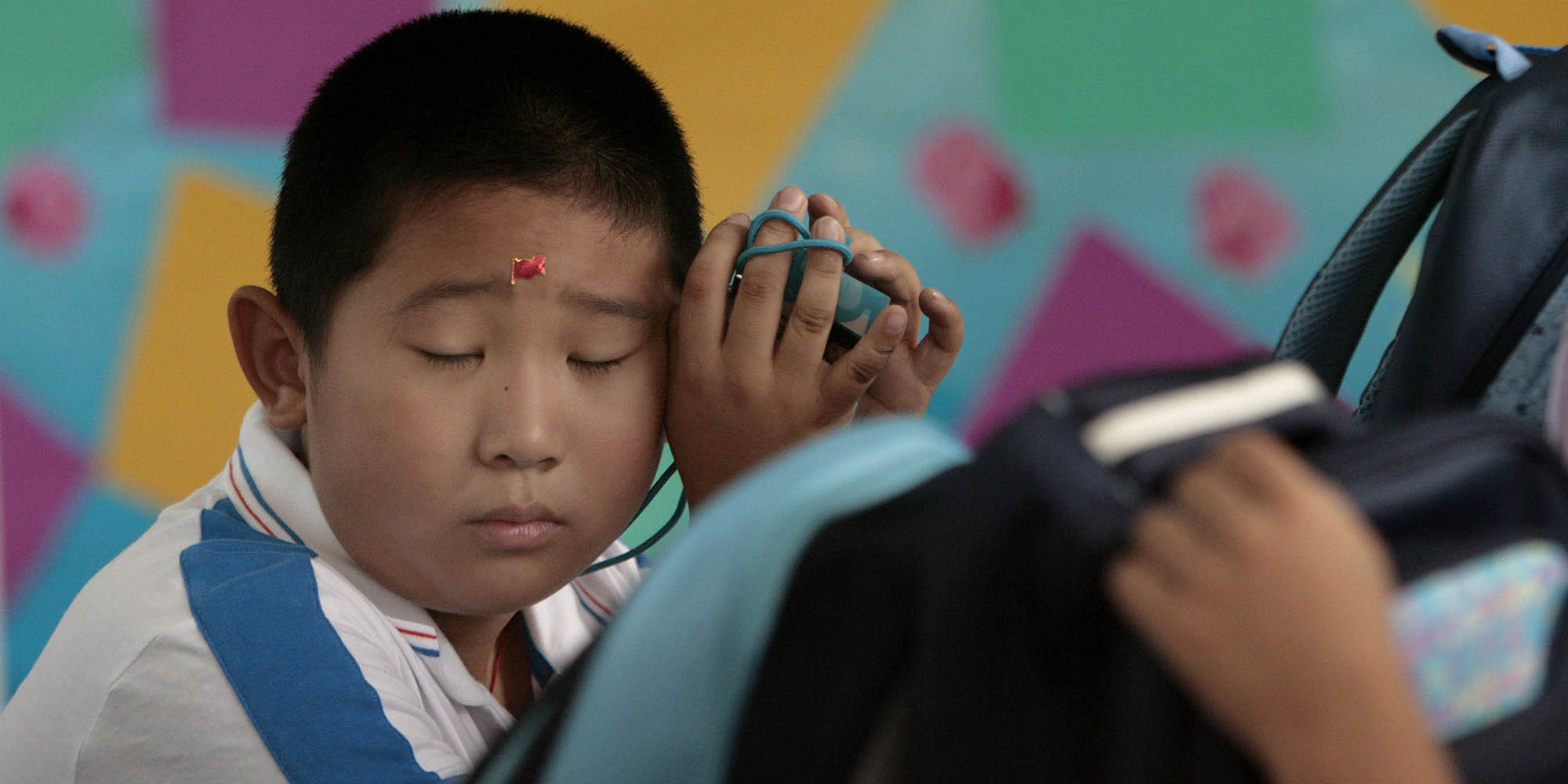 FEATURES
Why Has 'Happy Education' Produced Unhappy Students?
Policies aimed at reducing students' workloads have only pushed parents to seek more extracurricular classes.
Ten-year-old Haohao can't remember when weekends stopped being fun, but now every Saturday is just like school in a different place.
"The teacher talked especially fast today. I'm worried I missed quite a few points," Haohao tells his mother glumly in the 10-minute break during his Math Olympiad class. Though it's Dec. 31, not a single student from the class of 20 has taken the day off, and parents fill the back row of the classroom.
Haohao's mother, 37-year-old Huang Lixia, gives the teacher her full attention. Tomorrow, she'll be responsible for reviewing all the key points with her son. "I have no real weekends either," Huang tells Sixth Tone. "But these extracurricular courses aren't optional for us. Everybody else is learning outside of school, so if we didn't, my son would fall behind."
Haohao is a fourth-grader at a top public primary school in Shanghai's Yangpu District. Every Saturday, he and his mother take a 30-minute bus ride to a training center, where he attends a three-hour Math Olympiad class in the morning and a three-hour English class in the afternoon.
The frenzy for extracurricular courses is reaching a fever pitch in Shanghai, but the phenomenon may be an ironic, unintended consequence of policies that were actually designed to make school less stressful for students. Instead, parents say that the policies have just shifted the pressure outside school walls and transferred the burden of delivering rigorous education to parents and private providers.
The concept of "happy education," as the Chinese media has termed these policies, first appeared a decade ago, when Shanghai's municipal education authority banned local kindergartens from placing excessive academic demands — such as requiring that students learn 1,000 Chinese characters — on preschoolers. In 2010, a new national education reform and development plan named reducing stress for students in China's "compulsory education" period — from grade one to grade nine — as a key objective.
The policy aimed to relieve the immense academic pressure on China's children. The first 11 months of 2010 had seen 73 primary and middle school students commit suicide, and many educators and psychologists attributed students' mental and physical health issues to overwork. Wang Dinghua, a leading official from the Ministry of Education, said the authority needed to do something to ease the academic burden on children.
But six years after stress reduction was officially written into the state's education reform policy, academic performance remains a source of anxiety for many students and their parents. Their worries have fueled the booming market for extracurricular courses that emphasize grades, exams, and competition.
In schools, it's a different picture. A teacher from a public Shanghai primary school tells Sixth Tone that anti-stress policies have resulted in shorter school days, easier exams, and very little homework. "Students learn quite simple and basic knowledge from school classes," says the teacher, who insisted on anonymity for fear of repercussions for criticizing the policy. 
She believes the current curriculum isn't challenging enough. "It's a bit embarrassing to say that 9-year-olds in my class are still learning English songs like 'Hello, Hello, How Are You,' which many kindergartners can master," she adds.
Though schools are barred from teaching content that education authorities have deemed too difficult for young students, teachers sometimes still include such material on tests. "There have to be a few difficult questions in final tests to help differentiate top students from good students," the teacher explains.
Xiong Yihan, an associate professor at Fudan University, says that China has overcompensated in trying to alleviate the problem of student overwork, and that it's time for education authorities to rethink their stance.
"They have to understand that in any country around the world, there must be stress on students who want to be excellent," Xiong argues. "The intentions of the 'happy education' policies are good, but complaints from parents should alert policymakers."
Shanghai mother Chu Yanan is adamant that "happy education" has shifted more pressure onto families. Her older son is preparing for the gaokao, China's college entrance exam, while her younger son has just started primary school. Chu says that in the 11-year gap between her children's ages, extracurricular classes have effectively become obligatory because kids don't learn enough at school. "There is no such thing as 'happy education' for any family who wants to bring up a top student today," says the 42-year-old. 
Haohao's mother, Huang, says she was driven to enroll her son in extracurricular classes because teachers seem to assume every family is supplementing their children's education. She is disappointed with the quality and scope of teaching within the state school system, even though Haohao's school is considered one of the best in the city. "Can you believe that they only teach three new English words each week?" she asks, fuming.
Huang is not placing especially high hopes on her son. She says she'd be happy for Haohao to be average. "But if he doesn't attend Math Olympiad or English classes outside of school, he'd probably become one of the worst," she says. "That would be hard for him and for the family to accept." 
She worries about how her son will do on the high school entrance tests in five years' time, when he will have to compete against millions of his peers for limited places at high schools. In Shanghai, only around 70 percent of middle school graduates are admitted into high school, while the remainder can only continue their studies at vocational schools, international schools, or abroad.
Haohao is already lucky that the location of his family's home entitles him to attend a top state primary school. Though school district zoning was designed to allocate students to local schools based on their hukou, China's system of household registration, these days it has inadvertently created yet another way for parents to give their children a head start by purchasing property near the best schools.
When Haohao's grandparents bought their two-bedroom apartment on the top floor of a six-story walk-up 16 years ago, they had no idea it would benefit their grandchild's schooling. "The concept of xuequfang [school district apartments] only grew popular in the last decade," Haohao's grandmother, Yu Meihua, explains.  
The 61-year-old woman recalls that when her son, Haohao's father, went through the education system in the 1980s and 1990s, students simply attended the closest school, and extracurricular classes were rare. "Everything was taught on campus, and I just checked my son's scores from time to time," she says. "I could never have imagined that our apartment would become so valuable because of education."
School district apartments in Shanghai now fetch millions of yuan. Yu purchased the flat for the price of 6,000 yuan ($870) per square meter in 2001, but now the market value of the property has increased to 80,000 yuan per square meter.
Though they've been spared the cost of a xuequfang, Haohao's parents still spend more than 2,000 yuan each month on his extracurricular classes, out of their combined monthly salary of 14,000 yuan after tax. "This sum is affordable at the moment," Huang says. "But we worry that when he enters middle school, there'll be more subjects to study outside of school, like chemistry or physics. The burden will definitely grow." 
A 2015 survey by the Shanghai Academy of Social Sciences and the Shanghai Women's Federation found that local families spend an average of 5,500 yuan on extracurricular courses for their children each semester. For nearly 18 percent of families in the city, the expense amounted to more than 20 percent of the family's entire disposable income. 
"If the school extended class hours and taught more on campus, maybe we could save our time and money on weekends," Huang says.
After a Saturday full of learning, Haohao is exhausted and quiet. Even the special New Year's Eve dinner waiting at home doesn't excite him. He only musters a smile when his mother promises him that they'll go on an outing if he does well on his upcoming final exams.
"I look forward to when I grow up, and I don't have to study anymore," he says.
(Header image: A boy rests during a break between classes at a primary school in Nanjing, Jiangsu province, Aug. 30, 2010. VCG)