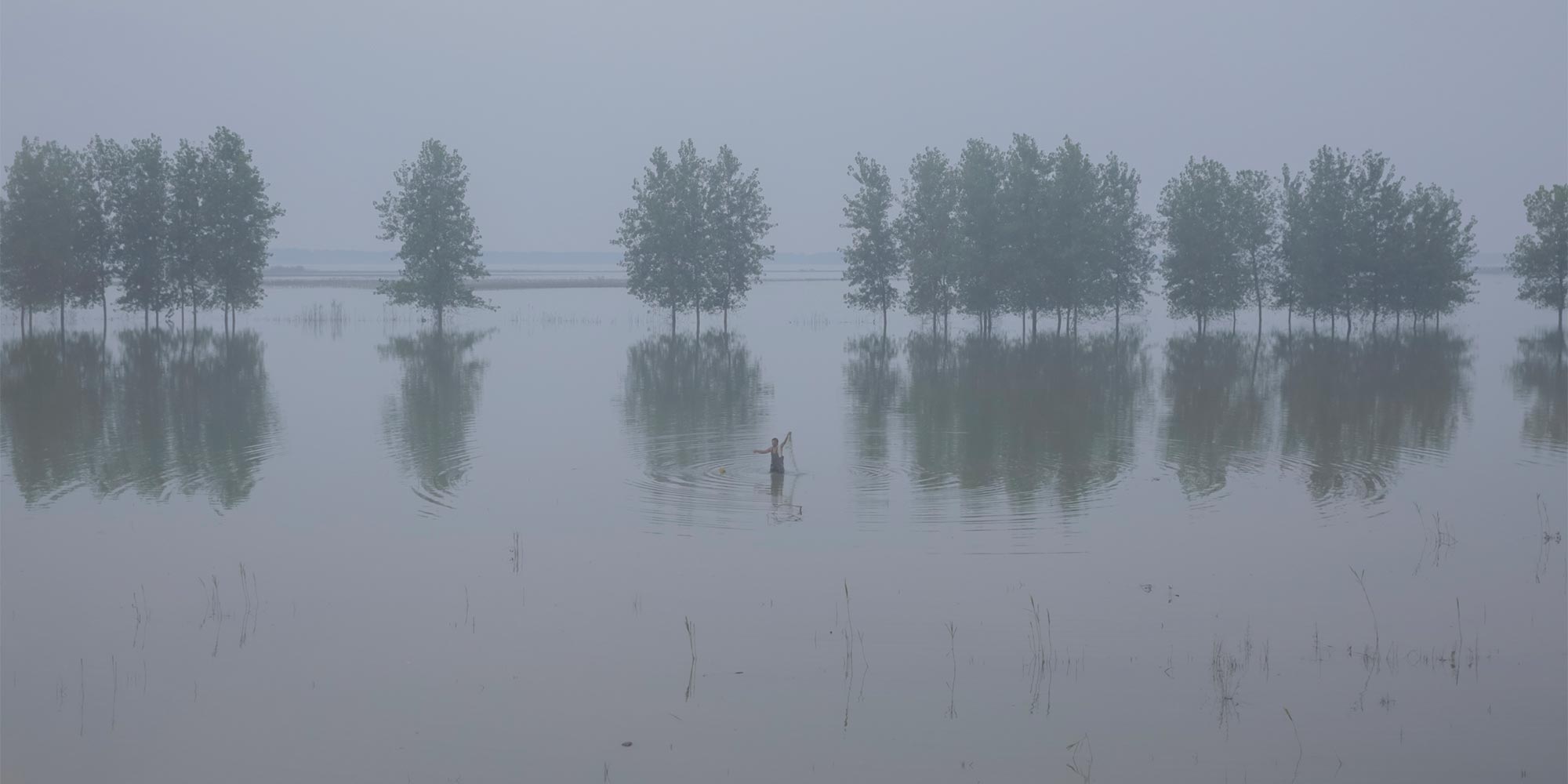 FEATURES
Corruption Runs Through Flood-Ravaged Yangtze Village
An unprecedented deluge almost two decades ago led to a land grab, the consequences of which are still being felt today.
This is the second in a series of articles about a town struggling to survive in a flood zone along the Yangtze River. You can find parts one and three here.
Jin Chengyue vividly remembers the moment his father's land was confiscated in 1999. He watched his father protest, until one of the new leaseholders slapped him in the face.
Jin, then 35, felt utterly helpless. His brothers were away working, and no one was there to help him protect his 67-year-old father and the land where he grew wheat and cotton to support the family. He had no choice but to accept the decision.
Seventeen years later, Jin has become a thorn in the local government's side. He's one of a group of farmers whose families' lands were reclaimed after one of China's worst floods in living memory and who now want their properties back.
Jin's family hails from Paizhouwan Township, an area comprised of around 10 villages, which all sit on a bend of the Yangtze River in central China's Hubei province. Here, the tide flows from east to west, against the natural direction of the river.
In 1998, massive torrential rains inundated the town of 55,000 people and similar ports along the world's third-largest river. Levees broke, people climbed trees and utility poles to save themselves, and in Paizhouwan, 44 people were dead by morning. 
In the aftermath of the disaster, the central government proclaimed that the middle and lower reaches of the Yangtze needed better protection. Embankments were to be flattened, and farmland would be converted back to floodplain to better absorb heavy rainfall. In the ensuing years — while some farmers were permitted to continue working the land outside of flood season — some 2.4 million people were resettled in new homes away from the absorbent land, and 1,461 dikes were leveled to reduce the flood risk.
In the case of Jin's father's property in Xinzhou Village, one of the villages in Paizhouwan, officials were less than scrupulous about protecting the family's land rights. The conflict began in 1999 when, according to Jin, the village executive committee parceled up 2,000 mu (about 1.3 square kilometers) of farmers' land behind closed doors and divvied it up among select individuals. 
Chinese law stipulates a system of collective ownership in rural areas, in which farmland belongs to collectives at the township, administrative village, and village group levels. Individual farmers can lease land on a contractual basis, but confiscation of collective land requires two-thirds of villagers to vote in favor. However, Jin said, there was never any public vote to redistribute the land in his village after the flooding.
"Back then, many villagers opposed the government's land expropriation policy, but because all the young people had left town for work, the elderly and infirm left behind did not have the strength to prevent it from happening," said Jin, remembering his father's assault at the hands of new leaseholder Duan Jiazhu.  
After the village government seized the land, the then-branch secretary, Yin Xianhuai, contracted 881.7 mu out to his own brother-in-law. The terms of the contract stipulated that the land be used to cultivate reeds for the containment of floodwater. "At the time, we believed this was part of the flood-prevention policy," said Chen Zemi, another Xinzhou villager. "To look after everyone's interests, we didn't make a fuss."
But in 2011, Jin found evidence of shady dealings when he obtained a photocopy of Yin's lease and discovered that the terms had been changed in secret. The contractual period had been extended from the year 2021 to the year 2036, and the clause demanding that the leaseholder plant reeds had been removed. 
"At first, we villagers thought that if we just held out for another few years, the village would return the land to us," said Jin, "but now, this land has been sold off to an outside buyer, who just uses it for profit. We can't put up with that."
While villagers said they would accept land-distribution measures to ease the risk of flooding, the manipulation of contractual agreements turned the area in question — known as the Sanxin Dike — into a battleground.
The new leaseholders of the Sanxin Dike began to rent the surrounding land to farmers at increasing rates, raising the price from around 70 yuan ($10) per mu, to 500 yuan per mu. Meanwhile, the land was being leased at an average cost of 15 yuan per mu.
"They really only ever rent land to richer households," Jin said. "A regular family can only afford the rent for a few mu of land. But the small return is not worth it for the leaseholder."
Yu Xuewen, Paizhouwan's Party chief, said that much of the land confiscated after the 1998 flooding was, in fact, no longer being used as farmland and was seized in part to help pay off tax debts. "The people don't mind suffering little losses, as long as the distribution of wealth is even," Yu said. 
After noting the discrepancies in the contract, Jin, Chen, and several other villagers began an investigation, drawing inspiration from a high-profile uprising in Wukan — a village in southern China's Guangdong province — that took place around the same time. Villagers in Wukan made headlines in 2011 when they successfully expelled government officials and instated local elections following protests over land seizures.
In Jin's view, the land expropriation that took place in Xinzhou Village in 1999 bore many similarities to the Wukan seizures. Jin sought to motivate his fellow Xinzhou villagers in their fight for justice by handing out photocopied news articles on the Wukan protests — in particular, reports of a collective appeal to the municipal government filed by 400 Wukan villagers in September 2011. 
That year, Jin, Chen, and another villager led hundreds of residents from across Xinzhou Village onto Xiliu Street, the main thoroughfare through Paizhouwan, where they demonstrated before the town government. Protestors paraded banners with the slogan "Give Our Land Back, Return to Justice" and demanded that the government rescind the contract with which the village committee had signed away the rights to the farmers' land.
"At the start, nobody paid us any attention," Jin recalls, "but later, as more and more people came and the street started to fill up, Zhang Jinsong and Yu Xuewen [then the town committee secretary and town head, respectively] ended up granting five of us an audience with them." 
Yet the victory was short-lived. After the protest, Jin and his accomplices were no longer looked upon with friendly eyes by the township government, he said. The protestors demonstrated outside the township government offices three times, the county government three times, and the provincial government once, but their problems were never resolved.
"Do you know how common situations like that are in Jiayu County?" Jin remembers one official from the region saying in response to their request. "If we resolve it for you, they'll all come banging on our door."
Jin even recalls being threatened with violence by Sanxin Dike leaseholders, as the township government continued to apply pressure. Jin and his peers' protests were repeatedly shut down, and Chen, who served as the villagers' representative, was taken to the local police station for "inciting mass disturbances." 
Jin's friends and relatives all advised him to give up the fight.
Then, in November 2011, leaseholder Duan was killed in a traffic accident. Though the news initially set off a ripple of renewed anger in Paizhou, the friction soon fizzled out. 
With no victory in sight, Jin returned to farming his remaining land, as he had done for the past 30 years — his skin a little darker, his face a little more wrinkled. "Farmers can never get used to [change]," he said. "Just like peasant uprisings [in the past], they are always destined to fail."
Many of the villagers who took part in the protests are in their 70s and 80s and also continue to support themselves through farming. Many remain bitter about the forceful expropriation of their property and the fact that each year, they must offer up their labor for free to help prevent flooding on the very land that was taken from them. This past summer, Jin — selected to serve in the village group tasked with flood prevention — was on duty up on the dike for three days and nights.
Finally, in 2012, Jin had a breakthrough. After a fight with a villager over another contractual matter, Jin was sent to jail for 130 days. While imprisoned, he used his legal knowledge regarding land ownership to help resolve the initial dispute in his favor, which helped him hold onto 15 mu of land. 
The jail time was a welcome respite for Jin. "I felt that life in prison was better than life in the fields," he said. "In prison, we got two days off each week, plus holidays. Farmers only give themselves a holiday during the Spring Festival and have all sorts of trivial obligations to fulfill every year." 
Now, when he's not helping to raise his baby grandson while his elder son works in the southern city of Shenzhen, Jin is busy tending to his fields. He heard that one farmer earned a killing from selling cabbages, so Jin recently set up a cabbage patch of his own. But flooding and flood-prevention efforts continue to take their toll on farmers: After the initial seizure of the villagers' land in 1999, the remaining arable land in Xinzhou Village shrunk from 9,815 mu to 7,495 mu by 2015.
Both of his sons have graduated from university, and Jin has scraped together enough money for his younger son's down payment on an apartment in Wuhan, the provincial capital. "I've got to get them settled in the city," he said. "In the future, there'll be even fewer real country people left, so the few who own their land will have more and more money." Jin doesn't think his sons have a shot at being among the landowning few, so he'd rather see them leave village life behind altogether. 
On the evening of July 8, 2016, Jin came back from his shift on the dike and sat down on the ground outside his front door to cool off. Cradling his grandson in his arms, he thought of his son working over in Wuhan. Because he is so busy at work, the young man has not been home in several years and knows virtually nothing of the flood-prevention work in Paizhouwan. "For [his generation], memories of the floods will gradually fade away," said Jin, "but my son will never truly escape the fate of a peasant: being ruled by others."
(Header image: A man fishes in the Yangtze River as trees planted for flood prevention can be seen partially immersed in the water behind him, Paizhouwan Township, Hubei province, Aug. 1, 2016. Zhou Pinglang/Sixth Tone)