Chinese video blogging sensation Papi Jiang has attracted around 44 million fans and lucrative advertising contracts simply by filming sharp and comedic cultural critiques from her living room. But her freewheeling speaking style, cluttered apartment, and disregard for the typical doll-like look that many fashion bloggers embrace haven't managed to attract luxury brands — until now.
Swiss watchmaker Jaeger LeCoultre created a stir online in China this week when it made a bold move to feature China's number-one internet celebrity this year in a new advertising campaign posted on its Weibo and WeChat accounts. With a more sober, professional tone than is often seen in her enthusiastic and humorous online rants and a little professional styling, Papi Jiang shares her life philosophy in a video promoting the brand's Reverso watch.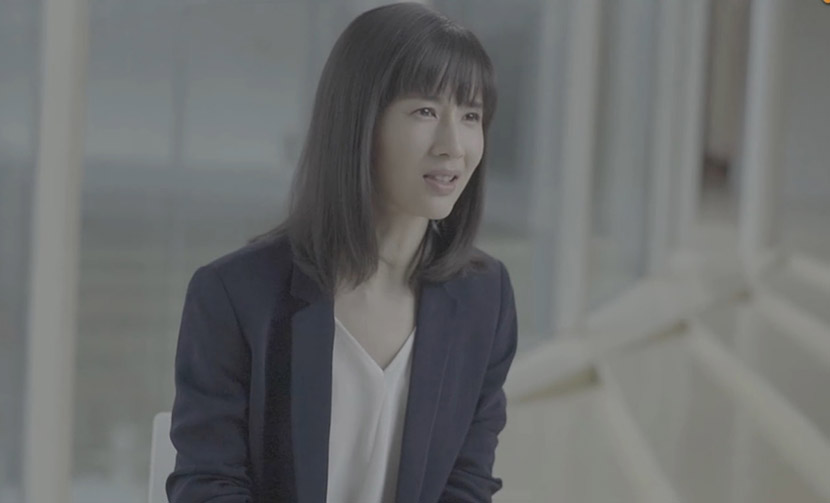 A screenshot of Jaeger LeCoultre's video featuring Papi Jiang.
The brand's decision to hire the outspoken and sarcastic web star described as a "girl next door with attitude" is a significant departure from traditional luxury marketing practices in China, which, when not opting for a major celebrity endorsement, usually focus on fashion bloggers touting glamorous lifestyles with carefully curated (and heavily edited) images. Papi Jiang, in contrast, has earned her massive following from sharp satirical videos that critique social issues, such as one video in which she talks about examples of rampant sexism in Chinese society — touching on topics such as divorce, rape, and double standards for men and women.
"When a woman is raped, it's the rapist whose face is protected," Papi Jiang says in one video, "and everyone says, 'You can get raped looking like that?'" But her videos generally touch on more lighthearted topics, such the way young people in Shanghai inject English into their conversations.
Papi Jiang's incisive commentary, which is delivered at a rapid-fire pace thanks to digital voice alteration, has earned her lucrative endorsement contracts from brands such as L'Oreal, and she even sold an online ad spot in April to a beauty e-tailer called Lily & Beauty for $3.5 million.
But like any prominent media figure in China, Papi Jiang is subject to online censorship. After attracting $1.85 million from investors for a new company she set up in April, some of her videos were removed by censors for foul language. One of her investors withdrew an investment of around 5 million yuan ($720,000) in July, saying they wanted to focus on their own content.
Some critics are saying Papi Jiang's mass-market image doesn't fit with Jaeger LeCoultre, whose timepieces retail for $5,000 to $20,000. WeChat blog Fashion Note says that an unnamed China boss of a French luxury brand commented that high-end brands "cannot count on [Papi Jiang's] fans to understand and spread the key messages from a high-end watch brand like Jaeger LeCoultre," and that the ad will cause the brand to be "misinterpreted." In addition, an "English luxury brand veteran" reportedly stated that the video seemed "a bit low-brow; her hair looks too casual," adding that a brand like Jaeger LeCoultre "shouldn't try to please everyone." Meanwhile, a Chinese-language article on industry website Business of Fashion noted that Papi Jiang appeals to China's diaosi culture — slang for "losers" who are stereotyped as people who live with their parents and spend an inordinate amount of time online.
"We don't believe in one-size-fits-all results for Papi," read a recent statement by key opinion leader (KOL) firm ParkLu in a Campaign Asia article about her marketing potential, adding that brands should examine whether Papi Jiang's audience includes their target customers. "If you are an online dating service or an app, you would probably benefit from her mentioning — or making fun of — your app, because of her focus on relationships. Whereas if she was wearing a certain shade of lipstick, would it influence buyers?"
But other articles note that featuring Papi Jiang is an innovative way to appeal to millennial Chinese consumers after China's anti-corruption campaign has stifled Swiss watch sales in recent years by removing demand for luxury watches from older government bureaucrats. Jaeger LeCoultre's parent company, Richemont, reported a 51 percent drop in global profits for the first half of the year but added that growth in mainland China is rebounding.
Papi Jiang's commentary tends to appeal to an educated, urban audience that could include potential customers for the brand. In fact, the diaosi label has evolved to encompass young professionals with spending power. "Economically speaking, [her fans] certainly aren't 'losers,'" says Business of Fashion.
Papi Jiang's videos also criticize the stereotype of shengnu, or "leftover women," in China, which propagates the idea that educated, professional single women who devote too much time to their careers risk becoming too old to get married. While the idea that they are "leftover" is a pernicious stereotype, the affluent professional women whom Papi Jiang reaches are exactly the demographic a luxury brand would look to target.
The ad firm that created the campaign, Fred & Farid, confirmed to Chinese news portal Jiemian that young people were the target of the ad, and that the watch being advertised is one of the brand's more "entry-level" models. The firm deliberated whether or not to use Papi Jiang as part of a campaign featuring four different KOLs, and originally considered featuring her using her real name, Jiang Yilei.
While marketing experts are divided on the ad's effectiveness, the campaign has certainly spurred engagement: It had received over 69,000 views on WeChat as of Dec. 15, and Papi Jiang's Weibo post of the video on her own profile had received around 114,297 likes, 12,379 shares, and 17,000 comments, mostly positive. If it's successful in driving more young people to the brand, it could have luxury brands turning to a wider range of representatives in the future.
This is an original article by Jing Daily and has been published with permission. The article can be found on their website here.
(Header image: A screenshot of Jaeger LeCoultre's video featuring Papi Jiang.)