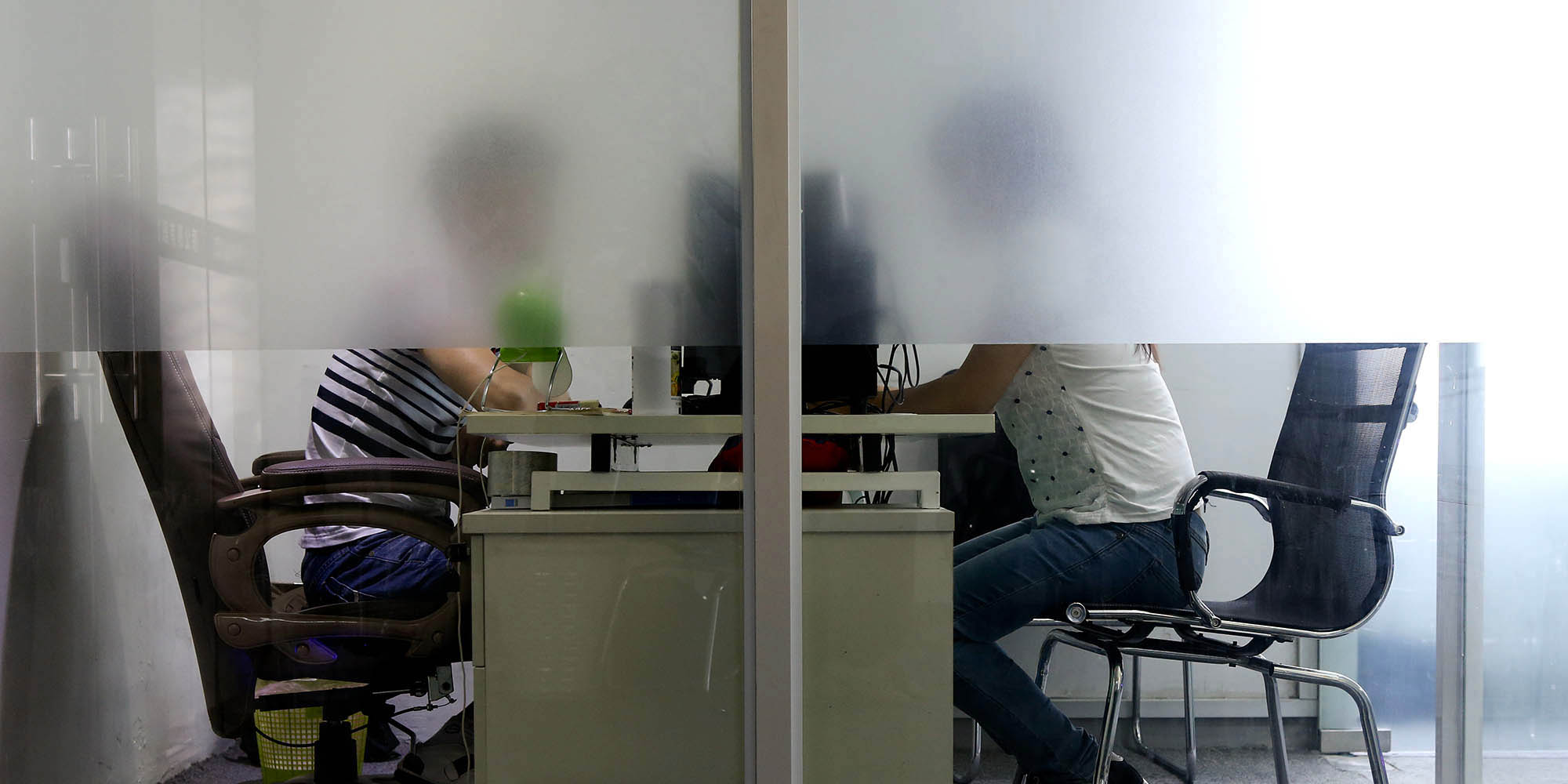 FEATURES
China Lacks Anti-Discrimination Law With Teeth
Legal expert Liu Xiaonan says it's time China developed a stronger law against employment discrimination.
"Males only." "Must be under 30." "Married with children preferred." These are some of the conditions commonly found in recruitment advertisements in China.
In spite of a proliferation of government measures to fight discrimination in education and employment and a growing public awareness of the legal rights of marginalized communities, many people still don't have a clear understanding of what constitutes discrimination, according to Liu Xiaonan, an associate professor who specializes in discrimination and gender equality at China University of Political Science and Law in Beijing.
Recently, Liu was called as an expert witness for a transgender workplace discrimination case in which a trans man known as "Mr. C" had been dismissed by his employer for wearing men's clothing. On Dec. 30, 2016, Mr. C won his appeal, with the Guiyang Yunyan District People's Court issuing a verdict that the termination was unlawful, and that the employer was liable for both compensation and wage arrears. The verdict marked the country's first successful case of unfair dismissal of an LGBT person.
China also saw a wave of workplace discrimination cases based on gender, disability, and HIV status go to court in 2016. But Liu tells Sixth Tone that legal protection is still lacking: "It's difficult to win discrimination cases in China, and even if you win, the compensation is very low," she says.
Liu has been pushing for an independent anti-discrimination law since 2008. She says existing Chinese laws that protect citizens from discrimination are abstract, incomplete, and too general, and that they lack clear provisions for how cases should be adjudicated.
Sixth Tone spoke to Liu Xiaonan about the development of discrimination law in China. The interview has been edited for brevity and clarity.
Sixth Tone: Can you give us a little background into the history of anti-discrimination law in China?
Liu Xiaonan: China long ago joined international covenants against discrimination, including the U.N. Convention on the Elimination of All Forms of Discrimination against Women, the International Labour Organization's Discrimination (Employment and Occupation) Convention, and the U.N. Convention on the Rights of Persons with Disabilities, all of which have made an impact on domestic legislation. But while international covenants have direct legal consequences in some countries, in China they must first find a place in domestic law before they can be deemed effective.
China's history of anti-discrimination cases is not a long one. The first case accepted by a court was in 2001, when a college graduate sued a bank in southwestern Sichuan province for height discrimination in its employment practices. Then in 2013, Zhang Xianzhu won a widely-reported case against the Wuhu Personnel Affairs Bureau in eastern China's Anhui province after being denied a government job because he had hepatitis B.
Gender discrimination lawsuits only began to pop up recently, with a 2014 ruling for the first successful case stating that a cooking school in the eastern city of Hangzhou had violated the right to equal employment by limiting job applications to men only.
Currently, there is no specific anti-discrimination law in China. The country's constitution states that citizens have equal rights, and discrimination is explicitly prohibited by other laws such as the Educational Law, the Labor Law, the Employment Promotion Law, the Law on the Protection of Women's Rights and Interests, and the Law on the Protection of Disabled Persons.
Sixth Tone: Why does discrimination continue to occur when all these laws are ostensibly in effect?
Liu Xiaonan: First, while there are many laws against discrimination, none of them are specific or comprehensive. Rather, it's more like a declaration within the law saying equal rights should be protected and discrimination should be prohibited — but there is no legal explanation or definition of what discrimination is in these domestic laws.
Second, the public doesn't yet have a clear understanding of discrimination. Since "discrimination" is directly translated from a foreign word, many Chinese people confuse it with "prejudice" or "contempt," which are subjective, personal feelings.
In addition, there are no clear stipulations for compensation in our laws. Even plaintiffs who have won recent discrimination cases only received around 2,000 yuan ($290) in compensation — far less than the amount needed to recoup their legal fees. If this is the case, how many people would bother going to court? It makes the cost of breaking the law very low and fails to play a positive role in guiding employers.
Sixth Tone: How is awareness of discrimination and civil rights changing in China?
Liu Xiaonan: In recent years, the Chinese government has put an emphasis on eliminating employment discrimination, as evidenced by the issuing of new policies and the revising of old laws. A number of successful anti-discrimination lawsuits have also had an effect on society. But though more employers now realize they can't write gender restrictions into recruitment ads and labor contracts, there are still many who don't understand that other restrictions — even those professed to protect women — still constitute discrimination.
Last month, the Haidian District People's Court in Beijing stated in a recruitment ad that some positions were "more suitable for men" because of concern for "protecting and respecting women," as the jobs in question required constant traveling and hard work. But in fact, this is discrimination. You can describe the position, but you can't presume that it is more appropriate for a particular gender.
Sixth Tone: Can you compare China's situation with other legal systems in the Asia-Pacific region?
Liu Xiaonan: We are still in a weak position in terms of legislation. In Taiwan, 16 types of employment discrimination are legally prohibited, while on the Chinese mainland, only seven are mentioned. Taiwan has issued specific laws on gender equity in education and employment.
Plenty of other places have established specific organizations to deal with discrimination, too. For example, the National Human Rights Commission of Korea ensures that all citizens are treated equally, and the Equal Opportunities Commission in Hong Kong actively investigates complaints of discrimination and even pursues settlements.
Sixth Tone: What type of discrimination would you consider to be the most serious or urgent in China?
Liu Xiaonan: Gender discrimination is the most serious and the most common because of the large population base and deep-seated stereotypes.
In educational contexts, many people think it's normal for there to be fewer female students majoring in science because of the widely-held belief that girls are not as good at science as boys. But then in liberal arts, there is fear and anxiety that there are far more girls than boys. Some universities even lower their admission requirements in order to accept more male students.
In the context of jobs, many employers operate under the stereotype that women can't work as hard as men — and more crucially, they believe the cost of hiring a woman is higher, particularly since the two-child policy came into effect. But women shouldn't be the only party to bear responsibility for reproduction, and it's also unfair to transfer that responsibility to employers. The government should set up a reasonable system of punishments and rewards: For companies that give women equal rights, the government could assist them by reducing taxes, while severely punishing those that discriminate against women.
Sixth Tone: You've been leading the push for an independent anti-discrimination law since 2008. What stage is it at now, and what's holding it back?
Liu Xiaonan: Internationally, many countries have moved to developing specialized anti-discrimination laws, and advocates felt that was necessary in China as well. We drew up a proposal in 2008 and revised it in 2009. As there have been a number of new documents and policies emphasizing equality in recent years, we organized experts to revise the proposal again in 2014.
The National People's Congress — China's legislature — stated in 2015 that such a law is necessary, and it urged the Ministry of Human Resources and Social Security to put more effort into research so that a draft could be launched in a timely manner.
But until now, the idea has largely been promoted by scholars, experts, and nongovernmental organizations. We don't know which department would be in charge of promoting the draft law, and it's not yet listed in the legislation plan.
(Header image: A man interviews a woman at an office in Shanghai, July 8, 2015. Zhang Xinyan/Sixth Tone)