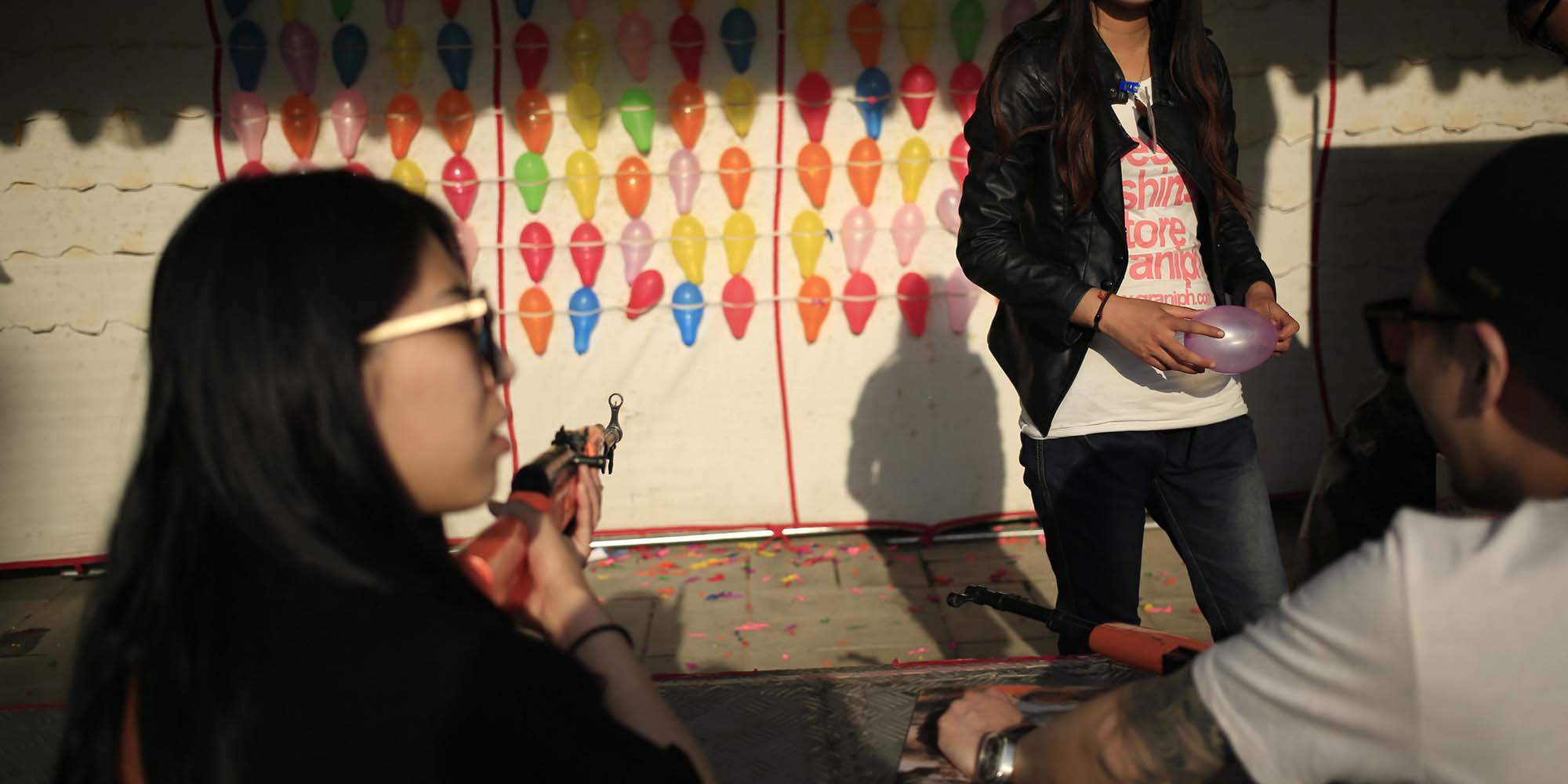 NEWS
Toy Gun Game Operator Gets 3.5 Years in Prison
A 51-year-old Tianjin woman was convicted of illegal possession of firearms for running a shooting game stall.
A 51-year-old woman was sentenced to three and a half years in prison on Tuesday for illegal possession of firearms after six imitation guns at her shooting game stall were identified as weapons.
Zhao Chunhua's street stall near the river in Tianjin, a coastal city in northern China, was one of many where customers could pay to shoot balloons with plastic pellets fired from air guns. She'd bought the stall from an old man in August. Zhao's daughter Wang Yanling told Sixth Tone that she had never thought a shooting game could land her mother such a severe jail sentence.
"Everyone knows that it's a toy gun," Wang said. "If my mother knew it could be considered a weapon by law, she definitely would have never touched it."
But the judgement issued by Tianjin's Hebei District Court stated that Zhao's guns violate national regulations, and that the sentence had already taken into account the compliant attitude that the first-time offender displayed.
According to court documents, Zhao was apprehended by public security patrol officers at 10 p.m. on Oct. 12, and nine gun-like objects were seized. Six of them were identified by the authorities as guns powered by compressed air.
China has strict laws for the possession of weapons, and in 2010, regulations were expanded to prohibit any gun that has a muzzle energy above 1.8 joules per square centimeter, including air guns firing plastic pellets, where previous regulations allowed guns up to 16 joules per square centimeter. The rule is based on the logic that any gun that can cause death or injury — including injury to the most vulnerable body parts, such as the eyes — should be considered a weapon.
Many other countries have less restrictive definitions: Canada, for example, exempts air guns that have less than 5.7 joules of muzzle energy from possession rules under the Firearms Act, though other laws may apply.
"The current legal definition of guns is too strict for people to understand. Both [Zhao] and the public believe those guns are toys," said Peng Xinlin, deputy director of the criminal law research center at Beijing Normal University. "Although the court has done everything according to the law, this case's verdict could have a negative impact on society," he added.
"It's a ridiculous case," law professor Xu Xin told Sixth Tone. He represented Liu Dawei, a 20-year-old who was famously sentenced to life imprisonment in 2015 for possessing 24 imitation guns he purchased online. Xu has appealed to authorities to reinstate the previous standard. "Otherwise, any cigarette lighter should be seen as a bomb," he told Sixth Tone.
On Oct. 18, the High People's Court of Fujian province in eastern China announced a retrial of Liu's case and in November, the same court ruled for a retrial in a similar case where a man who had bought 14 imitation guns was sentenced to life in jail.
Zhao, too, plans to appeal to a higher court. Her daughter is anxious to see her mother's sentence diminished.
"I haven't been allowed to visit my mother since she was detained by the police in October," Wang said. She added that another 12 people who run similar business have been caught, and eight of them have been released from custody on bail, pending investigation.
(Header image: A carnival stall assistant looks on as a woman prepares to shoot at balloons with an air gun at a park in Beijing, April 20, 2016. IC)