From the window of a high-speed train, the view grows opaque as you approach Beijing. The farms, homes, trees, and utility poles all eventually fade into the smog.
One passenger takes out his cellphone to capture the hazy landscape. "It's so scary," he whispers.
It was Dec. 20 and Beijing was under "red alert" for air pollution. In some places, visibility was so low that the highways temporarily closed. 
Facing challenges caused by increasingly heavy smog, three mothers make different decisions to protect their children. By Wu Yue, Han Meng, Zhou Pinglang, Tang Xiaolan and Qi Silei/Sixth Tone
I: Escape
As northeastern China choked through smog with PM 2.5 levels exceeding 500, many other Chinese cities didn't even hit 50, the World Health Organization's recommended maximum for the small pollution particles that are especially hazardous because they can enter the bloodstream.
"I've never regretted my decision — leaving smog-covered Beijing," says Lan Yanfei, who moved with her husband and two children to Shenzhen, a city with a population of 10 million in southern China's Guangdong province.
Lan had first moved to Beijing in 2007. Like most at the time, she found pollution masks odd and unnecessary. The now 34-year-old mother never imagined the smog would get so bad that she too would wear a mask, and later flee the city. 
But when Lan got pregnant in 2010, she started to see the hazy skies in a different light. She worried about the health of her expected child.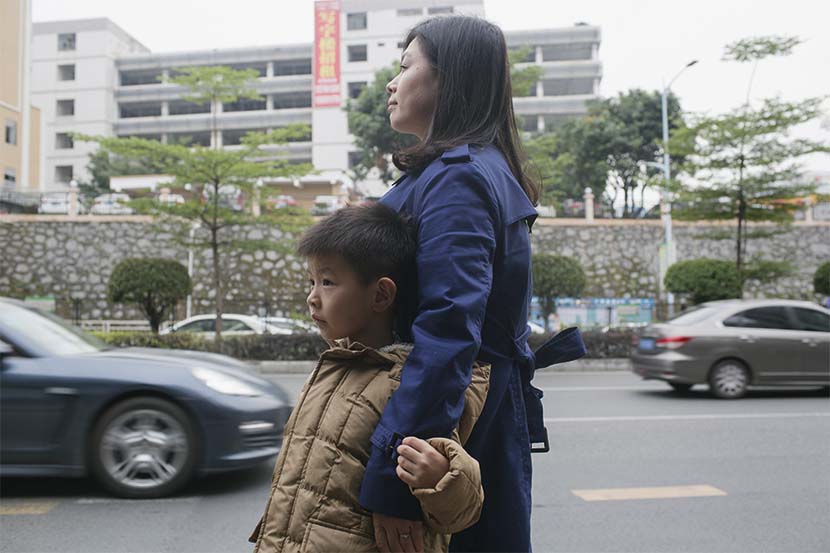 Lan Yanfei waits for a bus with her son in Shenzhen, Guangdong province, Dec. 24, 2016. Zhou Pinglang/Sixth Tone
In January 2013, Beijing's PM 2.5 climbed up to 993, one of the highest measurements ever taken in the city. Whenever the air quality index would rise, her son would get sick. When she went to the hospital, she found it crowded with parents and their children, even in the middle of the night.
The following year, Lan was offered a job in Lijiang, a city in southwestern China's Yunnan province. Without hesitation, she took it.
Some friends called Lan's move impulsive and even pretentious. But Lan was excited about living in Lijiang: "My son's health is the first priority. Without health, everything is worthless."
In Lijiang, Lan's family enjoys the blue skies and white clouds, and the massive Jade Dragon Snow Mountain glacier. Lan has had a second child, a daughter, who is growing up free of illness. 
She has never considered moving back to Beijing. "Right now, it's still far from having better air quality," she says. "Maybe in 30 or 50 years?"
II: Action
Like Lan, Tian Tian, 34, didn't worry about air pollution until she became pregnant in 2014, when she started coughing persistently.
Tian and her husband were born and raised in Beijing, and sometimes, she envies residents from outside the city. "They have a hometown that they can go back to," she says. "But I don't; Beijing is my hometown."
Tian tells her children to wear face masks whenever outside, and has bought air purifiers for their bedrooms. But she has also joined an action group with dozens of other concerned parents, in the hope of finding more safe places to visit with their children besides homes running multiple purifiers. 
The group of parents have started measuring air pollution levels around Beijing regularly. Earlier this month, she took her children to see an opera for kids — one of her safe activities for red alert days. She took a small PM 2.5 detector with her.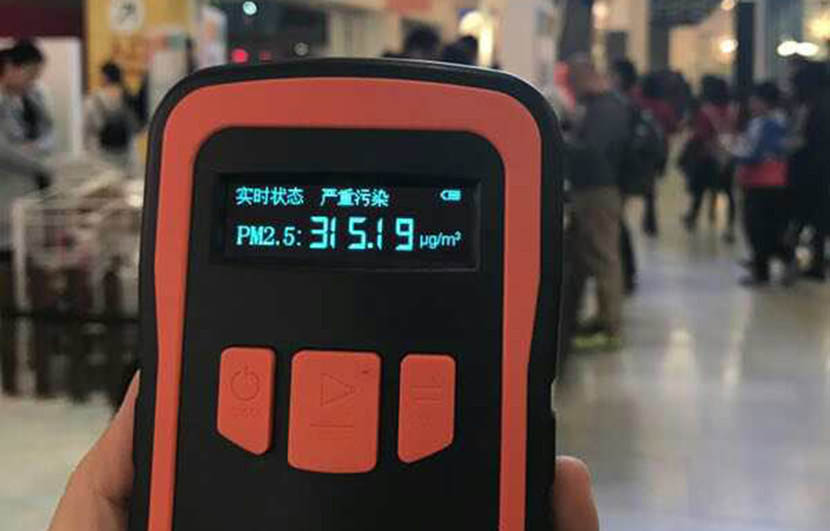 Tian Tian's PM 2.5 detector reads 315.19 inside a shopping center in Beijing, Dec. 18, 2016. Courtesy of Tian Tian
Inside the theater, her PM 2.5 detector read 251 — not much better than 292 outside. The next day, the outside reading was 399. Inside a museum, the figure was 346, yet not a single child wore their pollution mask.
Returning home the other night, her son noticed that the neighborhood guard wasn't wearing a mask. "Could I give a mask to that security guard tomorrow?" he asked. "I have two of my own."
Awareness has grown, Tian says. And not just among her own children.
Eventually, she hopes that the group she has joined can have a similar impact to "Stamp Out Smog" in Los Angeles, a group launched by mothers that shaped public policy when LA suffered a smog crisis in the late 1950s and early 1960s.
Although Tian says she isn't sure how successful the campaign will be, it makes her feel better to know which places are safe for her children. 
"My biggest concern is my children's freedom to breathe fresh air," Tian tells Sixth Tone. "This is their basic right."
III: Endurance
"I'm just one of the ordinary people. Protection is all I can do," says 39-year-old Du Haihong, an associate professor at the journalism department in Baoding's Hebei University, and the mother of a daughter in sixth grade.
Out of 74 cities that the Ministry of Environmental Protection of China tracked and compared between January and November of this year, Baoding, in northern China's Hebei province, had the worst air quality.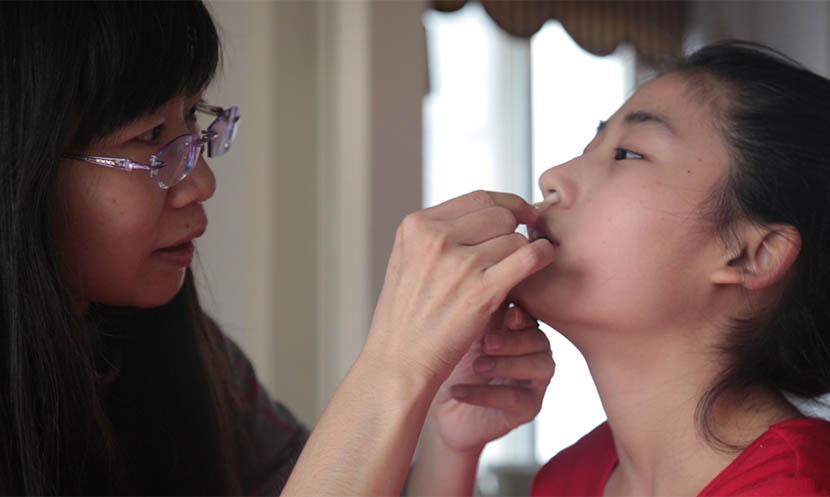 Du Haihong cleans her daughter's nostrils with a cotton swab doused in saline at home in Baoding, Hebei province, Dec. 23, 2016. Wu Yue/Sixth Tone
Du worries about her daughter's health, but her work keeps her in Baoding. With cotton swabs doused in saline, she cleans her daughter's nostrils from time to time. Like Tian, Du bought two air purifiers and has dozens of face masks in the apartment.
On Dec. 21, on her way to pick up her daughter from school, Du pulled the collar of her sweater over her mouth and nose. She had forgotten her face mask at home. She knows that the fabric won't protect her from the fine PM 2.5 particles, but it made her feel a little better about the smog.
Her 13-year-old daughter has rhinitis from a type of asthma she developed last summer. Du won't risk leaving her child to wait outside on a smoggy day, so she parks her car near the school before classes finish.
On account of smog, sports practices are often suspended, and when her athletic daughter wants to play outside, her standard reply is: "No. Look at the sky."
On good days, she urges her daughter to drop her homework and play outside instead. "It's kind of hilarious that when the air quality turns good, everyone is going out to parks or botanical gardens," she says. "Everywhere becomes crowded with people." 
For vacations, Du always chooses a destination with air quality in mind. Her daughter says she doesn't care where they go — so long as there is a blue sky.
(Header image: A woman and a young girl walk down the street wearing masks in heavy smog, Shanghai, Dec. 6, 2013. Yang Shenlai/Sixth Tone)