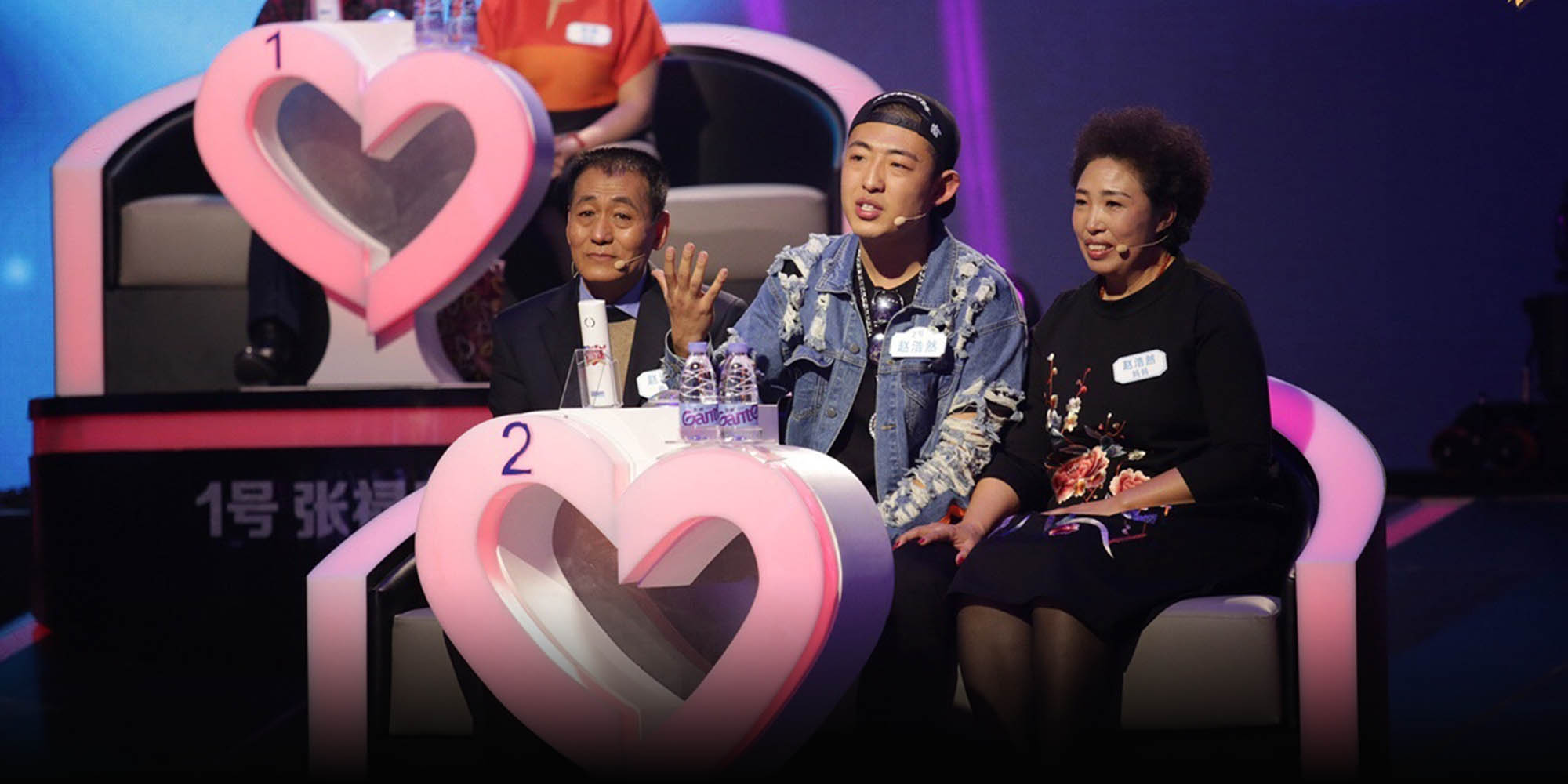 NEWS
Bachelorettes Vie for Parental Approval on New Dating Show
Jin Xing's TV series moves matchmaking from People's Square to the small screen.
Have you ever been on a blind date and felt there was something missing — such as your parents?
A new television series that premiered on Saturday provides just that, with the slogan "Chinese-style blind dating; feel more secure with parents present."
Anchored by popular host Jin Xing — who has been called China's transgender Oprah — and produced by Shanghai's Dragon TV, "Chinese Dating" mimics traditional blind dates arranged by parents, placing a female candidate in front of five bachelors' families instead of the potential suitor himself.
Parents ask questions and decide whether the woman is a good match, while the sons wait in a room offstage. The bachelorette only wins the right to choose a date herself if three families voice interest in her. Producer Liu Yuan told Sixth Tone on Tuesday that the next episode will show the women's families judging the men.
The show has provoked lively discussions about dating in contemporary China, with some viewers saying the program reveals the double standards for men and women, as well as the complications created by meddling parents with superficial, narrow, and materialistic ideals.
The first episode saw contestant Lin Jiali enter with a bowl of soup that she cooked herself. "She's my cup of tea!" shouted contestant Zhao Haoran, 23, from the bachelors' waiting room. "Whoever picks her will be looked after," another male contestant said.
All of the parents seemed satisfied with Lin, until they found out she was 40 years old and had a son. None turned on their lights to indicate approval. "It's just because of her age," several families said. "I hope my daughter-in-law will give birth to two to three kids," Zhao's mother said, implying that Lin was too old for her son, who expressed that he was still interested.
"I'm standing here for women who have rich experiences and capabilities but still believe in true love," Lin said, holding back tears.
Many online comments supported Lin and criticized the male contestants as overindulged man-children. "The girls are mature, understanding, ambitious, and responsible, but the boys are spoiled, so they never grow up," one user on microblogging platform Weibo said. "They're selfish giant babies."
Other commentators slammed the "vulgar" and "retro" tradition of blind dates arranged by parents with too many restrictions and requirements. "This TV program is full of male and female inequality, discrimination against single mothers, 'straight man cancer,' and other problems," said a commentary in The Beijing News on Tuesday.
Parents on the show were uninhibited when describing the characteristics they hoped to find in a daughter-in-law, requesting that she be hardworking, pretty, capable, intelligent, and elegant. She should not be significantly older or taller than their son, the parents said, and she should have her own career but also put his needs first.
Relationship consultant Shi Xiuxiong told Sixth Tone that he wants to see such standards challenged. "It neglects the uniqueness of women and gives them no breathing space," he said. He feels dating shows have reduced romance to a shopping list. "It gives the audience the misconception that you could choose a mate by simple and harsh standards," Shi said.
In addition to exacting demands, some parents on the show also came with unusual superstitions. Zhao's mother even had strict rules for the temperature of a girl's hands. "Cold hands mean a cold uterus," she said, explaining that she believed it signified ill health. "A bad daughter-in-law will bring eight generations of bad luck," she added. Only one mother on the show said that her son's opinion is the most important factor in choosing a mate.
But show producer Liu maintains that "Chinese Dating" aims to create a platform for parents and children to communicate. "There are natural conflicts between generations over how to choose a spouse," she said. "We hope to find points of convergence in their values through an open conversation."
Host Jin Xing pointed out that many parents lacked real understanding of their children. "What you want is different from what your son wants," she commented on the show.
"For the parents, it's more like a trade," wrote one Weibo user, expressing disappointment with the notions that parents presented on the show.
"But that's the reality," another user commented.
Additional reporting by Lin Qiqing.
(Header image: A still from 'Chinese Dating' shows a male guest talking as his parents sit beside him. From the reality show's official Weibo account)