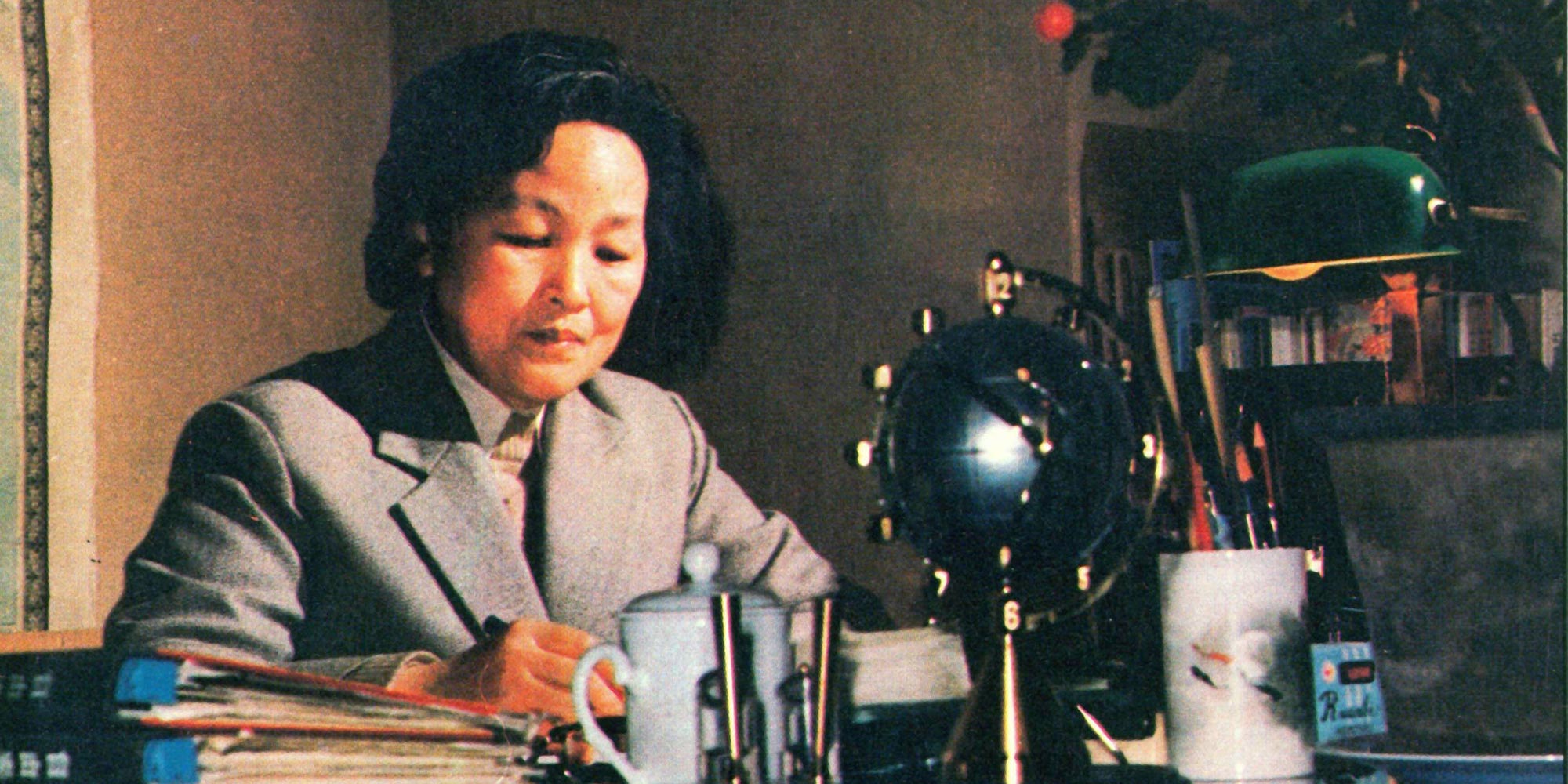 FEATURES
Former Shanghai Deputy Mayor on Rising Through the Ranks
In an exclusive interview, Xie Lijuan describes how she managed as the token woman for most of her political career.
This is the fifth in a five-part series about women in Chinese politics. You can find parts one, two, three, and four here.
Few women are given the opportunity to hold powerful offices in the Chinese political system — but Xie Lijuan is an exception. The 80-year-old, who was born before the founding of the People's Republic of China in 1949, has witnessed Shanghai's growth into an economic powerhouse and the world's most populous city.
Xie moved to Shanghai from Zhejiang province, which borders the city, after high school to study medicine. She then found a job at a prestigious local hospital, but her talents as a leader did not go unnoticed. 
In an interview with Sixth Tone, the former deputy mayor of Shanghai — who also served in the Shanghai People's Political Consultative Conference, a high-level political advisory body, until 2008 and is now honorary president of the Shanghai Rare Disease Prevention and Treatment Foundation — speaks about her journey from doctor to politician. The interview has been edited for brevity and clarity.
Sixth Tone: What were your reasons for entering politics?
Xie Lijuan: I should say that I never expected to work in politics. From a very, very young age, I aspired to become a doctor. While some people may think that becoming a leader in the district government is something to be very happy about, I actually didn't feel that way. I was very hesitant to leave a job that I enjoyed so much.
Sixth Tone: In that case, how did you become a politician?
Xie Lijuan: In 1984, I was working as the deputy director of the central hospital in Shanghai's Luwan District, when I was invited to join the local government as the deputy district chief in charge of culture and education. It was normal at that time to obey the government, so I accepted without question. 
Sixth Tone: How did you become deputy mayor of Shanghai, and how did you prepare for the role?
Xie Lijuan: I heard a rumor that I was going to be chosen to join the Shanghai Municipal People's Congress, the city's legislative body, and then for a role in city government, the administrative arm of government. When I heard this rumor, I went to see the director in charge of the Luwan District People's Congress. I told him that I needed to express my opinion on the matter. I'm a very direct person, you see.
I told him I had heard they intended to make me a Municipal People's Congress member, and it seemed they had done so without consulting me. I've always thought that if any kind of a drastic change happens to a person's job, that person's opinion should be taken into account.
The director looked at me very seriously. And in the end, this rumor became reality. The Municipal People's Congress held a meeting, during which they voted to make me the deputy mayor of the Municipal People's Government. So to answer your question about how I prepared for this position: I didn't prepare at all.
Sixth Tone: What were your thoughts after being selected for the position?
Xie Lijuan: I recited a quote from the author Lu Xun: "The world actually had no roads to begin with; they were only made when enough people had walked over them." I remember journalists asking me how I felt about my selection, so I told them that although I had no experience in this regard, I believed that Mr. Lu was correct when he wrote those words. I had no option but to figure out how to handle this responsibility through my experiences in office.
Sixth Tone: How did quotas for female leaders in government influence your political career?
Xie Lijuan: In 1983, I heard a rumor that the municipal government was lacking a female deputy mayor. The central government policies stipulated that they must choose a non-Communist Party member who was also a woman. Two years later, that vacancy was filled — by me. At that time, when I was in office, Beijing had two female deputy mayors; one was a member of the Communist Party, and the other belonged to another political party. But besides Beijing and Shanghai, there weren't many other cities or provinces where this was the case.
Sixth Tone: What was it like to work with Zhu Rongji, a former mayor of Shanghai who later became China's premier?
Xie Lijuan: Mayor Zhu was a very tough man. Take the hepatitis A outbreak of early 1988. At that time, he had only been in Shanghai a short while. When we were talking one morning, he asked me how many cases we'd seen. I told him, and he replied that he'd been told a different number. I ran into him again the next day, and he hadn't forgotten. He asked: "Have you inquired into it, Lijuan? Have you checked your figure?" I told him I had. "Excellent," he said. And that was that. Other leaders might have simply dropped the matter after the first mention. He treated all of us the same, regardless of gender.
Some of my colleagues were rather shy around Mayor Zhu. During meetings, they would send me notes with their views that differed from his and ask me to discuss these things, as they were a little intimidated. But I didn't think there was any reason to be shy. There's nothing wrong with taking time to explain your point in order to articulate something.
Sixth Tone: Do you believe it's easier now for women to work in politics? 
Xie Lijuan: It seems that more women are selected as leading government officials, or cadres, nowadays. If the election system gradually improves in the future, it could allow more women with ambitions for public service to take the political stage. However, it's important to note that women need to strive for self-improvement. 
Take the Chinese businesswoman and chairwoman of Gree Electric, Dong Mingzhu, for example. Her confidence and self-reliance have allowed her to come as far as she has today. It's wonderful that we have women like her, women who are self-reliant. Also, we as women have a problem: Women tend to focus on things like their exterior, their appearance, and their clothing. I believe that women should be confident and self-sufficient; they can't spend too much of their energy on those things.
(Header image: Xie Lijuan at her office, Shanghai, 1985. Liu Xingli/Shanghai Pictorial/IC)