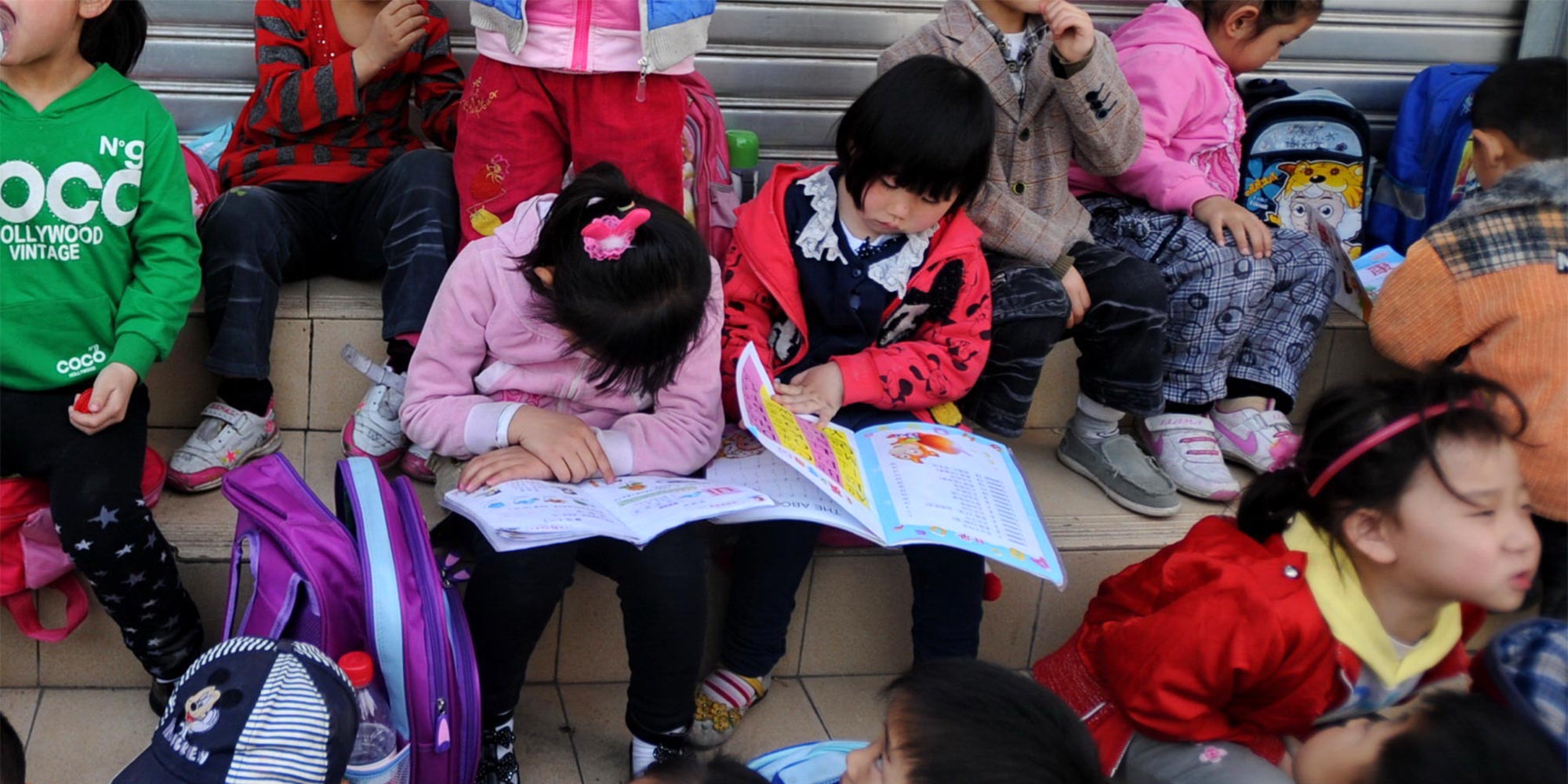 VOICES & OPINION
Rote Learning Booms in Private Sector Despite Student Workload Reforms
Parents turn to tutoring companies to ensure children succeed in highly competitive entrance exams.
Last month, the business practices of Xueersi, a private tutoring company, became a trending topic on Chinese social media. The furor began in early November, when City Express, a Hangzhou-based newspaper, published an eight-page spread attacking Xueersi's teaching methods. The article claimed that the company took up an overwhelming amount of students' free time outside of school, that it used learning content beyond students' capabilities, and that it relied too much on outdated problem-solving methods instead of sharpening students' critical-thinking abilities. Some students felt so pressurized during Xueersi's assessments that they would cry throughout the examinations, the article concluded.
With branches in many first- and second-tier cities in China, Xueersi provides extracurricular tutoring services for children aged 3 to 18. Founded in 2003, Xueersi was officially listed on the New York Stock Exchange in October 2010. It is a market leader in China in the field of extracurricular tutoring for primary and secondary school students. 
The City Express article spread rapidly through users' WeChat Moments, the popular messaging app's news feed. Only four hours after it was published, the article had already accumulated over 100,000 views. Soon, a flurry of similar headlines began dominating Chinese social media websites. One of the most sensational headlines blared: "Chinese parents worried about the rapid-fire spread of Xueersi, leaving kids in tears and education in a state of madness!" The article claimed that 'parents' hard-earned money had pushed up the stock prices of Xueersi and lined the pockets of stockholders, bringing smiles to the faces of those at Xueersi. But who can hear the sobs of the parents and children in the background?"
On Nov. 15, the Shanghai Municipal Education Commission issued an announcement banning public schools from using students' achievements in extracurricular academic competitions to inform their enrollment policies. The announcement went on to say that certain organizations had violated education laws by using the names of respected private schools to promote extracurricular contests held for students transitioning into elementary and junior high schools. This had intensified exam-oriented education at a young age, misled parents about schools' enrollment criteria, and greatly added to the academic workloads of young children.
Although the announcement did not mention any names, it was understood that the declaration was in part influenced by reports about Xueersi. But how does a tutoring company manage to rattle the state education system and incite such a craze for harmful study techniques? 
The issue can be linked to major changes in China's education policy. When I was a student 20 or 30 years ago, elementary schoolers in Shanghai entering junior high still had to sit tests similar to today's secondary school entrance exam (zhongkao) and college entrance exam (gaokao). Your ranking against the performances of other students would determine your eligibility for various schools, with stronger students going to top municipal schools, and weaker students going to district schools.
However, state-run elementary and junior high schools today cannot use testing to recruit students. Instead, they are required to base admissions on household registration or existing records of which school a student attends. Only private schools can recruit students from other districts and conduct enrollment interviews. The rationale behind the ban on test-based recruiting for public schools is that such practices contribute to inequalities among schools within the compulsory education system. Moreover, minimizing student exam competition during the transition between schools reduces students' academic workloads and allows them to develop in a more well-rounded manner.
At the same time, a number of measures designed to reduce student stress have taken hold in classrooms. These include reading fewer textbooks, learning fewer characters, not assigning written homework, and giving letter grades — rather than numerical scores — on exams. These methods all strive to eliminate the pressure of exam-oriented education and give children a relaxed, happy, and healthy lifestyle. In many cases, these changes have led to a number of positive outcomes. Learning environments have grown more relaxed, and schools have started offering more enriching activities.
However, one integral problem remains unsolved: the heavily score-oriented testing systems of the zhongkao and gaokao. To continue their education, students in the Chinese state system have to take the high school entrance exam or the college entrance exam. Studying at a good junior high school facilitates entrance to a good college, which leads to better jobs and, in turn, a more comfortable life. Therefore, the system imposes social divisions on students based on academic performance alone.
Despite measures to relax the classroom atmosphere, the single-track system in middle and high schools means that students, supported by their parents, are still driven to compete with one another. Parents diligently make plans both inside and outside of the classroom, considering every possible path to improve their children's education. One consequence of this is that housing prices around good public schools have skyrocketed. Another consequence is that parents have increased the number of extracurricular classes that their children attend, all to improve their grades and gain a competitive advantage when testing for admission into private schools.
As anxiety continues to plague parents and students alike, Xueersi has grown in leaps and bounds. The company is unique for its participation in the International Mathematical Olympiad (IMO) and for separating students into smaller classes based on their abilities. Each class has its own teaching materials and methods, with some even requiring parents to be present for lessons. To a certain degree, Xueersi is reminiscent of the way schools in China were before the stress-reduction measures, with a heavy emphasis on grades and rankings. On its official website, the company publicizes the reputable colleges its students have attended and the awards earned by top graduates of Xueersi programs.
As a result, swarms of worried parents stay up all night waiting to register their children at this mystical institution. Some even start trying to secure IMO training spots when their children are only 2 or 3 years old. Once registered, they try every means possible to get their preferred classes and teachers.
Even the recent media blitz on Xueersi has failed to alarm parents, many of whom posted online in defense of the company. Pointing to their own experiences, they paint the teachers as hardworking and responsible, and the teaching methods as fascinating and highly effective. They say that students are not overworked but, conversely, happy and invested in their learning. Some public-school teachers have even published articles about various incidents of malpractice they have witnessed in schools, casting Xueersi as the ideal alternative. Although some parents might have originally opposed adding to children's stress outside of class, they also feel that passing judgement on Xueersi fails to acknowledge the roots of the problem in a testing system that forces schoolchildren to directly compete with one another.
In the face of such overwhelming public opinion, Xueersi responded with an article titled "For parents: Stay true to your original intentions amid the hardships that come with beginning an undertaking." The company stressed that its educational philosophies would, as always, focus on stimulating student interest, cultivating good habits, and building character. Additionally, the staff promised to offer free online classes to reach even more students. Their classrooms continue to be packed, they said, and their website was recently updated with the latest student enrollment information.
On the other hand, the Shanghai Municipal Education Commission's ban on considering extracurricular academic competitions in admissions decisions has left an increasing number of parents perplexed. Of course, private schools should be banned from linking their recruitment with educational organizations and competition results, as this creates interest chains for student enrollment that fall outside national education standards. Yet many parents cannot understand why schools that will eventually push students into competition with one another do not consider evidence of competitive abilities at an earlier age.
At present, a comprehensive reform aimed at overhauling the gaokao-centric college enrollment system is expected to enter into force next year. It aims to reshape teaching models in basic education by taking into account the overall well-roundedness of students, providing a more varied evaluation system, and offering alternative paths to higher education. Perhaps, in several years, children will be able to enter the IMO because they are actually interested in it, and parents will be able to cast aside their worries and rediscover the pleasure of raising children.
(Header image: Children sit on the steps outside a private tutoring center in Beijing while some of them read books, April 19, 2011. Yang Jie/VCG)