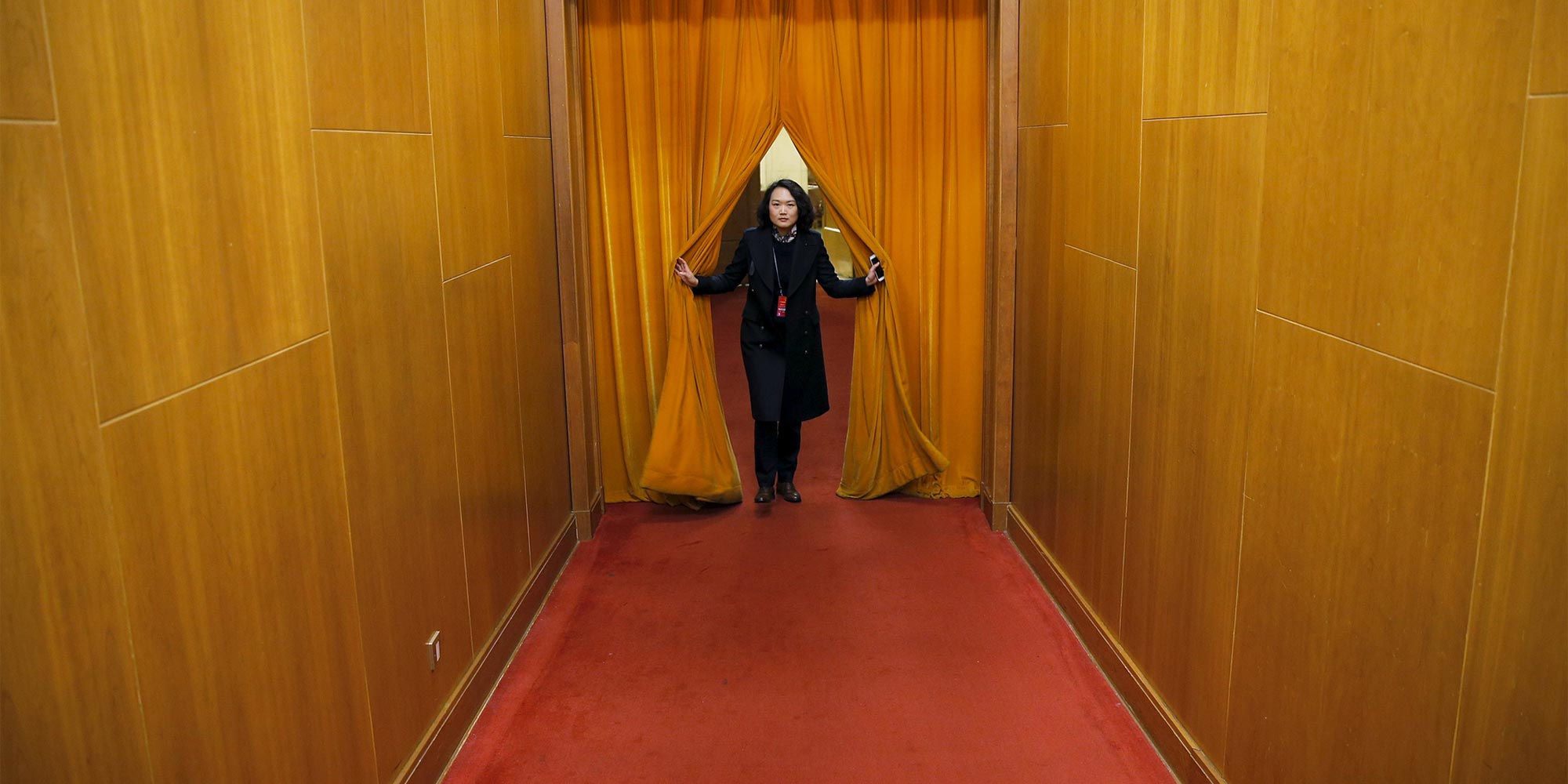 FEATURES
How to Be More Than a Token Woman in Chinese Politics
Sixth Tone explores female representation in government and what the future holds for the coming generations.
This is the first in a five-part series about women in Chinese politics. You can find part two here. 
She was one of Shanghai's most influential modern politicians, a woman responsible for the education and health care services of a city that — in the mid-'80s — was rapidly becoming the center of trade and commerce in China.
Yet Xie Lijuan, now 80, never chose this path. At age 49, Xie was selected to become the city's deputy mayor with just one year's worth of experience in local politics. More than three decades later, the former doctor — now fully retired from civil life and still residing in Shanghai — admits that she left her dream of a career in medicine behind when she was chosen to serve her city in 1985.
"I remember journalists asking me how I felt about my selection," she said. "I recited a quote from the author Lu Xun: 'The world actually had no roads to begin with; they were only made when enough people had walked over them.'"
In comparison with other parts of Chinese society — such as commerce and culture — in which women have taken on powerful roles during China's rapid economic growth, women's representation in the political system has changed relatively little since the vice mayor began her political career.
In fact, the choice to appoint Xie as deputy mayor was the result of a quota system that ensures representation for minority groups in politics. It's a system that remains in place today and offers no more than scant representation to women.
At present, there aren't — nor have there ever been — any women on the Chinese Communist Party's Politburo Standing Committee, the country's most influential executive group, comprised of seven members led by Xi Jinping. 
The story isn't much different as you move through the tiers of government. Just two of the 25 available positions in the Politburo are filled by women. In the National People's Congress, the country's legislature, less than a fourth (23 percent) of the 2,900 delegates are women — a small increase of 5 percent from 18 percent a decade ago. Yet in that same time, China has made staggering social leaps in its race to dominate the global economy. 
In our series of five articles, Sixth Tone talks to three women, including Xie, about their experiences in Chinese politics today and over the past few decades. The series explores why, at a time of such huge social progress, female representation in politics has remained marginal. 
As professor Kerry Brown — the author of more than 10 books on China, including "CEO, China: The Rise of Xi Jinping" — points out, the lack of female representation suggests a "dreadful failure" for a party whose former leader, Chairman Mao, once acknowledged that women "hold up half the sky" alongside men.
"At the moment, the political system seems to be burying them," Brown said of female political representatives. "The culture is a male club, where women are only allowed entry on sufferance. That's a bad situation for a country where — in terms of education and work — women are the equals of men and, in business and civil society, contribute some of the most important actors."  
It's a point picked up by our commentary writer Song Shaopeng: that even with the help of quota systems that have been, or are being, introduced from the national government down to the village level, the overall proportion of female political staff is low. For example, a 2015 white paper on gender equality referred to China's plan to ensure that village committees are 30 percent female by 2020; it's currently closer to 23 percent. 
"Women are basically on the edge of power," Song, an associate professor of gender and politics at Renmin University of China, explained. "The number-one leaders are male, while female officials are responsible for the science, education, and health departments."
She added that affirmative action extending beyond the basis of gender can also determine a woman's political future. If a woman is from an ethnic minority background and has no party affiliations, she may find herself in government — under the same quota system that led to Xie's appointment all those years ago.
According to Li Yinhe, a well-known Chinese academic and feminist, the state-backed All-China Women's Federation has regularly called for further female representation in every tier of government over the past two decades. "But the fact that there's always one woman appointed, not two or more, makes me feel it's more like a formality," she said. 
Li noted that the obstacles standing in the way of female political representation appear to be cultural as much as bureaucratic. She described how women view the model politician as quintessentially male: tough, ruthless, and outgoing, all characteristics that go against the social expectations for a woman's behavior. 
"For many women, politics is just a game for men, and they don't believe they can do better than men," Li said. "The majority say they are not interested. They tell me they will need to be less feminine. You can't always blame the society or the government for discriminating against women when they set so many limitations or unreasonable presuppositions on themselves before they even start."
As village party secretary Chen Xiaobo observed in her interview with Sixth Tone, physical conflict remains acceptable among men in local politics. Yet she's hopeful that the rise of powerful female politicians in East Asia — such as Tsai Ing-wen and Park Geun-hye — will inspire Chinese women. 
"We've seen some progress in China, but we can't expect a rapid improvement," Chen said. "A more practical solution is to help more women build confidence and let them believe they can make good politicians. This also requires a more tolerant social atmosphere to give women more opportunities."
However, feminist Li Sipan — a former investigative reporter for the Southern Metropolitan Daily, one of China's most progressive newspapers — is more pessimistic. She feels that without further openness in the Chinese political system, neither women nor men will ever grow to care more deeply about politics, preserving the unequal status quo. 
In 2004, Li Sipan founded the Women Awakening Network, a Guangzhou-based awareness group that offers training to media on proper reporting of gender issues, among other initiatives. "Given the lack of transparency in Chinese politics, people's interest in politics focuses more on political stories or gossip," she said. "Even if you're the sort of person who wants to know more, you can't. So it's hard for men and women alike to become engaged."
Additional reporting by Dong Heng.
(Header image: A woman enters through a curtain at the closing ceremony of the Chinese National People's Congress at the Great Hall of the People in Beijing, March 16, 2016. Damir Sagolj/Reuters/VCG)