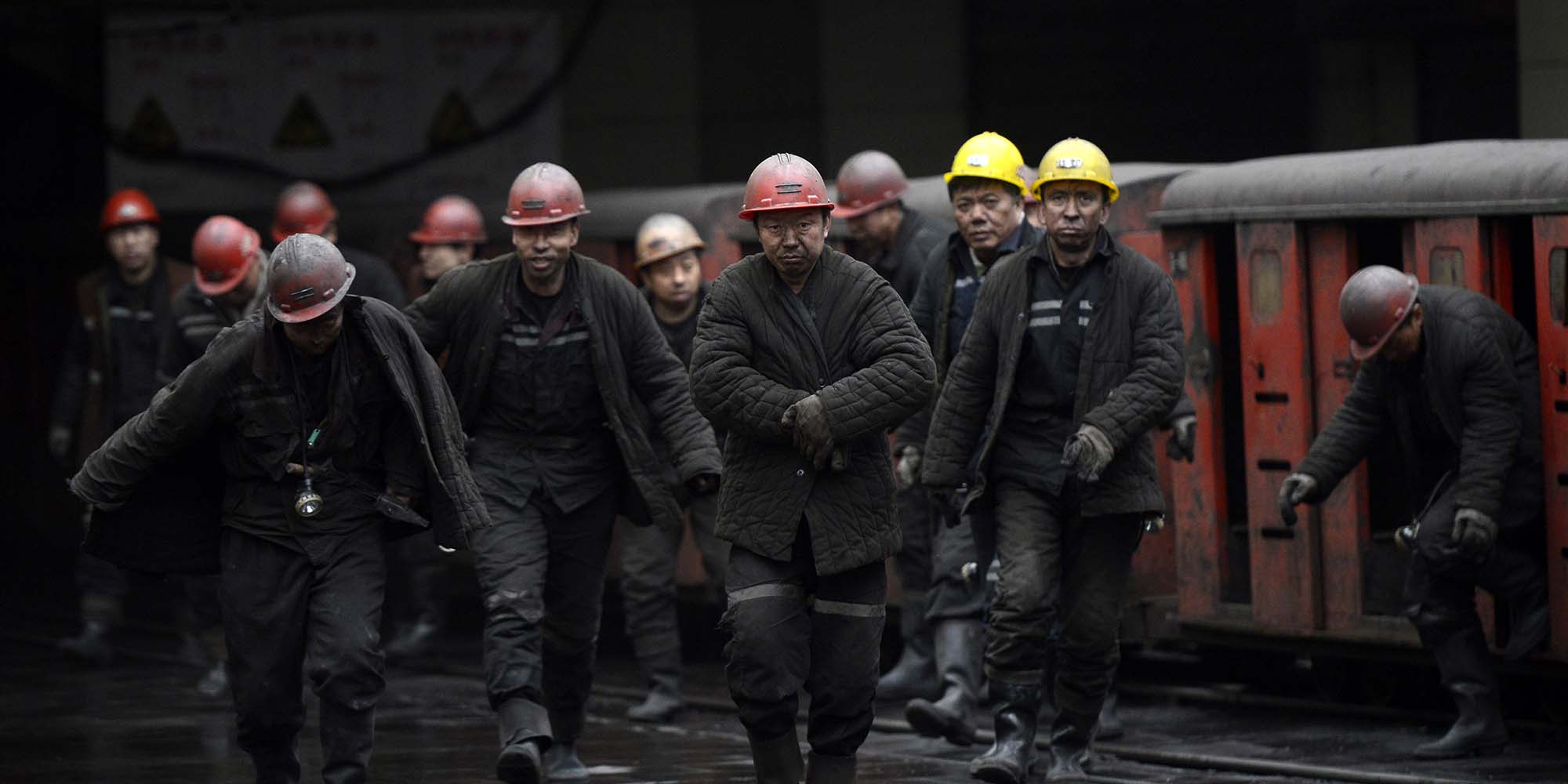 FEATURES
Casualties of China's Coal Addiction
Coal mining fatalities have become a fact of life, though many accidents are preventable.
Yang Zuowen is lucky to be alive. He should have been at work on Oct. 31, when 33 of his coworkers died in a gas explosion at Jinshangou coal mine, 100 kilometers outside Chongqing in China's southwest. His nephew was one of those who died. But Yang's gratitude as a survivor is tangled up with grief and worry about the future.
After the accident, close to 20 coal mines across the district closed. Not only did Yang lose the friends he worked beside every day, he also lost the job that has supported his family for more than 30 years.
Yang can't help but wonder, "What if?" While he is likely to see 10,500 yuan ($1,510) in compensation from the government after working at Jinshangou for seven years, the families of his deceased colleagues each received more than 800,000 yuan. Yang has been temping at construction sites since, but work is intermittent. He's still chasing up wage arrears from before the accident but doesn't know if he'll ever receive his pay, now that the company's former bosses are in jail and unreachable.
Despite the knowledge that he only escaped the disaster by a hair's breadth, Yang is again looking for work as a coal miner. "I don't have a good education," the 51-year-old tells Sixth Tone. "I don't know what else I can do."
Coal mining is one of the most dangerous jobs in China, claiming hundreds of lives each year. After concerted efforts to improve safety across the industry, the annual death toll has fallen significantly, even as production has increased. But workers still die: The Jinshangou blast was the worst of a wave of fatal accidents in recent months, as mines push to intensify production while the price of coal is high. November alone saw eight accidents.
Each time, families mourn, but many people think of fatalities as inevitable in the coal mining industry.
In the bleak, worn-down villages of Yongchuan District that surround Jinshangou coal mine, everyone was still talking about the accident a month later. Passengers on the local bus chatted about the bosses' arrests. Motorcyclists passed around cigarettes while discussing the compensation rate. Farmers pointed out where victims' graves could be found.
But closer to the mining site, villagers grew quieter and more fearful. They knew of the incident but worried that speaking to the media would have consequences for their families. While most villagers in rural China keep their front doors open when at home, the towns near the Jinshangou mine showed rows of closed doors. Only dogs running loose in the yards suggested that their owners were present. The mining site itself was blocked off with caution tape, and men in black uniforms stood guard, preventing public access.
Zhu Yi — whose name has been changed because local officials told him not to accept any interviews — was one of the miners who witnessed and survived the accident. As a mine locomotive operator, his role was safer than those who worked underground, but it also paid less. At the time of the accident, Zhu had just picked up a load of coal at the mine entrance and turned the corner when he heard an enormous explosion. The gas flow from the blast knocked down people and vehicles as far as 10 meters away. Zhu was just outside its radius, his mind blank as the manager called rescue services and told the remaining workers to leave.
In a state of shock, Zhu drove into town and had a few drinks of baijiu, a potent spirit made from grain. A few hours later, he heard that 33 of his fellow miners had died, including his neighbor. He went back to the mining site but wasn't allowed in while rescue services were trying to find the remaining workers. "[My neighbor's] wife and daughter cried every day," Zhu remembers. "I only went to his funeral."
Yang, too, was stunned by the tragedy, even though smaller accidents were commonplace. He wasn't at work on the day of the incident because falling debris had injured his arm a few days earlier. Even when nothing went wrong, the dark days in the mine were taxing. Often it would take more than 10 minutes in the small electric elevator to reach the work level, where they would toil for eight straight hours in the dark, lit only by headlamps. Deep in the mine, the ceilings of the narrow tunnels were too low for the workers to stand up straight.
"I didn't know about the risk of gas explosion. I didn't think too much while underground," Yang says. "I just wanted to dig more coal and earn more money ."
Jinshangou coal mine was licensed, but it violated several national standards. The central government's investigation following the accident reported that the mine descended more than 100 meters below the accepted maximum depth. Compulsory production records were not kept, and no safety monitoring system was in place. The mine shut down entirely after the accident, and 11 managers were arrested.
Both Yang and Zhu separately told Sixth Tone that the total output from Jinshangou coal mine in 2015 was under 60,000 tons — less than the minimum production required by Chongqing authorities since they began cracking down on the smaller operations, where the worst accidents usually happen.
As the price of coal rises, small privately owned mines bloom across coal country, despite government attempts at regulation. In July, the State Administration of Work Safety cautioned that though workplace fatalities had generally fallen compared to 2015, the coal industry was an outlier. Following the Jinshangou accident, authorities warned that the soaring price of coal was leading to illegal operations, inadequate safety supervision, and greater frequency of accidents.
To make the most of fluctuating coal prices and meet regulatory minimums, the owners of Jinshangou tried to pump up production volumes, raising pay from 60 yuan to 70 yuan per ton in October, according to workers. "The boss definitely wanted us to work more, because the coal price had risen a lot," says Yang. In the two months before the accident, he says workers were expected not to take any days off, though they were entitled to four days' leave each month.
The need to boost output drew more than 30 new employees to the mine in October, many of whom were inexperienced and improperly trained villagers from the surrounding area. Liu Lanqin's father had only been working for 10 days when he died in the explosion. "We heard of coal mine accidents in other places, but I just didn't think it would happen to us," Liu says.
Across China, a comprehensive regulatory framework for the mining industry is designed to prevent disasters like the tragedy at Jinshangou. National laws set standards for every part of the mining process, from preventative surveillance to emergency rescue measures, and local authorities are responsible for ensuring such standards are met. But oversight is full of holes.
"Most accidents happen because of a lack of effective monitoring," former miner Jiang Pengcheng tells Sixth Tone. The 43-year-old was employed as a coal miner and mine safety supervisor for eight years across several provinces until 2011, when pneumoconiosis — or black lung disease — rendered him unable to work. Jiang explained that mine owners would know when authorities were coming to investigate safety practices and would prepare accordingly. "Only on the inspection day, everything would look good," Jiang says.
The risk of gas explosions can be predicted and accidents prevented if proper ventilation systems are used and safety staff monitor the gas concentration in the air. But safety supervisors like Jiang are limited in what they can do because they usually only monitor the conditions for one work team. To prevent major accidents, Jiang believes authorities need to conduct comprehensive and spontaneous checks without prior warning.
Yang Huanning, director of the State Administration of Work Safety, agrees. At a press conference on Dec. 4, after eight horrifying weeks that saw 124 deaths in coal mining accidents — including Jinshangou — Yang highlighted the issue of ineffective monitoring and recommended surprise mine inspections. He also committed to holding local government and work-safety authorities responsible for accidents, alongside mine operators. But international experts complain that Chinese government reports on mining accidents and fatalities are incomplete and contradictory.
Far and away the largest coal producer and consumer in the world, China is home to a coal mining industry unlike any other in terms of sheer scale. The death toll from mining accidents is highly contested, as mine owners underreport fatalities and falsify records to avoid investigations and closures, and officials often only provide partial figures for specific categories — for example, deaths from methane blasts.
Nevertheless, international comparisons are staggering: Even by conservative counts of the death toll in China's coal mines, the country's mortality rate is significantly higher than not only the U.S. and Australia, where mining is less labor-intensive, but also China's neighbor and the third-largest producer, India. The 2015 mortality rate in India was 0.07 per million tons of coal produced, but 0.29 in China — four times higher.
The Chinese mortality rate drops significantly if only national strategic mines — the largest, state-run mines — are considered. But while state-owned mines are generally safer, they also have more automated processes, leaving fewer positions for workers like Yang and Zhu. For low-skilled workers in coal country, small privately owned mines are their only option, unless they want to leave their homes for far-flung cities.
"Of course bigger companies would be better, but they don't need us," miner Yang explains, when asked about safety conditions at state-owned mines.
Just one month after her father died at Jinshangou, Liu was devastated to hear of another mining accident that killed 32 workers in northern China's Inner Mongolia Autonomous Region on Dec. 3.
"They're just poor folks who have to work in the mines like my dad," she tells Sixth Tone. "It's always families in hard circumstances who go to work underground, all people with no better options."
For families like Liu's, the compensation payout is an uncomfortable windfall. In the midst of her grief, Liu also finds herself in the middle of a family feud over the money. Only immediate family members — children, parents, and spouses — are entitled to compensation, but Liu's aunts are pushing for her grandmother to get a share, so that they'll see a portion in their inheritance when the old woman dies.
But Liu and her mother haven't yet had the heart to tell the 77-year-old woman about her son's death. They just said that he has gone to work in the south.
With contributions from Qian Jinghua.
(Header image: Workers emerge from a coal mine after work in Taiyuan, Shanxi province, March 4, 2016. Wu Tong/VCG)