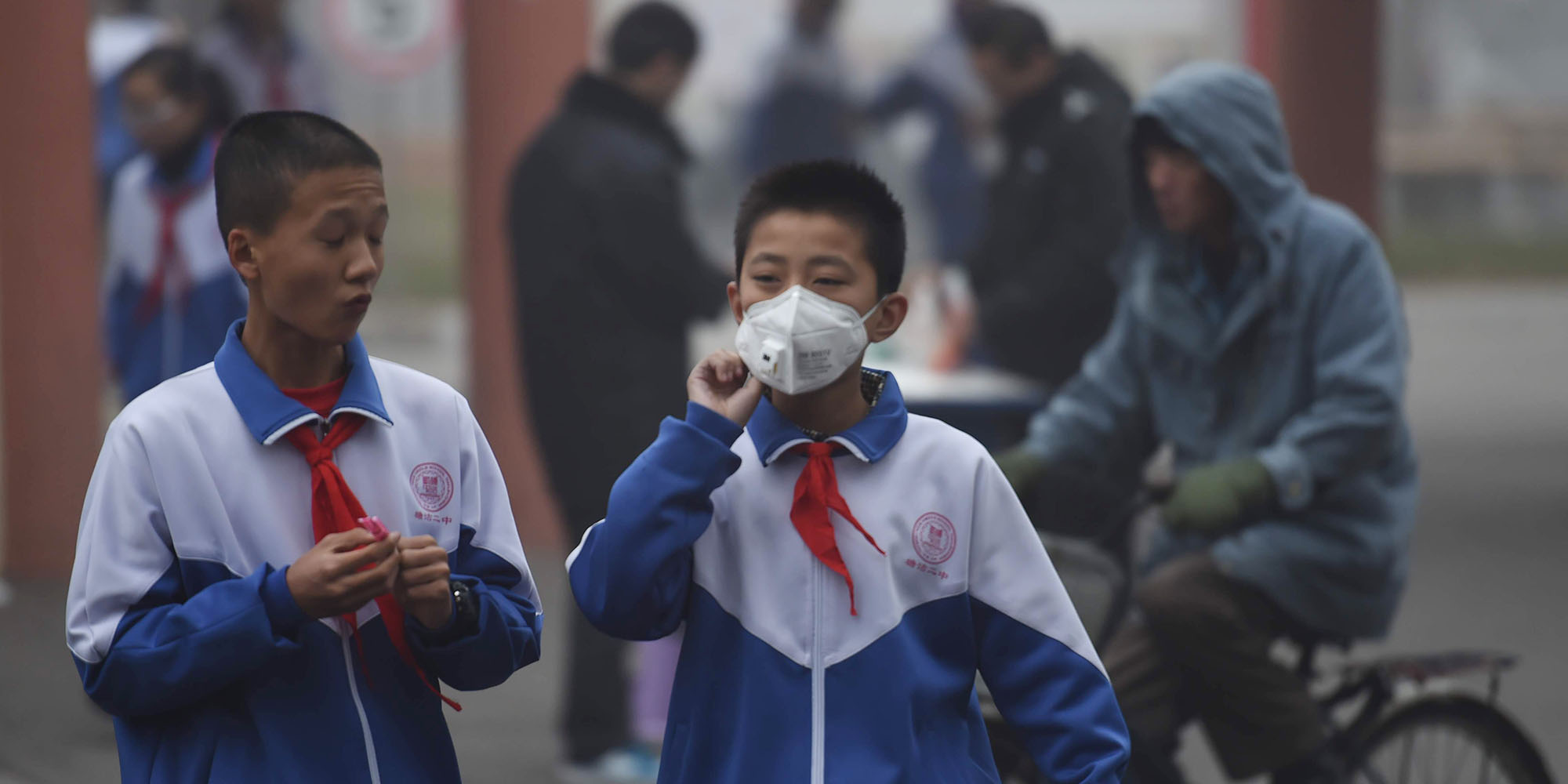 NEWS
Students Forced to Take Exam in Polluted Air, Principal Suspended
Kids sat at desks on a playing field to complete tests after school closed due to severe smog.
The principal of a middle school that required children to take an exam outdoors despite dangerously high levels of pollution is facing suspension.
Since Monday, photos showing students at Linqi Town No. 1 Middle School in central China's Henan province crouched over desks under a cloud of smog have been circulating on the internet.
On Wednesday, the Linzhou City education and sports bureau issued a notice reprimanding the school for ignoring instructions to stop classes and urging the suspension of the principal, Feng Jisheng, pending an investigation.
According to a report by Dahe News, eighth-grade students at the school were ordered to take their exams outdoors on the playing field, after the education bureau ordered schools to close due to high levels of air pollution.
Initially, Feng disputed the claims that children were forced to do schoolwork in the toxic air. He told Dahe News that when the exam was administered on Monday, there was "mist" — not smog — so outdoor conditions were not severe.
However, in nearby Anyang City, the air quality index (AQI) topped out at 500 on Monday morning, the highest number that the index can record. Heavy air pollution has blanketed much of northern China for the past few days, and many other cities — including Beijing and Tianjin — have told students they can stay home.
Not all children have been so lucky. In Shijiazhuang, capital of Hebei province, for example, children had to brave the heavy smog on Tuesday.
In the winter, China's air quality suffers due to large quantities of coal being burned for heating. A recent protest by artists in Chengdu against the severe smog was quickly shut down, after AQI levels in the capital of southwestern China's Sichuan province hit a high that forced the city's airport to close.
Additional reporting by Li You.
(Header image: Students leave school on a heavy pollution day in Tianjin, Dec. 19, 2016. Nico/VCG)