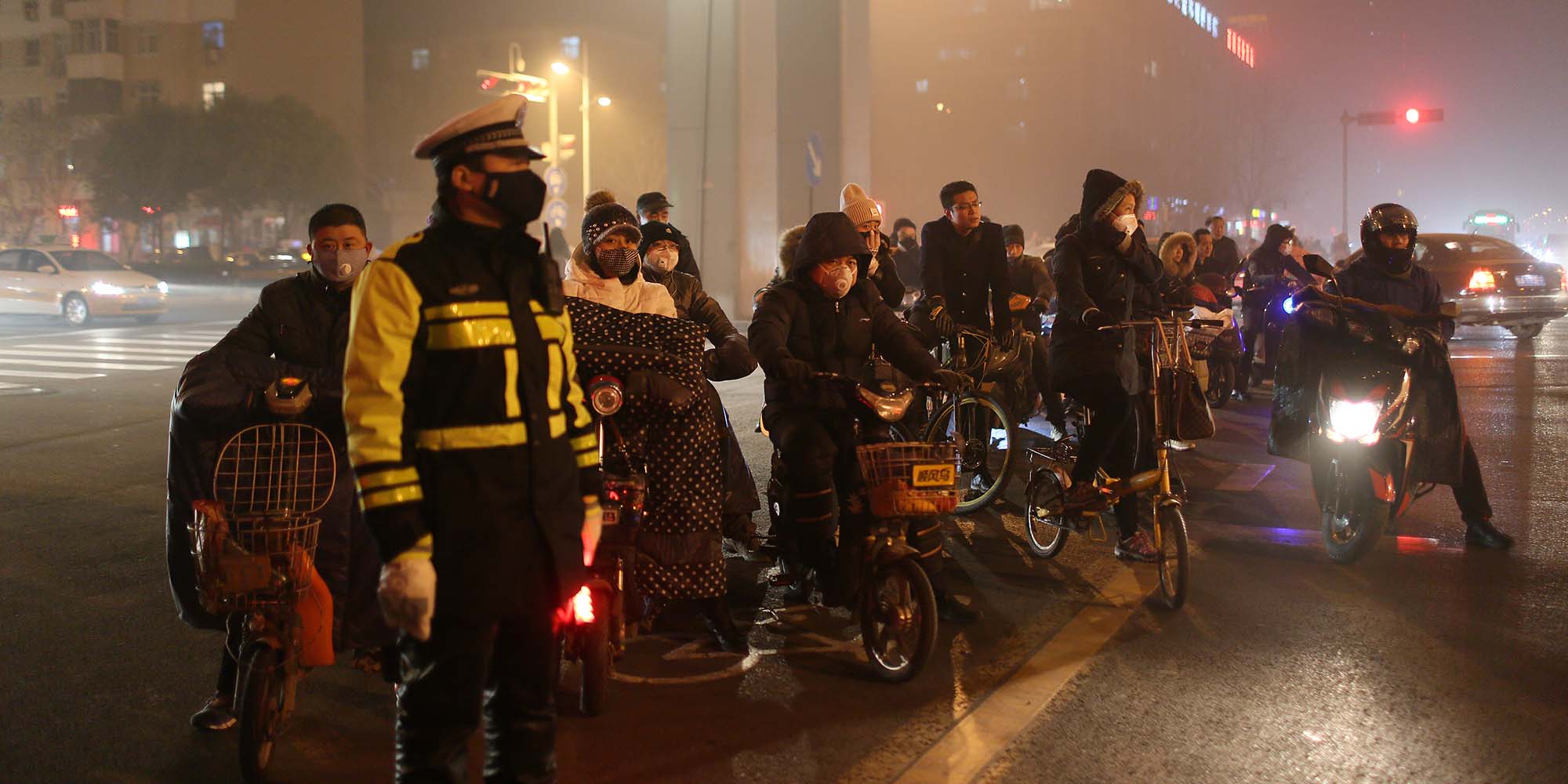 NEWS
Shijiazhuang Parents Lament Studying Through the Smog
Unlike in other cities, pupils in the Hebei capital have to go to school despite off-the-charts air pollution.
As a dayslong spell of heavy air pollution blankets much of northern China, schools in cities like Beijing and Tianjin have told students they can stay home. But in Shijiazhuang, capital of Hebei province, pupils aren't so lucky: Much to their parents' dismay, they had to brave the heavy smog on Tuesday.
"I didn't receive any announcement about suspending classes," Lu Zian, a Shijiazhuang father, told Sixth Tone, saying that he had no choice but to send his child to school.
On Tuesday, Lu posted a video to his Weibo microblog showing how much the smog had reduced visibility in the city and called for classes to be suspended.  "Air pollution has an impact on everyone," he told Sixth Tone. "I want to get the government to pay attention rather than ignore it."
The smog was so thick in Shijiazhuang on Tuesday that the air quality index (AQI) — which takes into account concentrations of harmful gases as well as small particles known as PM 2.5 that can enter people's lungs and even bloodstreams — exceeded 900 in some areas of the city. AQI levels up to 50 are considered healthy, according to the U.S. Environmental Protection Agency. The Chinese AQI standard only goes up to 500, a level that was exceeded throughout the city on Tuesday.
Han Lihui, 28, lives in the city's Luquan District. When she sent her 4-year-old child to kindergarten on Tuesday morning, the severe smog made her feel powerless, she told Sixth Tone. "Of course I have concerns," she said, "but there's no difference between the indoors and outdoors because the air is like this everywhere."
Another Shijiazhuang mother, Zhang Yuncai, told Sixth Tone that her 17-year-old son attended classes as usual, but that his school had fortunately equipped the classrooms with air purifiers. "Suspending classes couldn't solve the air quality problem," she said. "It's not a permanent solution."
During a previous spell of bad air, Shijiazhuang's municipal government announced on Nov. 30 that classes would be suspended the following day, only to update the message at 2:30 a.m. to say that classes would continue and only outdoor activities were canceled.
Hebei province's contingency plan for heavy pollution was updated in early December to include an article that said education authorities can allow schools to suspend classes when the AQI exceeds 500.
In November, the Shijiazhuang government told factories in the city to either stop or limit production to "ensure that there would be no 'off-the-charts' weather with an average daily AQI of above 500 until the end of the year." The instructions were aimed at steel, coal, and pharmaceutical companies, among others.
Worsening air quality at the end of 2016 in parts of China has incited several instances of protest — from students in Xian, in the country's northwest, putting face masks on statues, to a sit-in protest by artists in the southwestern city of Chengdu that was eventually broken up by police.
Lawyers filed lawsuits on Monday and Tuesday against the governments of Hebei, Tianjin, and Beijing over their failure to prevent air pollution. In November, an environmental activist sued the government of Zhengzhou in Henan province, central China, for compensation for a smog mask he had purchased during a business trip to the city. 
Classes in Zhengzhou were also canceled on Tuesday, as AQI levels remained above 300 — which is considered "hazardous" — for the whole day. Teachers at a middle school in Xian live-streamed their classes as the children stayed home on Monday after the local education authorities suspended classes due to severe air pollution.
According to an announcement by Shijiazhuang's education bureau published Tuesday afternoon, primary schools and kindergartens in the city are required to suspend classes on Wednesday, Dec. 21. "The air quality is not expected to improve significantly tomorrow," said the announcement.
Zhang Yuncai's son is in his final year of senior middle school and is preparing for the college entrance exam. "I hope that my son can enroll in a southern university," Zhang said. "The air quality is better there."
With contributions from Wu Yue.
(Header image: Motorcyclists stop at a crossing supervised by traffic police in Shijiazhuang, Hebei province, Dec. 19, 2016. Xie Kuangshi/Sixth Tone)