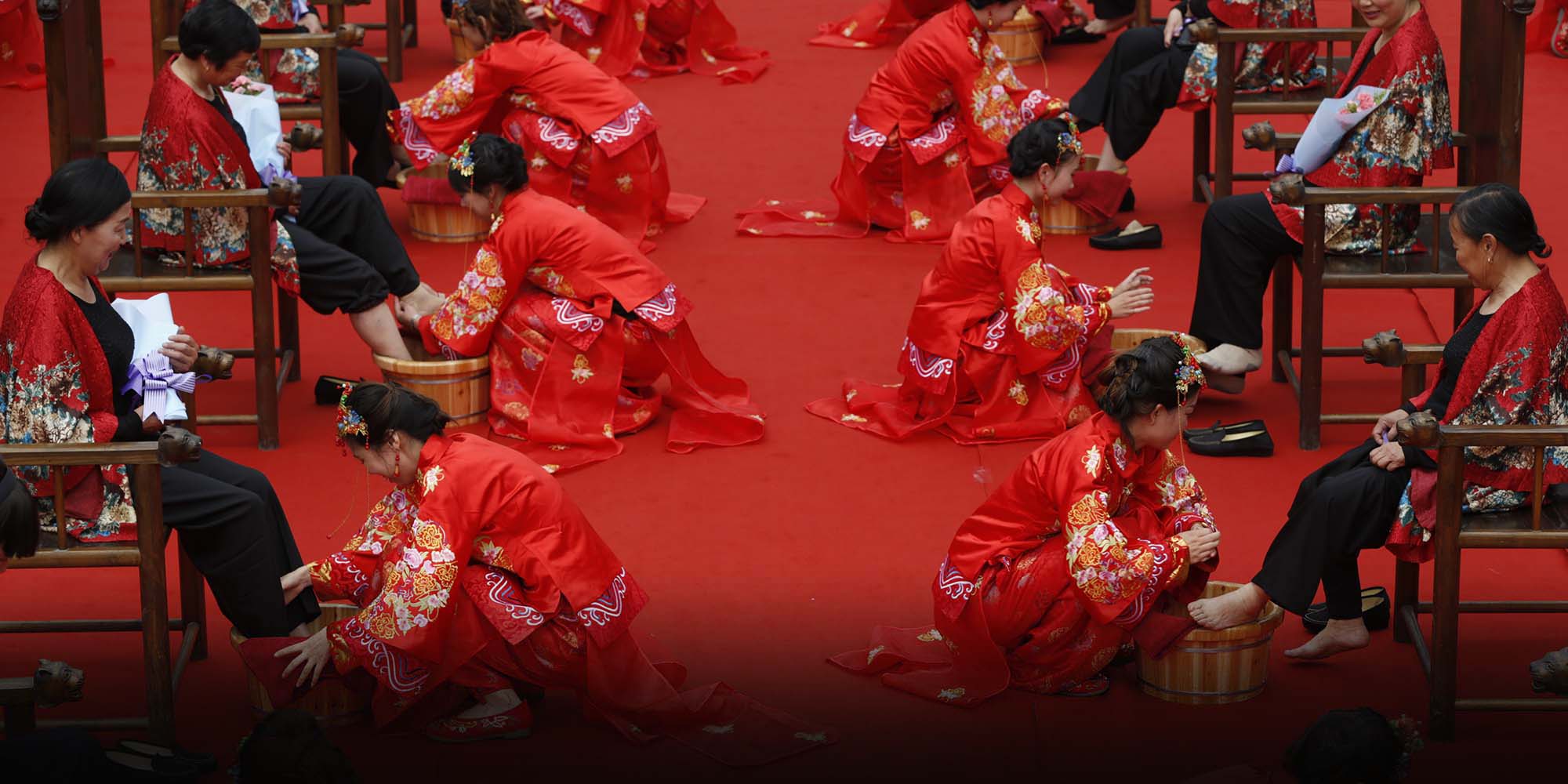 NEWS
State's Patriarchal Poem Comes Under Feminist Fire
Text written by women's group branch expounds on how Chinese women should dress, look, walk, clean the house, and more.
A lengthy poem on how modern Chinese women should behave has not impressed its target demographic.
China Women's News, a newspaper of the state-endorsed All-China Women's Federation (ACWF), published the eight-chapter piece Sunday on its public account on messaging app WeChat. It soon caught the attention of feminists and led to indignant comments on social media.
Titled "Modern Women Three-Character Classic," the poem is written in lines of just three Chinese characters each. Its name and format are reminiscent of the "Three-Character Classic," a poetic teaching tool estimated to have been used in the 13th century to help children learn to read, write, and adopt Confucian values.
Members of the Yantai Women's Federation, a local branch of the ACWF in eastern China's Shandong province, took it upon themselves to provide a female-centric equivalent that would assist women in their daily lives.
The didactic ode tells women how to assist their husbands, raise their children, embody filial piety, and much more. In the chapter on ideal demeanor, for example, one line reads:
Apply makeup lightly, avoid gaudy dress.
Adjust makeup discreetly, not as a public address.
Another line tells women how they should move in public, which apparently entails not running or standing with their legs apart:
Stand upright, legs close and tight.
Walk slowly, elegantly; stop steadily, quietly.
The chapter on family affairs tells women to spend money wisely, plan for the future, and take care of the household:
Besides making food, free time cannot be forgotten.
Emphasize your health, and exercise often.
Do household duties, diligently and fast.
Every little corner — clean the table last.
"These requirements are constraints on women," Luo Ruixue, an editor at new media platform Women Awakening Network, told Sixth Tone. "Women are under a lot of pressure," she said, "but instead of relieving it, the women's federation increases their burden."
Many women voiced similar opinions on social media. "Society requires women to be perfect but never applies the same standards to men," wrote one user on microblog platform Weibo in response to the poem. "While everything is developing, only women are required to be educated back to feudal times, both physically and mentally," wrote another.
Lu Pin, director of Feminist Voices, a Beijing-based nongovernmental organization, told Sixth Tone that the text treats women as less-important members of the family and society. "Adults don't need moral and behavioral education," she said, adding that the "Modern Women Three-Character Classic" requires women to be capable of occupational work and housework, to serve others, and to be meek and submissive.
The "Modern Women Three-Character Classic" was first written in 2013 and recently, in September 2016, published as part of a book series on homemaking. Other releases in the series have focused on family relationships, marital relationships, and raising children.
Wang Tianren, the chief editor of the homemaking series, told a Shandong news outlet that the "Modern Women Three-Character Classic" could solve family problems and teach women how to be moral role models, spiritual leaders, friendly messengers, and caretakers for their families. "One good woman can help three generations flourish," he said in the article.
A woman working at the Yantai Women's Federation who refused to give her name told Sixth Tone that it is their obligation to educate women. "We could do that for men, but we are a women's organization," she said. "It doesn't mean men don't need to do the housework, too."
Additional reporting by Lin Qiqing.
(Header image: Young women wash the feet of their mothers-in-law during an event aimed at preserving the traditional idea of filial piety in Hangzhou, Zhejiang province, May 10, 2015. Thomas Wei/VCG)