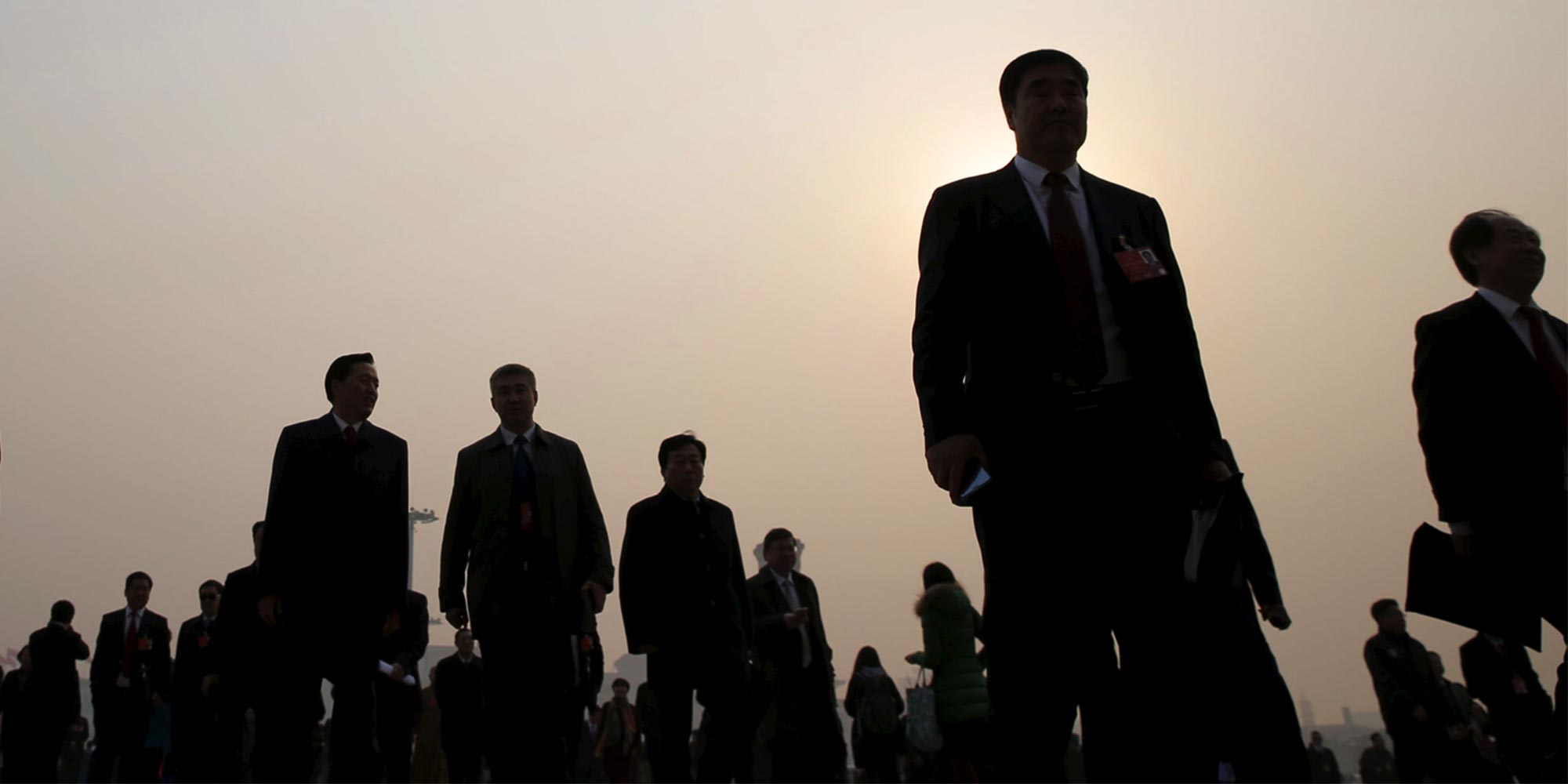 NEWS
Of China's Hundred Political Shooting Stars, One Has Fallen
In 2015, the Communist Party praised 102 county officials as "excellent party secretaries." Here's how their careers are panning out.
This article is part of a series looking back at some of the most noteworthy China stories of 2016.
At the 19th Party Congress, to be held fall 2017, the Communist Party of China will decide on the country's top leaders for the next five years. In the run-up to the event, many outside observers will try to decipher China's opaque political system to figure out which officials stand a chance at being promoted to the highest echelons of power.
Compared to more open political systems, the tea leaves available for reading are few — Which provincial leaders stood out over the last few years? Which local economies performed especially well? — but the party has explicitly named one group of up-and-coming politicians.
In June 2015, the Organization Department of the Communist Party of China's Central Committee, which is in charge of staffing decisions, praised 102 local cadres as "the nation's excellent county party secretaries." They were selected for their loyalty to the party, their self-discipline, skills in management and communication, and upholding a positive party spirit by being responsible and practical, among other qualities.
Eighteen months later, many of those budding political stars have blossomed, others have stayed put, and one sits in prison, arrested for corruption. Wang Jijun, formerly a party secretary in southern China's Guangdong province, has been arrested for taking bribes and is awaiting trial, according to the most recent reports from October.
China has thousands of counties and municipal districts, which are of equal political rank. Although party secretaries share leadership with county government heads — and theoretically only execute decisions made by the local party's congress — they are generally thought of as the most powerful politicians in their regions. An official survey conducted by the party school in eastern China's Jiangxi province found that 62 percent of officials and citizens thought the county party secretary wielded absolute power over the area.
Though county party secretary is a relatively low-ranking position, being responsible for a small city, the county seat, and surrounding towns and villages, for some officials the job is a stopover on the way to greater things. President Xi Jinping was the party secretary of a county in northern China's Hebei province for three years in the 1980s, before moving on to the post of vice mayor of Xiamen, a city in Fujian, the province in which he would later become governor.
Wang Yukai, a professor in the public administration and policy department of the Chinese Academy of Governance (CAG), a state school that trains officials, told Sixth Tone that counties play an important role in Chinese politics, especially as more and more people migrate to cities. "Chinese urbanization doesn't mean all farmers should go to Beijing or Shanghai," Wang said. "Most farmers will still live in small and midsize cities or [county seats]. That means counties, as well as their party chiefs, will play bigger roles."
The party had earlier praised 100 county party secretaries in 1995. Twenty years later, 16 of those cadres held positions equal to that of a central-government minister. One of them, Li Daqiu, was sentenced to 15 years' imprisonment in 2014 for accepting more than 10 million yuan (over $1.4 million) in bribes.
Of the 102 cadres praised in 2015, 63 have since been promoted. Among the most successful are Wang Ning and Li Shuqi, who were promoted to vice mayor positions in the metropolises of Beijing and Tianjin, respectively. Cheng Lianyuan is now the party secretary of Kunming, the capital of Yunnan province in southwestern China.
China's political system is highly stratified, with central, provincial, and local departments all given set ranks. Wang, Li, and Cheng each originally held a county-level position in one of the four Chinese cities of equal rank to provinces — Beijing, Shanghai, Tianjin, and Chongqing — and as such, their promotions constitute just one rung of movement up the political ladder.
Fifty other "excellent" county secretaries have also received promotions since June 2015 — a feat that most of their colleagues may spend more than a decade to achieve.
Meanwhile, 10 cadres have been politically promoted, meaning they rose in standing or scope of responsibilities even though their official positions remained the same. For example, Wu Aiguo remains party secretary of Guangde County, part of Xuancheng City in eastern China's Anhui province, but has been elected into the municipal party standing committee — a signal that he has joined the party's leadership of the whole city, not merely his county.
Zhu Lijia, director of the research department at CAG, told Sixth Tone that being labeled "excellent" doesn't guarantee these party secretaries' political future. "Usually, about 10 percent of county party secretaries will be promoted to the provincial level," he said. "The party's praise is only a positive response to their past performance. They still need to work harder."
Seven of 2015's "excellent" county secretaries have made only lateral career moves, and 31 are still in the same position as they were 18 months ago. The only official to move downward was Wang Jijun, who was arrested for bribery.
(Header image: Delegates arrive for the closing ceremony of the 12th National People's Congress at the Great Hall of the People in Beijing, March 16, 2016. Damir Sagolj/Reuters/VCG)