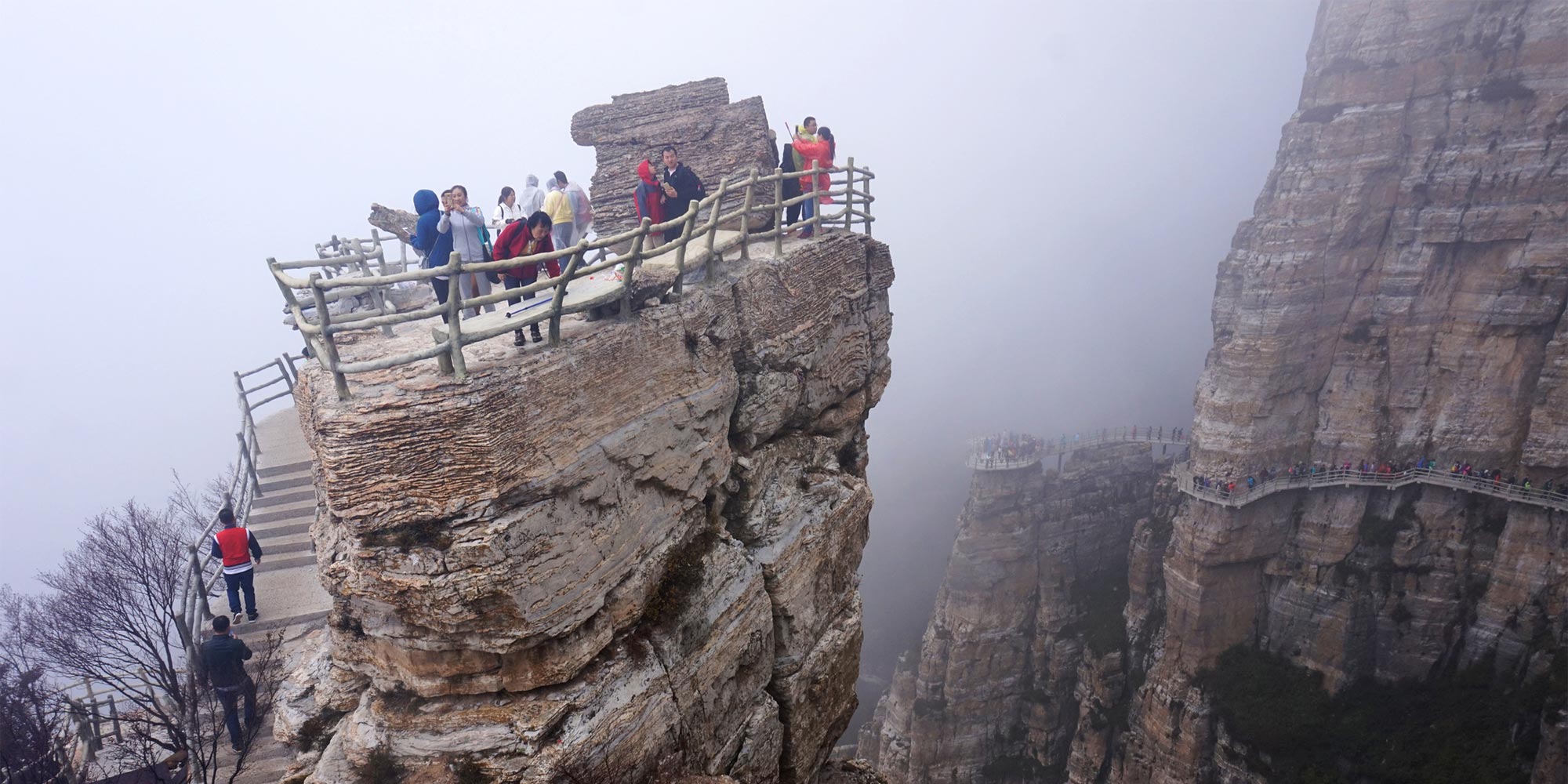 VOICES & OPINION
How I Made an Unknown Mountain Into a Travel Hotspot
White Stone Mountain was a tourist backwater a couple of years ago, but now it's a thriving scenic area.
About two years ago, White Stone Mountain in northern China's Hebei province was completely unknown to most Chinese people. Now, it is a popular travel destination: Compared to the 320,000 yuan ($46,000) it took in ticket sales back in 2010, this year it made 150 million, becoming the hottest scenic area in the province.
The transformation of White Stone Mountain is a story that began in September 2014. That month, China's major web forums, social media websites, and even mainstream media all ran stories about how White Stone Mountain had built China's biggest glass walkway along which travelers could experience the thrill of a lifetime.
The news saw tourists arriving en masse, and during the National Day holiday at the start of October, White Stone Mountain soon had to limit admission into the park. Despite this measure, the park still brought in close to 30 million yuan that week.
Many people attribute White Stone Mountain's success to its glass path and the publicity it has generated. Interestingly, many of China's mountainous scenic areas today have begun to construct their own glass walkways, which are now thought to be the secret ingredient for attracting tourists. Simply build a glass path and the tourists will come pouring in, the logic goes. But it's not as simple as that.
People only notice when a well-designed tourist spot is drawing too many visitors, as it indicates excess demand for a popular final product. What people don't realize, however, is that a large number of China's scenic areas do not operate effectively, and that resources often lie idle. Visitors know even less about the hurdles involved in constructing a scenic area, or about the large amount of investment capital required to do so. Several billion yuan in startup funding is required, another billion allows the project to take shape, and investments of over 100 billion are common. But even such large-scale investment does not always bring rapid, high-value returns.
White Stone Mountain was closed for construction from 2011 to 2012. Such a long maintenance period is due to the extreme difficulty of carrying out construction in scenic areas, which are often situated in remote mountains or forests. The complex geography and geology of these regions make construction work in these conditions extremely specialized.
Construction costs are also very high in scenic areas — up to 10 times as high as urban projects. For instance, in the city, one bag of cement might only cost a few hundred yuan, but in a scenic area, the shipping costs alone could be up to several thousand. Compounding this is the higher cost of labor. Without significant investment, such projects find it almost impossible to get off the ground.
Construction costs, of course, are just the tip of the iceberg. Building a market for a scenic area takes at least three to four years of advertising, and each marketing campaign can cost upwards of a million yuan. This can only be recovered by projecting revenue accurately into the future and by putting faith in the extra money brought in via advertising. For this reason, many scenic areas that urgently seek returns on their investments within the first three years without a well-thought-out marketing strategy tend to fall into arrears. In sum, it is only possible to invest in a scenic area by investing in the mid and long term.
Clearly, money alone is not enough. Yet it is surprising how few scenic areas fail to employ enough talent with specific knowledge of the local area, and this is the niche that my company fills. We have brought in a group of the nation's top mountain experts to provide services to executives of some of China's foremost scenic areas — such as Huangshan in Anhui province, Wulingyuan in Hubei and Hunan, and Jiuzhaigou in Sichuan.
From my perspective, if professional teams want to establish a natural scenic area, they must first understand how to search, reveal, construct, and manage beauty.
"Searching for beauty" is relatively self-explanatory. It involves looking at the natural qualities of the scenic area and evaluating whether they are exclusive or unique. However, we also have to consider the location and nearby transportation network to maximize convenience for visitors.
"Revealing beauty" means exposing the area's most attractive and engaging spots. For example, Chinese people traditionally measure the attractiveness of a mountain according to how strange, spectacular, dangerous, tranquil, and magical it looks.
Our company has tried to bring through the mountain's beauty in three ways. First, we planted mysterious-looking cypress pines on its slopes. Second, we laid a network of water pipes covering 30 kilometers of the park in order to create five bodies of water at the summit of the mountain. Third, we built a "lookup point" 300 meters from the summit, allowing guests to gaze up at the towering peak ahead of them.
"Constructing beauty" means we must dare to innovate. When designing our unique selling point for White Stone Mountain, we built a 96-meter glass walkway on the mountainside at an altitude of 1,900 meters. We then relied upon the viral nature of online media and WeMedia to break into the market. At that time, White Stone Mountain's glass walkway was undoubtedly a highlight, but given that it is a feature that has been co-opted by other scenic areas since then, I am wary that over-relying on it for publicity might now seem derivative.
"Managing beauty" means that scenic areas focus on guaranteeing guests a safe, accessible, and enjoyable trip. The guest is the person who has the final say over whether the park is good or bad, which is both a blessing and a curse of scenic area management. The aim is not only to provide a different eye-catching vista with each step, but also to create an accessible tourist experience. If you are tired, you can take a cable car; if you want to rest, here's a bench to sit on; if you arrive hungry, there is food to eat; and when you need someone's help, there are park employees to provide service with a smile.
This year, I will be 66 years old. Even though I feel in good health and will continue to develop scenic areas, I still worry deeply about the fact that there are too few true professionals out there. China boasts many more as-yet-untapped lakes and mountains, and those who are committed to developing them for visitors give us great hope for the future. But they must be sure not to become impatient; they must take time to understand the industry and move slowly if they are to conserve our country's natural beauty and reap economic rewards from it.
(Header image: Tourists look out from a viewpoint at White Stone Mountain scenic area in Baoding, Hebei province, Oct. 24, 2016. Fan Jiashan/VCG)