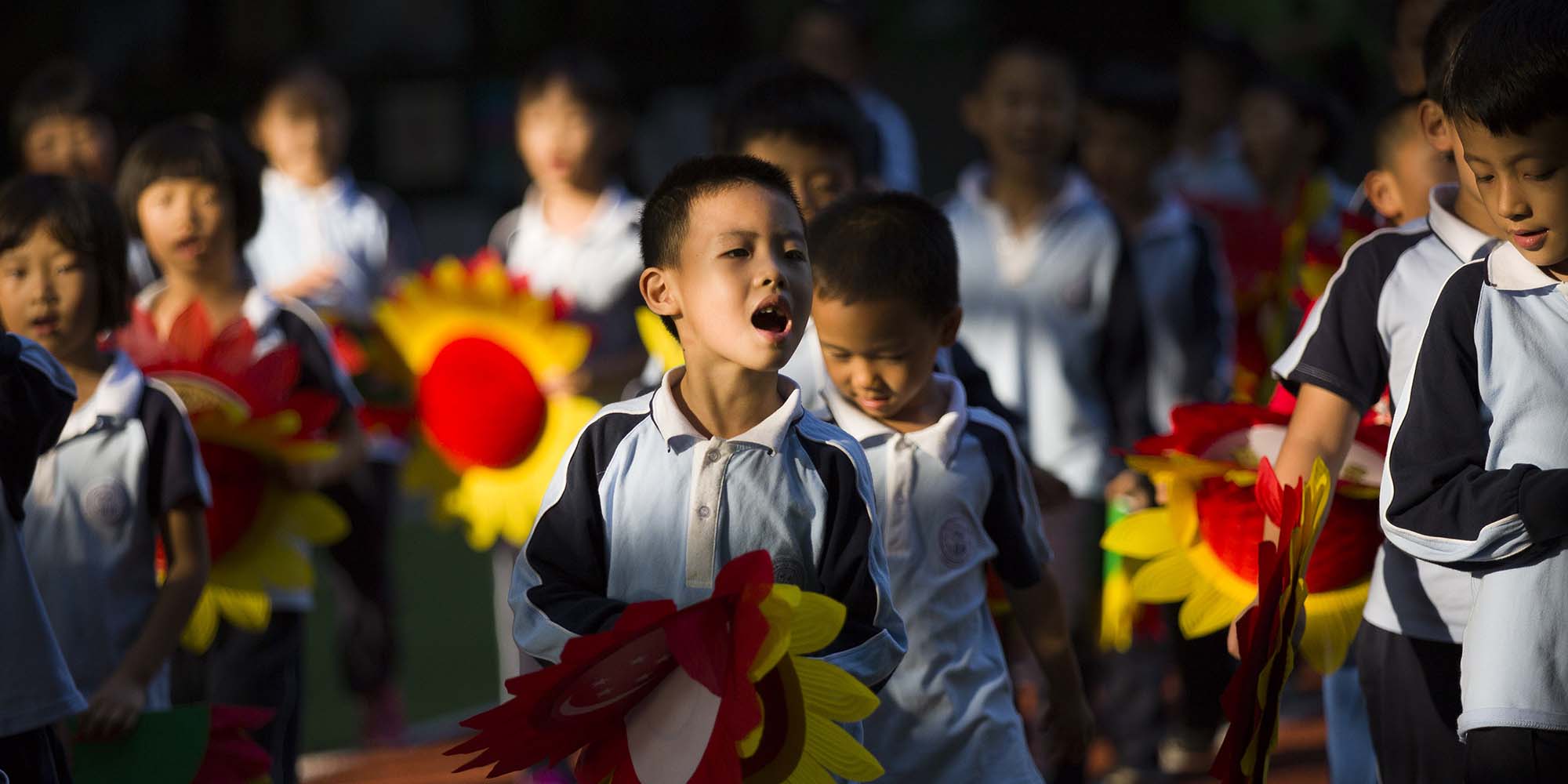 FEATURES
Teaching Boys to Be Boys
Shanghai gender education program reinforces traditional views of masculinity.
Dressed in a neat gray pencil skirt and a white collared shirt, Shanghai teacher Chen Laixiu proudly proclaims her mission: to address China's masculinity crisis by helping her young charges to "man up."
Chen blames overprotective parents and grandparents who, thanks to the country's one-child policy, channel all their love and attention into their so-called little emperors, in some cases creating effeminate, quick-to-cry young men. "Boys have to be outgoing, be able to face the pressure of life and society, and be responsible for protecting the family," she told Sixth Tone.
Chen is not alone in her crusade. Many Chinese educators, parents, and experts are in a panic over the nation's masculinity deficit, and they're taking to the classroom to nip it in the bud.
As one of the leaders of her school's gender education program, Chen has spent more than a decade teaching gender roles and social development to male and female students as early as first grade. Now, alongside other concerned educators and the district education bureau, Chen has co-authored a new textbook called "Xiaoxiao Nanzihan," or "Little Man." Written for male students aged 10 to 12, the book was released in October and aims to fill what its authors consider gaps in boys' developmental education.
On a recent afternoon in the suburban north of Shanghai's Jingan District, Chen paced an auditorium full of fifth-grade boys and their fathers, demonstrating core elements of the new book's content in an open workshop.
"Who is the best hero for a boy? It must be his dad," Chen said into her microphone. She followed by asking the students to describe the qualities they most hope to learn from their fathers. "My dad shows dedication in the things he does, like taking care of the family dog!" offered a boy in glasses. "My dad is a master cook," said another boy, standing tall in a navy blue school-issued vest.
Chen included the fathers in her lesson, too, testing them on details like their sons' birthdays and shoe sizes, and giving them opportunities to reflect on their children's triumphs, like learning to care for a younger sibling. "I expect to pass on my responsibility as a father and my role as a man, both in society and the family, to my son," said one proud dad.
"Xiaoxiao Nanzihan" covers a wide range of topics — from the father-son relationship, to aspects of sex education, to developing independence and appreciating nature — across 114 pages full of watercolor illustrations.
One chapter focuses on what makes each individual special, while another lesson notes the importance of charity. Other pages teach students about real-life heroes like modernist writer Lu Xun, anti-apartheid activist Nelson Mandela, and aeronautic engineer Qian Xuesen.
In fact, the book portrays a surprisingly diverse range of role models, with one story describing a boy who bravely pursues his dream of becoming a ballet dancer in the face of bullying. But even so, such vignettes fall against the backdrop of a national debate over whether boys today are "man enough."
In 2012, one Shanghai high school launched a program to strengthen male students' masculinity, while a primary school in Hangzhou, in eastern Zhejiang province, implemented different sets of behavioral standards for male and female students. And education departments around the country have pushed to hire more male teachers, even offering scholarships to male teachers-in-training, in part to introduce more male role models to young boys.
Chen's textbook has already been adopted by several other Shanghai schools, and students Sixth Tone spoke to genuinely seemed to enjoy the gender education classes, with one 9-year-old boy describing fun playground activities to "cultivate my boy characteristics," like bravery, strength, and ambition.
Many parents who attended the recent workshop welcomed the book as a necessary counterweight to a lack of male guidance in the classroom. "I think that through the male education class, boys can learn to be better and more masculine," 36-year-old Liu Xinyu, whose son is in fifth grade at the school, told Sixth Tone after the presentation.
Zhu Haojin, the mother of a 10-year-old girl at the school, considers masculinity-centric education necessary for boys. "There are too many sissies in society these days," she told Sixth Tone while picking up her daughter on the day of the workshop.
But to critics, these educational efforts preserve outdated and oppressive ideas about gender. "The education department should connect with what's going on in the world, with the international standard for equality and perception of gender," Xiong Jing, executive director of Beijing-based nongovernmental organization Media Monitor for Women Network, told Sixth Tone.
The perception of a masculinity crisis may have its roots in the modern trend of girls outperforming boys in the classroom. For feminists like Xiong, though, the only issue is misogyny: "They have this idea that men should be better than women, so they think this [academic trend] is a problem," she said. "They take this progress of gender equality or women's rights as a threat to manhood." In Xiong's view, the notion of a masculinity crisis ignores persisting social disadvantage for girls, especially in rural areas.
Other experts propose more inclusive and progressive forms of gender education, beginning in the home. "We advocate a father figure who is gentle and participatory," said sexologist Fang Gang, who stressed that fathers should teach gender equality by taking a more active role in housework, child-rearing, and other traditionally feminine spheres.
Fang, who heads the Institute of Sexuality and Gender Studies at Beijing Forestry University, has written sex education textbooks for middle and high school classes, and he encourages kindergarten teachers to let boys and girls learn embroidery and play with cars and dolls together. "The ideal sex education should be gender-equal," Fang said, "encouraging male participation, fighting against gender violence, eliminating gender stereotypes, and opposing a rigid binary division."
Yet the new textbook itself may be less problematic than the provocative dialogue on the masculinity crisis that surrounds it. Feminist commentator Xiong found the book more open-minded than she had anticipated, pointing out a lesson on sewing projects using recycled jeans.
However, she noted curious contradictions in the book's approach to gender. One page, for example, draws on dubious scientific evidence to claim that boys are biologically predisposed to excel at abstract thinking, while other pages discuss the social construction of gender norms, even citing feminist anthropologist Margaret Mead's research.
Much of the book's content need not be segregated by gender at all, according to Xiong. "I really don't see why we have to exclude girls from learning all these good characteristics: to be confident, to be independent, to respect and be respected, to know and embrace yourself," she said.
A female-focused counterpart to "Xiaoxiao Nanzihan" slated for release next September may address these same qualities, alongside what the authors identify as contemporary problems among the nation's young women.
"Many girls these days are bratty princesses, but they don't know that the status of women was not always like this," said Shanghai Educational Publishing House editor Zhang Zhiyun, who is involved in creating both the boys' and girls' textbooks. "Women have always experienced discrimination, so we will convey the idea that they should appreciate the current situation."
Chen, meanwhile, has strong views on how girls should comport themselves. She considers tomboy behavior "tasteless" and asserts that girls should be taught to prevent sexual harassment and resist sexual "temptations," particularly in the digital age. "A virtuous girl would not do that live-streaming stuff," she said, referring to net users who broadcast themselves online, often in suggestive situations.
It remains to be seen just how effective the new gender curricula will be, but Zhu, whose daughter is enrolled in the girls' gender course at Chen's school, believes that educators can only control so much.
"Some children have their own personalities and cannot be changed," Zhu said. "Like my daughter — she is very outgoing. I think the class can give her some knowledge, but how her personality develops ultimately depends on her."
Additional reporting by Li You. With contributions from Qian Jinghua.
(Header image: Students do exercises on the playground at Shenzhen Mingde Experimental School, Guangdong province, Nov. 15, 2016. Chen Wencai/Southern Metropolis Daily/VCG)