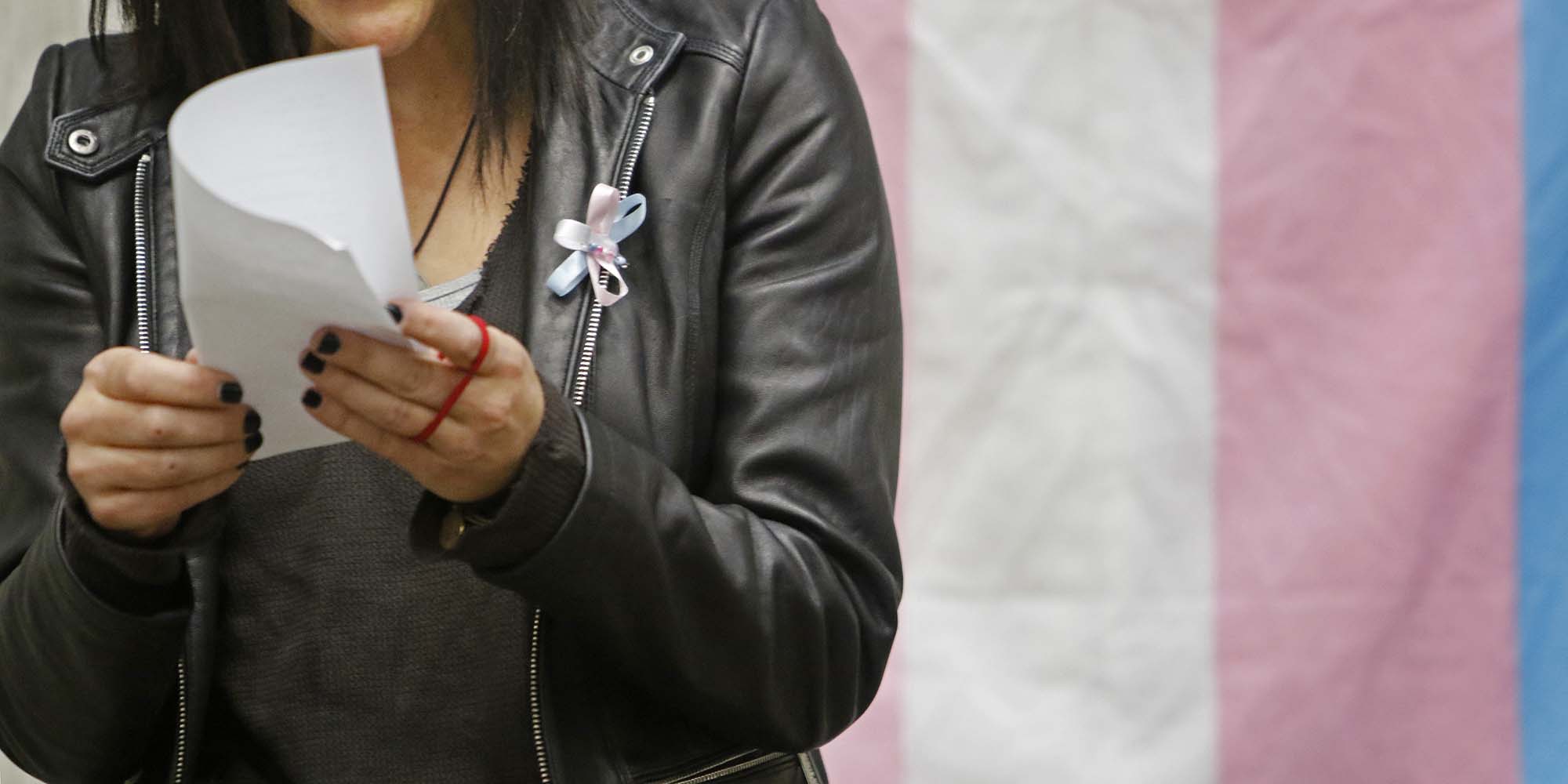 NEWS
After Watershed Year, Chinese Trans Activists Hold First Summit
National conference wraps up momentous year of transgender activism in China.
This article is part of a series looking back at some of the most noteworthy China stories of 2016.
Last weekend, transgender activists gathered in Ningbo, a city in eastern China's Zhejiang province, for the country's first national transgender summit.
"It's actually the first time I've met our brothers," participant Han Yue told Sixth Tone. The 21-year-old is part of a close-knit circle of trans women in Nanjing, in neighboring Jiangsu province, but had not crossed paths with trans men previously.
More than 25 individuals from a dozen cities across the country came together to sharpen their advocacy skills and pool their wisdom on the most pressing needs of the trans community: employment opportunities, psychological support, better access to transition treatments and general health care, protection from discrimination, and public awareness and acceptance.
Lukas Berredo from Transgender Europe and Hong Kong-based trans advocate Joanne Leung also joined to share their knowledge on research, fundraising, and community care, as well as comparisons on the status of trans people around the world.
The issues are copious and complex, but the summit also saw moments of levity. At one point, two trans men pulled off their shirts to compare the results of their recent chest surgeries. "Should we throw some bills?" another participant joked. By Saturday evening, participants found time for feasting and flirting alongside a lively discussion on how to find an understanding partner.
"My wife is really good to me," Wayne Meng, a 32-year-old trans man from Hefei, Anhui province commented. "We've been together for 17 years. She deals with a lot of the external situations that could be awkward for me."
The summit provided a chance to unite and celebrate the trans community, as well as an opportunity for learning. 2016 has been a watershed year for the trans movement in China, with a host of new trans groups forming and a surge of visibility in mainstream and independent media. The year has seen the establishment of a trans center in Guangzhou, a trans refuge in Nanjing, and growing attention to trans issues from a number of LGBT organizations.
"I feel like this is the start of a growth spurt for our community," said Pipi, a 37-year-old trans woman from the northeastern province of Liaoning.
Pipi volunteers with Beijing LGBT Center's trans information hotline, which launched on Dec. 24, 2015, and also with Trans Life, a public account on messaging app WeChat that has provided news, information, and commentary on trans issues since 2014. Pipi told Sixth Tone that media interest in trans issues has definitely grown, and that coverage now tends to be more positive than in the past, in large part thanks to the effort that trans advocates have dedicated to educating media professionals.
One widely reported story was the case of 28-year-old trans man "Mr. C," who in April brought China's first case of unfair dismissal on the basis of trans discrimination to the justice system in the southwestern province of Guizhou. Though his claim failed through the labor arbitration process, Mr. C's appeal is now in court.
On Wednesday, Dec. 14, the People's Court of Yunyan District in Guiyang, Guizhou will open for a second hearing of his case. Liu Xiaonan, an associate professor at China University of Political Science and Law who specializes in labor discrimination, will appear as an expert witness. "I'm nervous, incredibly nervous, and also excited," Mr. C, who attended the Ningbo summit, told Sixth Tone. "I haven't been able to sleep the last few nights; the pressure is enormous."
Other stories have also helped secure screen time for trans issues. On Jan. 29, Chao Xiaomi appeared on popular online talk show "U Can U Bibi" to discuss her experiences as a gender non-conforming individual. In May, nongovernmental organization Beijing Gender Health Education Institute launched a campaign for "gender-friendly toilets" in response to the harassment that Chao and others had experienced when using public facilities. The Shanghai government also opened its first unisex public toilets in November, though apparently not with transgender people in mind.
In September, trans man Aries Liu and his bride Yao Mei live-broadcast their wedding on the southern island province of Hainan to 80,000 viewers. Advocate and researcher Karen Liao starred in a short documentary on gender, medicine, society, and their experience of undergoing a bilateral mastectomy. The documentary, titled "A Fun Cut," has screened in a Beijing cafe and a mining technical college in Datong, in the northern province of Shanxi, and will be shown in 10 more cities.
Mr. C, too, has now launched TransChina, a speaking tour that aims to inspire greater respect and reflection through sharing trans stories. In January and February, he will travel through nine cities across China, relating his experiences along the way.
But there are plenty of challenges ahead for trans rights advocates in China. As yet, no trans groups are officially registered as not-for-profit organizations, and many advocates feel that doing so is nearly impossible. China's first charity law, effective since September, bans individuals from starting public donation funds, and the foreign NGO management law that will come into effect on Jan. 1 will restrict opportunities for overseas funding, support, and partnerships.
"For progress in the next year, I think [increased] awareness and psychological support are most within reach," Pipi told Sixth Tone. She expects to see advancements in access to sensitive health care, as she and other advocates continue to work with trans-friendly doctors to build research and understanding. It's a crucial issue: A recent study showed that 61 percent of LGBT respondents feared discrimination from medical professionals because of their sexual orientation or gender identity, and 43 percent of trans respondents reported rarely going for health checks.
Legal issues, such as the need for specific anti-discrimination protections and an easier process for changing gender identification, are less likely to change in the short term. "On the government side, things take more time," Pipi said. "It demands more persistent advocacy, but it's still important."
Other participants at the summit urged a focus on immediate, material issues such as providing vocational training and low-skill jobs for trans people. "There are many things we just can't change," said one participant. "But at least we can make life more livable."
(Header image: A transgender activist reads a list of transgender people who were murdered globally in the last year during a Transgender Day of Remembrance, Portland, Oregon, U.S., Nov. 20, 2016. Jill Brady/Portland Press Herald via Getty Images/VCG)