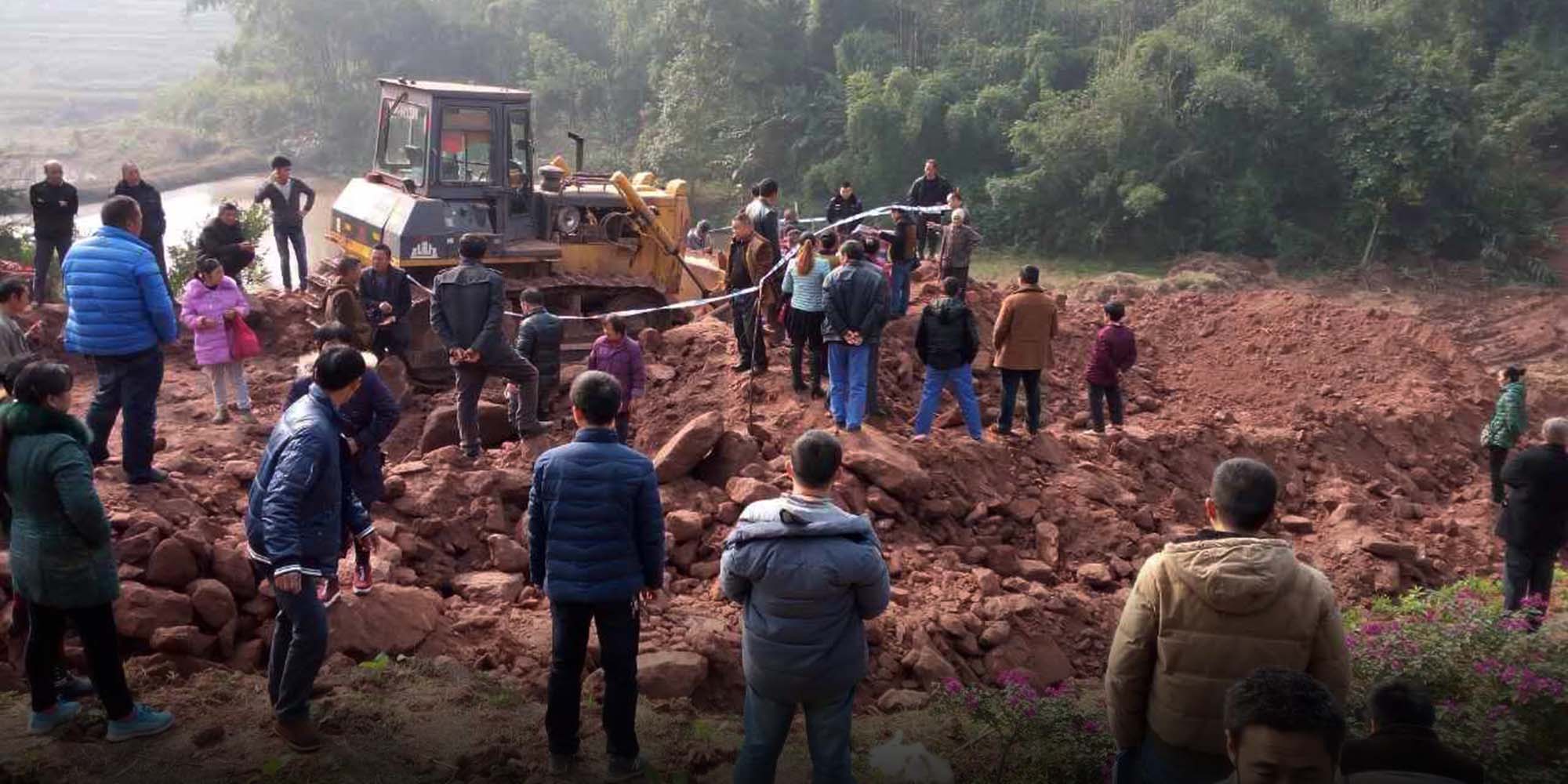 NEWS
Xinhua Weighs in on Villager Buried Alive by Bulldozer
After social media outcry, state news agency attempts to calm waters and explain why woman's death was an accident.
On Tuesday, China's state news agency Xinhua published an in-depth report on the death of an elderly citizen who was buried alive last week at a road construction project in her village, saying the woman died in an accident. Prior to the article, social media users had expressed doubt about the circumstances surrounding the incident.
Zhou Guanglian, a woman in her 70s, was killed on Dec. 7 when she was buried beneath earth being moved by a bulldozer onto her family's farmland in Yongli Village, in southwestern China's Sichuan province. Outrage erupted online following a video of Zhou being dug out and media reports that claimed she was trying to protect her family's land from being seized.
The day after Zhou's death, The Beijing News spoke with Yongli villagers and reported that Zhou had been trying to block the bulldozer, and that her family had not signed an agreement that their land could be requisitioned for the government-run project. A woman from Yongli Village surnamed Luo told the newspaper that Zhou's family had not agreed to the compensation offered by the government: a one-off payment of 2,000 yuan per mu (about $0.40 per square meter). Reportedly about 1,600 square meters of their land is affected by the project.
A villager surnamed Cai told Sixth Tone that her family is related to and lives next to Zhou, and also refused the land-requisition agreement. She did not wish to reveal her full name.
According to Cai, on Dec. 7, Zhou tried to stop a bulldozer from pushing earth into the family's fields, prompting the village head to promise Zhou's son that the construction workers would stop. However, Cai said that when Zhou's husband and son left town later that day and Zhou was home alone, the bulldozer continued pushing land onto Zhou's family's fields.
Cai said Zhou's husband had protested at the construction site on Dec. 5 and had needed three stitches in the hospital after he hurt his finger.
On the evening of Dec. 7, Cai's mother was taken away by police after she recorded videos and snapped photos of Zhou's family refusing to move the woman's body. Cai's mother was released by midnight after the files were deleted from her phone, Cai said.
Construction work has stopped following Zhou's death, Cai added.
Six days after the incident, Xinhua published its own report about the case. It explained that the government had handled the case correctly in spite of Zhou's death, which it said was a construction accident.
Responding to the reports that Zhou had been trying to block construction from taking place, Xinhua wrote that none of the people they had interviewed knew where Zhou was or what she had been doing prior to the incident. Her son, who works out of town year-round, was quoted as saying that the family's manure bucket was found in the fields, and that she had probably just been out working on the land. If Zhou had been protesting, she would have done so earlier, Xinhua argued, because earth had already been moved onto the family's fields before the incident.
The report said there was just one villager who witnessed the accident: Zhang Jiqiao, who told Xinhua he suddenly saw that there was a person in front of the bulldozer, but that his shouts were not heard in time.
Cai told Sixth Tone that Zhang, as well as Cai herself and her mother, had been told by authorities not to accept interviews.
The bulldozer operator, whom Xinhua said had not received adequate training, may not have seen Zhou, according to an initial investigation. An announcement from the local government on Dec. 8 said the operator and the person in charge of the construction project had been detained by police, and that an investigation was ongoing. When contacted by phone, the local police department told Sixth Tone that they could not provide any information beyond what was in the government releases.
Xinhua further said that its reporter found the villages in the area to be poor and mostly inhabited by elderly people and left-behind children. A local official was quoted as saying that the road was intended to make life better for the people and make the area more prosperous.
Of the households involved, 90.3 percent had signed agreements for their land to be used, the Xinhua report said. According to local cadres and the Ministry of Transport, it continued, construction projects can go ahead if a majority of villagers have agreed to terms with the government. The low compensation was due to the fact that the land had not been re-zoned from farmland to construction land, and as such, only the farmers' crops could be compensated, it explained.
Despite the fact that a loss of arable land entails an ongoing, year-by-year loss, the compensation offered by the government to residents in these situations is a lump sum.
Li Wenqian, a lawyer at Beijing Laishuo Law Firm who specializes in land requisition cases, told Sixth Tone that building a road on land not officially designated as construction land is illegal, and that the villagers should thus have received compensation not only for their crops, but also for their land, which would naturally be a significantly higher amount.
Li also questioned the explanation that construction could start because 90.3 percent of households had agreed to buyouts. To the people who didn't sign the agreements, "the percentage means absolutely nothing," he said. "With such a percentage, [the government] wants to pressure the people who have not signed to agree that it can expropriate their land."
This article has been updated to include comments from Cai.
(Header image: A crowd gathers around the scene of an accident in which an elderly woman was buried alive in Changning County, Yibin City, Sichuan province, Dec. 7, 2016. @hellocaicai09 from Weibo)