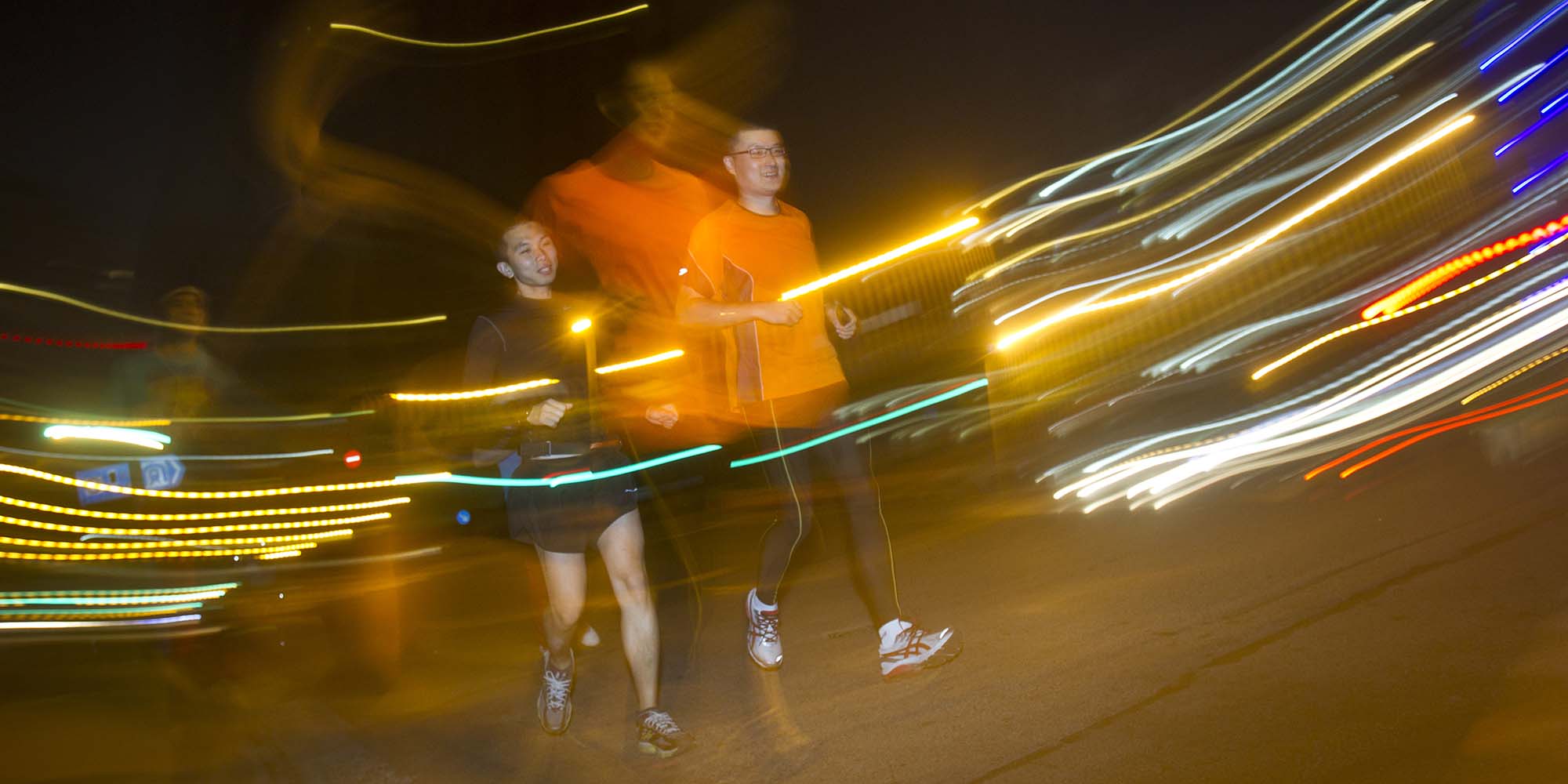 FEATURES
Chinese Sport Apps Race to the Top
Running app rushes to beat the growing competition from domestic copycats and foreign giants amid nationwide fitness push.
This is the fourth in a series of articles about young entrepreneurs embracing technology to start innovative businesses around China. You can find articles one, two, and three here.
In his free time, Bai Xiaobai loves to run. He enjoys the exercise, but he especially likes sharing his running stats and achievements using an app called Codoon.
"It has changed the way I run," says the 34-year-old information-technology specialist. "I met around 70 percent of my jogging pals through it."
The app is the brainchild of Shen Bo, the 40-year-old founder of Chengdu Ledong Information Technology Co., Ltd., the company behind the Codoon brand.
A self-described science geek and a man of few words, Shen saw how Chinese people, especially those working in the tech sector, rarely exercised compared to people in many foreign countries. "Our core aim is to encourage more Chinese people to take part in sport," he says.
But Shen is not the only entrepreneur to see an opportunity in the increasing awareness among Chinese of the need to become more active. E-commerce giant Alibaba, for example, launched Alisports last September to integrate e-commerce, media, cloud computing, and other internet-enabled technology into a sports platform that will operate within different areas of the professional athletic industry.
Interest in the sector is driven by a nationwide push to get more Chinese people up onto their feet. It's all part of an effort to boost the health of the population and increase the nation's average life expectancy from just over 76 in 2015 to 79 by 2030. In October, the State Council, or China's cabinet, announced that the number of people "frequently participating in physical exercise" should rise to 530 million by 2030, from 360 million in 2014. As a result, the sports and fitness industry can expect an increase in value to 5 trillion yuan ($724 billion) by 2025, the council said in a separate statement.
Foreign brands are also keen to get a slice of the market, including in the sports app sector, with Nike having launched its own running app Nike+ Running in 2010, two years earlier than Codoon. However, Codoon's Shen believes Nike's app has failed to capture Chinese users' preferences and culture.
"Nike is a good tool for run-tracking, but Chinese consumers need more than just a tool," says Shen. "That's why we provide social functions and other services to make users stick with the app." To date, Codoon has more than 100,000 running groups in hundreds of China's first- and second-tier cities.
A spokeswoman from Nike told Sixth Tone in a telephone interview that the brand doesn't worry about competition from domestic companies. "Our advantage is that we start everything from the [perspective of] athletes," she says. "Our insights from working with athletes can be applied to serve all runners," she continues, adding that the app is just one part of the larger Nike+ ecosystem that includes running courses, a running club, and offline retail services.
Yet Shen maintains that foreign companies are at a disadvantage in the Chinese market because they are not used to the rapid pace of change that Chinese tech companies must keep up with to survive. On the other hand, Codoon's domestic rivals — such as Beijing-based Ledongli and Shenzhen-based 51yund.com — present a source of formidable competition. "In China, copycats are unavoidable. The only thing entrepreneurs can do is to do things faster than others," says Shen.
Codoon represents a good example of the sheer speed at which the sector operates and the degrees of reinvention companies must be prepared to undergo. Although the company always planned to incorporate a social element to its products, in the years immediately following the brand's launch in 2010, Shen and his team focused on developing hardware: wristwatch-like fitness trackers that soon flooded the market under many different brands.
"As more competitors came along, we found it harder for us as a startup to develop hardware, as it took a long time, and we were not able to control the supply chain," says Shen. "So because of my technical background, we decided to develop an app instead."
The Codoon app allows users to keep track of their running records and socialize with other users by gaining "followers," finding running partners nearby, organizing jogging groups, and sharing experiences with one another.
IT specialist Bai, for example, ranks as a "high-level" runner on Codoon because he has logged more than 8,000 kilometers and 500 hours of running. He's also garnered over 2,500 followers and has been designated a running-group organizer in western Shanghai's Fengxian District. Codoon's social strategy seems to have worked, at least in terms of user numbers: Bai is one of more than 70 million registered users.
Shen's goal is to monetize this user base by adding e-commerce functions to the Codoon website, allowing users to buy athletic clothes, shoes, and equipment online, with additional revenue coming from sponsorship and advertising for the company's online running events. Shen predicts that the brand's sales revenue could reach 100 million yuan by the end of this year. Though the company has not yet managed to break even, it is on a much better track than his first business.
While studying at the University of Electronic Science and Technology of China in Chengdu, in southwestern China's Sichuan province, Shen started to develop and sell smart lockers along with friends, but the founders eventually sold the business to another company due to lack of access to technology and funds.
Shen then went to Shanghai, where he worked for foreign telecom firms such as Cisco Systems, Inc. In 2007, he moved back to Chengdu to take up a middle-management position at the then-Nokia Siemens Networks.
Two years later, Shen was beginning to feel trapped by barriers to further progress up the career ladder, as most higher positions were occupied by foreigners. He decided to leave and give entrepreneurship another try — against the wishes of his parents, who wanted him to become a civil servant after graduating from university.
With 500,000 yuan of investment from their own pockets, Shen and partner Si Jianming founded Chengdu Ledong. Their original plan for the Codoon brand consisted of a website designed along the lines of Facebook, allowing users to document their exercise records and share experiences with a network of peers.
When it became clear that keeping track of fitness records was too complicated for users to do on their own, however, Shen and his colleagues developed a fitness tracker in July 2010; shaped like an MP3 device, the tracker could upload data to the Codoon website by connecting to computers through USB technology. In 2012, the team developed the Codoon running app with added social functions, followed by the Codoon Smartband S — the brand's first wearable exercise-tracking bracelet — the next year, launched at the price of 299 yuan.
The year of 2013, however, marked a turning point for Shen. Low entrance barriers meant that a growing number of companies were eyeing the smart-hardware market. Xiaomi, for example, offered smart bracelets for as low as 69 yuan. Although Codoon's hardware sales were still profitable, Shen decided to eliminate that arm of the business to avoid becoming embroiled in a price war. Exiting the hardware market was his hardest decision ever, he says.
"For a long time, I couldn't sleep at night," Shen says. "Each day, I kept swinging between hope and despair. I couldn't cope with the pressure." He began to read philosophical and religious books to ease his stress and sought to glean inspiration and confidence from favorite business idols like Jack Ma and Elon Musk.
However, Shen's fears about his own company were not unfounded, as his decision to stop trying to compete in the hardware market and focus on the socially oriented app caused the loss of some customers. For example, Zhan Chenglin, an office worker at an IT firm in Shanghai, says he has deleted the Codoon app and prefers to use his Xiaomi bracelet, as "the price of Xiaomi's product is competitive," he says. "Personally, I don't care much about the social functions," Zhan adds. "I prefer to run by myself."
In 2004, Codoon achieved a milestone when it organized China's first online marathon. Unlike an offline marathon that has to be launched in a certain location with set routes and charges, an online marathon allows anyone to participate from anywhere, free of charge. Runners simply register to enter the marathon on the app, complete the allotted race distance, and upload running times to compete with other participants. Winners receive medals tailor-made by Codoon.
In an upcoming online marathon scheduled for Christmas Eve, for example, medals featuring cartoon snowmen will be distributed to the first 20,000 runners to finish the 10-kilometer race.
This year alone, Codoon has organized 100 online marathons and aims to double the number next year. Plans to cooperate with third-party partners to co-organize events in other fields, such as cycling and skiing, are also in the works.
Codoon is now one of China's largest social platforms for running and sports services, after raising $50 million in Series C-round funding led by Focus Media Information Technology Co., Ltd., and FountainVest Partners Co., Ltd., in May. The company has grown to almost 300 employees and now has a second office location in Beijing. Shen's team even launched another running app last August and renamed it "Runtopia" this past May to cater to overseas markets, including Southeast Asia, the U.S., and Canada.
However, Shen says that the latest round of funding has put a lot of pressure on the company to keep the money flowing in, as investors who once focused only on user numbers now care more about revenue. In fact, whether the company is on track to meet their financial targets is "the first question I think about after waking up every morning," Shen says.
Still, Shen holds tight to his dream of making Codoon the top brand in the Chinese sports industry. "At first, I just thought it could be a good business to support my family, but little by little I found it can change the whole industry," he says. "That's why I will keep going."
(Header image: Runners take to Century Park at night in Shanghai, Oct. 26, 2013. Yang Shenlai/Sixth Tone)