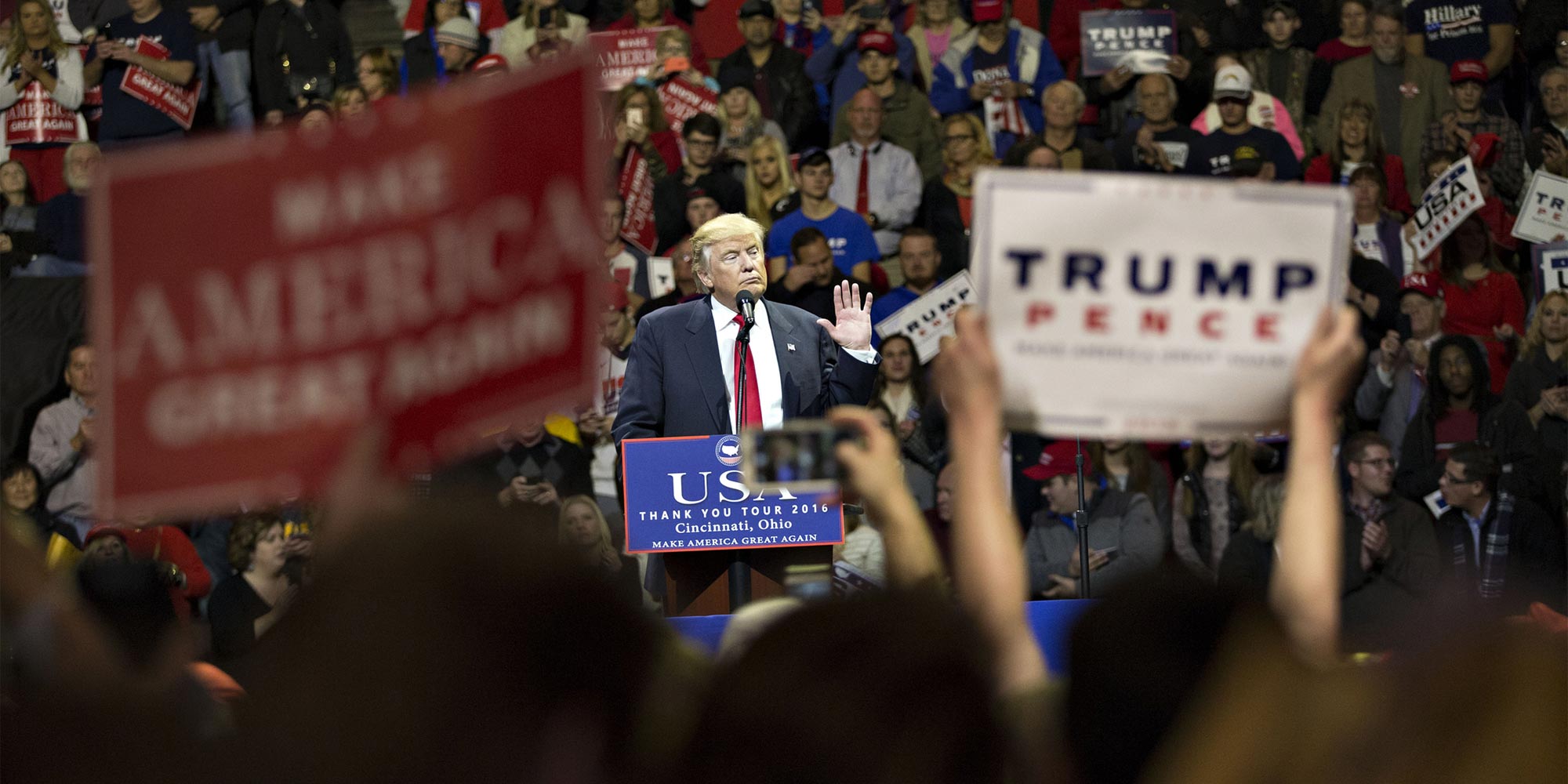 NEWS
Chinese Gay Activist Crashes Trump Victory Party in Shanghai
LGBT filmmaker goes undercover at Republican celebration and live-streams event on Facebook.
Dubbed a private event closed to media, organizers of a victory party for Donald Trump held Monday night in Shanghai were not planning for Chinese gay activist and movie director Fan Popo to show up and live-stream it on Facebook.
But he did.
The bash took place on Monday evening at an event space in Huangpu District and was billed by organizers as a launch party for Republicans Overseas Shanghai and a "Make America Great Again" celebration. Organizers said that they are considering establishing a similar group in Beijing.
One of the organizers, Ian Slade, said the event was meant to be just a small gathering to bring Trump supporters in Shanghai together and provide a "safe space" for them away from the critical gaze of the media and those on the left.
Slade, who described himself as the "Milo Yiannopoulos of Shanghai," referring to the openly gay Breitbart editor who was recently banned from Twitter, told Sixth Tone he was happy with the turnout, which he estimated at around 30 people: "It was a nice little party."
An invitation circulated via messaging app WeChat said the dress code was "power red tie," and promised fine wines and a free flow of canapes. No admission was charged, although organizers declined to identify the sponsor.
The event comes as the American president-elect continues to make waves with his actions and comments on China. Earlier this month, he broke with traditional diplomatic practices by accepting a telephone call from Taiwan's leader, Tsai Ing-wen. Last week, Trump questioned the need to uphold the "one China" stance. On Monday, Ministry of Foreign Affairs spokesman Geng Shuang called on Trump not to damage Sino-U.S. relations.
Among the small crowd was Fan, a Beijing-based gay filmmaker, writer, and activist best known for his documentary "Mama Rainbow," which explores the hardships faced by six Chinese mothers coming to terms with their children's homosexuality. He is currently visiting Shanghai for a screening of his follow-up documentary, "Papa Rainbow."
Fan said he went "undercover as an individual" out of curiosity, and that given the homophobic tone of some in the Trump camp, he initially felt quite nervous about crashing the party. "I don't have a red tie, and I was even wearing a bright green sweater," the 31-year-old told Sixth Tone.
Fan live-streamed parts of the event on Facebook. In the clip, around 15 to 20 people pose for a group photo to the sounds of Elton John's 1971 hit "Tiny Dancer" — the same song the Trump team used to open and close campaign rallies. In a sea of red neckties, some men also donned red baseball caps and one woman wore a bright red one-piece dress.
The clip also featured a short speech by another organizer, who introduced himself as Daniel Drescher.
"After this grueling campaign, we have found that the result was that Republicans and the Trump campaign have won the Congress, we have won the presidency — this is a historic moment," he said. A shout from the crowd added: "Don't forget the Supreme Court!"
Drescher, a nine-year veteran of China whose LinkedIn profile describes himself as a sales professional, said he was honored to be in the presence of a group of people who held a similar idea to "make America great again," he said to cheers. "And to make China great again," he added to laughs from the audience.
"Our life here in China has been a huge challenge," said Drescher, "but we don't have to face those challenges alone."
Drescher could not be immediately reached for comment by Sixth Tone on Tuesday afternoon.
Fan's decision to attend surprised some of his online followers, with one simply writing "Omfg" and another asking, "How did you survive this?"
An earlier request by Sixth Tone to attend the event was declined. Organizers said they had not granted permission for the event to be filmed, describing the gathering as private and closed to the press.
Fan attended the event with a friend, Matthew Baren, who told Sixth Tone he went because he wanted to escape the echo chamber created by people who share his worldview. He said some of his LGBT friends had considered staging a protest at the event but stressed that he went along with an open mind.
Baren described a video clip shown at Monday's celebration featuring highlights of the presidential campaign, including off-color comments by Trump, as "a little bit intimidating and beguiling." Clips of Trump's remarks about comedian Rosie O'Donnell, the time he mocked a disabled reporter, and comments about grabbing women by their genitals were greeted with "huge cheers," Baren said. "That was not funny, but scary."
One of the organizers said it was sad that anyone at the event was made to feel uncomfortable by the video but pointed out that it also contained segments showing Trump in embarrassing situations. He said that Trump's words can ring harsh on contemporary ears, but that this was part of the point: Many people, especially Trump supporters, are sick of being told what to say.
Fan said the audience was made up almost exclusively of white males, and that he felt a little uneasy by the amount of testosterone on display Monday night, which manifested in references to making America great again, in praise for Trump for being an "ass-kicker," and in plaudits to Trump for being a "man's man" — a comment Fan said he found "disgusting" because it promoted gender stereotypes.
Organizers characterized participants as kind, smart, and diverse.
Fan said attending the event allowed him to reflect on his own political opinions. "I am a liberal, but I live in a bubble," he said. "As a gay man, I only see LGBT issues from a certain angle."
"In the future, I will be more open to people who hold different views to mine," Fan said, adding that he hasn't converted to the Trump camp. "I didn't change my opinion about him, but it was an eye-opening experience."
(Header image: U.S. President-elect Donald Trump speaks during an event in Cincinnati, Ohio, U.S., Dec. 1, 2016. Daniel Acker/Bloomberg via Getty Images/VCG)