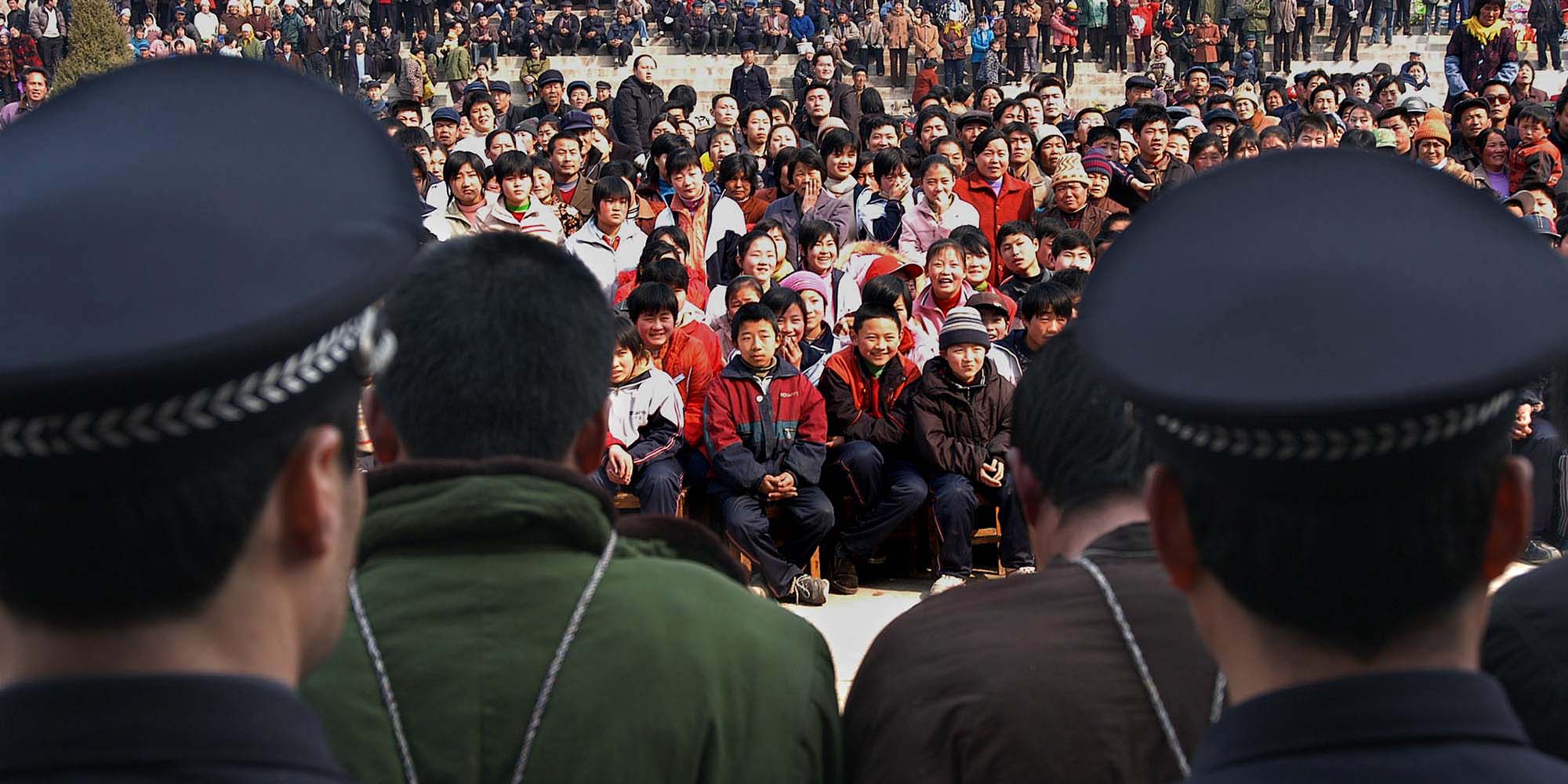 NEWS
Officials Repent After Public Shaming of Criminal Suspects
Practice is officially banned, but still occasionally used.
Authorities in northwestern China admitted wrongdoing after they paraded 29 criminal suspects in public last month, The Beijing News reported Friday.
On the morning of Nov. 25, a total of 29 criminal suspects were gathered in a public square in front of a local movie theater in Xingping, a city in Shaanxi province. All of the suspects wore black hoods and carried white signs around their necks with their names and charges. Among them, five had received prison sentences for charges including transporting narcotic drugs, theft, and gambling. Another five were put under criminal detention, with the remaining 19 declared to be under official arrest.
The event was attended by several local officials, including an executive vice mayor, according to a press release about the event published online by the politics and law department of the Xingping Communist Party committee.
By Friday, the press release had been removed from the department's public account on messaging app WeChat. Zhang Bin, who is in charge of the committee's social media account, told Sixth Tone that the article was removed after the authorities became aware of public opposition to the public display of the suspects.
An unnamed committee official told The Beijing News that the offending authorities' actions had "not been in accordance with the spirit advocated by our superiors."
"Hanging whiteboards around suspects' necks in public should not be allowed," said Hong Daode, a professor at China University of Political Science and Law and an expert on criminal law in the nation. The practice "constitutes a type of insult to one's person, and it is suspected of violating the law," he added.
Though the central government in 1992 banned any judicial handling of criminal suspects in public, public trials and similar practices are still occasionally seen in China today. In March, an online backlash followed a local court in southwestern China's Sichuan province publicly trying eight migrant workers who had been charged with obstructing the work of the local police.
(Header image: People attend a mass gathering for public sentencing in Ju County, Rizhao City, Shandong province, March 8, 2005. Chen Weifeng/VCG)