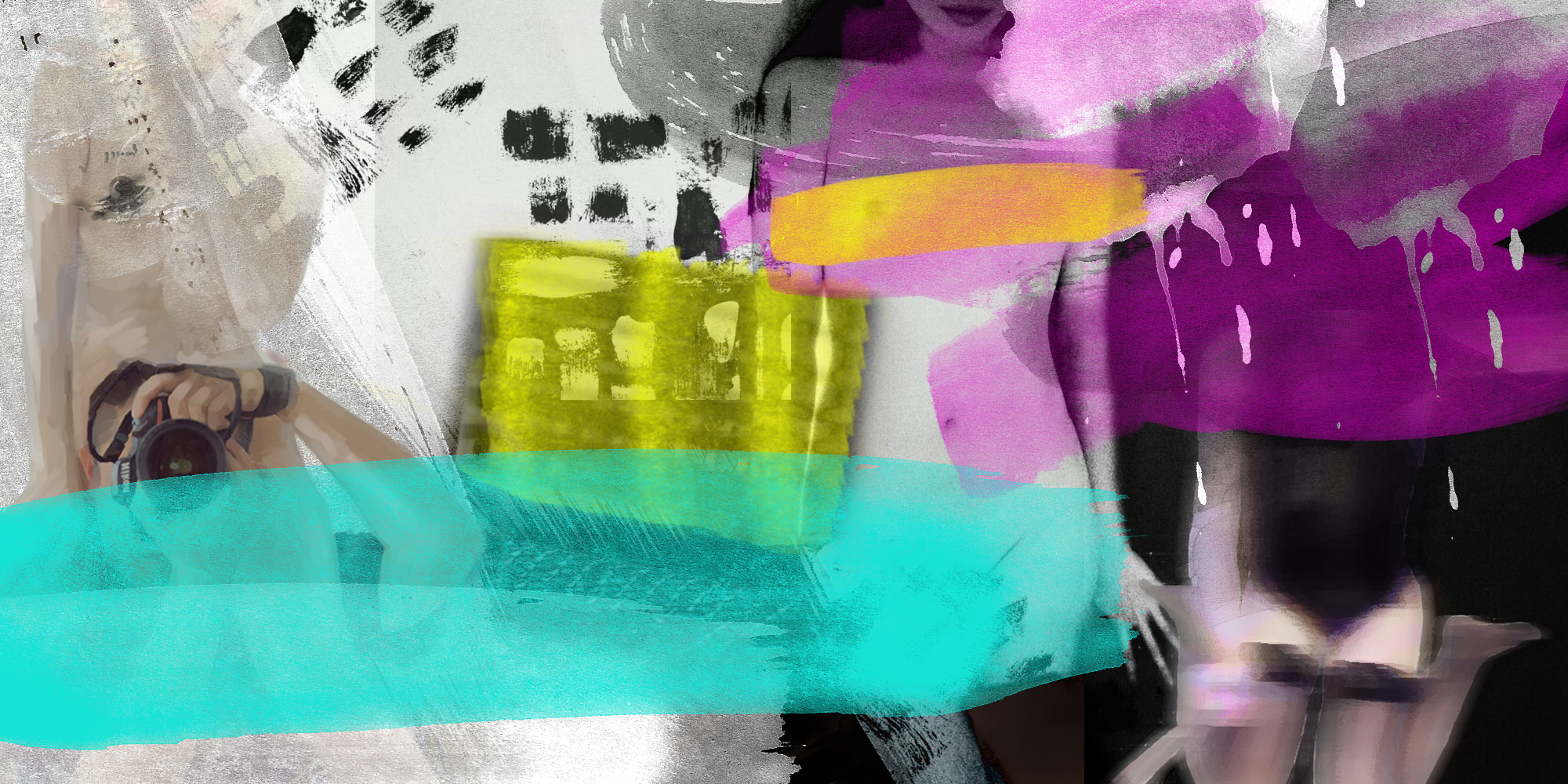 FEATURES
Lust, Caution, and a Web Connection
Despite strict obscenity laws, China's online pornographers are flourishing on the fringes.
This article is part of an ongoing series examining erotic culture in modern China.
Naked, a young woman with flowing black hair opens her legs and spreads her labia with her fingers. Staring straight ahead, her unflinching eyes challenge viewers not to look away.
The erotic scene belongs to a series of provocative black-and-white images by photographer Wang Dong. Here, hanging on the wall of a Shanghai tattoo parlor-turned-gallery, he gets away with it. But Wang's work has often fallen foul of China's anti-obscenity laws.
Pornography is illegal in China. Since 1997, the country's criminal law has banned the production and dissemination of obscene material, including video, images, literature, and audio. Depending on the severity and scope of the crime, sentences can range from a fine and a warning to years in prison.
Still, Wang is one of many individuals who persist in their pursuit of sexual expression despite the laws. He believes the country's blanket ban on erotica is incomprehensible — but also somewhat permeable. "You have this prohibition on the surface, but underground there are all kinds of channels that are developing at an explosive rate," Wang says.
Resourceful internet users in China can still find pornography online without vaulting the so-called Great Firewall. Sites like 91Porn — which hosts more than 64,000 amateur videos — periodically change their URLs to evade detection by the authorities, while the clothed cam-girls of sites like 1 Room will offer something extra for paying patrons. In forums, porn collectors known as laosiji — literally "old drivers" — dole out files from their extensive personal libraries out of the goodness of their hearts.
In addition to the most widely used DIY pornography sites, where videos follow a man-holding-a-camera formula, a host of small-scale amateurs create erotica for niche audiences with diverse tastes. Some focus on female viewers, some infuse pornography with art, and some turn to the digital domain as a means to publicize their most private moments.
These are the "small networks that are not yet porn industries but small businesses" that Chinese sex culture scholar Katrien Jacobs says are blossoming despite prohibitive policies. "We can't deny that the political situation is very difficult," the Hong Kong-based academic tells Sixth Tone, "but actually, you can still talk about sexuality, you can still do sex research, you can still be a sex blogger, you can even share porn."
Sixth Tone spoke to some of the people testing the waters of sexual liberty in China: Su Nuojin, a young erotic novelist spinning multi-chapter lust for her devoted online readers; Wang Dong, the photographer who is now venturing into adult-movie directing, and You You, a blogger whose photographs and videos document her own experiences for audiences eager for a slice of her sex life.
Su Nuojin's writing makes "Fifty Shades of Grey" look woefully tame. In one chapter that delighted fans of her erotic epic, Su's time-traveling protagonist, Gu Mingyue, sounds the depths of her male submissive's pain threshold with her expansive arsenal of sex toys.
"Ah! It's too deep, please stop, I can't take it!" he cries out as she inserts a thin glass rod into his urethra. A moment later, he begs her to let him come.
Su's sprawling online series, "Meirou Shengxiang," or, loosely, "The Fragrance of Beautiful Flesh," currently stands at 137 chapters. The most recent installment, released on Nov. 22, sees Gu travel back from her adventures as a dominatrix in present-day China to bed a priest in the Roman Empire.
Su is surprisingly coy, given that she herself considers her work to be pornography. "Oh god, I don't want to talk about it," she laughs when asked about some of the more explicit scenes in her novel.
"Su Nuojin" is a pen name — she keeps her identity secret from her readers, and she is careful to maintain clear boundaries between her everyday life and the world of her fiction. Originally from Beijing, 23-year-old Su now resides in eastern Japan and publishes her work to POPO, a Taiwanese website for amateur writers. Yet her loyal and largely female readership mostly hail from mainland China, where the production and consumption of erotic fiction is prohibited under the country's pornography laws.
"You can post in China, but once you post, you will be reported," Su says of her decision to publish on a Taiwan-based site. The site has been blocked in China since July, but based on her interactions with readers, she believes most of her hits continue to come from the mainland. Domestic websites sharing her work also mean readers can follow the series without skirting China's firewall. On Chinese messaging platform QQ, fan groups for Su's series see more than 2,000 members discussing their favorite scenes, even using them as springboards from which to recount their own sexual experiences.
Admittedly, Su's writing is divorced from her own sexuality, and she's quick to point out that she doesn't draw inspiration from her life. She began the series in January 2015, mostly because she thought she could do a better job than the amateur erotic fiction she had been reading. Her work soon attracted a large female following. "I couldn't write the hardcore stuff that boys like," Su says. Her husband, who doesn't read Chinese, has never read any of her work.
Su sees her work as fantasy, and indeed, "Meirou Shengxiang" plays with reincarnation as much as it tells of carnal pleasures. The literary and supernatural elements distance the explicit sex scenes from the everyday. But Su still worries about the influence of her works on people who may not distinguish between fantasies exaggerated to attract audiences and the sex of real life.
"I've done everything I can to make it moral," Su says. "But with this kind of work, if it isn't objectifying women, then it's objectifying men. I try to avoid both."
Despite the dangers of pornography, Su maintains that China's blanket ban is not the answer. "If your mom tells you not to eat sweets, you'll only want to eat them even more," she says, adding that she would like to see a form of regulation that makes explicit content available to adults after verifying their identity. Some of Su's stories toy with the boundaries of consent, which she feels adult readers will understand in the context of fiction, but she fears how minors might react to her work if they could access it.
At the same time, Su believes that in many parts of China, the lack of proper sex education means that a liberalization of the law would have to be accompanied by radical educational reform: "We have always blocked pornography, so if you were to suddenly open up, it would have such a massive impact on children and society."
"The power of speech is often beyond imagination," Su says.
Tucked away in the corner of photographer Wang Dong's Shanghai exhibition hangs the work that made the photographer famous, or at least turned China's mainstream media and legions of netizens against him. Baring all, a woman straddles a 600-year-old stone dragon head in Beijing's Forbidden City, a vestige of China's imperial past that is held in near-sacred reverence.
When 33-year-old Wang, known professionally by his artist name, "Wanimal," posted the photo to his Weibo microblog in May 2015, he was branded a pervert whose work was an assault on social decency and cultural heritage. "The critics were definitely led along by the mainstream media," Wang remembers from his perch in the corner of the gallery.
The dragon head photo is by no means the artist's most explicit work. While most are run-of-the-mill nude portraits, others show women appearing to engage in cunnilingus, a couple having penetrative sex, and a woman bound and suspended in midair. Wang, from Nanning in southern China's Guangxi Zhuang Autonomous Region, is reluctant to call his work pornographic, but he acknowledges that the distinction between pornography and portraiture is a slippery one.
The law doesn't offer a clear definition of pornography either; rather, it bans the dissemination of "obscene material" without defining obscenity. Judicial decisions have been inconsistent, and regulations vary wildly. Models at a convention this year were prohibited from displaying more than 2 centimeters of cleavage, yet softcore pornographic ads displaying all but nipples and genitals are part and parcel of browsing the Chinese internet. Artistic works, along with works related to human physiology or medicine, are exempt from the law, although no clarification of what classifies a work as such is given.
The ambiguity works both for and against Wang. On a canvas hanging in a gallery, his photos are art; as pixels on a computer screen, however, they become obscene material with the power to corrupt minds and undermine society. Wang used to publish his explicit work on China's Tumblr clone, Lofter, but any posts containing nudity were promptly taken down. Now he publishes on Tumblr, which was blocked in China in May of this year.
Wang's private account on messaging app WeChat has encountered similar trouble: In November, it was terminated after he shared his work on the platform's news feed function. Like many other social media platforms — and not just in China — WeChat's user policy prohibits the dissemination of sexually explicit content, images and text alike. Under the app's guidelines, even posts that allude to sexual activity, such as those arranging hookups, are banned.
But Wang doesn't believe his account was blocked simply because it contravened usage policy. Instead, he thinks he has been put on a blacklist of a higher order: "The government [is] watching," he says. Still, Wang has paid little heed, and within a few days, the news feed of his new account was awash with nipples.
Wang may have no qualms about testing the limits of the law, but he remains in favor of an age-based classification system that protects the impressionable minds of minors. He considers himself an anomaly in society, having grown up in an environment where sexuality was not a taboo — his father was an oil painter whose nude artwork covered the walls of his childhood home, and models would stroll through the house completely naked. Even his mother has acted as his assistant on some photo shoots. But despite Wang's own upbringing, he believes that early exposure to erotica could be harmful. "It has an effect on people, even if you can't put your finger on what exactly that effect is," he says.
Wang believes consenting adults, on the other hand, should be free to enjoy visual stimulation, which he says is something that has existed in China for 5,000 years. For his part, Wang has every intention of continuing that lineage.
For his latest venture, Wang directed his very own amateur adult movie. The plotless short film, entitled "Volcano," features two Chinese actors — one male, one female — and was shot in a clothing workshop in Beijing last month.
The film suggests the touch of an artist: Wang used to be a set designer, having studied the discipline at Boston University in the U.S. before dropping out to focus on photography. Screenshots seen by Sixth Tone of the as-yet-unreleased film show the female lead in one scene cradling a mock giant fetus, while in another her male co-star tangles himself up in strip lighting and embarks on an oral exploration of her body.
For the average porn consumer looking for quick and easy stimulation, "Volcano" is unlikely to be a first pick. Yet despite the film's surreal and artistic undertones, there is no chance that its explicit content would get past the censors in China. Consequently, Wang is considering distributing it internationally.
Though Wang would like to see more open laws, he accepts that for his work to flourish, he must draw within the lines. "With what I do, I need it to be sustainable," he says. "I don't want to just get arrested as soon as I finish something. That would be useless."
You You didn't set out to be a sex blogger. When she began uploading videos of herself masturbating or photos of her armory of sex toys online in 2014, she was living away from her boyfriend. Her Tumblr blog was the couple's way of injecting a little excitement into their otherwise-inactive sex life.
The couple now live together in You You's hometown, a second-tier city in central China that, like her real name, the 26-year-old doesn't wish to disclose for fear of being identified by family and friends. She and her boyfriend are no longer long-distance lovers, but the blog continues to serve as a public outlet for their sexual pursuits.
You You blogs in Chinese to her more than 80,000 subscribers, and her popular posts receive thousands of likes and shares. She can't be sure what proportion of her followers access the blog from within China, but the majority of the comments and private messages she receives are in Chinese. Tumblr, a hotbed for amateur porn the world over, was blocked in China in May this year, but You You says the ban has had little effect on traffic to her blog: "It's easy enough to jump the wall."
"I do the blog to try new things," You You tells Sixth Tone. Sex is not a subject that the 26-year-old discusses with even her closest friends, let alone her family, who she says would "kill her" if they found out about her blog. But running a blog on which her identity is protected — she never shows her face — has given her the freedom to document and share her forays into new sexual realms, like exhibitionism and mild BDSM. "Outdoor photo shoots, rope play, and dripping wax — they're all things that are a little abnormal," she says, "but I'm curious and eager to try them out."
Despite the public nature of blogging, You You cares little about how her posts are received and believes that it is her boyfriend — not her — who gets the most excitement from the idea of her exposing herself to others. Receiving compliments from her blog's readers feels good, but she rarely replies to their "trashy" direct messages, nor does she pay any attention to her follower numbers.
For other Chinese sex bloggers operating on Tumblr, however, attracting followers and engaging with them is at the heart of what they do. Free of the constraints of China's internet regulators, the platform has become a marketplace for such bloggers to monetize their DIY pornography. Captions beneath such bloggers' photos and videos promise more should patrons add the provided WeChat or QQ accounts and send virtual hongbao, the red envelopes in which monetary gifts are customarily bestowed in China.
"Until I see a hongbao, don't ask anything of me," "I'm not interested in just chatting," and "If you're not a loser then send me a hongbao" were a handful of the responses from some of these "amateur" pornographers to interview requests from Sixth Tone.
However explicit their content may be, Tumblr's community of Chinese sex bloggers are not breaking any laws by uploading it to the foreign website, even if their audiences are primarily Chinese. Accepting money in exchange for pornographic material, on the other hand, is illegal. As Article 363 of China's criminal law stipulates, the distribution of obscene material with the intent to make a profit can result in a fine and up to three years in prison or under police surveillance.

You You has stayed away from such practices, but not necessarily out of fear of prosecution. "I had thought about making money from it," she says, "but I'm too lazy, and I don't take enough photos."
Whether or not one is blogging for money, You You believes that the community of Chinese sex bloggers on Tumblr and the significant following they enjoy are signs that more and more people are searching for means of sexual liberation. "Through blogs, you see that people's desire is suppressed," she says. "They can only release it online."
In many cases, conservative sensibilities prevail: "There are still parents who are against their children having sex before marriage," says You You. But attitudes toward sex are beginning to loosen up. You You's public exhibitionism may be entirely unthinkable to her parents, but at least they have come around to the fact that she is cohabiting with her boyfriend.
"After all," she says, "we are getting married."
With contributions from Qian Jinghua.
(Header illustration by Liu Zheng/Sixth Tone)